Arizona State Football: Biggest Surprises for Sun Devils Through Week 2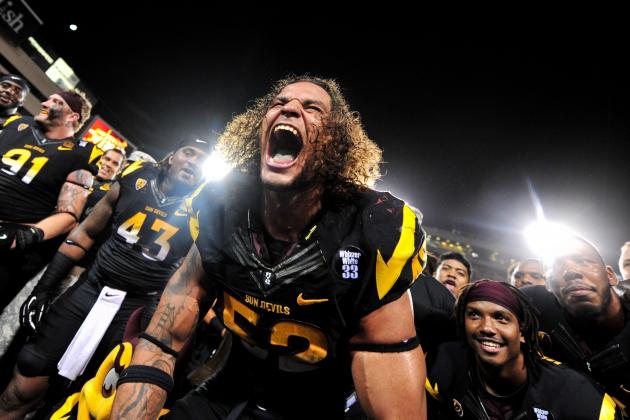 Matt Kartozian-USA TODAY Sports
Carl Bradford and the rest of the Sun Devils are off to a hot start.
The Arizona State Sun Devils are off to a 2-0 start, and even though they have only played two games, there have been plenty of surprises that have fans talking.
One of the most glaring issues thus far has been the lack of special teams productivity.
Punter Dom Vizzare has Sun Devil fans cringing each time he comes into the game, and Zane Gonzalez hasn't quite lived up to expectations as the answer at kicker.
It's not all bad in Tempe, though.
The Sun Devils have a potential Heisman candidate at running back and, for the first time in recent memory, it seems like ASU has luck on their side.
Nobody still really knows exactly what transpired at the end of the game against Wisconsin, but Sun Devil fans can agree that usually ASU would be on the losing side of the debacle.
It's a welcome sight to see ASU come away with a win in a game where they got some breaks.
With that being said, let's take a look at some early season surprises for ASU football.
All stats, unless otherwise indicated, come from ESPN.com.
Begin Slideshow

»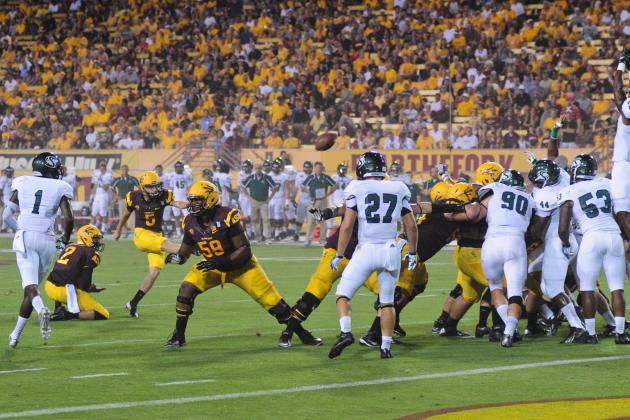 Matt Kartozian-USA TODAY Sports
Zane Gonzalez hasn't lived up to expectations thus far.
Sun Devil fans are well-versed in special teams woes.
ASU hasn't had a solid kicker in a few years. In the offseason, Zane Gonzalez was billed as the savior of the kicking game.
As Ben Haber of House of Sparky writes, Gonzalez went 8-8 up at Camp Tontozona and gave Sun Devil fans hope their misery was a thing of the past:
Heading into 2013, putting the pigskin between the skinny yellow uprights was among Todd Graham's biggest concerns. Freshman kicker Zane Gonzalez put his worries to rest with a great training camp, earning the starting spot over Alex Garoutte and Jon Mora.
Gonzalez has made all of his extra-point attempts but he has already missed two field goals through two games.
Not a good sign for ASU.
Junior punter Dom Vizzare is making Gonzalez look like a superstar with his inconsistent play, however.
Vizzare narrowly edged out freshman Matt Haack for the starting punting job, but he hasn't come close to filling Josh Hubner's shoes.
His most glaring mistake came against Wisconsin, when a bad snap caused Vizzare to mishandle the ball. Instead of kicking the ball out of the end zone and taking the safety, the punter decided to try and fall on the ball.
The end result was a Wisconsin touchdown and a five-point swing.
Alex Garoutte may be the only bright spot on the special teams unit. He is specializing in kickoffs this year and has consistently rocketed the ball into the end zone, resulting in touchbacks.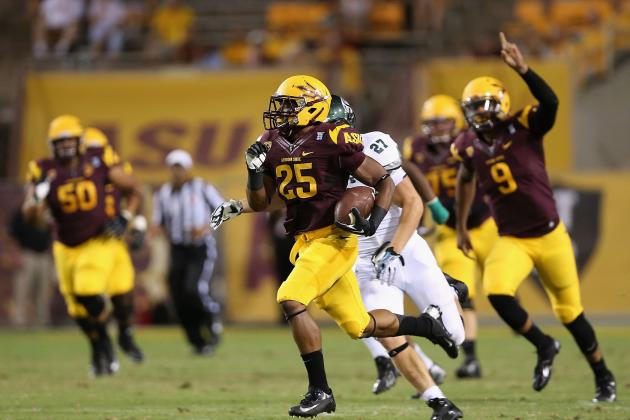 Christian Petersen/Getty Images
Deantre Lewis is back at running back, and he has something to prove.
Deantre Lewis is back in the backfield.
After a season where coach Todd Graham couldn't decide where he wanted to use Lewis, including a failed attempt putting him in the defensive secondary, Lewis is back at running back and it's paying dividends for ASU.
Lewis has racked up 66 yards on only 10 carries so far this season.
Sure, his numbers aren't jumping off the page, but what Lewis provides is another offensive weapon with big-play ability.
Don't think Lewis has only caught the eye of fans though; Graham told azcentral.com's Doug Haller he has noticed the running back as well:
I was very, very impressed going back and evaluating the film and how hard he ran with the ball, yards after contact, yards after catch, and that is exciting to see. He has tremendous potential, and I think showing that toughness and competing, he wants to play. … I think he will be more of a factor.
With ASU using D.J. Foster more as a wide receiver, Lewis could have a real impact on the offense as the backup running back.
If he keeps up his explosive play, expect offensive coordinator Mike Norvell to continue to call his number.
It's mainly a surprise that Lewis came back from injury and spent a year playing defense, but he hasn't missed a beat playing running back.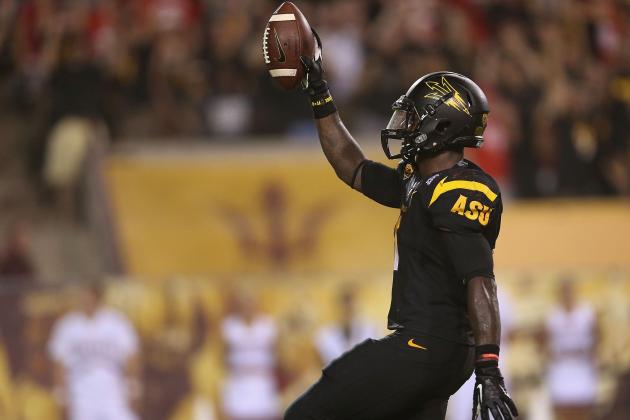 Christian Petersen/Getty Images
Grice scored four touchdowns in ASU's win over Wisconsin.
Before last season, not many people had heard of Marion Grice. After a successful first season in maroon and gold that saw him score 19 total touchdowns, Grice burst onto the national scene.
Through two games, it looks like he's there to stay.
Grice has already rushed for five touchdowns this season and found the house one time through the air. Dating back to last season, Grice has scored 12 touchdowns in his last five games.
Grice's six total touchdowns currently put him in a tie for second best in the nation.
Coach Todd Graham told azcentral.com's Doug Haller he still can't believe the talent Grice posses: "I mean, sometimes I look at him and wonder if he's going full speed because he is going so smooth...He is very tough and very physical and very instinctive. … Marion is special."
While Grice has struggled at times to find running room, he has the ability to make something out of nothing.
He showed Sun Devil fans last year that he could essentially score at will. While it's not necessarily a surprise he has continued to do this in 2013, it is surprising how many times he has found the end zone so early on, considering teams have a year's worth of tape on him.
Christian Petersen/Getty Images
Whether you believe ASU should have beat Wisconsin or not, ASU was lucky and that's saying something.
Luck, cheating or collusion; however you want to look at the ending of ASU's win over Wisconsin, it seems clear that luck was on the Sun Devils' side.
Fans of ASU know the feeling of coming up short all too well. Look at the last time ASU and Wisconsin faced off.
ASU had multiple opportunities to win the game and ultimately lost due to a blocked extra point.
For the first time in ages, ASU caught a break. ASU had many chances to run away from Wisconsin but mental errors and lack of fundamentals allowed Wisconsin to hold the lead most of the night.
That is until a little luck came ASU's way.
ASU cornerback Osahon Irabor tells House of Sparky's Kerry Crowley it was indeed luck that helped the Sun Devils escape with a win: "Luck was on our side, I'll take it any way I can get it. Sloppy, ugly, beautiful, it doesn't matter. A win is a win. 2 and 0, onto the next one."
It's certainly surprising to see this happen for ASU considering their track record.
Just last year, ASU was in a similar position against UCLA. They scored late to take the lead, only to watch UCLA march down the field and kick a game-winning field goal as time expired.
The fact the Wisconsin game ended like it did could be a foreshadowing of a special season for ASU, because they have something beyond their control on their side.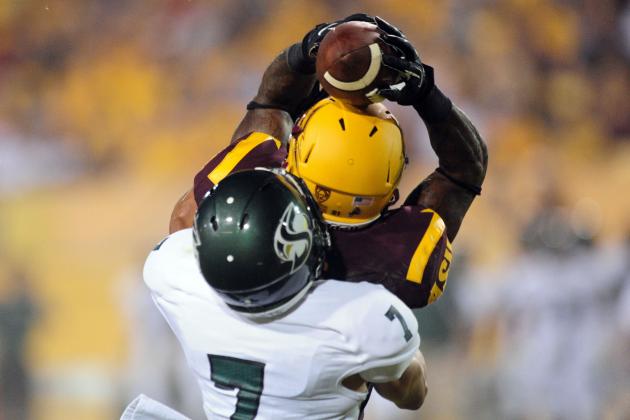 Matt Kartozian-USA TODAY Sports
Jealen Strong has made making spectacular catches his norm, but behind him there isn't any depth.
The wide receiving unit was one of, if not the, biggest question marks this offseason. In ASU's game against Wisconsin, all those concerns were validated.
Against Wisconsin, ASU's receivers dropped several passes.
Rick Smith dropped multiple balls and was benched for the rest of the game. Quarterback Taylor Kelly also had a sure touchdown fall harmlessly to the grass on the Sun Devils' opening drive.
Jaelen Strong has emerged, though, as the go-to guy for ASU.
Strong made six catches for 106 yards in ASU's win over the Badgers and hasn't shown any clear signs of weakness. Wisconsin took multiple pass interference calls trying to cover Strong due to his unique combination of size and speed.
After Strong, though, Kelly doesn't have many weapons from which to choose.
Just like last year, it seems as if ASU's running backs will again be their best receivers.
Marion Grice and D.J. Foster are second and third on the team, respectively, in receiving yards through two games.
While most had concerns about the Sun Devils receiving corps, it would be hard to imagine anyone expected them to struggle like this.
Even last year's No. 1 target Chris Coyle hasn't performed well in 2013.
It's surprising that with all the talent ASU has been able to bring in at the running back position, they still can't find solutions to their wide receiver issues.