Full Week 3 Stat Predictions for Indianapolis Colts Offensive Players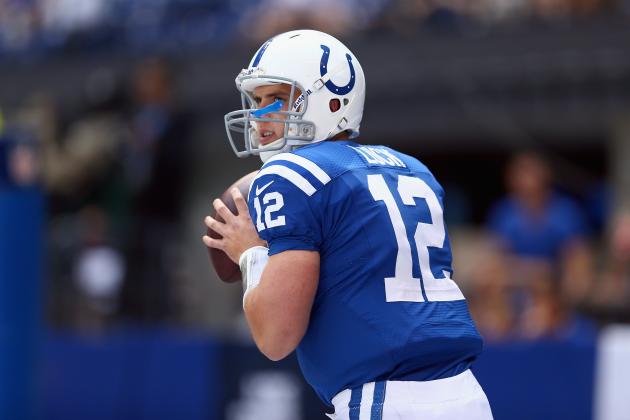 Andy Lyons/Getty Images

A 1-1 start is not what the Indianapolis Colts had in mind at the beginning of the season.
Still, Chuck Pagano and the rest of the coaching staff will have to adjust and get ready for one of their toughest opponents of the 2013 season, the San Francisco 49ers.
While the 49ers are coming off of a tough loss against the Seattle Seahawks, the Colts are trying calm down their fans after falling 20-24 against the Miami Dolphins.
It's not going to be an easy game for the Colts, as they seem to have more problems than answers on their offensive line and defense.
Where the Colts are set at, however, is their playmakers.
There are a number of guys on this team that can put up nice numbers, and they will need to do just that on Sunday. Let's go ahead and project their final stat lines after the game is over.
Begin Slideshow

»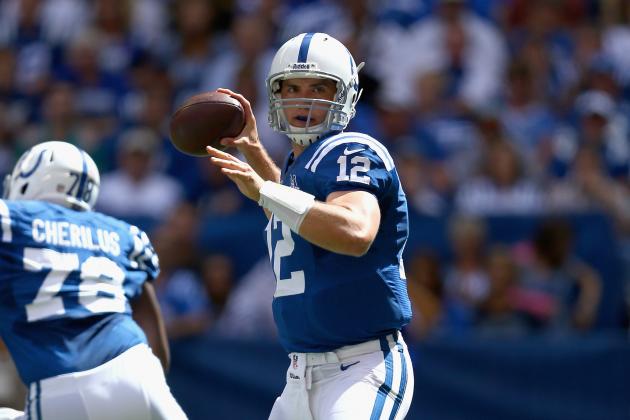 Andy Lyons/Getty Images

Despite a rather uncharacteristic game against the Dolphins, Andrew Luck certainly looks to be improving off of his rookie season.
The young QB out of Stanford has looked better through the first two games. He's gone 43-for-66 with 499 yards, three touchdowns and one interceptions. He's also been taking off from time to time with his legs, putting up 76 yards and a TD on just 10 carries.
The defense for the 49ers was very good last year, but there seem to be a few questions sprouting up through the first two games of the season. They've already allowed 57 points and have allowed 235 yards rushing.
The problem for Luck will be escaping the pressure. The 49ers have some great pass-rushers, including Aldon Smith, who has 3.5 sacks already this season. To make matters worse, offensive guard Donald Thomas is done for the season.
Luck has an incredible knack for making plays out of nothing, but he still might have a a few bad throws with all of the pressure on his face. The Colts will likely be playing from behind, and that will mean more passes from Luck and potential "garbage time" numbers if things get out of hand.
Projected Stats: 28-of-45, 326 Yards, 2 TD, 2 INT, 5 Carries, 30 Rushing Yards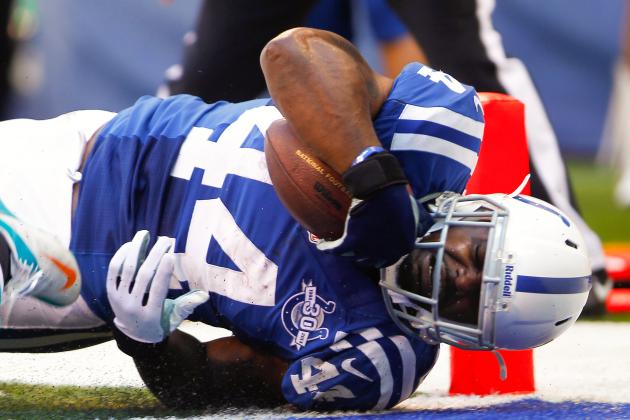 Michael Hickey/Getty Images

With Vick Ballard out for the season, the Colts may have to rush Ahmad Bradshaw back into the thick of things a bit earlier than they wanted to.
Bradshaw got the majority of touches last Sunday, putting up 65 yards and a touchdown on 15 carries. Putting up 4.3 yards per carry is pretty solid considering how much the ground game has struggled in the past, but this Sunday could see a lot less production from the running backs.
The 49ers allowed just 63 rushing yards to the Green Bay Packers, but they also gave up 172 yards to the Seahawks. Unfortunately for Bradshaw, the Colts' offense is more like the Packers than the Seahawks.
Bradshaw will get some touches, it will just be really hard for him to break any big runs.
Projected Stats: 13 Carries, 50 Yards, 2 Catches, 13 Yards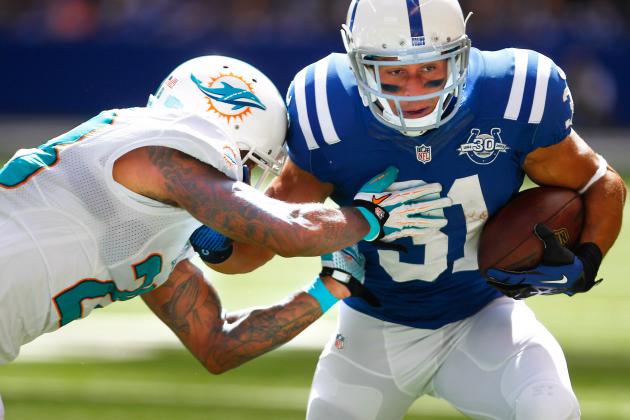 Michael Hickey/Getty Images

Donald Brown got his first touches of the season against the Dolphins, getting seven carries and putting up 30 yards.
As much as Colts fans seem to dislike the back out of Connecticut, he's the clear No. 2 guy behind Bradshaw now that Ballard is gone.
Brown won't get as many carries as Bradshaw, and he should have a very limited stat line once again.
Projected Stats: 5 Carries, 18 Yards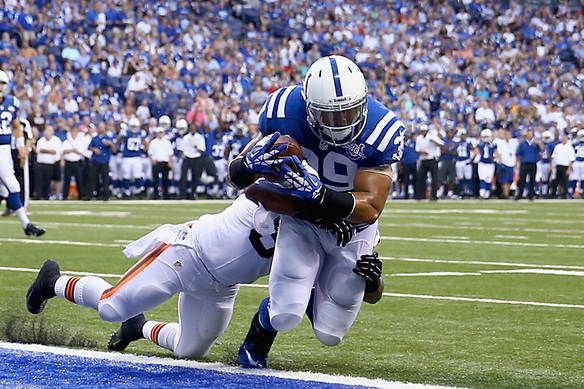 Andy Lyons/Getty Images

The starting fullback had his first two receptions of the 2013 season on Sunday, putting up seven yards.
Stanley Havili can be valuable to this team in a number of ways, but the offense doesn't seem to be very productive when he's in there. Don't expect much production from the fullback against the 49ers, but do expect him to get a checkdown pass or two from Luck.
Projected Stats: 2 Catches, 15 Yards
Andrew Weber-USA TODAY Sports

With Dwayne Allen doubtful to play this Sunday, the pressure will be on Coby Fleener once again to step up.
Fleener looked much better in the passing game than he did in the preseason. He had four receptions for 69 yards and a touchdown, but almost finished with a second score that was called back.
The safeties for the Dolphins did a solid job covering Fleener when asked to, but the 49ers safeties are better, even with Eric Reid questionable to play after suffering a concussion. According to Pro Football Focus, Reid and Donte Whitner combined for a 3.1 grade in pass coverage (subscription required).
I think Luck will naturally look for Fleener from time to time, but I don't see him having as big of a game as he did against the Dolphins.
Projected Stats: 4 Catches, 35 Yards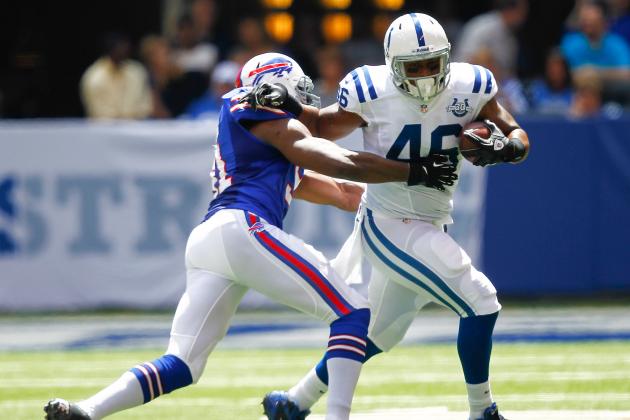 Michael Hickey/Getty Images

Dominique Jones finished with one reception for 13 yards against the Dolphins as the No. 2 tight end behind Coby Fleener.
Expect about as much production from Jones this week.
Projected Stats: 1 Catch, 11 Yards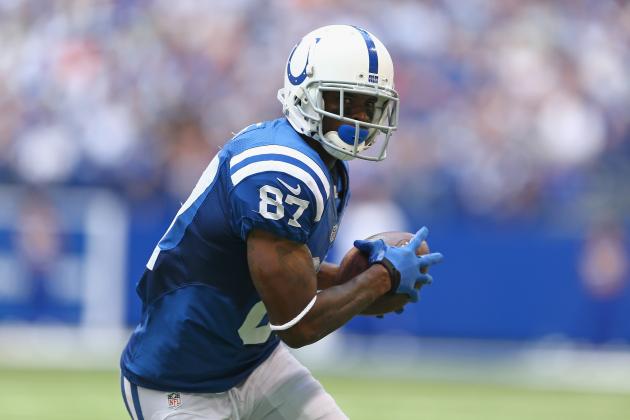 Andy Lyons/Getty Images

If there's any player that needs to step up big against the 49ers, it's Reggie Wayne.
After having a huge game against the Oakland Raiders, Wayne took a bit of a step back. He still had five catches for 46 yards, but we expected a bit more from him.
The cornerbacks for the 49ers have been abused up to this point in the season, and that's good news for the receivers for the Colts. Carlos Rogers and Nnamdi Asomugha will be the two guys to watch for, because they have not looked good so far.
Wayne will have a bounce-back game, but it may not matter if the Colts defense doesn't pick it up.
Projected Stats: 8 Catches, 94 Yards, TD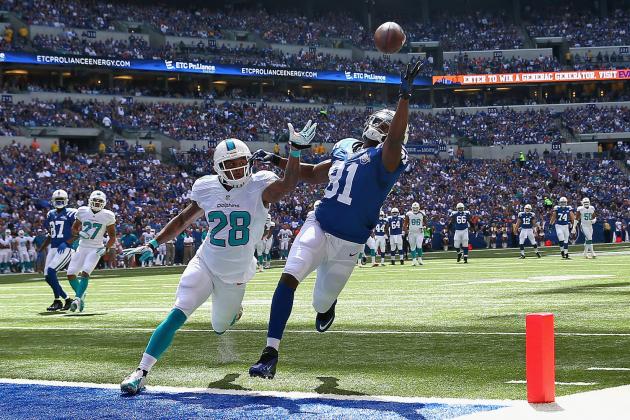 Andy Lyons/Getty Images

The MRI on DHB's shoulder came out negative, so there's a decent chance that we see him play this week.
While Heyward-Bey has looked better in Indianapolis than he did in Oakland, the production has yet to show up. He has just five catches for 43 yards to start the year.
The secondary is looking like a bit of a question mark for the 49ers so far, so Heyward-Bey could put up some pretty decent numbers in this game.
Projected Stats: 4 Catches, 48 Yards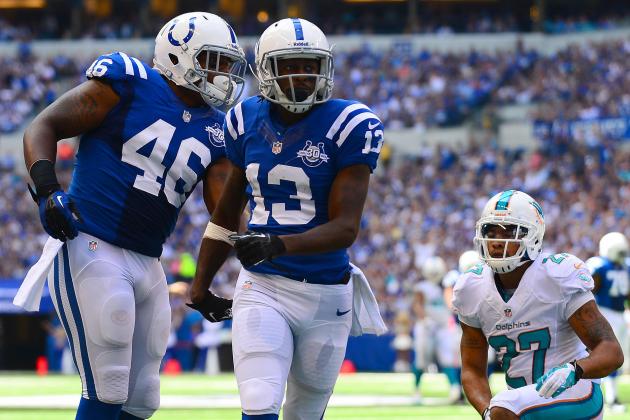 Andrew Weber-USA TODAY Sports

Quickly becoming one of the most popular players in Indy, T.Y. Hilton is coming off of a big game. He finished Week 2 with six receptions and 124 yards.
After being underused in the win against the Raiders, it was nice to see Hilton in the game more often. He is a nice weapon out there for Andrew Luck, and the coaching staff is continuing to trust him more and more.
I'm expecting some more solid numbers from Hilton this week, as he slowly becomes Luck's favorite weapon not named Reggie.
Projected Stats: 5 Catches, 90 Yards, TD
Andrew Weber-USA TODAY Sports

Griff Whalen saw his first two career receptions against Miami and put up 28 yards.
If the Colts play from behind, they will likely use some more extra-receiver sets, meaning Whalen will get some more snaps out there.
Look for Whalen to pick up a couple catches as he fills in during LaVon Brazill's suspension.
Projected Stats: 2 Catches, 20 Yards