Diego Lopez's Potential Impact for Real Madrid After Iker Casillas' Injury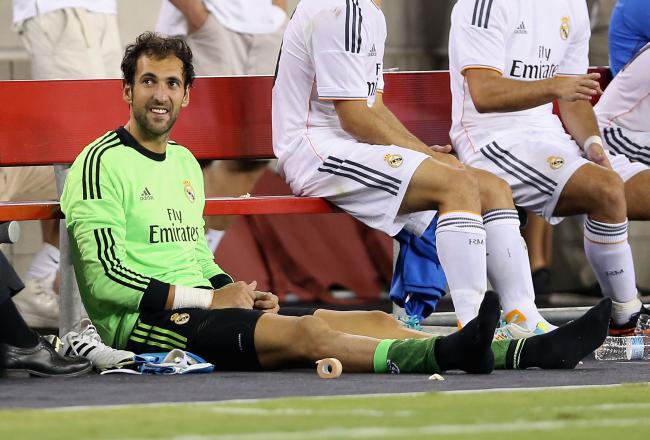 Christian Petersen/Getty Images
Iker Casillas return to the pitch lasted all of about 14 minutes.
The Real Madrid goalkeeper left the club's Champions League clash at Galatasaray early in the first half Tuesday after suffering an apparent rib injury, according to AS' English Twitter feed:
Beyond ridiculous. Looks like Casillas is coming off after getting a knock on the ribs.

— AS English (@English_AS) September 17, 2013
The play itself was a series of unfortunate incidents. Going up to make a relatively routine save, Casillas collided with Sergio Ramos, who struck him hard with an elbow to the ribs. The medical professionals came out and tended to Casillas and cleared him to play, but mere minutes later he was taken off the pitch due to injury.
He was, of course, replaced by Diego Lopez.
Here is where things get interesting.
Tuesday evening was Casillas' first nod in 238 days inside the net for Real Madrid. He was benched midway through the the 2012-13 season, as the longtime club captain's festering feud with former skipper Jose Mourinho had reached a head. The two men spent almost the entire second half of last season throwing barbs back and forth at one another, which likely played a contributing factor in Mourinho leaving for Chelsea this summer.
Taking Casillas' place in the lineup was Lopez, a Sevilla transfer who had a youth spell with the club before his departure. A late bloomer, the 31-year-old's play down the stretch helped quiet the catcalls for the beloved Casillas—just long enough to ramp them back up heading into the 2013-14 campaign.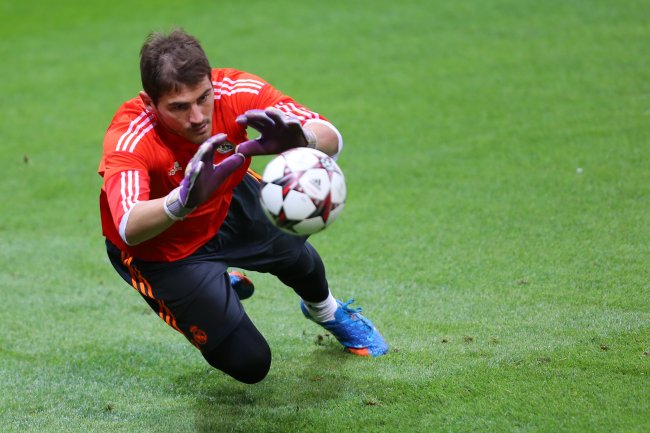 Burak Kara/Getty Images
When new manager Carlo Ancelotti took over for Mourinho, he made it obvious that he didn't carry the same animosity toward Casillas. Ancelotti also didn't change the status quo—until Tuesday. In a decision that he hoped would bring an end to the controversy, Ancelotti announced that Casillas would play in Champions League, while Lopez handles the net in La Liga.
Now? Now everything may be shot to hell.
There is no word on Casillas' condition at the moment, though rib injuries are typically difficult for all athletes to recover from. Outside of catastrophic injuries, any athlete will tell you that the ribs are one of their least if not their least favorite parts of the body to have injured. There isn't a lot of fatty tissue there to cover against reinjury, and you never truly know how much you use your ribs until function starts to tumble.
Just when everyone had thought it was dying out, the most polarizing topic in Spanish football has returned. Ancelotti inherited a beef between captain and manager from Mourinho. He's now tasked with the unenviable task of both making proper judgement on Casillas' fitness while making sure that controversy doesn't envelop the club.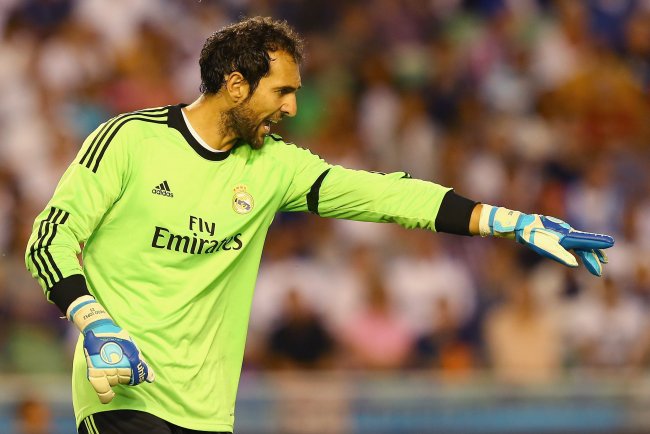 Martin Rose/Getty Images
There is one unalienable fact here, though: This storyline is frankly more interesting to journalists and pundits than it is to players.
The obvious impact here on the pitch is, well, no impact whatsoever. This was Casillas' first official appearance in net for Real Madrid in well more than half of a calendar year. The players are, in many cases, more used to having Lopez being the man behind them than Casillas at this juncture. There won't be chemistry issues, an adjustment period or any other level of concern that goes with a backup replacing a starter.
If Casillas is hurt long-term, everyone happily goes about their merry way.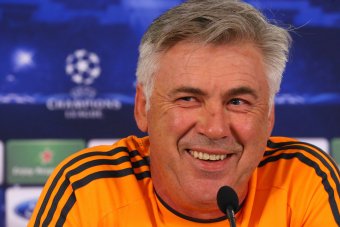 Burak Kara/Getty Images
There are obviously major, major differences between Casillas and Lopez as players. Lopez is massive at 6'5", and he uses his body beautifully in the penalty area to block shots most Spanish goalkeepers can't get their hands on. He directs traffic in the middle at a near-genius level, putting Madrid defenders in the right spots and barking out knowing commands. In that way, he's somewhat similar in style and size to legendary Italian goalkeeper Gianluigi Buffon.
Ancelotti, as you probably should already know, is Italian. I'm unsure whether that means anything—it probably doesn't—but there should be a comfort level there that's inherent.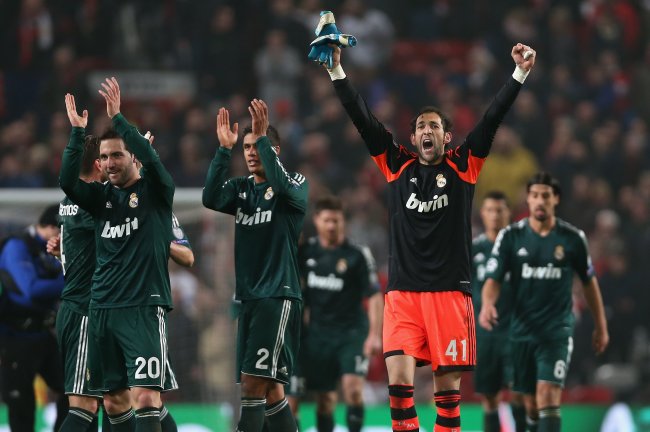 Jasper Juinen/Getty Images
Casillas is certainly no Lilliputian at 6'1", but his greatness has come from his quickness. The 32-year-old Spaniard is joy to watch when he's at the top of his game, covering a ton of ground and making jaw-dropping, spectacular saves that win him adoration from the crowd. Ancelotti also trusted him because Casillas has droves of Champions League and big-match experience. For a squad that has invested two world-record fees to become the world's best, having someone to count on in big moments is critical.
Who is the better goalkeeper: Diego Lopez or Iker Casillas?
If anywhere, those big moments may be the spot Lopez needs to prove himself the most. His previous club, Villarreal, was essentially roadkill whenever it walked into Champions League. There was no expectation to go out and win every time on the pitch. Considering Lopez is far down the line for national-team recognition, it's at least possible there are questions about his ability to handle those moments.
We may get to find out.
Or we may not.
After beating Gala 6-1, Real Madrid are back in action at the Bernabeu on Sunday. They have three La Liga tilts over the next 11 days, leading to a Champions League matchup against FC Copenhagen on Oct. 2. That gives Casillas two weeks to heal before he was even expected to be in net again. It's very possible that his injury heals up enough for him to play, and this entire hubbub is for naught.
Until then, we wait.
Follow Tyler Conway on Twitter:
This article is
What is the duplicate article?
Why is this article offensive?
Where is this article plagiarized from?
Why is this article poorly edited?

Real Madrid: Like this team?