With roughly two weeks to go in the 2013 MLB schedule, there are still postseason berths up for grabs in the American League, and a handful of teams are still very much in contention.
Obviously, the Boston Red Sox, Detroit Tigers and Oakland Athletics have all essentially booked their trips to the playoffs, but beyond that trio, there's much to be decided in the final days of the regular season.
At this stage, there are currently six teams still in the mix for one of the two coveted wild-card spots, so emotions will be at an all-time high, especially when postseason hopefuls face off in the coming days.
Now, heading into the final stretch of the season, here's a look at each team's chances at claiming a wild-card berth.
Tampa Bay
Right now, the Tampa Bay Rays are very much in control of their own destiny, as Joe Maddon's club has 10 of their remaining 13 games against teams still in contention for a wild-card spot.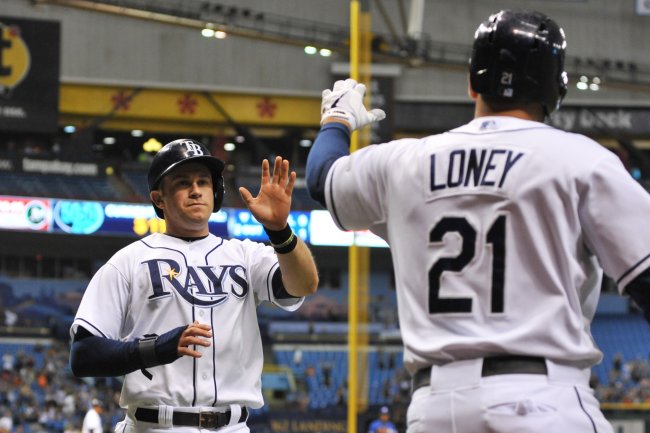 Al Messerschmidt/Getty Images
And for the time being, Evan Longoria and company are in the driver's set in this race, sitting a full 1.5 games up on the Indians, who are the first team out. So if they play solid baseball the rest of the way, they'll be in.
Although the Rays won the first of a four-game series against the struggling Rangers on deck, they've got a pair of three-game affairs with the Orioles and Yankees to follow, so Tampa won't exactly waltz into postseason play.
Chances: Very good. The Rays took two of three against both the Yankees and Orioles during their last series against each team, so if they play that way, Tampa will be headed to the playoffs.
Texas
It's no secret that the Rangers have basically played their way from being a guarantee to at least be a wild-card team to a couple more losses away from watching the postseason at home, but for now, Texas still sits just a half-game back behind the Rays and currently hold the second berth.
However, after losing their last seven, and two out of 14 in September, even Ron Washington admits he's worried about whether he'll remain with the team beyond this season, per ESPN's Todd Wills.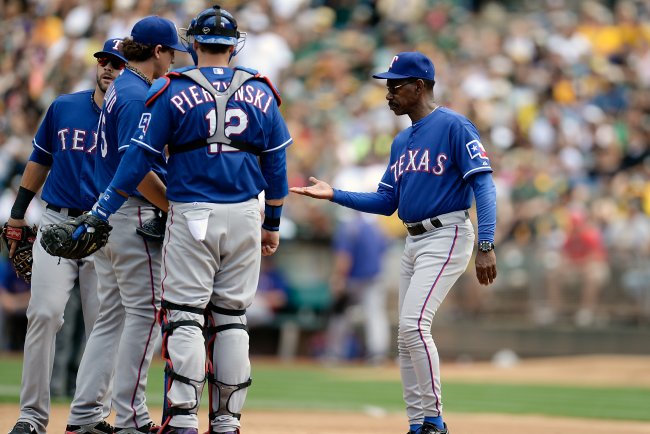 Thearon W. Henderson/Getty Images
Yes, the Rangers still technically have as good a shot as anyone of getting a wild-card berth, but unless they take at least one of their next three against Tampa Bay, this is a ship that's sinking way too fast to be saved.
Chances: Slim. Sure, statistically, the Rangers' chances are well above 50 percent, but given how far this team has fallen during the most important stretch of the season, it'll take a miracle for Washington to turn things around.
Cleveland
After dropping a demoralizing 7-1 decision to Kansas City, the Indians sit just outside the postseason heading into the final two weeks of their schedule.
Despite having another two games against the Royals up next, Cleveland's got it about as easy as they could ask for from there, as they take on Chicago, Minnesota and Houston, who all sit far below .500.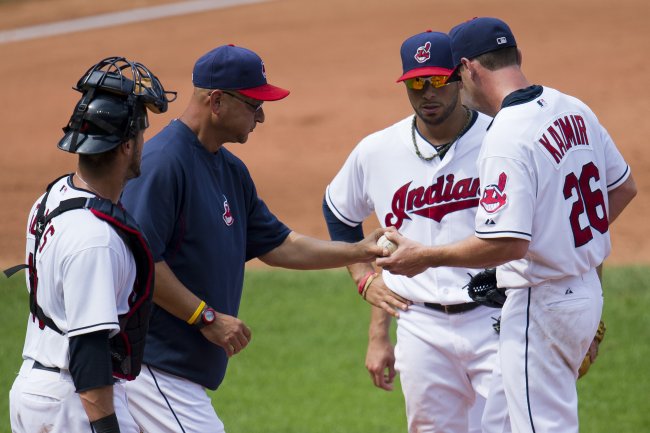 Jason Miller/Getty Images
Basically, if Cleveland just wins the games they're supposed to, or even takes 8-of-10 against those three mediocre opponents, a wild-card berth will be in their grasps.
Chances: Very good. If the tribe takes one against KC, and does what they need to against far inferior teams the rest of the way, they're in.
Baltimore
The Orioles picked the wrong time to go 4-6, but Chris Davis, Adam Jones and company still sit just two games out of a playoff berth, but the road won't be easy from here.
That's because Baltimore has six games against AL East-leading Boston, as well as another three against the aforementioned Rays, so this team will need to play its best ball of the year to have a fighting chance at keeping up with the competition.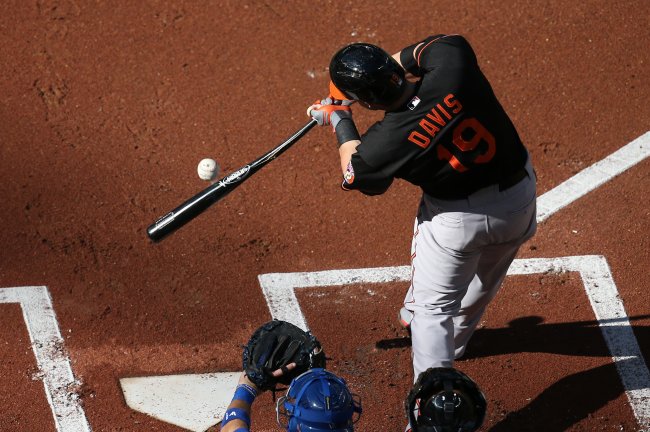 Tom Szczerbowski/Getty Images
After being one of the feel-good stories of last season, the O's didn't take anyone by surprise this year, and they certainly won't be doing so the rest of the way.
Chances: Not great. Baltimore's losing five of seven to the Yankees over the course of the last three weeks really hurt, so if they're going to make it to the MLB's second season two year's in a row, they'll really have to earn it the hard way.
New York Yankees
The Yankees may still be perched 2.5 games out of the final wild-card berth, but they have a very favorable schedule the rest of the way, so they're looking like the most likely team to challenge Cleveland or Tampa Bay for one of the two spots.
From here, Joe Girardi's club has nine of its remaining 12 tilts against sub-.500 teams. So like the Indians, if they take care of business, they'll be right in the thick of things until the final day of the season.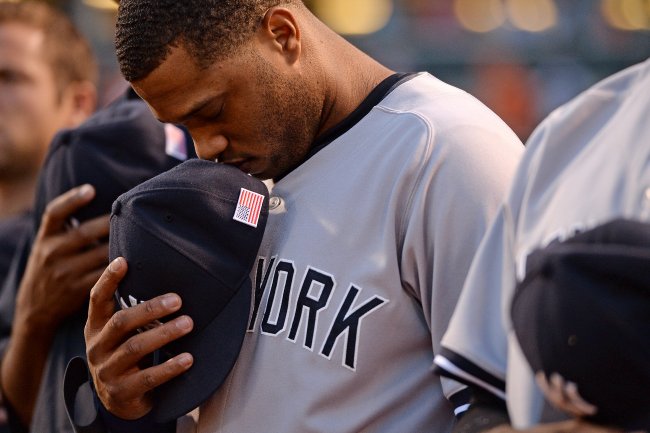 Patrick Smith/Getty Images
Outside of those nine games, the Yankees' three-game series with the Rays will likely determine whether they get in, but they'll have to improve upon the .333 winning percentage they've put up so far against Tampa Bay so far this season.
Chances: Just okay. If the Yankees take seven or eight of the remaining nine games against inferior teams, they'll be in a good spot to knock off the Rays if they can take two of three at home against Tampa Bay at home.
Kansas City
Like New York, Kansas City is still a couple of wins away from catching up with the leaders, but after putting a beating on the Indians in Game 1 of their three-game series, the Royals will hope to continue that momentum going.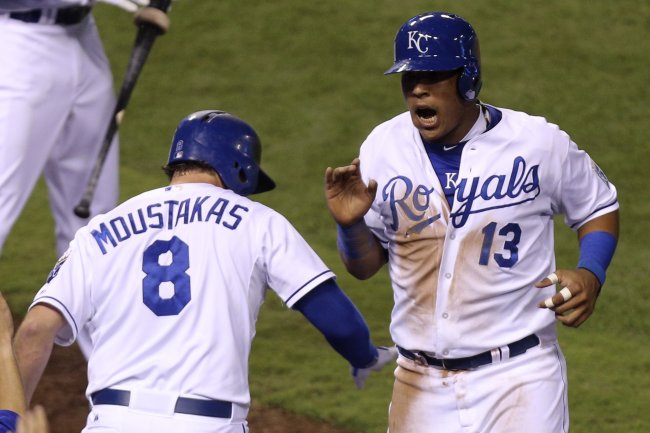 Ed Zurga/Getty Images
Following the Cleveland series, the Royals will host the Rangers, so assuming they can ensure Texas continues their losing streak, KC has a chance.
After that, they'll have seven games against subpar clubs, so they'll stand a reasonable shot at getting in if they can weather the storm that is the next five games.
Chances: Same as the Yankees. They've got to win out against the below-average teams and take at least three of their next five against wild-card contenders.