Tennessee Volunteers vs. Florida Gators Complete Game Preview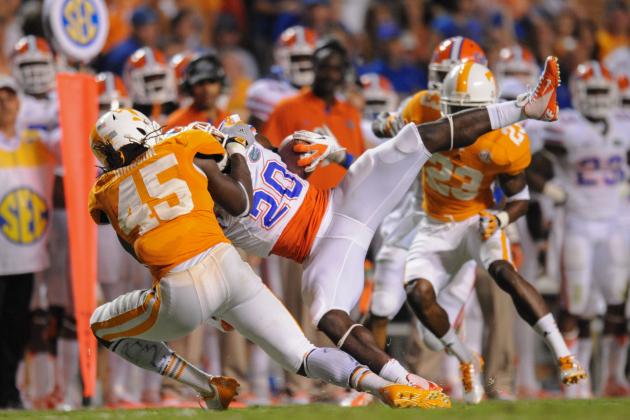 Randy Sartin-USA TODAY Sports

Last season, Tennessee welcomed ESPN's GameDay to campus for the Florida rivalry as the pregame narrative fixated on the Vols' return to the national picture. Everything was set up for the Vols to make a statement.
In a perfect, orange world, it would have been the program's welcome-back party. Instead, UT blew a second-half lead and allowed 24 consecutive points on its way to a 37-20 setback. It was the beginning of the end of Derek Dooley's coaching tenure and Tennessee's season.
This year, UT (2-1) limps into Gainesville on the heels of a 59-14 wing-whipping by the Oregon Ducks. Florida, meanwhile, has had two weeks to recover from its loss to Miami. Both teams need a win, and the Gators are looking for their ninth straight victory over the Vols.
Here's everything you need to know about the showdown.
Date: Saturday, Sept. 21
Time: 3:30 p.m. ET
Place: Ben Hill Griffin Stadium, Gainesville, Fla.
TV: CBS
Radio: Vol Network, Gators Radio Network, Sirius/XM 91
Spread: Florida by 17.5 points, according to Sportsbook
* All quotes were transcribed from videos posted on UTSports.com, unless otherwise noted.
Begin Slideshow

»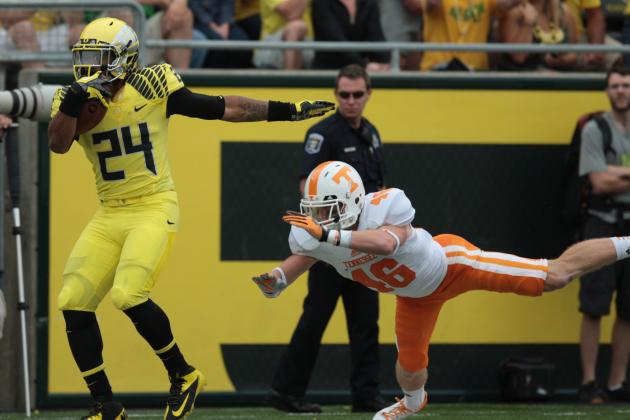 Scott Olmos-USA TODAY Sports

Cause a "Splash" in the Swamp
In the first three games, Tennessee has had just seven offensive plays go for at least 20 yards, according to the official statistics on UTSports.com. Three went for exactly 20.
When an offense fails to sustain drives, "splash plays"—as Vols head coach Butch Jones calls them—are crucial. Between quarterback inefficiency and a young, inexperienced and injured receiving corps, the Vols haven't been able to generate anything downfield. Momentum-changers are a vital part of the formula to beat a strong Gators defense.
Get Off the Field
Tennessee's defense hasn't done itself any favors against competent competition.
Oregon and Western Kentucky were a combined 14-of-27 on third-down conversions. John Jancek's defense simply has not been able to get off the field, and when you're short on talent as the Vols are, squandering opportunities to end drives leads to backbreaking plays.
UT has to help itself by forcing punts, something that happened just three times against the Ducks.
Keep Defensive Composure
The Vols struggled to get in defensive play calls versus the speed of the Ducks. Those communication breakdowns turned into huge plays, and after a couple touchdowns, UT unraveled.
Then, things got ugly.
A young defense has to develop a short memory. That's something Jones said his team failed to have in Eugene:
I thought that the game became fast, we suffered some adversity, and we had some individuals make some uncharacteristic mistakes and mental errors. To go on the road and play in these types of environments against some quality opponents, not only Oregon but as we continue to progress and move forward throughout the season, our mental toughness and mental conditioning has to take monumental steps forward.
Another blowout will happen in the Swamp unless they can move on from inevitable breakdowns.
Steve Mitchell-USA TODAY Sports

Tidy the Turnovers
Florida marched up and down the field against Miami. Five turnovers later, it lost 21-16.
Quarterback Jeff Driskel threw two interceptions in the red zone and fumbled in UF territory, and his mistakes cost the Gators a Sunshine State Showdown win.
Driskel told The Gainesville Sun's Robbie Andreu that UF has been pretty good when it doesn't beat itself:
No one's been able to stop us when we haven't had a turnover or a penalty, so just worry about us first and then taking care of the other team second. If we can handle us, we'll be fine.
Pressure Tennessee's QB
There are questions in Knoxville about who the Vols will start at quarterback. If it's incumbent starter Justin Worley, he has proved ineffective when under pressure. If it's any of the three freshmen behind him, the Gators likely will be licking their chops.
UT's offensive line is the team's strength, but it hasn't dominated this year as expected. With all the talent in the Gators' front seven, keeping them from the quarterback may be easier said than done.
Get Healthy
Few teams have been more banged up than Florida. Though all but two of UF's linemen are playing with injuries, Palm Beach Post writer Jason Lieser reports that Jon Halapio is expected back after tearing his pectoral in July.
Also, UF starting running back Matt Jones—who lost 10 to 12 pounds with a viral infection this offseason—told David Jones of Florida Today that he came back too early against Miami but is ready to go now:
I want to take the team on my back now that I'm back and I feel I know how the game feels now. I have big expectations going into this game to run hard and trust myself, put the o-line first, trust (Jeff) Driskel and things like that.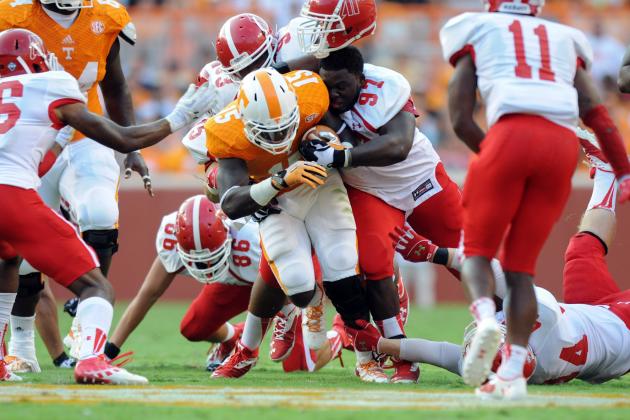 Randy Sartin-USA TODAY Sports

Marlin Lane
The junior from Daytona Beach, Fla., has been UT's most consistent runner and could be poised for more carries against the Gators. His vision is much better than Rajion Neal's, and he runs better between the tackles.
There's nothing he'd rather do than rip the nearby team that didn't recruit him heavily. If the Vols are smart, they'll feed Lane the ball and watch him pound out first downs.
Justin Worley
It's going to be interesting to watch Worley if he's the quarterback UT elects to trot out there first.
If Butch Jones elects to stick with the junior who has started each of the Vols' first three games, the question becomes, "How long will Worley's leash be?" UT has Nathan Peterman, Riley Ferguson and Josh Dobbs waiting for an opportunity, and Worley won't be able to struggle for as long as he did against Oregon.
Daniel McCullers
Florida's offensive line injuries have been prominent, and there's nobody who stands to benefit more from that than Big Dan.
With an injury to Trevarris Saulsberry suffered against Oregon that will keep him out three to six weeks, according to GoVols247's Ryan Callahan (subscription), and Maurice Couch's continued ineligibility, UT is thin on the defensive front.
Not only do the Vols need McCullers to wreak havoc, they need him to stay on the field and be consistent.
USA TODAY Sports

Trey Burton
The do-it-all athlete is yet another matchup nightmare for Tennessee. No matter where the Gators line him up, UT has struggled to stop him through his career.
He's also perhaps Public Enemy No. 1 for UT after he scored two touchdowns and called the Vols "front-runners" following UF's 37-20 win over Tennessee last year, according to The Gainesville Sun's Pat Dooley.
Loucheiz Purifoy
UT's passing game sputtered against two Oregon cornerbacks who will play in the NFL soon. Now, it gets a Gators secondary that boasts even more pro prospects.
None of those is more impressive than Purifoy, who also could see snaps on offense or return kicks. He has the kind of game-breaking speed that this year's Vols can't defend. They'll have to account for the future potential first-round pick whenever he's on the field.
Jeff Driskel
Will Tennessee get Good Jeff, who enjoyed a career night in Neyland Stadium last year? Or will the Vols get Bad Jeff, who has been turnover-prone against good defenses the past two seasons?
There's no doubt the former 5-star prospect, per 247Sports, is talented. He also is healthier than he has been in a while, according to the Orlando Sentinel's Edgar Thompson, who reported Driskel said his injured left knee is "feeling a lot better" heading into Saturday's game.
If he has a big day, Florida will win easily.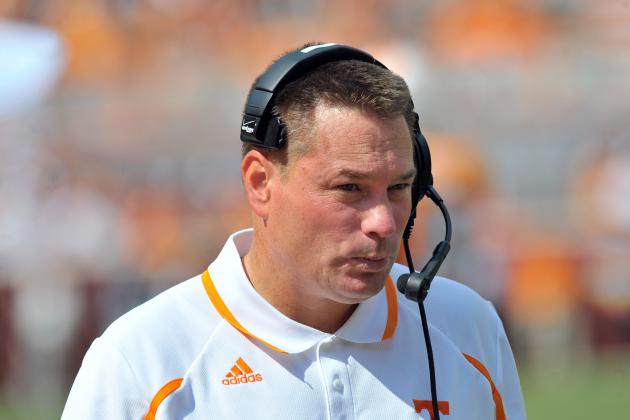 Jim Brown-USA TODAY Sports

Changing quarterbacks after one loss is not an ideal scenario, but Butch Jones may be about to do that after opening UT's job this week.
Chattanooga Times Free Press reporter Patrick Brown noted that Jones has proven recently he's not afraid to stir up things. Last year, he replaced freshman Munchie Legaux with Brendon Kay at a crucial point of the season.
It's a tall order to ask of a first-time starter, but Jones showed last year at Cincinnati, where he made a quarterback change when the Bearcats were 6-2, that he'll play who he believes gives his team the best chance of winning.
Florida defensive lineman Dominique Easley admitted to multiple media outlets that he catches himself singing "Rocky Top" from time to time, including during games against the Vols.
Multiple outlets tweeted Easley's comments, including the Palm Beach Post's Jason Lieser:
"They can hear me, but I don't do it to taunt. I do it for my own enjoyment," Easley said.
When Tennessee got back from Oregon, some of the upperclassmen called a players-only meeting to make sure everybody was mentally OK. Ja'Wuan James told Ryan Callahan of GoVols247 (subscription):
I feel like a lot of the young guys who had their head down, maybe, who haven't suffered a loss like that, I think they responded well. I talked to a couple guys, Marquez (North), Devrin (Young), guys like that, so I feel like everybody responded well, and I think we're ready to have a great week of practice.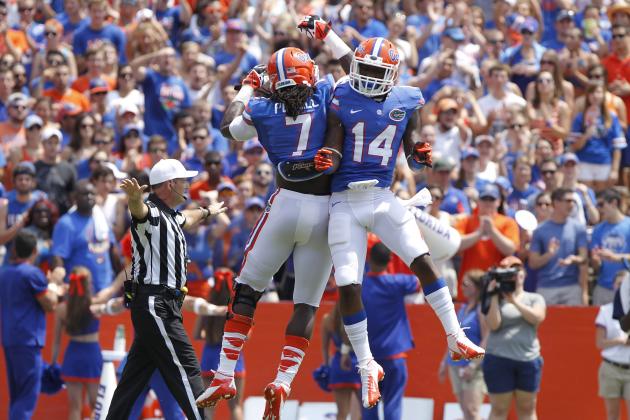 Kim Klement-USA TODAY Sports

Florida 31, Tennessee 14
Losing to the Gators is something the Vols have gotten used to over the past eight seasons. That's how long the current streak goes back, and UF's run of dominance extends even further.
Florida has offensive issues and major injury concerns, but it always seems like those problems are minimized when Tennessee comes to town. Simply put, the Gators own UT and will until the Vols do something about it.
With the Swamp expected to sell out and a talented defense awaiting a Vols offense with far too many questions, this game could get out of hand. It's likely UT's best chance to beat a ranked opponent until South Carolina comes to Knoxville in late October, but there's just too big of a talent discrepancy to think anything other than Florida wins easily.
Getting the Gators on the road is just too tall a task.