Georgia Bulldogs vs. North Texas Mean Green: Complete Game Preview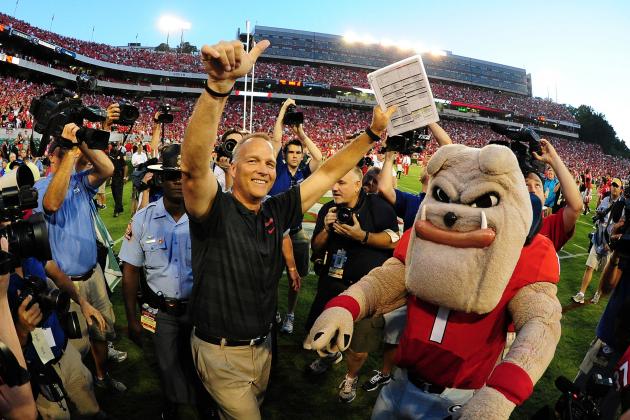 Scott Cunningham/Getty Images

Georgia will take the field following an off week this Saturday against the North Texas Mean Green in a welcomed game against a non-Top 10 opponent.
Here's what you need to know:
Date: Saturday, Sept. 21
Time: 12:21 p.m. EST
Place: Sanford Stadium, Athens, Ga.
Television: ESPN 3
Radio: Georgia Bulldog Radio Network
Spread: Georgia by 32.5, via 5Dimes
Begin Slideshow

»
Streeter Lecka/Getty Images

With a win all but assumed, Georgia will use this game as a tuneup prior to next weekend's matchup with LSU.
Stay Healthy
The Bulldogs lost wide receiver Malcolm Mitchell for the season during their Week 1 game against Clemson. Additionally, running backs Todd Gurley and Keith Marshall and offensive lineman Kenarious Gates have all been shaken up at some point during this still young season. For this game to be a success, the Dawgs must stay healthy.
Defensive Improvements
North Texas lacks the playmaking abilities of Clemson and the power up front that South Carolina possessed. Accordingly, Georgia's developing defense must use this game to swing momentum in its favor and demonstrate improvements. If Georgia can limit North Texas to seven or fewer points, then the Bulldogs' cumulative defensive scoring average will decrease to a manageable 25.0 points per game.
Special Teams
Kicker Marshall Morgan is expected to return from suspension this week and will likely replace Patrick Beless as the starter. His transition back into a prominent role must be seamless. Georgia needs to perform well in all phases of the special teams game in anticipation for a crucial showdown with an explosive LSU team.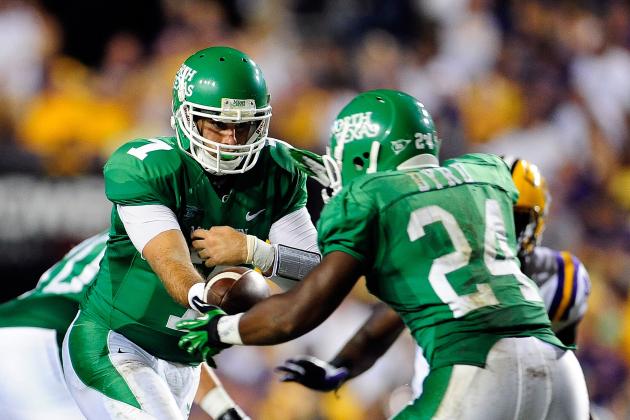 Stacy Revere/Getty Images

Last weekend, the nation watched in anticipation as Akron nearly upset 11th-ranked Michigan. In their defeat, Akron provided North Texas with a blueprint for pulling off an upset against a premier team like Georgia.
Force Turnovers
Akron forced four turnovers against Michigan, three of which were interceptions. If North Texas wants to shock the world—or at least Athens, Ga.—turnovers must be forced. Look for the Mean Green to take chances early and often when Aaron Murray is passing. Particularly expect defensive backs to gamble on the comeback routes that Murray throws so often to the like of Michael Bennett and Chris Conley.
Control the Clock
Akron held the football for over 33 minutes against Michigan and limited the Wolverines' opportunities. Interestingly enough, the Zips were able to control the clock without a power running game. If North Texas wants to win this football game, short passes against a young and inexperienced secondary may be the key.
Eliminate the Crowd
North Texas must neutralize the 92,746 fans at Sanford Stadium. A quick score or early turnover could quiet a less enthusiastic crowd.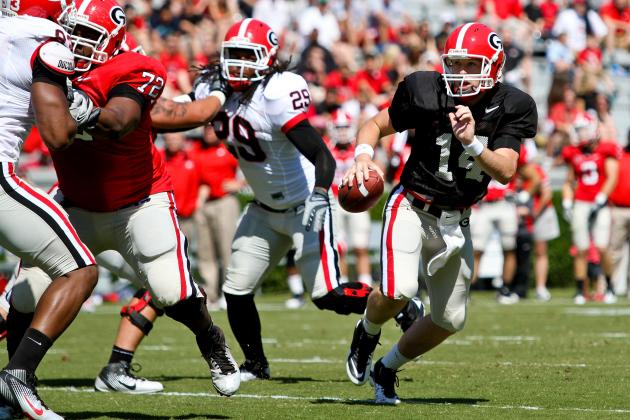 Daniel Shirey-USA TODAY Sports

Keith Marshall
Todd Gurley is the talk of the Southeast following two big early-season games, but Georgia's other running back may get the chance to shine this weekend. Expect Gurley to receive fewer carries against an inferior opponent, and look for Keith Marshall to run wild.
Hutson Mason
If things go Georgia's way, Hutson Mason (a redshirt junior quarterback) should see plenty of action in the second half. Mason has played sparingly as Murray's backup (27-of-47 passing for 356 yards and three touchdowns) but is slated to be the starter as a senior in 2013. Georgia fans will be interested to see how he performs in his first game play since 2011 (he redshirted in 2012).
Brendan Langley
The true freshman cornerback was picked on quite a bit in the Dawgs' first two games. This game against smaller and less athletic receivers should be a nice confidence-builder, as he matches up favorably.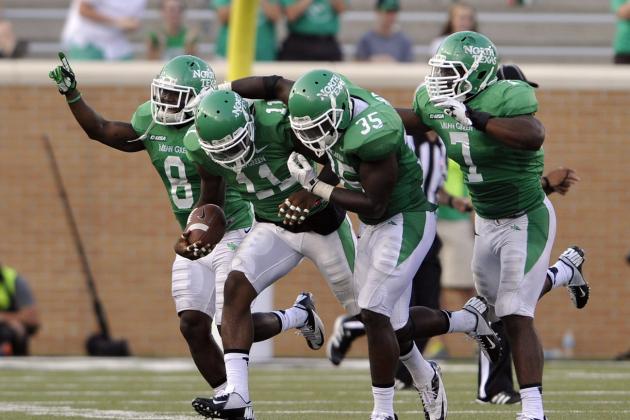 Jerome Miron-USA TODAY Sports

Derek Thompson
Thompson is a big quarterback (6'4", 226 lbs) who has quietly put together a few nice seasons. Although plagued by turnovers (he's thrown 16 interceptions in his past 15 games), he's managed to have some success as of late. This season he's connecting on 70.9 percent of his passes and has thrown for 818 yards and five touchdowns. Last year against Kansas State, Thompson connected on 25 of 28 passes for 208 yards and a touchdown.
Brelan Chancellor
Chancellor is Thompson's favorite target at receiver and has already accounted for 256 receiving yards and two scores. Although he's small (only 5'8"), he makes his living downfield and has an uncanny ability to get behind a safety. North Texas will also utilize him on reverse runs.
Zach Orr
The senior linebacker was second-team All-Sun Belt Conference a year ago and is making an even bigger impact this season. In just three games, he has registered 32 tackles and forced two fumbles. He roams the field and is the veteran leader of a Mean Green defense that is surrendering just 20.0 points per game.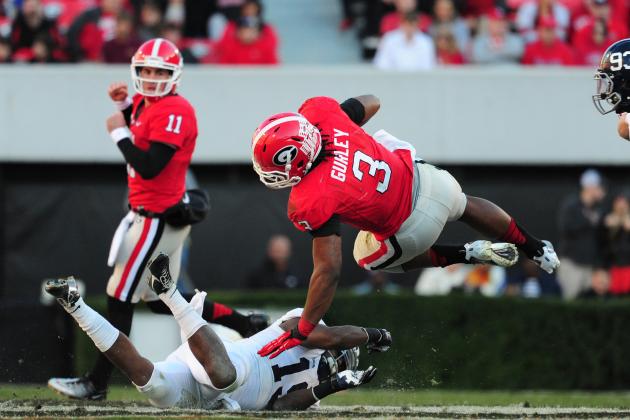 Scott Cunningham/Getty Images

Mark Richt Focused on This Game
Mark Richt told David Ching of ESPN.com that this game is a priority:
Just this past weekend, you saw Michigan playing Akron, and I don't know what their mindset was going into the game, but I know what it was, I'm sure, when the game was over. I think everybody's just got to understand that we must focus very, very hard on improving, but we need to focus very hard on our game plan.
Mike Bobo on Playing Reserves
Offensive coordinator Mike Bobo told Ching that reserves would get a chance to play if the starters handled their business:
We'll play the game as it happens. Coach has never been one and I've never been one to say, "Hey, you're playing this series, that series." We're going to go out there with all our bullets, so to speak, and play the game and take it from there.
Zach Orr on Forcing Turnovers
North Texas linebacker Zach Orr offered the following to Brett Medeiros of North Texas Daily:
All throughout the spring, summer, and even now in the season, we do tackling drills and turnover drills every single day. We always want to be able to force turnovers and come away with the ball.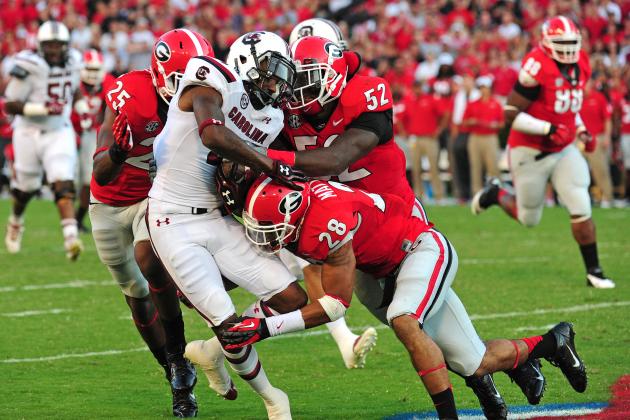 Scott Cunningham/Getty Images

Georgia holds a decisive edge in every facet of this game, and it's a safe bet that the Bulldogs will win with a degree of comfort.
Expect the Georgia offense to piece together several scoring drives in the first half before reserves come in to finish the work.
Defensive starters, however, may remain on the field for longer as young players continue to jell into Todd Grantham's scheme.
Georgia wins 41-7.