Trouble is brewing for the winless Tampa Bay Buccaneers. Star cornerback Darrelle Revis is apparently unhappy with the head coaching style of Greg Schiano, who's far more of a stickler than Rex Ryan, Revis' previous coach with the New York Jets.
Mike Garafolo of Fox Sports reported on the troublesome issue developing in Tampa:
Garafolo pointed toward two main causes for the growing rift. Revis feels the rules Schiano has in place are too strict based on what he's dealt with throughout his career, and the defense isn't playing enough man coverage to keep him happy on game day.
It's the latest sign things are quickly getting out of control in Tampa Bay.
Revis took to Twitter to address the situation:
What's going on Buc fans. Just to clear the smoke. I'm happy to be a Buccaneer & I'm happy to be a resident of Tampa.

— Darrelle Revis (@Revis24) September 17, 2013
Later in the day, Revis and Schiano met to talk about the situation according to Andrea Kremer of the NFL Network:
Darrelle Revis met w/ hc Greg Schiano late afternoon for about 15 min. "to clear air". Says he has no issues w/ coach. (More)

— Andrea Kremer (@Andrea_Kremer) September 17, 2013
Revis says he has no complaints w/ way is being used. Frustration over 0-2. More A Football Life Backstory 10pmet after documentary airs.

— Andrea Kremer (@Andrea_Kremer) September 17, 2013
Last week, the team was forced to deal with trade rumors involving quarterback Josh Freeman. Garafolo did say there was little substance to all of that talk, though Jason La Canfora of CBS Sports claimed backup QB Mike Glennon "is clearly seen as 'Schiano's guy' within the organization."
Now, Revis is seemingly unhappy with how the team is being run by its head coach.
Can the Bucs recover from their early struggles?
Add in the fact the Bucs are 0-2 after losses to the Jets and New Orleans Saints, and things are in danger of spiraling out of control unless Schiano can get it back on track quickly.
Tampa Bay traded a first-round pick in last April's draft and a conditional pick for next season in order to acquire Revis. The front office hoped he would provide a much-needed boost to the team's struggling secondary, so hearing he's already having problems isn't a good sign.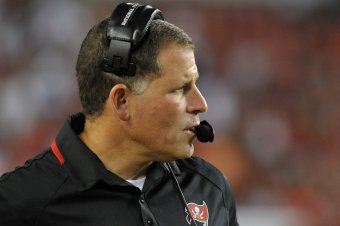 Al Messerschmidt/Getty Images
Given the team's investment to acquire him from the Jets, it's hard to imagine his opinion wouldn't carry some weight. On the flip side, it's hard to ask a coach who's led one way throughout his career to change his approach based on a disgruntled player, unless there's more behind the scenes.
One thing's for sure: When off-field distractions start to combine with poor on-field results, the outcome usually isn't promising for the team as a whole, especially in the NFL.
Schiano, Revis and Co. have to get on the same page sooner rather than later if the Bucs are going to avoid another disappointing season.