There are few locks when it comes to gambling on the NFL, but it sure looks like there are a few in Week 3.
Nothing is ever certain, but betting early can ensure you get the most favorable odds possible. The Houston Texans and the Chicago Bears are both unbeaten and are road favorites this week—for good reason—and they both have odds you need to jump on before they continue to shift.
Here's a look at picks for every Week 3 game against the spread as well as a breakdown of three favorites I like the most to cover the spread.
NFL Picks Against the Spread - Week 3

| | | | |
| --- | --- | --- | --- |
| Away Team | Home Team | Line | Predicted Winner (ATS) |
| Kansas City Chiefs | Philadelphia Eagles | PHI -3 | Chiefs |
| San Diego Chargers | Tennessee Titans | TEN -3 | Chargers |
| Cleveland Browns | Minnesota Vikings | MIN -5.5 | Browns |
| Tampa Bay Buccaneers | New England Patriots | NE -9 | Buccaneers |
| Houston Texans | Baltimore Ravens | HOU -2.5 | Texans |
| St. Louis Rams | Dallas Cowboys | DAL -3.5 | Rams |
| Arizona Cardinals | New Orleans Saints | NO -7.5 | Cardinals |
| Detroit Lions | Washington Redskins | WAS -1 | Lions |
| Green Bay Packers | Cincinnati Bengals | GB -2.5 | Packers |
| New York Giants | Carolina Panthers | Even | Giants |
| Atlanta Falcons | Miami Dolphins | Even | Falcons |
| Indianapolis Colts | San Francisco 49ers | SF -10 | Colts |
| Jacksonville Jaguars | Seattle Seahawks | SEA -19.5 | Seahawks |
| Buffalo Bills | New York Jets | NYJ -1 | Jets |
| Chicago Bears | Pittsburgh Steelers | CHI -2.5 | Bears |
| Oakland Raiders | Denver Broncos | DEN -14.5 | Broncos |
Odds via BetOnline
HOUSTON TEXANS (-2.5) at Baltimore Ravens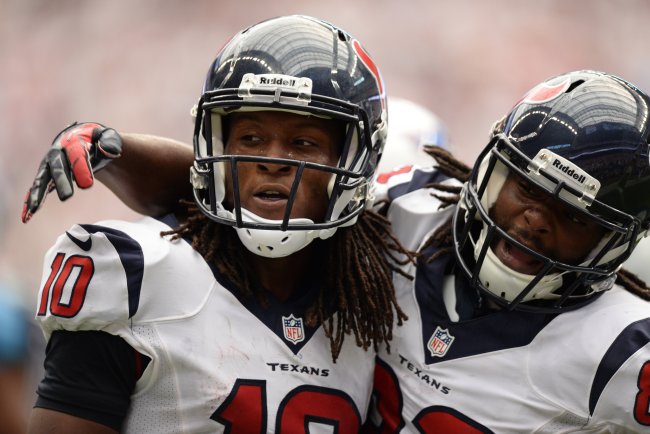 Thomas Campbell-USA TODAY Sports
How dominant can the Houston Texans be with a well-balanced offense? We're about to find out. After taking the lead when Andre Johnson was concussed in the late stages of their overtime win in Week 2, rookie DeAndre Hopkins established himself as a top pass-catcher in the NFL.
It's going to be much harder to beat the Texans now that teams cannot lock down their running game and expect an easy win. Hopkins, Johnson and tight end Owen Daniels are going to thrive against a Baltimore Ravens D that will be focused on slowing Arian Foster and Ben Tate.
We all remember the team that Peyton Manning threw for over 400 yards and seven touchdowns against in Week 1, right? That team isn't any better despite stifling the hapless Cleveland Browns offense in Week 2.
Want a lock? Bet on the Texans to win by at least a field goal at M&T Bank Stadium this weekend.
Oakland Raiders at DENVER BRONCOS (-10.5)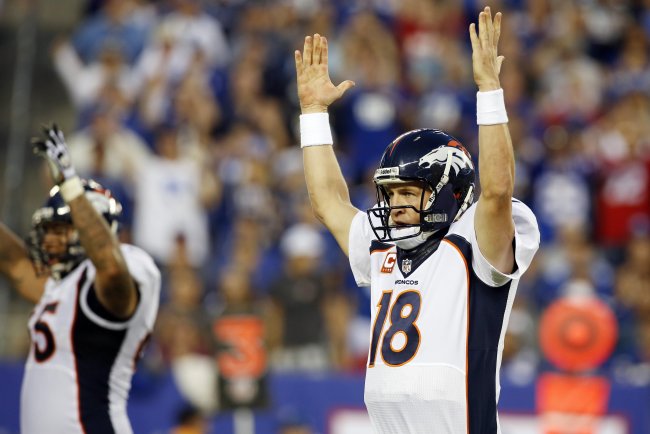 The Star-Ledger-USA TODAY Sports
Speaking of Manning and the incredible Broncos offense, they get a matchup against divisional rival Oakland, a team they decimated a season ago, outscoring them 63-19 in their two matchups. The Broncos have only gotten better.
Despite having sizeable spreads in their first two games, the Broncos have shredded them to cover easily. Oakland has, in its own right, done well for itself in that regard, covering both times as underdogs to this point.
But that luck is about to run out when it meets the high-flying Broncos offense at Sports Authority Field. The Broncs put on an offensive exhibition the last time Manning aired it out at the mile-high altitude of the venue, and this week will be another example.
Don't put too much stock in the Raiders not looking as terrible as many predicted. They aren't a great football team and aren't even close to the level of the Broncos on either side of the ball.
CHICAGO BEARS (-2.5) at Pittsburgh Steelers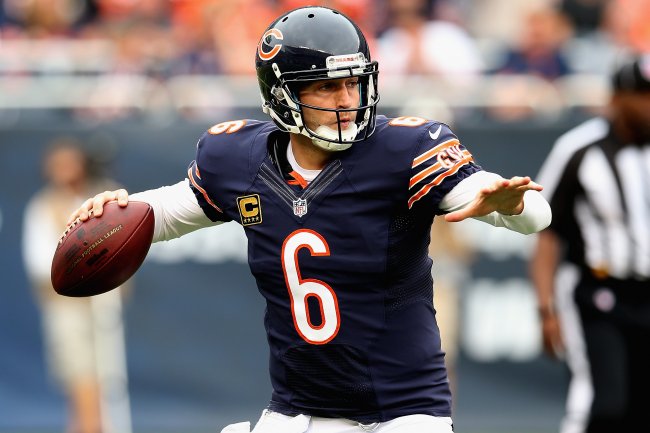 Jonathan Daniel/Getty Images
The Pittsburgh Steelers are in real danger of letting their 2013 season get away from them. You could see the urgency in Ben Roethlisberger's face while the Cincinnati Bengals were busy handing them their second loss of the year on Monday Night Football.
This is a Steelers team that is lacking any identity whatsoever. Its defense isn't creating turnovers or sacks, its offense cannot run the ball—at all—and its receivers cannot get open without Mike Wallace around.
Meanwhile, the visiting Chicago Bears are enjoying an unbeaten start under new head coach Marc Trestman. The former CFL boss has the team's offense clicking and Jay Cutler, with a revamped offensive line, has looked better than ever.
Don't expect a valiant stand by the Steelers that will save their season—not yet at least—not against this Bears team.