Premier League Player Power Rankings: Aaron Ramsey, Ross Barkley and More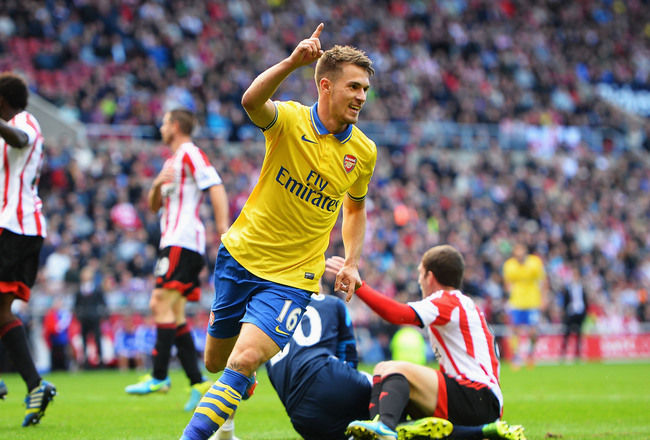 Laurence Griffiths/Getty Images
Welcome to the latest edition of our Premier League player power rankings.
With four games under each team's belts, runs of form are truly starting to take shape, and we've identified the top 10 performers so far—plus a few bonus finds.
There are some big movers as players start to stamp their mark on this domestic season, with midfielders in particular turning more than a few heads.
On the Bubble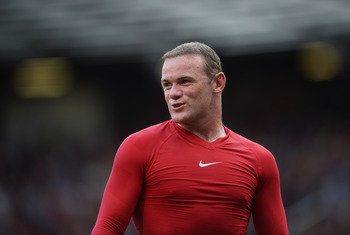 Michael Regan/Getty Images
Here are a few players who have just been edged out in terms of form.
Kolo Toure
He's dropped from second place to outside the rankings due to injury. That's unfortunate given his excellent early showings.
Danny Rose
Rose is putting on quite a show in his attempts to lock down the left-back spot at Tottenham for the next five years.
Since returning from injury, Wayne has been his usual self: hardworking, committed and dangerous.
Fantastic performances from this weekend alone:
Gareth Barry, Mesut Ozil, Jan Vertonghen, Patrice Evra, Michael Carrick, Leighton Baines, Simon Mignolet.
10. Seamus Coleman, Everton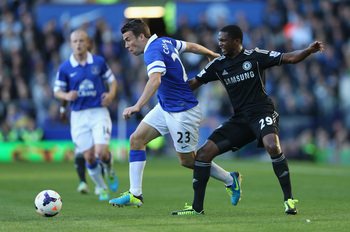 Clive Brunskill/Getty Images
Movement: New Entry!
Following Everton's stoic defensive display against Chelsea, shutting them out 1-0 at Goodison Park, it was difficult to single out one star due to everyone playing so well.
Seamus Coleman, though, has been fantastic all season long, contributing heavily to the Toffees' clean sheets and progressive attacking play.
It comes as little surprise to see him continue improving given his new manager, Roberto Martinez, favours explosive full-backs, and a Coleman with confidence is a fearsome sight.
9. Fabian Delph, Aston Villa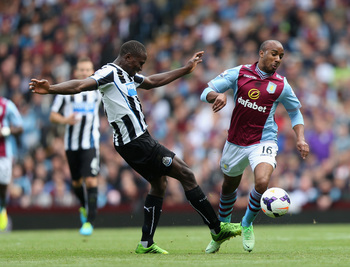 Mark Thompson/Getty Images
Movement: Down One
Fabian Delph is perhaps the only player from Aston Villa who can be proud of his performance on Saturday against Newcastle United.
It's no surprise, in truth, given his consistent, excellent start to the season. He did his level best to grab the game by the scruff of the neck and push his side forward.
He's not looked back since his barnstorming performance at the Emirates Stadium on the opening day.
8. Nathan Redmond, Norwich City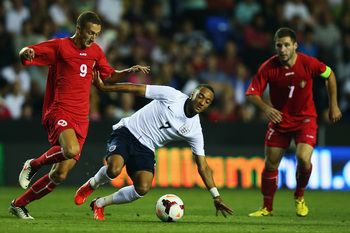 Bryn Lennon/Getty Images
Movement: Down Five
Nathan Redmond falls sharply down this list, but that's more indicative of some astonishing performances from those below him than anything else.
He was ineffectual against Tottenham Hotspur—everyone bar Sebastien Bassong in a Norwich City shirt was, to be fair—but there's no reason to believe his form is about to tumble.
This young man's bright start could well continue if the Canaries pick it up against Aston Villa on Saturday.
7. Mile Jedinak, Crystal Palace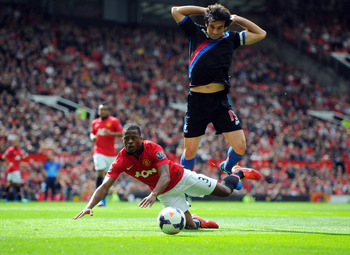 Michael Regan/Getty Images
Movement: Down Three
Mile Jedinak was busy putting in another smashing showing at Old Trafford...until his limp back-pass directly led to Robin van Persie's equaliser.
Penalty or not, dive or not, red card or not, Jedinak didn't double-check his option and put his team in a horrendous situation.
Otherwise he was dominant; excellent in tracking, dogged in his determination and industrious in his running. His all-round performance keeps him in our top 10.
6. Nemanja Vidic, Manchester United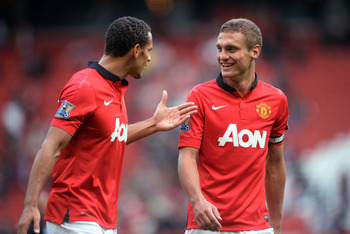 Michael Regan/Getty Images
Movement: None
Nemanja Vidic is a constant in our topsy-turvy rankings this week, holding his position in sixth as others fly and fall around him.
His high grades are founded in fantastic performances against Swansea City and Chelsea and in collecting a clean sheet against Crystal Palace. He cannot justifiably fall down the list.
It was an easy day's work for the Serbian.
5. Hugo Lloris, Tottenham Hotspur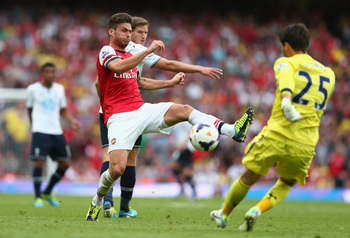 Clive Mason/Getty Images
Movement: None
Hugo Lloris was a little lucky to stay on the field after appearing to punch the ball outside the box, but it's difficult to begrudge his brilliance given his early-season form.
He was a standout star against Crystal Palace, displaying incredible reflexes on his line, and was called into action several times at the Emirates Stadium.
The stats line reads a third clean sheet in four games for the Frenchman.
4. Ross Barkley, Everton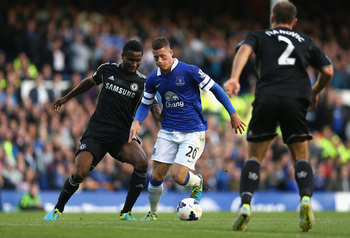 Clive Brunskill/Getty Images
Movement: Up Six!
Ross Barkley continues to soar up our list and in everyone's estimations, putting on another mind-blowing display as Everton beat Chelsea 1-0.
He's a physical freak, combining strength and pace with huge levels of confidence, making him one of the toughest midfielders in the league right now.
His desire to win the ball and help the team is exceptional, and this boy is on the fast-track to stardom.
3. Aaron Ramsey, Arsenal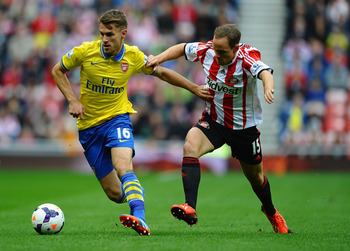 Laurence Griffiths/Getty Images
Movement: Up Six!
Aaron Ramsey managed to outshine Mesut Ozil in the German's debut, which is some feat considering the umlaut fever passing through the red side of North London.
The Welshman scored two incredible goals as the Gunners beat Sunderland 3-1 at the Stadium of Light, the first a supreme volley and the second a slick finish after some beautiful pass-and-move football.
He's caught fire, and Arsene Wenger will be hoping this form continues.
2. Daniel Sturridge, Liverpool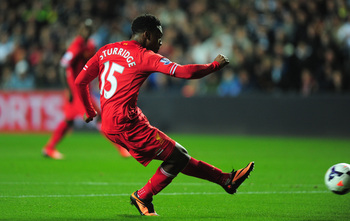 Stu Forster/Getty Images
Movement: Up Five
"Daniel Sturridge scores" is a phrase we're getting used to hearing on a weekly basis.
He's now netted four in four league games—plus a bonus strike in the cup against Notts County—as he drags his side up to the summit of the Premier League table.
He was joined on the scoresheet for the first time this season on Monday by a colleague, perhaps identifying just how influential he's been thus far.
1. Olivier Giroud, Arsenal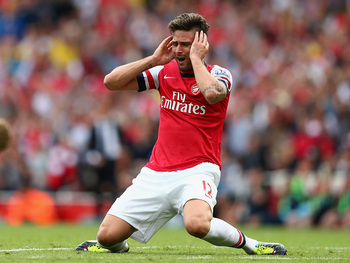 Clive Mason/Getty Images
Movement: None (two consecutive weeks at the top)
Olivier Giroud is blossoming into the complete forward Arsene Wenger thought he'd signed last summer.
It's taken him a year to get settled, and perhaps the lowered expectations this season have played a part in his confidence so far, but right now Gooners wouldn't trade this guy for many others.
He scored a beautiful first-time finish to open the scoring against Sunderland. He then played a delicious through ball for Aaron Ramsey's second and Arsenal's third.
Keep Reading