Nebraska Cornhuskers vs. South Dakota State Jackrabbits: Complete Game Preview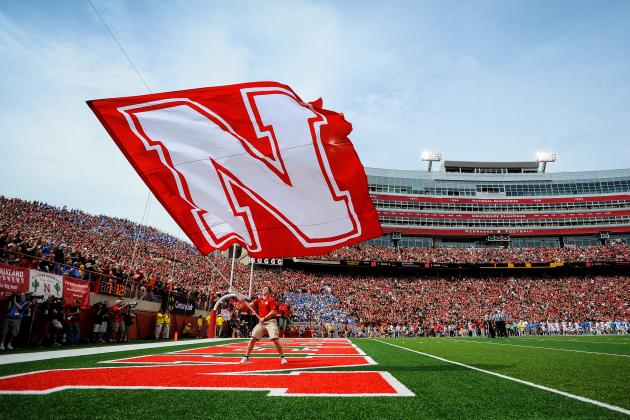 Eric Francis/Getty Images

Nebraska faces its final nonconference foe when South Dakota State (also known as SDSU) travels to Lincoln, Neb., on Saturday. This is the third time the two programs have met.
The Huskers have defeated the Jackrabbits in both prior meetings, 17-3 in 2010 and 58-7 in 1963, respectively.
Nebraska has 13 natives on the SDSU roster. Eight of those players are on the Jackrabbits' two-deep depth chart.
Coming to Memorial Stadium, SDSU is 3-0 and ranked No. 6 in the FCS. Nebraska, on the other hand, has dropped out of both the coaches poll and AP poll after a 41-21 loss to UCLA.
Who will come out victorious at the end of Week 4?
Where: Memorial Stadium, Lincoln, Neb.
When: Saturday, Sept. 21, at 3:30 p.m. EST
Watch: Big Ten Network
Listen: Husker Sports Network or Sirius Channel 134, XM 194
Betting Line: Nebraska (-22)
Begin Slideshow

»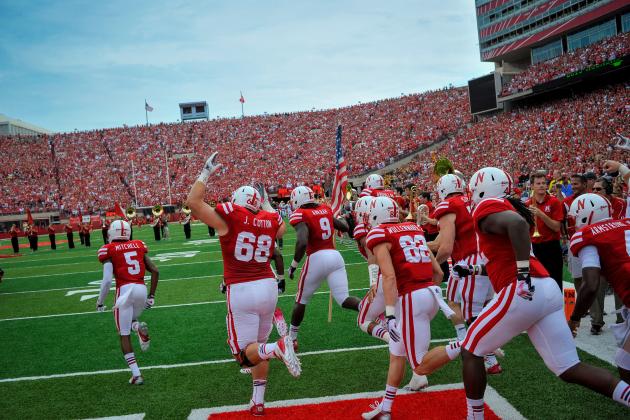 Eric Francis/Getty Images

1. Throw the Ball
Taylor Martinez is questionable to play in Saturday's game after missing practice with turf toe, via Mitch Sherman of ESPN. In his absence, redshirt freshman Tommy Armstrong Jr. and senior Ron Kellogg have been taking snaps. Who starts is still up in the air.
Regardless of who is first on the depth chart, each quarterback should throw the ball. Nebraska's receivers, such as Kenny Bell and Quincy Enunwa, have the size advantage. Compared to the Jackrabbits secondary, Nebraska's receivers will tower over SDSU. Only one player in the Jackrabbits' defensive backfield is taller than six feet. That player is Jake Gentile.
Nebraska may as well use the size difference to their advantage.
2. Watch the Turnovers
Turnovers are improving for the Huskers, which is shown in the NCAA stats as of Sept. 14. The Huskers turnover margin ranks 24th, which is a significant improvement from 2012.
Regardless, this must be a point of focus for Nebraska. In 2010, former SDSU linebacker Derek Domino nearly made the overall score 17-10 when he intercepted Martinez and ran is back for a 50-plus yard touchdown. It was overturned due to an illegal block from SDSU, but it was a turnover that could have cost the Huskers. That can't happen on Saturday.
3. Fan Support
In light of recent events, Nebraska fans have suggested that many may not show up for Saturday's matchup with the Jackrabbits. It's an unfortunate thing to hear.
There is no doubt fans are feeling stung by Pelini's comments on audio that were recently released. However, not showing up to the game does little to affect the head coach. Instead, empty seats have a direct impact on players.
The tickets have been sold, and Nebraska's sellout streak is not in jeopardy. Regardless, that is no excuse not to be in Memorial Stadium on Saturday. Wear red and be loud, if only for the players. They are who really matter.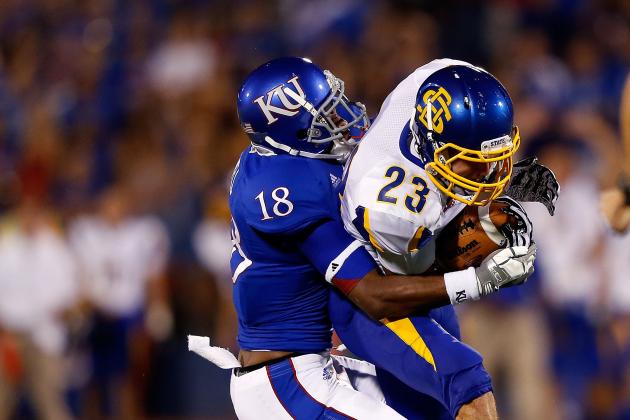 Jamie Squire/Getty Images

1. Let Zach Zenner Run
Running back Zach Zenner got a lot of attention after SDSU's win over Southeastern Louisiana. It makes sense, too, since Zenner accounted for three of the Jackrabbits' touchdowns in their 34-26 win.
Nebraska did a fine job of stopping the run against UCLA during the first half of that matchup. However, the young Nebraska defense found themselves struggling by the second half. The Bruins took that as an opportunity to run all over the Huskers.
While Nebraska's defense should be more prepared, Zenner should still have chances to break free. His legs will be important for SDSU.
2. Target the Quarterback
More than likely, Nebraska's starting quarterback, Taylor Martinez, will be out with turf toe for Saturday's matchup. If so, the Jackrabbits will face either redshirt freshman Tommy Armstrong Jr. or senior Ron Kellogg.
Against Southern Miss, Kellogg threw five passes, completing four of them for 24 yards. The likely starter in Martinez's absence, Kellogg has a little experience that should benefit him against the Jackrabbits. As for Armstrong, his abilities are similar to those of Martinez's. If Armstrong takes the field, it should be a benefit to SDSU as the preparation they have made for Martinez will be similar to his talents.
Putting as much pressure on whoever starts will be necessary. Neither Armstrong nor Kellogg have a lot of experience, so pressure may fluster the two quarterbacks. Put some focus there and the famous Nebraska turnovers may come.
3. Tune Out the Predictions
The last time SDSU traveled to Lincoln, Neb., the Vegas spreads ranged from 38 to 44 points. Many assumed Nebraska would win easily over the Jackrabbits during that 2010 matchup. Vegas and the many who agreed, ended up incorrect when the final score settled at 17-3 in Nebraska's favor.
Once again, Nebraska is projected as a sizeable favorite over SDSU. If the Jackrabbits want a shot at winning, blocking out those projections is necessary. There have been plenty of moments, thus far, in the 2013 college football season that proves a FCS team can beat an FBS. It all starts with confidence and ignoring predictions in favor of the possibility.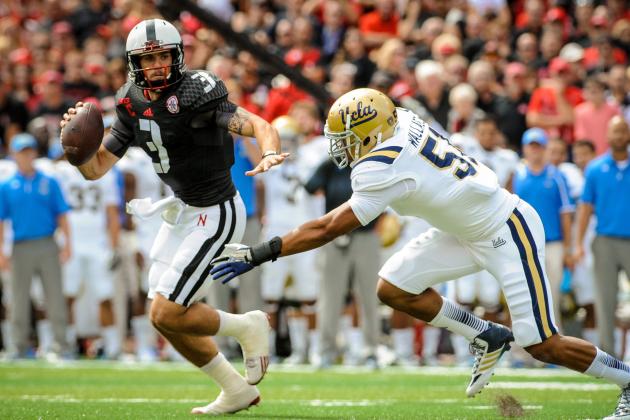 Eric Francis/Getty Images

1. Taylor Martinez (Sr, QB)
Once again, quarterback Taylor Martinez finds himself on the list of players to watch. However, this time has less to do with the numbers he produces.
When Martinez left Memorial Stadium on Saturday, he sported a noticeable walking boot. As of Tuesday's practice, it was confirmed Martinez was sitting out with turf toe, an injury that has ailed him in the past.
If Martinez is out against SDSU, he'll be worth watching for his support from the sidelines. If Martinez is in the game, it will be crucial to see how he handles the injury and plays through it.
2. Tommy Armstrong (rFR, QB) and Ron Kellogg (Sr, QB)
This may seem like cheating by putting two players on one line, but they deserve to be here together. After all, if Martinez is out for the SDSU game, one of the two will step in.
Who will that be? That's what makes it an interesting position to watch, for both Armstrong and Kellogg. Kellogg is the likely starter over Armstrong, but there are no guarantees.
Kellogg has shown some good signs, so far, this season by completed four of five passes against Southern Miss for 24 yards. Armstrong, on the other hand, is a dual-threat quarterback similar to Martinez.
Ultimately, both will see the field on Saturday if Martinez is out. Who starts has yet to be determined, but it hardly matters. They will both give fans an opportunity to see what they can do, and the opportunity will provide ample experience they both desperately need.
For a full depth chart, click here.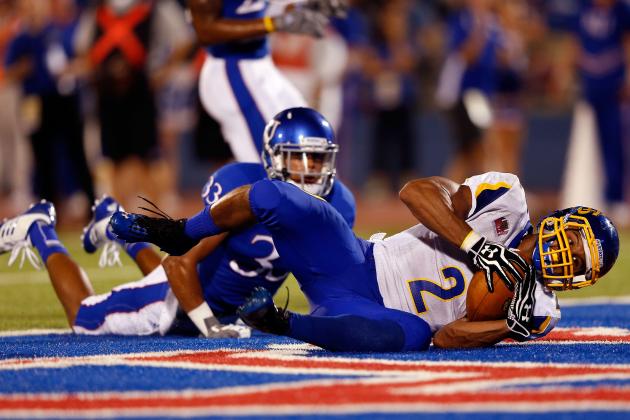 Jamie Squire/Getty Images

1. Zach Zenner (Jr, RB)
Keep an eye on No. 31. The Eagan, Minn., native has a set of legs on him.
Zach Zenner was impressive against Southeastern Louisiana, SDSU's most recent matchup. Zenner accounted for 295 yards and three touchdowns in the Jacksrabbits' 34-26 win. In fact, the play that changed momentum for SDSU was Zenner's 75-yard rushing touchdown in the third quarter.
From an overall perspective, Zenner is averaging 180 yards rushing and leads all rushers nationally.
Nebraska's defense will be more prepared to stop the run. Regardless, Zenner has the legs to go. If given a chance, he'll make a break for it. He'll most likely account for any touchdowns the Jackrabbits get.
2. Mike Shoff (rFR, OL)
Mike Shoff will be a player to watch for as much of his talent as where he is originally from.
A native of Cambridge H.S. in Cambridge, Neb., Saturday will be a bit of a homecoming for the redshirt freshman. In his first year starting as right guard for the Jackrabbits, Shoff is out to make a difference. If his resume from his time in Nebraska is a sign of what's to come, he's sure to make one.
In 2012, Shoff was the Lincoln Journal Star's Boys Prep Athete of the Year. Nebraska fans will have fun watching a young man with so much talent back in Memorial Stadium.
For a full depth chart, click here.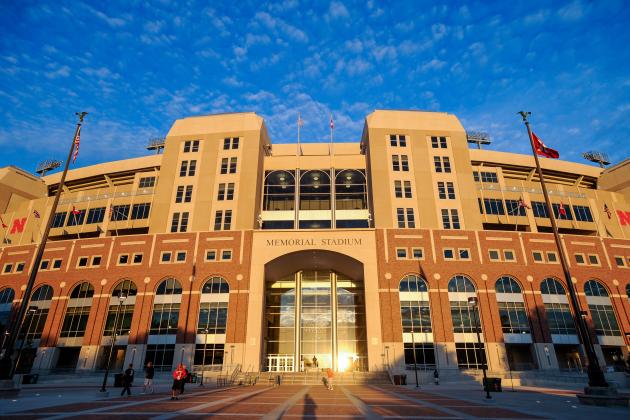 Eric Francis/Getty Images

Quotes will be updated as more information surrounding the audio-leak controversy is obtained.
Chancellor Harvey Perlman and athletic director Shawn Eichorst
In a joint statement on the audio-leak controversy, via UNL.edu:
The comments made by Head Football Coach Bo Pelini in 2011, published Monday, are unfortunate and deeply concerning to us, as they would be to anyone who loves this university. Our coaches, staff and student-athletes must be held to a high standard and Coach Pelini's remarks were unfair to the legions of Nebraska fans and not what we expect from a representative of this university. Former Director of Athletics Tom Osborne became aware of these comments and the existence of a recording more than a year ago, and addressed the matter with Coach Pelini. We have observed, and many others have commented, that Coach Pelini's demeanor has significantly improved since the time of this incident. Coach Pelini has given us his assurance that he understands the seriousness and inappropriateness of his comments. We believe he is sincere in his apology and in his regret. We are prepared to put the matter to rest. Our football student-athletes, coaches and staff deserve all of our support and we know the Nebraska faithful will be there for them.
On the culture surrounding the team:
At times on Saturday we were a very good football team. It has to be a consistent thing. It has to be an every down thing. It has to be an every game thing.

A big part of this game and a big part of athletics is the mental drive behind it and the focus. Culture is real. A culture around the football team. And who sets the culture? It's the head football coach. I understand that.
On the process and moving forward:
I'm evaluating and looking at everything we can do to give our guys the best opportunity moving forward to be the best football team we can be. I believe in our group of guys. I believe in them wholeheartedly. I believe in the players in that locker room. I believe in the staff.

We're going to move forward. We have a lot of football left to play. The process continues. We'll finish up the process on UCLA and how it relates to our football team today and we'll move forward and get better because of it.
On former Nebraska QB Tommie Frazier's post-game comments:
If he feels that way, so be it. We don't need him. That's a shame.
In response to an audio tape released from two-years prior (statement courtesy of Huskers.com):
I want to sincerely apologize for my comments from two years ago which became public today. I take full responsibility for these comments. They were spoken in a private room following the Ohio State game. I was venting following a series of emotional events which led to this moment.

That being said, these comments are in no way indicative of my true feelings. I love it here in Nebraska and feel fortunate to be associated with such a great University and fan base. I again apologize to anyone whom I have offended.
Former Nebraska QB Tommie Frazier
On Saturday's loss to UCLA (via Twitter):
After letting it sink in for about 4 hours I still struggling. It's time to get rid of the defensive play caller, the Dc, lb dl and db coaches. I hate saying this but this crap is getting old. How in the hell do you not make adjustments or put your players in the position to compete? If this is what is going to happen for the remainder of the season, count me out.

I don't care if we lose a game but the way we are losing is just not what #Nebraska fans deserve. I have fought, bled, and cried over this program. I didn't do all that for the program to become what it has today. Time for change! I will comment about the offense this week on Tommie's X's and O's. Trust me you don't want to miss it. #Huskers
Freshman Defense End Avery Moss
On what he took away from the loss to UCLA:
It's not so much motivation as it is a learning experience. I haven't been a part of this. Just watching the film from Saturday I heard Sirles talking about all those little details. Details, details, details.

Little things can affect the big picture so much, but you don't see it until you watch the film yourself and study it. I think that's going to be a learning experience for our defense. Once we get those nit-picky things out of the way, then we can be a good defense and overcome adversity.
Unless otherwise noted, all quotes are courtesy of Nebraska's weekly press conference, via Huskers.com.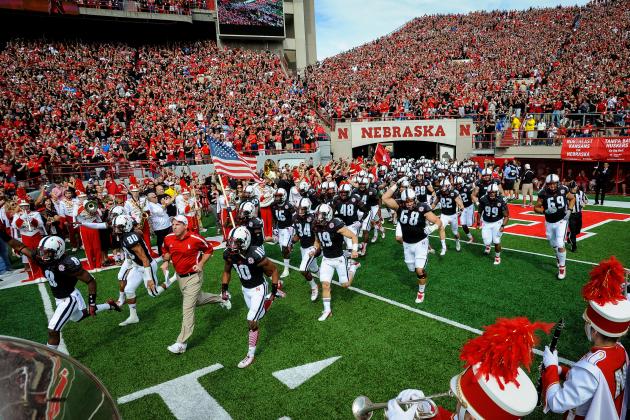 Eric Francis/Getty Images

The last time the Jackrabbits visited Lincoln, Neb., the team was a severe underdog to the Cornhuskers. Vegas had spreads varied from 35-40 points in Nebraska's favor, leaving many to believe the Huskers would walk all over SDSU.
After all, Nebraska was averaging 47.7 points and 513.3 yards per game by that point. None of the doubts stopped the Jackrabbits, though. SDSU held Nebraska to just 345 yards, which included a season-low 205 rushing yards. The Jackrabbits also forced Nebraska's quarterback Taylor Martinez to deliver two interceptions.
Nebraska would end up winning, 17-3, but it didn't feel like a win.
It will be a little bit different this time around, though. The Huskers are, once again, a heavy favorite. This time, however, Nebraska's team is much stronger in comparison.
The Husker's wide receivers are noticeable bigger than SDSU's secondary. Nebraska's offensive line is much more confident and experienced than they were three years prior. All in all, despite the blowout loss to UCLA, Nebraska is strong team.
SDSU will find ways to give the Huskers trouble, with players like running back Zach Zenner. The SDSU defense will also try and target either Tommy Armstrong Jr. or Ron Kellogg with as much pressure as possible if Martinez is forced to sit out.
Regardless, this will be a good week for Nebraska to get back on track. The Jackrabbits may put up a score or two, but the Huskers will handle the 22-point spread. It will be a fine way to restore some confidence within the team.
Prediction: Nebraska 48, South Dakota State 10
For complete team coverage and everything Huskers, you can follow Erin on Twitter at @erinsorensen.