Miami Hurricanes vs. Savannah State Tigers Complete Game Preview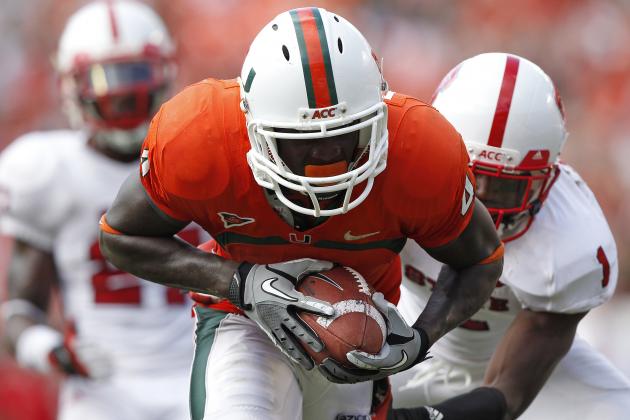 Joel Auerbach/Getty Images
Can Phillip Dorsett and the wide receivers get back on the same page with quarterback Stephen Morris this weekend?
Referring to the Miami vs. Savannah State contest this weekend as a "scrimmage" or "warm-up" might sound disrespectful, but this game is set to be a bloodbath and both parties involved are fully aware of what they signed up for.

Savannah State sits at 1-2, coming off a win over Fort Valley State, a Division II program, but the Tigers were outscored 143-12 in their first two games—road trips to Georgia Southern and Troy.

The Hurricanes enter the third game of the season a 61-point favorite and should get the offensive spark they've been in search of. Miami opened the year with a 34-6 win over crosstown rival Florida Atlantic and followed it up with a Week 2 upset of arch-rival Florida, 21-16.

Defense stole the show against the Gators. The win over the Owls seemed like a formality, with the monster Sunshine State showdown looming.

Quarterback Stephen Morris put together two respectable outings, but lacked the spark shown during a junior campaign that ended with 3,345 passing yards, 21 touchdowns and seven interceptions. Timing with receivers has also been off, causing mild panic for those who expected Miami's offense to explode out the gate.

Running back Duke Johnson showed up game-ready with 186 yards against the Owls, but was held in check by a stingy Gators' defense two weeks back.

While "The Duke Of Coral Gables" will get his carries this week, Miami will also look to get his back-ups some touches. The Hurricanes are still searching for a one-two punch at running back as ACC season kicks off in two weeks.

This showdown will be a tale of two halves; the Miami starters working on their timing early on, while the back-ups make the most of the spotlight and work to prove their worth.


Time: 7:00 p.m. ET
Place: Sun Life Stadium, Miami Gardens, FL

TV: ESPN3

Radio: WQAM560 - WVUM 90.5

Spread: Miami -61 (DSOpen)

Begin Slideshow

»
Preseason talk regarding Miami quarterback Stephen Morris was about how he could build off of his impressive junior campaign. The Hurricanes brought back a veteran offensive line, as well as a stable of receivers and one of the better running backs in the game.
Former offensive coordinator Jedd Fisch left his post in January to sign on with the Jacksonville Jaguars, which brought former Florida State coordinator James Coley south to Coral Gables.
Two games in, and based on the early match-up with the Gators, there are questions regarding the Hurricanes offense. Who is to blame? Morris? Coley? Or has it simply been a matter of Miami being a bit rusty, while holding back against Florida Atlantic in the opener and playing it safe against a good Florida defense?
Morris shone brightly at times last season, with his best performance coming against North Carolina State on September 29 at Sun Life Stadium.
No. 17 threw for an ACC-record 566 yards, while putting up five touchdowns—including a 62-yard game-winner to Phillip Dorsett with 19 second remaining. Morris also had a 76-yard hook-up with Rashawn Scott late in the first quarter.
While Coley and Miami won't let Morris and the offense show too much against Savannah State, working on timing is key. Let Morris get in a groove now so when ACC play starts on October 5 against Georgia Tech, this offense will be flying high again.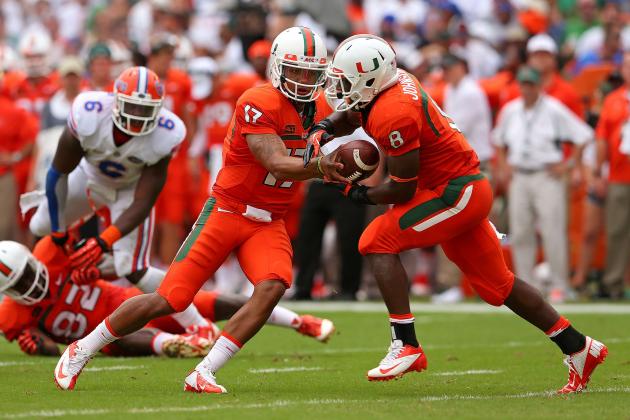 Mike Ehrmann/Getty Images
Stephen Morris, Duke Johnson and the Miami Hurricanes simply need to stay healthy against Savannah State.
Show Up
The Hurricanes are almost a nine-touchdown favorite for a reason. The Tigers are not a good football team. They proved it last season when Florida State and Oklahoma State laid beatings on them.They look even worse this year. They let Georgia Southern put up 77 points in Week 1. Troy hung 66 on them the following week.
Stay Healthy
The Hurricanes lost wide receiver Rashawn Scott late in the game against Florida Atlantic, as he came down hard after catching a deep pass from second-string quarterback Ryan Williams.
This is a "get in, get out" game for Miami. Let the starters shine in their early minutes and as soon as that's been accomplished, turn it over to the back-ups. Let them make their mark and protect the first-stringers.
Play Smart Football
This is a great week for Miami to focus on the mental aspect of the game. Avoid penalties. Stay focused. Get the job done.
The bye week is in the rear-view. From this point on, things get real. A road game against South Florida (September 28) doesn't appear intimidating, but from there it's Georgia Tech (October 5), North Carolina (October 17), Wake Forest (October 26) and then back-to-back games against Florida State (November 2) and Virginia Tech (November 9).
This is the final dress rehearsal before the season gets serious. Miami needs to make the most of this late-September tune-up.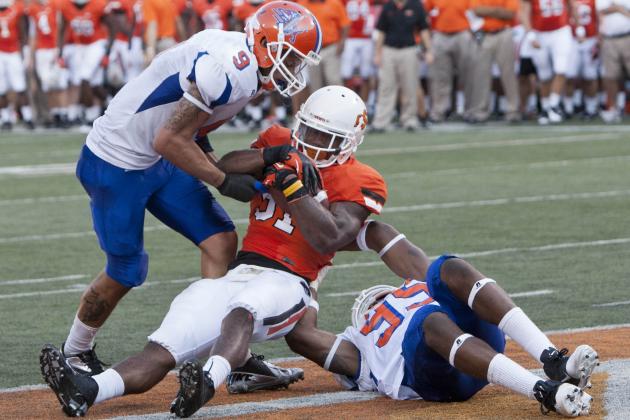 Richard Rowe-USA TODAY Sports
Savannah State fell 84-0 to Oklahoma State in last year's season opener and was beaten 55-0 by Florida State the following week.
There Are No Keys To Victory
Savannah State isn't headed to Miami for a win. It's all about the $375,000 payday, as reported by the Palm Beach Post. It's also about exposure and experience. A game like this brings in money, helps the athletic department and hopefully, in due time, helps the Tigers become a better team.
Take Something From The Experience
Savannah State begins MEAC conference play next weekend against Delaware State. That is when the "real' season begins, so they should know that after surviving Miami, things get easier. They need to soak up a Saturday afternoon at Sun Life Stadium and make some memories against a storied program.
One Down at a Time
When you go into a game like this knowing that winning isn't an option, it's time to rearrange priorities. Win a series. Be better on a particular down. Stuff a running back or sack a quarterback. Make plays where you can and show some pride.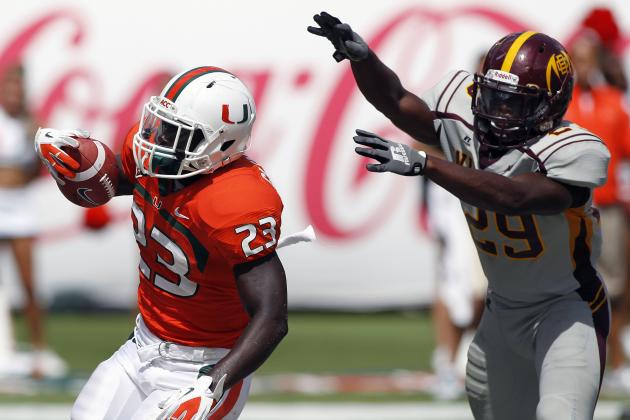 Robert Mayer-USA TODAY Sports
Senior running back Eduardo Clements suffered a neck injury last season, but is listed as third string and should see some carries against Savannah State.
Stephen Morris
The senior quarterback will likely see only two quarters Saturday. He needs to make them count. Morris should use this game to work on timing and to rediscver last year's groove.
Stacy Coley
Against Florida Atlantic, Coley dropped two sure touchdown passes. Against Florida he was sidelined due to inexperience and the magnitude of the game. With wide receiver Rashawn Scott out, Coley will get some looks this week and is listed at second string in the slot, behind Herb Waters.
Coley wowed in fall camp, but hasn't gotten it done on the field. These next two weeks are crucial if the true freshman wants to see serious action when ACC play gets underway.
Gus Edwards and Eduardo Clements
Someone needs to step up behind Duke Johnson. The sophomore can't carry the entire load. Miami's offense thrived last year and a big reason was Johnson's "lightning" to senior running back Mike James' "thunder".
Clements is coming off a neck injury that almost ended his career, but is back for one more year. A tough runner and great in third-and-short situations, Clements needs to get some game day action in order to resume playing shape.
As for Edwards, the 6'2", 225-pound freshman saw limited action against Florida Atlantic, but has looked great in fall practice and is in line to get some carries. Like so many others, he simply needs to get his feet wet and this is the perfect week to gain some valuable experience.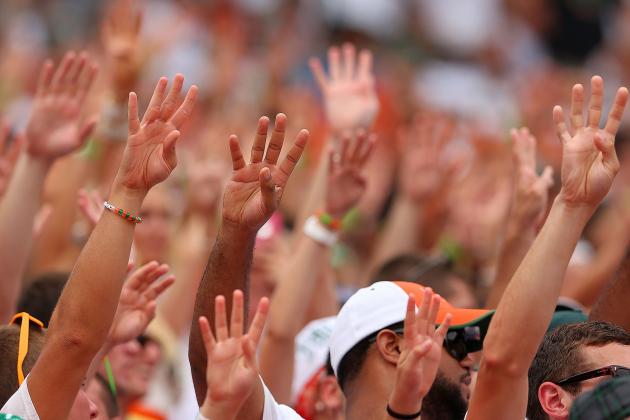 Mike Ehrmann/Getty Images
Miami and Florida fans put over 76,000 bodies in Sun Life Stadium for the Canes vs. Gators showdown, but that understandably won't be the case this weekend when Savannah State visits.
Antonio Bostick
The senior quarterback is coming off a 226-yard, two touchdown performance against Fort Valley State, though he did throw two interceptions.
Lereginald Veals
Veals, a running back out of Jacksonville, returned a kickoff for 92 yards in last week's win. If the Tigers are going to score against the Hurricanes, their best shot is a special teams return.
Simon Heyward
The senior wide receiver was Bostick's favorite target last week, hauling in five receptions for 115 yards and a score.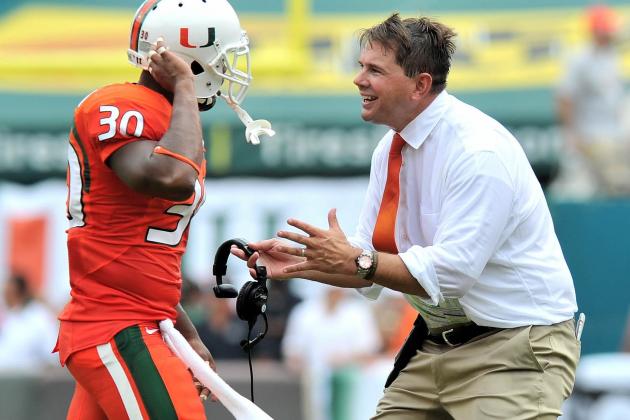 Steve Mitchell-USA TODAY Sports
Al Golden and his Hurricanes are treating Savannah State like any other opponent on the schedule.
Miami head coach Al Golden made it clear after the upset of No. 12 Florida that last week was not a "bye" week, but a "process" week. Though the Hurricanes sit at 2-0, ranked 16th, there is still a ton of work to do before the schedule beefs up with ACC play. Golden made sure that last week's bye was used to take care of business, especially mentally.
It's about our process. This week is us versus complacency. We're not calling it a bye-week, we're calling it a process week. We're trying to get better and we're trying to compete every day and we're trying to see if we can find some guys that can stand up and compete for jobs.


Golden went on to explain that this week is about focusing on self and what needs to be done to get better, not what the nation expects Miami to do against a 61-point underdog.
It can be a problem, but hopefully we learned from last week. Because last week, two weeks ago, we were just worried about ourselves. It's got to be the same thing. We can't just do it when we want to do it. We've got to be that all the time. That's a great challenge for our leadership and our team, to be the same team, consistently, this week.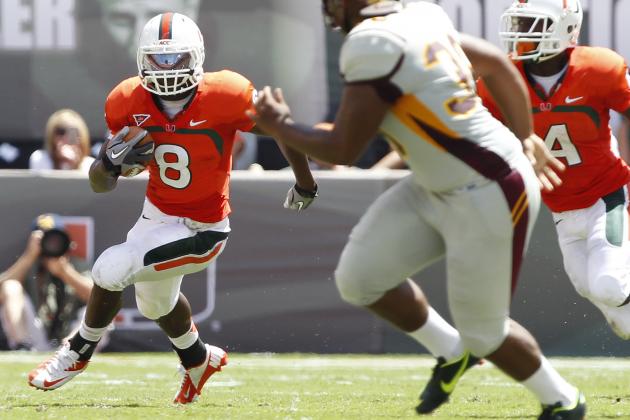 Joel Auerbach/Getty Images
Duke Johnson should have a first-half field day against Savannah State's defense.
The score in games like this is always hard to predict. For Miami, the second half will be in the hands of back ups and the Hurricanes aren't the type of program who look to embarrass or show up opponents like Savannah State.

That being said, this is a gross mismatch and the Hurricanes offense, even when not clicking, should be able to dispose of the Tigers with relative ease.

Between the first string getting theirs, the defense putting up some points and possibly some big special teams returns, it should be a Hurricanes rout in just about every phase of the game.


Prediction: Miami 66, Savannah State 3