Breaking Down the Best BCS Championship Games at Week 4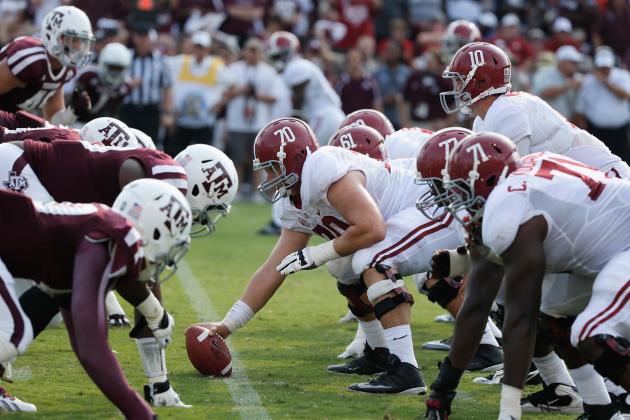 Scott Halleran/Getty Images
The Crimson Tide have an inside track to a third straight BCS title game appearance
It may only be Week 4 of the 2013 college football season, but the cream of the crop has already begun rising to the top.
Alabama, after beating Virginia Tech and Texas A&M, is making a lot of experts look smart as they now appear to have a great shot at reaching a third straight title game.
The Oregon Ducks are looking more dominant than ever, though Mark Helfrich's squad has yet to face stiff competition.
Ohio State, Clemson and Florida State all have the kind of team it takes to go all the way, but major tests loom.
And then there's the forgotten teams like Stanford and LSU who will certainly get their chance to make national statements.
While a tiny part of this list was made with sheer excitement and watch-ability in mind, the matchups were created, for the most part, from envisioning the most realistic national championship games at this point in the season.
Have a look at the best BCS championship games at Week 4.
Begin Slideshow

»
Justin K. Aller/Getty Images
Florida State quarterback Jameis Winston
While not the most obvious matchup in the minds of college football fans, seeing the Seminoles and Crimson Tide square off in the season finale would undoubtedly be a treat for us all.
And there's a real chance it could happen, too. We know that Alabama has just two ranked teams remaining on the schedule in Ole Miss and LSU, and both teams are traveling to Tuscaloosa.
Florida State, meanwhile, has Clemson, Miami and Florida looming. But each of those games will be very winnable if outstanding freshman quarterback Jameis Winston can continue putting up lethal numbers.
Winston has currently thrown just five incompletions through two games. That's one fewer than the number of touchdown passes he has, six.
The Seminoles seem to get a lot of grief each season for underachieving, but in just two games the 2013 version already appears different. The offense is strong and is only going to continue to gel, and the talented defense is playing lights out.
Seeing these two historic programs face off would be quite a sight, and as we hit Week 4, it's becoming a distinct possibility.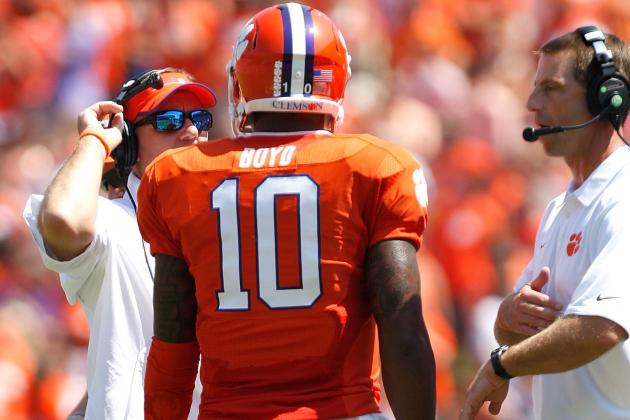 Tyler Smith/Getty Images
Clemson QB Tajh Boyd
How many total points would this game produce? 75? 100? 500?
All kidding aside, Clemson vs. Oregon would be a match made in offensive football heaven, while Ray Lewis, Mike Singletary and Ronnie Lott would head for bed early that evening.
The Tigers are led by Heisman candidate Tajh Boyd at quarterback and the senior is off to a solid start in 2013 having completed over 60 percent of his throws with three touchdowns and zero interceptions. He also notched arguably the biggest win of the young season when Clemson downed Georgia 38-35 back in Week 1.
And if a national championship contender requires a dynamic playmaker, look no further than wide receiver Sammy Watkins, a man among boys every time he steps on the field.
Speaking of dynamic playmakers, the Ducks seem to grow them in their backyard before each season. This year, the cast is headlined by quarterback Marcus Mariota and running back De'Anthony Thomas. Oregon is coming off a 59-14 beatdown of Tennessee in which Mariota threw for over 450 yards and four touchdowns.
The Ducks have yet to face Washington, UCLA and Stanford, so their work is cut out for them. Clemson still has Florida State and South Carolina on the schedule, so the bigger tests are yet to come for the Tigers as well.
Still, if the ball bounces the right way and we end up with a bunch of Tigers and Ducks in Pasadena come January, the college football world will be in for a real show.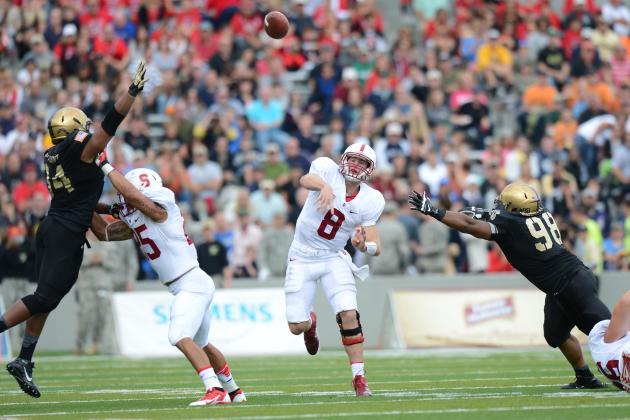 Ron Antonelli/Getty Images
Stanford QB Kevin Hogan
While the new-age spread gurus may be wishing for a Clemson vs. Oregon matchup, the old school football folks must have their eyes set on a game between Alabama and Stanford.
Both teams play a more physical brand of football than anybody else. Both teams have punishing rushing attacks. Their respective defenses are probably the two best units in the country.
While the scoreboard may not get a serious workout, this game would give fans a heavyweight bought rarely seen in these days of high-flying attacks and point-a-minute offenses.
Alabama has already proven to be a worthy candidate, but Stanford still has a long way to go. It can really kick off it's championship campaign this weekend by beating an improved Arizona State squad. Later on, the Cardinal will play host to Washington, UCLA, Oregon and Notre Dame.
Get through that challenging slate and it's likely quarterback Kevin Hogan and company will be headed south for the winter. If it's Alabama who awaits them, we'll have a thrilling title game on our hands.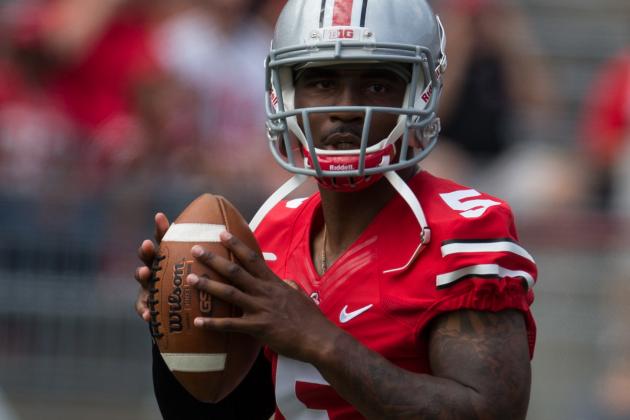 Greg Bartram-USA TODAY Sports
Ohio State quarterback Braxton Miller
At the beginning of the season, this was the matchup that folks were talking about. Through three weeks, it may still have a bit of buzz behind it.
That noise was quieted significantly when Buckeye quarterback Braxton Miller went down with an injury in Week 2, but backup Kenny Guiton filled in against Cal and led Ohio State to a 52-34 victory.
This game would give us several intriguing storylines, starting with Urban Meyer facing off against a former SEC foe in Nick Saban, whose Crimson Tide beat the Gators in the 2009 SEC championship game.
When Ohio State's offense is in high gear, it can score points with anybody. The defense has as much talent, if not more, than many teams in the SEC and the tradition-rich program won't be afraid of the big games. Of course, the last time Ohio State reached the championship, it was throttled by Florida, but this is a resilient group that clearly has big-time goals for the season.
The Buckeyes will play host to Wisconsin and travel to Northwestern before playing the season finale at Michigan, but those are the only ranked teams remaining on the schedule.
It's too early to begin speculating how an undefeated Ohio State team would stack up with another undefeated contender, but it's difficult to imagine the Buckeyes being left out of Pasadena should Miller return to full speed and help the team win every game for a second straight season.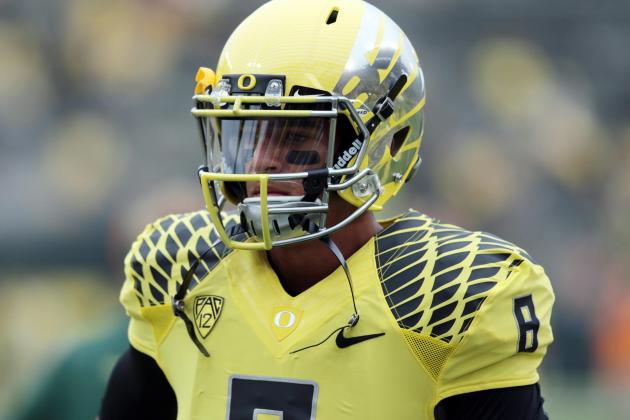 Scott Olmos-USA TODAY Sports
Oregon QB Marcus Mariota
Be honest: If you don't have a horse in the race, this is the game you're rooting for.
It's the same game a lot of people were rooting for last season, and while both teams dropped a game in November, the Crimson Tide notched an impressive SEC championship game victory over Georgia that landed them in the title game. With an undefeated Notre Dame team waiting in the wings, there was no room for Oregon.
We all saw what a high-powered offense could do to the Tide last Saturday. Johnny Manziel and the Aggies put up 42 points, despite rampant speculation throughout the offseason that Nick Saban would have an answer.
At the same time, Oregon has had a chance to showcase it's blur offense in big games against Auburn, LSU and Stanford, and it failed miserably. But this year may be different with an experienced Marcus Mariota and loaded receiving corps.
Both teams have a few tricky games on the schedule, and each would likely have to win a conference championship game to reach the finale. But right now, Oregon and Alabama appear to be the two most dominant teams in college football.
With the different styles of play, from the pro-style offense of Bama to the up-tempo offense of Oregon, this looks like the ultimate BCS championship matchup at this point in the season.