BYU Cougars vs. Utah Utes: Complete Game Preview
BYU's Cody Hoffman catches a pass in last year's Holy War matchup.
George Frey/Getty Images
The wait is almost over.
BYU fans suffered through an everlasting bye week, and the "Holy War" game between the Cougars and Utes is days away. This year's contest will be no different than any other year, and it will surely get heated.
With three straight losses to Utah, BYU desperately needs to secure a win against their rival. So, here is a complete preview that will get you excited for the big game.
BYU's Keys to Victory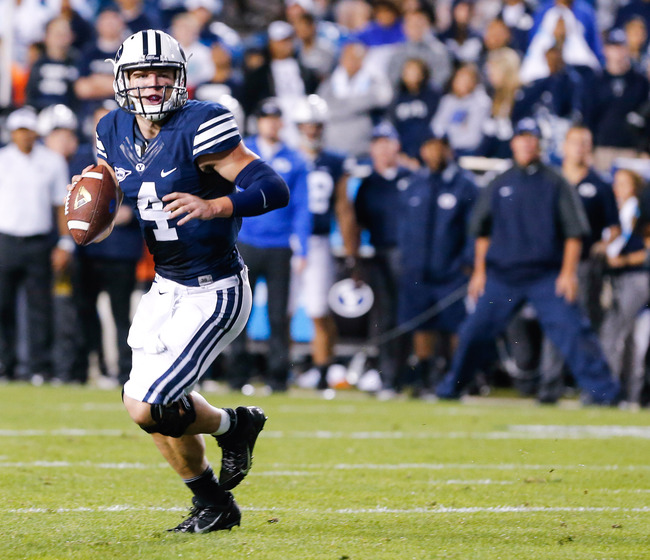 Chris Nicoll-USA TODAY Sports
Find Success in the Passing Game
After watching BYU's shredding of Texas' rushing defense, there's no doubt that Utah will make Taysom Hill beat them with his arm. If the passing game can't execute, it'll be a long night for the Cougar offense.
Don't Forget about Utah's Ground Attack
The Utes may have looked dreadful in the first half against Oregon State, rushing for only six yards, but didn't give up on their rushing attack. Led by James Poole, Utah finished with 260 rushing yards, and BYU can't forget that, even if Utah doesn't have the strongest start.
Protect the Ball
If there's one thing that has killed BYU in recent rivalry games, it is turnovers. They have struggled with holding on to the ball, as fumbles and errant snaps have become normal against the Utes. In order to win, they will need to keep the turnover battle in check.
Utah's Keys to Victory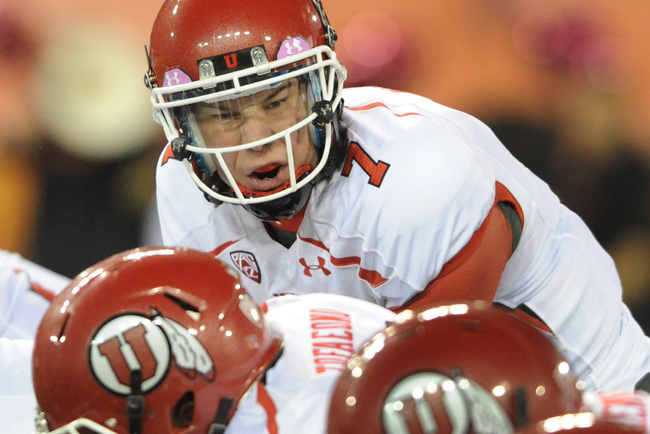 Steve Dykes/Getty Images
Protect Travis Wilson
BYU didn't have much of a problem getting into the backfield against Texas, but Utah will need to prevent having the same fate. It's never good when your quarterback gets hit, but it is even worse when it happens consistently.
Stop BYU's Rushing Attack
After a huge running performance in BYU's last game, Utah will need to focus on stopping the rushing attack. Even if it means pulling a safety down to play in the box, the Utes' focus should be on forcing Taysom Hill to pass.
Force Turnovers
As mentioned before, the Achilles' heel for BYU in the last few matchups with Utah has been turnovers. If the Utes can find success in forcing turnovers, they will have a much better shot at winning.
Cougars to Watch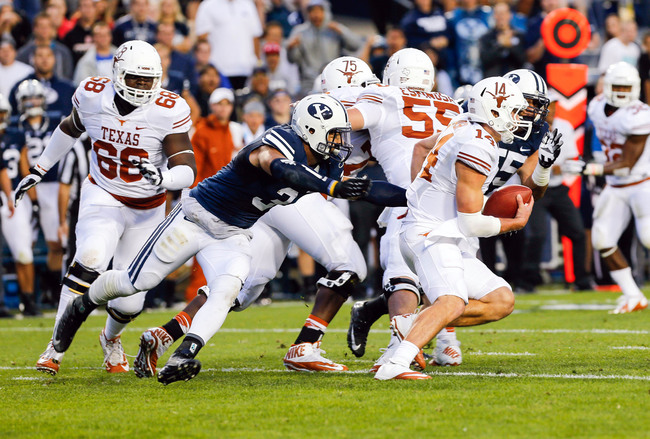 Chris Nicoll-USA TODAY Sports
Jamaal Williams/Paul Lasike (RBs)
The backfield duo of Lasike and Williams combined for 269 yards on 45 carries against Texas, and the Longhorns defense had one heckuva time trying to stop them. If the pair can come remotely close to those numbers against Utah, the Cougar offense will put up plenty of points.
Taysom Hill (QB)
On the heels of a record-breaking rushing performance, Hill will try to add a consistent passing threat to his speed. If his throws are on target and caught by the receivers, Hill will be hard to stop.
The Linebackers
BYU will need to fill the void left by Spencer Hadley this Saturday, and Tyler Beck and Manoa Pikula will be expected to do so. Kyle Van Noy, Alani Fua and Uani 'Unga are also intriguing players, all of whom have unique playing styles and capabilities.
Utes to Watch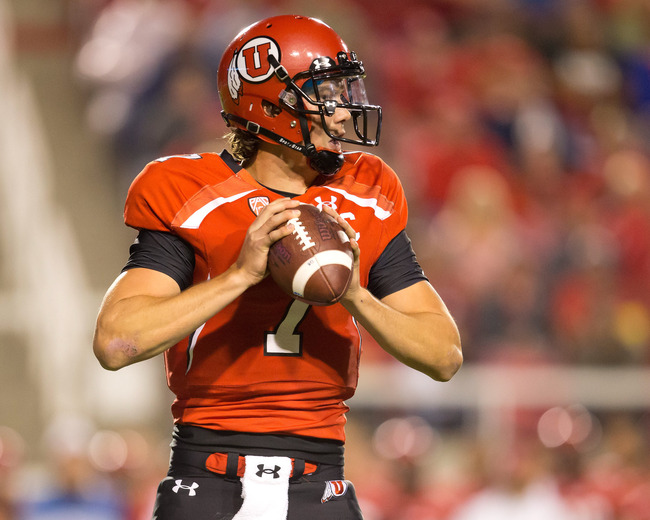 Russ Isabella-USA TODAY Sports
Travis Wilson (QB)
Despite struggling at points of last week's game (three interceptions), Wilson showed plenty of potential as a leader and player. He threw two touchdowns and ran for three more, and pulled Utah back into a game that seemed out of reach. Saturday's game will be a battle between him and fellow sophomore quarterback Taysom Hill.
James Poole (RB)
After a weak first-half showing, Poole exploded for 117 yards and a touchdown against Oregon State. Against BYU's stout run defense, we will see how well Poole can adjust. Who knows, he may find running lanes and have another huge game.
Trevor Reilly (DE)
A 2012 honorable mention All-PAC 12 candidate, Reilly is a bright spot on the less-than-stellar Ute defense. He is a good pass-rusher for his size, and could be a headache for the BYU offensive line.
What They Are Saying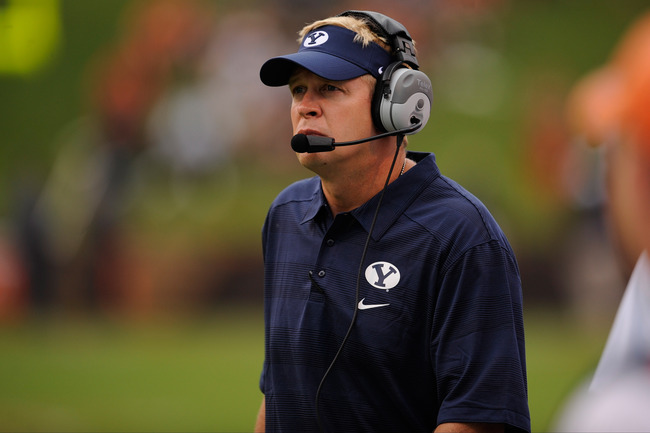 Rafael Suanes-USA TODAY Sports
"I obviously want [to win] for myself," said quarterback Taysom Hill, "but I also want it for our team and our seniors. I've had several conversations with Kyle (Van Noy) about how bad he wants this game, and I'm going to do everything I possibly can to win it for those guys, Coach Mendenhall, and all the other guys around us. That will be a motivating factor for me."
"You certainly have no problems getting your players up for this game. The emotion and passion take care of itself."
"...It is more than a rivalry...there is this personal element that starts to take shape. Not only is it school against school, there is this person against person. Then it starts to touch the hearts and minds of people, and makes them really do things they normally wouldn't do. And it is an amazing experience, not always fun, based on the outcome."
"I just know that it's a different animal going against that kind of offense that just knifes it up the middle or outside with the quarterback. When you have a quarterback that can do that, your offense can be very dangerous, and we are going to have to work very hard this week to contain him."
Prediction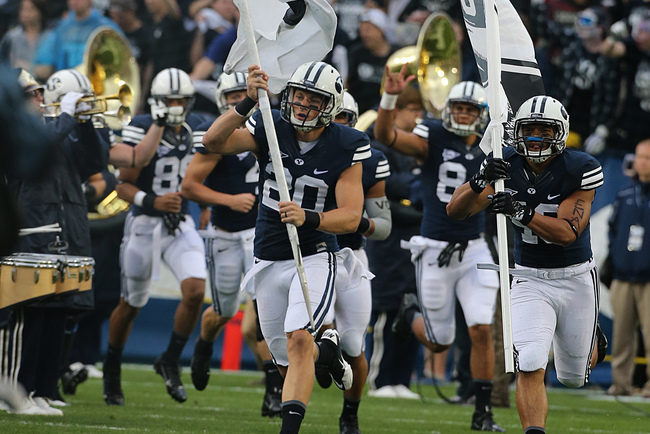 George Frey/Getty Images
Both teams will come out with plenty of intensity, as always, and it will be a close game. BYU and Utah both boast offenses that can put up points, it will be a fun offensive game to watch.
In the end, after home-field advantage and overall execution plays in, I think BYU will have the upper hand. It will be a tight game, but the boys in royal blue will come out on top.
Prediction
BYU wins, 31-24
Keep Reading

BYU Football: Like this team?