Predicting Strengths and Weaknesses of Each Philadelphia Flyers Line in 2013-14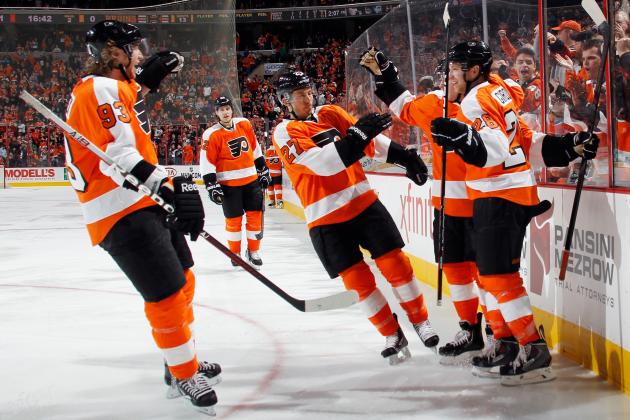 Bruce Bennett/Getty Images

The NHL preseason is officially underway with the league's opening night less than two weeks away.
For 14 teams, the quest to return to the postseason has already begun after faltering during the lockout-shortened campaign a year ago. One of those squads is the Philadelphia Flyers, a team that drastically underachieved during the 48-game calendar last season.
But hope is present once again in the City of Brotherly Love particularly because of the team's youthful, dynamic offense.
It's far too early to know for certain if the Orange and Black's offense will take the necessary steps forward to become a contender but there are certainly reasons to believe. There are also, however, reasons to doubt.
Here's a look at the strengths and weaknesses of each of the Flyers' projected four lines for the upcoming season.
Begin Slideshow

»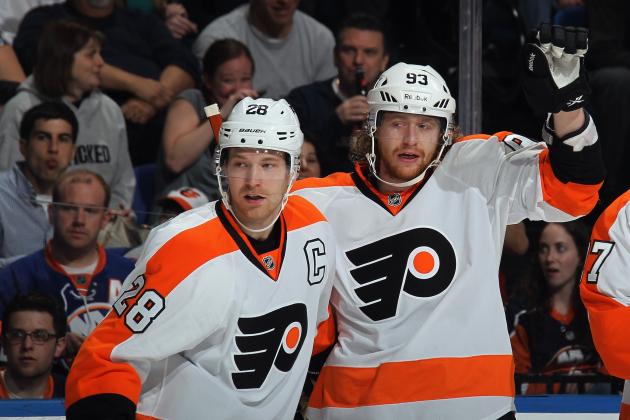 Bruce Bennett/Getty Images

Strengths
Philadelphia's top line has a little bit of everything.
Center Claude Giroux is one the game's truly elite playmakers. He's paced the Flyers in overall scoring in each of the last three seasons and stands to do so once again this year. His skating is superb, his vision is exceptional, and he's one of those rare talents that has the ability to take over a game by himself.
Meanwhile, wingers Scott Hartnell and Jake Voracek are the perfect complements to Giroux's playmaking.
At 6'2", 210 pounds, Hartnell is a big body who can clear space for Giroux and then work his way to the front of the net to pounce on second-chance opportunities. Injuries limited Hartnell to just eight goals in 32 games last season but the Regina, Saskatchewan, native is just two seasons removed from a career-best 37 conversions when lined up with Giroux. In fact, 21 of Hartnell's 37 total goals that season were assisted by the Philly captain.
At 6'2", 205 pounds, Voracek is no slouch physically but he also possesses the foot speed to play at Giroux's pace. A former first-round selection back in 2007, Voracek notched a career-best 22 goals last season despite the abbreviated season calendar. And as was the case with Hartnell's production the year before, Giroux had a lot to do with Voracek's breakout campaign. Philadelphia's captain assisted on 12 of Voracek's 22 conversions last season.
Weaknesses
It's hard to find weaknesses on a line as well-balanced as Giroux, Hartnell and Voracek.
To nitpick, Hartnell's age (31) is of concern as he's moving out of his hockey prime. Moreover, it's uncertain as to whether he's truly the elite goal scorer he was two years ago or the average goal producer from last season.
Voracek also needs to prove he can maintain his above-average goal production to remain a viable option for perennial MVP candidate Giroux.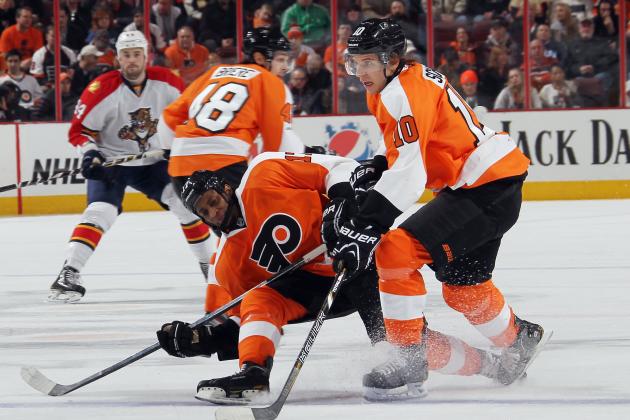 Bruce Bennett/Getty Images

Strengths
While Philadelphia's first line will clearly be the team's go-to line, the Flyers don't take much of a step backward at all when the second unit comes over the boards.
In place of the undersized and injury-prone Danny Briere, the Orange and Black have added sturdy centerman Vincent Lecavalier. At 33 years old, Lecavalier is no longer in his NHL prime but still presents a proven goal-scoring presence for Philadelphia.
Lecavalier has poured in double-digit goals in each of his 14 NHL campaigns and has managed 20 or more conversions 12 times. Furthermore, with a Stanley Cup championship on his resume, Lecavalier should provide the kind of veteran leadership that will help youngsters like Wayne Simmonds and Brayden Schenn develop even faster.
Simmonds has been a model of consistency since coming to Philadelphia. In two seasons with the Flyers, the blossoming 6'2", 183-pound power forward has missed just three games while contributing 43 goals and 81 points during that time.
Like Hartnell, his size helps clear real estate for his fellow playmakers, and Simmonds has quickly become one of the NHL's premier front-of-the-net operators.
Meanwhile, Schenn, who came over with Simmonds from the Los Angeles Kings in the summer of 2011, has all the tools to quickly develop into an offensive force. He possesses exceptional skating and hockey sense. He has above-average playmaking vision and should eventually pour in 25-30 goals consistently at the NHL level.
Weaknesses
There are certainly more question marks surrounding Philadelphia's second line than the club's top unit.
At 33 years old, Lecavalier is no longer the game-changing force he once was. His goal totals have been steadily on the decline since 2008 (he hasn't surpassed 30 goals in any of the last five seasons) and missed a total of 49 games due to injury over that span.
Simmonds may be a steady offensive contributor but he leaves something to be desired on the defensive end of things. The former second-round pick in 2007 has registered just one plus-rating in five NHL campaigns and doesn't possess the kind of skating and defensive acumen to receive much short-handed ice time.
Finally, Schenn has all the tools to be an elite NHL talent but, in two-plus seasons at the game's highest level, has yet to fully demonstrate what made him the fifth overall selection back in 2009.
Projected as a pure NHL sniper, Schenn has managed just 20 goals in 110 career NHL outings. If he doesn't take a significant step forward this season, serious doubts will begin to surface as to whether Schenn is the elite NHL talent everyone thought he was.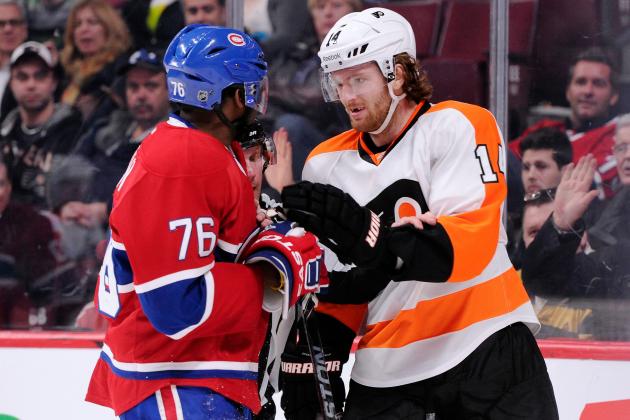 Richard Wolowicz/Getty Images

Strengths
Philadelphia's third line will not only be incredibly difficult to score against; it should also give the opposition fits while attempting to stop it from scoring.
Sean Couturier, Max Talbot and Matt Read are three of the Flyers' top two-way forwards and should make life miserable for opposing team's top lines throughout the 2013-14 season.
All three possess above-average skating and are frequently among the first players over the boards when Philly is short-handed. Read is a smart, steady defender, while Talbot is a grinder with a motor that never stops and Couturier is a strong defender who plays with the kind of edge that gets under the skin of his opposition.
And all three have the ability to contribute on the offensive end as well.
Read is one of just four Flyers to have registered double-digit goals in each of the last two seasons and has already managed 35 tallies in just 121 career NHL outings.
Couturier surprised everyone by notching 13 goals and 27 points in his rookie campaign two years ago but struggled through a four-goal, 15-point season a year ago.
Meanwhile, Talbot (never the flashiest of offensive players) is just two seasons removed from a career-best 19 conversions in his first season with the Orange and Black.
Weaknesses
As just noted, Philadelphia's third line is riddled with optimism and questions.
While Read has shown to be a capable goal scorer at the NHL level, he doesn't appear to have the breakaway speed or an unstoppable shot to sustain that goal-producing pace over time. What's more, he doesn't appear to be able to create his own offense.
Meanwhile, is Talbot the 19-goal guy from two seasons ago or the five-goal scorer of last year? The reality is probably somewhere in between—which makes Talbot a role player at best.
Finally, Couturier will be looking to show that last season's struggles were nothing more than a sophomore slump. The former eighth overall selection in 2011 could one day be a top-six forward for the Flyers, but only if his production becomes drastically more consistent.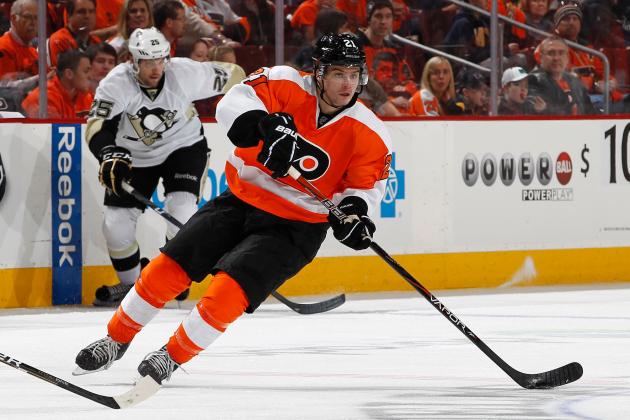 Jeff Zelevansky/Getty Images

Strengths
The duties of an NHL fourth line are fairly simple. Be responsible in your own end. Be difficult for the opposition to play against. Contribute occasional offense.
Philadelphia's fourth unit should be able to do just about all of that.
Scott Laughton, Philadelphia's first-round selection in the 2012 draft, should be given a spot on the final roster and is projected as a third-line, two-way center. For now, he'll center the team's fourth line and should provide a solid defensive presence while implementing a tenacious work ethic.
Meanwhile, the feisty Zac Rinaldo should provide the opposition with plenty to think about.
At 5'11", 180 pounds, Rinaldo isn't instantly intimidating but should have the respect of the entire league after compiling 317 penalty minutes through his first 98 career NHL outings. Rinaldo isn't afraid to finish his checks, mix it up after the whistle and drop the gloves when necessary.
Finally, Tye McGinn will likely round out the Flyers' fourth line and will look to expand upon the production he managed in 18 games a season ago. A good-sized forward at 6'3", 207 pounds, McGinn managed three goals and five points last year but showed flashes of offensive upside that could lead to considerably more production over an 82-game calendar.
Like Laughton and Rinaldo, McGinn isn't afraid to play the body and will stick up for his teammates when called upon.
Weaknesses
While Philadelphia's fourth line may chip in some occasional offense, it certainly won't set the hockey world on fire with its production.
McGinn, Rinaldo and Laughton have combined for eight career NHL goals in 121 games. Both McGinn and Rinaldo each managed three conversions a season ago, while Laughton failed to light the lamp in five early-season tilts last year.
Moreover, the line is extremely inexperienced. Laughton has only the five games just mentioned on his NHL resume, while McGinn has participated in just 18 career NHL contests. That inexperience could prove devastating if that line is ever caught out against an opposing team's top unit.