The Pittsburgh Steelers are 0-2 to start the season and the offense is to blame. With 19 points, less than 500 total yards and an average of a mere 4.4 yards per play, there's no way to spin it—the Steelers offense is in trouble.
It started with the run game, with second-round 2013 draft pick Le'Veon Bell sidelined with a foot sprain until at least October and one of his backups, LaRod Stephens-Howling, tearing his ACL, ending his season.
It continued with the offensive line, with center Maurkice Pouncey done for the year with ACL and MCL tears. And with tight ends Heath Miller and Matt Spaeth both out for now, the Steelers' ability to protect the quarterback and block in the run game has been affected.
All passing and no running sets up Ben Roethlisberger for defensive punishment and increases his chances of throwing interceptions.
The lack of a run game has had a negative impact on the passing game. And the passing game, which lacks a deep threat now that Mike Wallace has moved on in free agency, means that the Steelers cannot move the ball effectively. They converted only three of their 12 third downs in their 20-10 loss on Monday night to the Cincinnati Bengals and just four of 13 against the Tennessee Titans the week before.
Though things should pick up offensively for the Steelers once both Miller and Bell make their returns to the field, in the interim the team must find ways to make up for their absences. They cannot just sit back and wait for these two key players to come back and continue doing what they have been—the losses will continue to add up, putting them deeper into a hole that becomes harder to climb out from.
The passing game needs work—Jerricho Cotchery has taken up the receiving role that was Miller's, as the short-yardage, move-the-chains player in the middle of the field. However, Cotchery isn't Miller—he's less physical and less reliable, catching only three of the nine passes thrown to him on Monday.
Emmanuel Sanders needs to embrace his role as the deep threat who replaces Wallace and adjust accordingly, fighting for the football and getting behind coverage or else he could lose snaps to other receivers.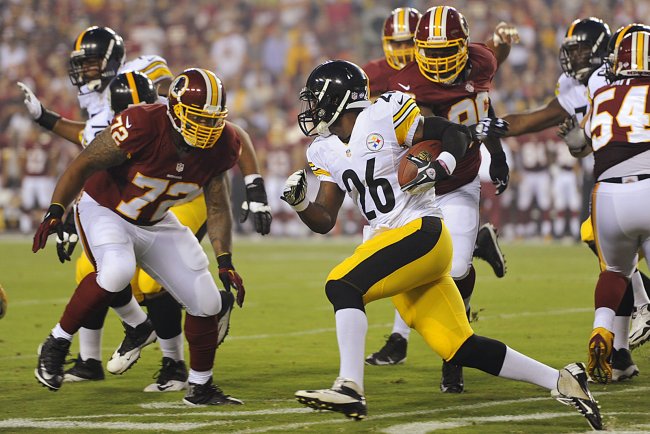 Geoff Burke-USA TODAY Sports
But none of this can really take a step forward without a better run game, and improving the run looks like a daunting task.
Think about it: The Steelers had just 31 yards on 15 rushes in Week 1 and starter Isaac Redman earned only nine yards from his eight carries. The Steelers knew this was an area of concern prior to the start of the season and that point was driven home after Week 1. They worked on it, there's no question, but the Week 2 results weren't any better, with 44 yards on 16 rushes.
Attempting to set the tone with the run in Week 2 against the Bengals didn't prove fruitful. They ran for all of their opening three plays but gained only five yards and had to punt. All 37 of Felix Jones' yards came in the first half, when Redman was out with a possible concussion sustained on the opening kickoff. When Redman was cleared to return, Jones saw no more touches and Redman continued his struggles from Week 1, rushing in this game three times and netting four yards.
Steelers-Bengals Week 2 highlights.
The Steelers cannot completely abandon the run, however. That's been one of their biggest mistakes thus far. Though the run hasn't produced—the Steelers now have eight straight games with fewer than 100 yards rushing—sticking to it at least keeps opposing defenses honest. It's still something they have to prepare for and react to, and that will relieve pressure in the passing game.
Only passing the ball makes the passing game worse for the Steelers, not better. Roethlisberger has already been sacked seven times through two games and with the offensive line struggling in protection—especially without their top two blocking tight ends—he'll only be taken down that much more often. Coverage on the receivers will be tighter and more constant if defenses know the run game is so little of a threat that the Steelers don't bother using it.
Vincent Pugliese-USA TODAY Sport
The Steelers implemented zone blocking for their offensive line after hiring Jack Bicknell Jr., a guru of the scheme, as their new line coach. However, there were some concerns that the personnel on the Steelers line wouldn't be able to adapt to the more athletic demands of the scheme.
Something needed improving, though: Last year, according to Football Outsiders (subscription required), the Steelers ran 74 percent of their running plays up the middle (more than any other team in the league) but ranked just 31st in yards from that direction. If up-the-middle wasn't working, but it was all they could do in a power-running scheme, then perhaps adjusting the line so that backs could better bounce to the outside would provide better results.
So far this season, the Steelers have had 13 of their runs go to either outside the fullback on the right or outside the tight end on the left, while their other 16 runs have been between the tackles or guards, according to Pro Football Focus (subscription required).
Steelers Rushing by Direction, 2013

| | | | | | | | | |
| --- | --- | --- | --- | --- | --- | --- | --- | --- |
| | LE | LT | LG | ML | MR | RG | RT | RE |
| Atts | 7 | 0 | 2 | 7 | 3 | 3 | 1 | 6 |
| Yds | 11 | 0 | 6 | 24 | 13 | 4 | 2 | 18 |
| Avg | 1.6 | 0 | 3.0 | 3.4 | 4.3 | 1.3 | 2.0 | 3.0 |
| YCo | 5 | 0 | 4 | 10 | 5 | 3 | 1 | 8 |
| Long | 4 | 0 | 4 | 8 | 14 | 3 | 2 | 6 |
| TD | 0 | 0 | 0 | 0 | 0 | 0 | 0 | 0 |
| MT | 1 | 0 | 0 | 0 | 0 | 0 | 0 | 1 |
| Fum | 0 | 0 | 0 | 1 | 1 | 0 | 0 | 0 |
Pro Football Focus (subscription required)
Those outside runs have gained the Steelers only 29 yards, however. They've been most successful this year, relatively speaking, between the guards and the center, with 10 rushes for 37 yards, including their two longest rushes of the year (eight and 14 yards, respectively).
Part of the reason the Steelers moved to the outside-zone scheme was to highlight the strengths of Bell. However, Bell isn't there—Redman and Dwyer, the Steelers' two top rushers from 2012, and Jones are. They aren't suited for this scheme, clearly, and the scheme isn't taking to perfection for the line either.
Though it's a disappointing admission of failure to ditch the work they have done all summer long, a shift to their old scheme might produce better rushing results, at least until Bell comes back.
Jeremy Brevard-USA TODAY Sports
Like it or not, the Steelers must rely on Redman, Dwyer and Jones for the time being and they need to put them in better positions to succeed. The Steelers cannot lumber on with less than 50 rushing yards per game. It puts their entire offense, and in turn their ability to win games, in jeopardy.
In the passing game, the Steelers must find a way to stretch the field vertically, which would also help out the run game even if they stick with zone blocking for the time being. Sanders is presently taking up Wallace's old job as the deep threat. Sanders, however, is better suited to a slot role, where Cotchery is presently playing as the Miller proxy.
Instead, Cotchery should be a rotational receiver going forward, with Sanders moving between being the deep man and the slot—and when he's in the slot, that outside job should to go third-round rookie Markus Wheaton. Wheaton has played only 12 offensive snaps through two games and has had no passes thrown his way.
What do you think will help the Steelers offense the most?
This is confusing, because of Wheaton's draft pedigree and how similar he is in style to the departed Wallace. Though rookie receivers take longer to integrate into an offense than nearly any other position, that doesn't mean the Steelers need to steer clear of trying to get him the ball.
Besides, what the Steelers have been doing on offense thus far is obviously not working; there's little harm at this point in getting Wheaton more involved, and head coach Mike Tomlin says he plans to do just that moving forward.
Things should get better when both Bell and Miller (and Spaeth) are healthy enough to return to in-game action. But that day could be weeks away, and the Steelers cannot be sitting at 0-5 or 0-6 when both men are back on the field and ready to play. They must adapt to their current situation—or at least, adapt to it better than they have through their first two games.
Insanity, it is said, is doing the same thing over and over while expecting a different result. For the Steelers not to make changes—to the plays they call, the personnel on the field when they are called or even, if it comes to that, the person who calls the plays to begin with—would be a huge hit to their chances to turn their season around and start winning games.