Biggest Surprises for the LSU Tigers Through Week 3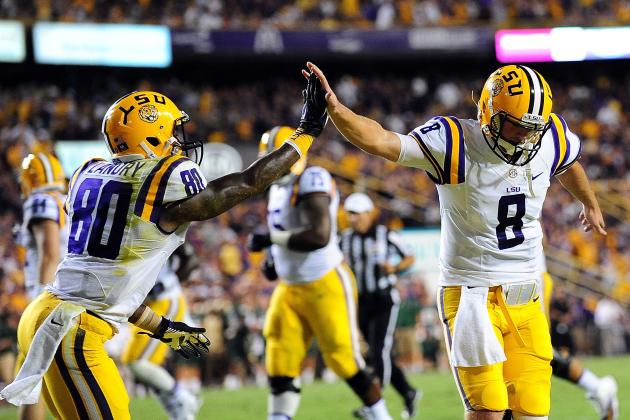 Stacy Revere/Getty Images

Breaking news—the LSU Tigers found a consistent offense through three weeks of the 2013 college football season.
The biggest story for LSU this season has been the emergence of a heartbeat on the offensive side of the football. Behold! It lives.
With Cam Cameron serving as Frankenstein, Zach Mettenberger and the passing game came alive with Odell Beckham and Jarvis Landry forming one of the greatest tandems at this level.
But really, this is just the tip of the iceberg when it comes to tale of the season. Let's dive into the deep cold water that is LSU's 2013 early season storyline.
Begin Slideshow

»
Zach Mettenberger is the talk of Louisiana.
He got some chatter by rocking a mustache and dressing up as Ron Burgundy, but the real buzz comes from Mettenberger's rocket arm and efficiency as a passer.
After three games of action, Mettenberger is the first LSU quarterback in school history to have nine touchdown passes and to throw for 250 yards or more in each game.
Want another impressive stat? Put a big fat zero in the interceptions column for Mettenberger, who is now 13-3 as LSU's starting quarterback.
Who gets the credit for this? Everyone praises new offensive coordinator Cam Cameron for his tutelage, but let's also give props to Mettenberger for his maturity on and off of the field.
That "9" on Freak's jersey is missing a 0 isn't it?
Oh, wait that's not Anthony Johnson. Turns out—Ego Ferguson, the man who wears No. 9, next to the No. 90 wearing Johnson is having a bigger impact than the man who was thought to be one of the best defensive linemen in the SEC.
Don't worry—Johnson still occupies double teams and gets his stats (2.5 tackles for loss). However, Ferguson has overshadowed Johnson's performance with 16 total tackles and a sack.
His effort against Kent State earned him the SEC defensive lineman of the week award. Ferguson recorded seven tackles in the first half. Yeah, a defensive tackle actually led the team in tackling, finishing the game with eight.
Many expected Johnson to be dominant inside, but did fans expect Ferguson to be as effective as he's been?
We all knew Odell Beckham was shifty and fast heading into the season, but did anyone predict he would lead the nation in all-purpose yards after three games?
Beckham has molded himself into an impact player. Like Tyrann Mathieu before him, he has a certain aura that can be called the "it" factor.
All the good ones have it. Anytime this player takes the field and is in position to receive the ball, as a viewer, you automatically assume you're about to watch something beautiful transpire.
That's the way it was Saturday night against UAB when Beckham recorded 303 all-purpose yards and four total touchdowns, including a returned field goal attempt for a touchdown.
Beckham was a great weapon for the Tigers in the past, but after three games into this season, he's transformed himself into one of the deadliest home run hitters in college football.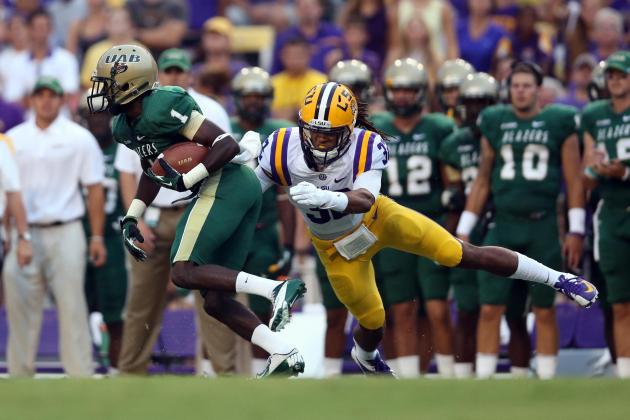 Crystal LoGiudice-USA TODAY Spor

No way to sugarcoat it—LSU isn't looking like DBU early into the season.
The Tigers gave up 145 passing yards to TCU, 136 yards through the air against UAB and unforgivably, 160 passing yards to Kent State.
There's a scapegoat in the secondary and his name is Jalen Collins. Collins' coverage and tackling has been suspect to say the least, and tackling as a whole in this unit has been a weak point.
The good news for the Tigers is that it's early into the season, and with every passing game, young, capable stars like Rashard Robinson and Tre'Davious White are gaining experience. White will likely see the field first though, as he's been promoted, to share the starting cornerback role with Collins.
I expect Jalen Mills and Craig Loston to keep their jobs, but I wouldn't be surprised to see Micah Eugene play more free safety, along with his nickel position, while White overtakes Collins position.
Should we be all that surprised?
Never mind the 27 LSU players seeing action as a Tiger for the first time in their careers, and forget about 14 true freshmen seeing the field in 2013. Jeremy "always be" Hill (it's a play on words with wrestling jargon, bro) is the starting tailback.
And quite frankly "always be" Hill should be his nickname, because in the eyes of some fans, Hill will always be a heel, or villain for you folks that never watched wrasslin'.
Leveling someone at a bar and gloating about it has scared his reputation as a role model, but his abilities on the gridiron put him back atop of the other running backs. Hey, that's just how things work at LSU. Jordan Jefferson went through a similar ordeal back in 2011, and he came back to start in November.
Unlike Jefferson though, Hill reclaimed his starting spot just three games into the season. That is a bit of a shock, friends.