Florida Gators vs. Tennessee Volunteers Complete Game Preview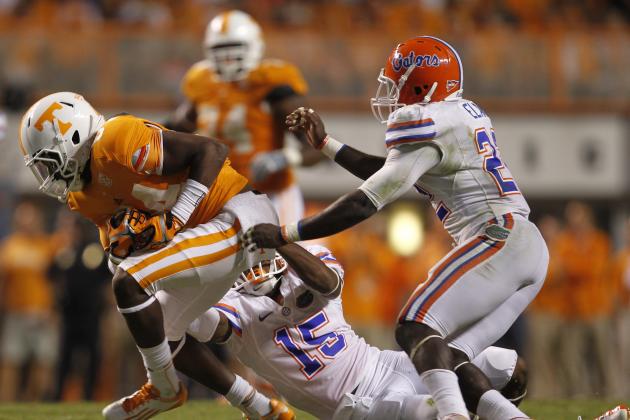 John Sommers II/Getty Images

The Gators and Vols enter Saturday stained with one loss each, but Saturday's contest signals the teams' start to an untested crusade: conference play.
Both squads unwrap their SEC seasons in The Swamp for a 3:30 p.m. ET kickoff, marking their 43rd meeting in their schools' histories. No. 19 Florida clutches the series advantage (23-19) and is cruising on an eight-game winning streak against Tennessee—a series best. Most recently, UF topped UT, 37-20 last year in Knoxville.
The Gators (1-1) play host fresh off a bye week, when they spent two days strictly on themselves following a mistake-ridden, undisciplined drop to Miami. UF Coach Will Muschamp told the media Monday the team spent the beginning of last week with an internal focus before shifting sights on the Vols.
Though Florida boasts a break from competition, Tennessee (2-1) comes into the contest with an open wound from Oregon's 59-14 beating in Week 3. However, prior to that, the Vols had chalked up two blowouts of their own in a 45-0 win versus Austin Peay and a 52-20 victory over Western Kentucky.
Will The Vols seize Saturday's opportunity to redeem themselves after their loss to Oregon? Or will Florida continue its winning streak against the Vols and benefit from additional prep time? It's their first conference test of the season, and both still have plenty to prove.
When: Saturday, Sept. 21; 3:30 p.m. ET
Where: Ben Hill Griffin Stadium, Gainesville, Fla.
TV: CBS
Radio: Siruis 91, XM 91,
Spread: Florida (-17.5), via SportsChatPlace.com
Begin Slideshow

»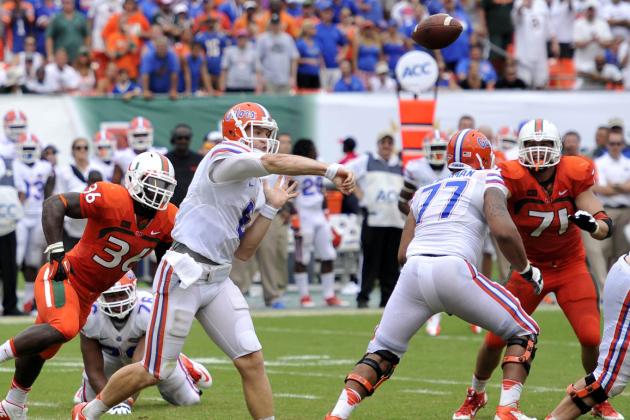 Brad Barr-USA TODAY Sports

Put the gun down
UF's major issues right now have little to do with their opponents and plenty to do with themselves. Against the Vols, the Gators' key to success will be overcoming those internal hurdles. Florida has been shooting itself in the foot this season with plenty of undisciplined play—especially evident against the Canes where they were laden with substitution errors, lack of production in the red zone and penalties.
Tennessee doesn't pose any major threats, making Florida's biggest villain itself.
Quarterback Jeff Driskel said, "On an off-week you do work on yourself before you get into your opponent, so it timed out well for us" (via GatorZone.com).
Get a grip
...on the ball. Florida didn't do itself any favors in its loss to Miami, slipping into five turnovers and giving up 14 points. Lack of ball security is undoubtably the Gators' main killer at this point in the season. Currently, UF ranks last in the SEC in turnover margin (-4).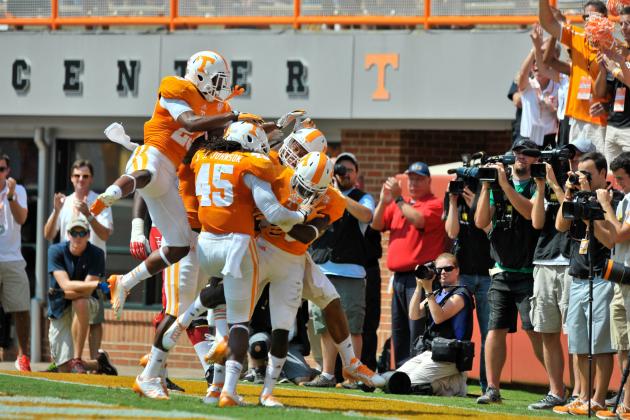 Jim Brown-USA TODAY Sports

Master mental toughness
In his opening remarks to the media this week, UT coach Butch Jones said, "right now, moving forward, we are not a very mentally tough football team" (UTSports.com). Jones pinned a hefty chunk of the Vols' downfall to the Ducks to a lack of attention to "small details," including 16 missed tackles. Jones elaborated:
If you (asked me), 'What's the biggest area of improvement?' It's becoming a much more mentally tough football team. Proving that you can go on the road and handle all the distractions that it takes in preparation before the game, but also on game day as well.
Saturday marks Tennessee's second consecutive road game and yet another hostile environment. If the Vols thought it was difficult to focus at Oregon, they're in for a rude awakening when they come to Florida.
Speed up
Of course the Vols were going to look like the chubby kid in gym class against the Ducks' top notch, fast offense. But moving into SEC play, addressing the team's lack of speed is going to be crucial. While Jones said there are only so many things you can do to make your team faster, UT can work on upping its pace by reading keys better and not letting their minds tie their feet up. "Football is a game of instincts and reactions," Jones said. "I didn't think that we reacted as quickly as we needed to. We have to develop our speed."
This will be key against UF's elite defense. There will be no time for hesitation.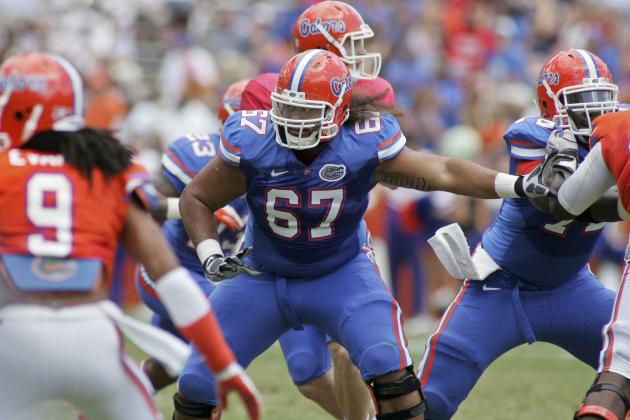 Phil Sears-USA TODAY Sports

Jon Halapio (RG, Redshirt Sr.)
Florida's offense returns a major starter this weekend in Halapio. He was sidelined from preseason practice and the Gators' first two games of the season due to a pectoral injury, but will make his season debut at right guard against the Vols. Halapio started every game of 2011 and 2012 at right guard, and at this point, UF needs all of the experience on offense it can get. Will his comeback mark another rusty offensive return for the Gators or is the veteran leader just the right remedy for the struggling offense?
Vernon Hargreaves, III (CB, Fr.)
The freshman is making his mark for the Gators early on this season, currently leading the team in interceptions with one per game thus far. Against Miami, he recorded three unassisted tackles. No doubt he'll continue to develop into a top player for the Gators as the season burns on. Hargreaves' impressive performances this season earned him high praise from coach Will Muschamp Monday (via GatorZone.com):
We'll play freshmen when they're ready and this guy's ready, that's the bottom line. He's been productive at practice, he's been productive in games. I'm young, but I'm old-fashioned that it doesn't just snap on game day and all the sudden it happens that the guy plays really well. Vernon produces in practice every single day going back to camp, day one all the way through when he was injured, then he came back off his injury and was productive again and he does it on game day. That's why he's playing and is a guy that's going to be in the rotation as far as starting.
Florida's full depth chart is here.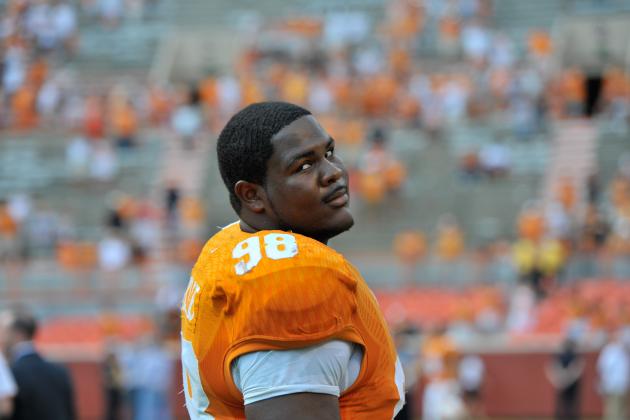 Jim Brown-USA TODAY Sports

Daniel McCullers (DL, Sr.)
UF coach Will Muschamp talked about McCullers on Monday, saying "he's a hard guy to move" (GatorZone.com). "Hard" is putting it mildly. The 6'8, 351-lb. senior defensive lineman received national attention last season for his impressive size in a USA Today article penned by Dan Wolken. McCullers boasts six tackles for Tennessee this season, four of which were unassisted. He posted three unassisted tackles in Tennessee's 37-20 loss to Florida last season, marking him as a leading tackler for the game. Keep an eye on McCullers to see if he rises to the occasion against Florida again this season.
Justin Worley (QB, Jr.)
As our own Brad Shepard wrote, Worley is on a short leash. While he's got the start in Gainesville, coach Butch Jones made it clear in his press conference that the QB starter spot is currently up for grabs (via UTSports.com):
We may open it up and give more repetitions. Obviously we have to prepare the guys that are going to play in the game. You have to earn your spot each and every week. We will see what the freshman can handle. Nathan Peterman continues to progress along... I just think competition is healthy. It is going to be a week-to-week process, who can manage the offense the best.
Worley has struggled with unforced errors and Jones is demanding more aggression from the junior. While Saturday isn't the ideal spot to give a new QB a start, it could be the last start for Worley. Tennessee is likely to opt for younger, more talented options moving into the midseason competition. The Swamp will set the stage for Worley to fight for his starting spot or pave the way for a replacement.
Tennessee's full depth chart is here.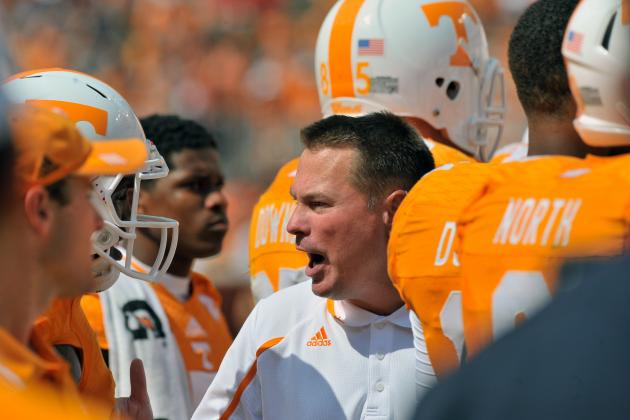 Jim Brown-USA TODAY Sports

Florida head coach Will Muschamp in Monday's press conference (via GatorZone.com):
We just need to take care of Florida. And we'll get Tennessee's best effort, and Oregon's got a good football team, so we just need to take care of Florida and start the SEC schedule, their tempo and momentum will be a lot different walking in there I assure you that.

It's still a huge rivalry, it's still a very important game to the University of Florida. There's no question because of the prominence that both schools had in the 90s, it was a leadoff game for CBS it seemed like every single year, so there's no question it's got great, great history. It's a huge game for both teams."
Florida junior quarterback Jeff Driskel (via GatorZone.com):
No one's been able to stop us when we haven't had a turnover or a penalty. So just worrying about us first and then taking care of the other team second. If we can handle us, we'll be fine.
Tennessee head coach Butch Jones in Monday's media session (via UTSports.com):
Losing will never ever be tolerated here or accepted at the University of Tennessee and it's unacceptable. You can search for all the excuses that you want, but winning is a habit and losing is a habit and it's unacceptable. Our players are going to understand that. It means talks about your week of preparation, it means players stepping up and making big time plays, it's preparing our team.

All I know is the present. It is Team 117. It is a great rivalry game, versus a great football program, a well-coached football team with great football players on the road in a great environment. It is a great opportunity but it is going to take everything that we have. We must be the team that overachieves Saturday. Our players understand the rivalry, what is at stake. I think they understand what has gone on before them. The only thing we can control is our preparation and how we play on Saturday.
Tennessee senior offensive lineman Ja'Waun James on playing in The Swamp (via UTSports.com):
As older players, we've played in so many places that it really doesn't affect us. We've just got to go out here and prepare. Coach Jones does a good job with crowd noises and things like that to distract us at practice, so if we prepare, I feel like we can play anywhere. You can't put the venue as an excuse.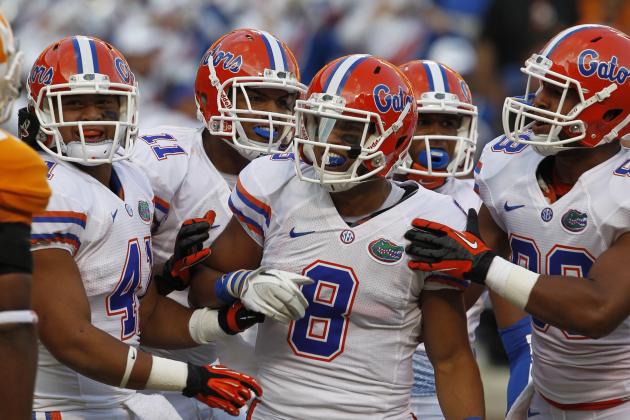 John Sommers II/Getty Images

Sadly, this game comes down to one question: Whose team is worse? The answer is Tennessee's. Both teams have plenty to discover about themselves at this early point in the season, but the Vols have too much to overcome to pull off an upset. With Florida's bye week, the Gators have had plenty of time to prepare for a game they were already predicted to win marginally. However, while Tennessee's wide-gapped loss to Oregon has some thinking Florida will run up the scoreboard, keep in mind that comparing the Ducks' offense to the Gators' is apples to oranges. It'll be a low-scoring game, but a double-digit win for Florida.
Prediction
Florida 24, Tennessee 10