Norris Trophy Watch: Preseason Ranking of Top Candidates for 2013-14 Award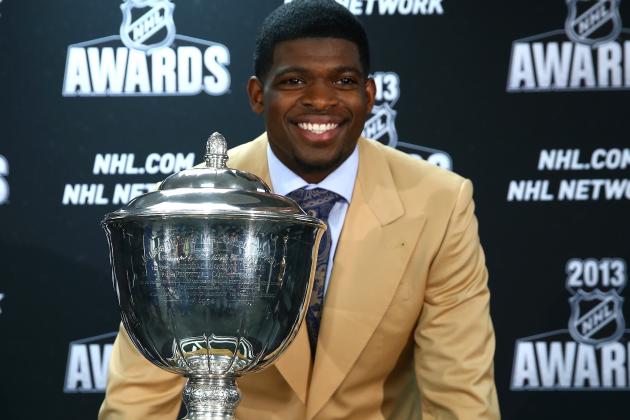 Bruce Bennett/Getty Images

P.K. Subban ushered in the post-Nicklas Lidstrom era by winning the Norris Trophy in 2013.
Subban's outstanding all-around play helped the Montreal Canadiens finish as the No. 2 seed in the Eastern Conference last season. It was also somewhat shocking, because Subban was largely viewed as an impressive offensive talent with some defensive deficiencies at the start of the season.
However, he became a responsible player on the defensive end without losing any of his offensive effectiveness and that enabled him to come away with the Norris Trophy.
Subban will be a candidate to win the Norris Trophy again, but he will have to hold off an outstanding group of defensemen. Here's our ranking of the top Norris Trophy candidates in 2013-14.
(The CORSI ratings are used in these rankings. CORSI ratings are a statistical analysis that measures shot differential when a player is on the ice.)
Begin Slideshow

»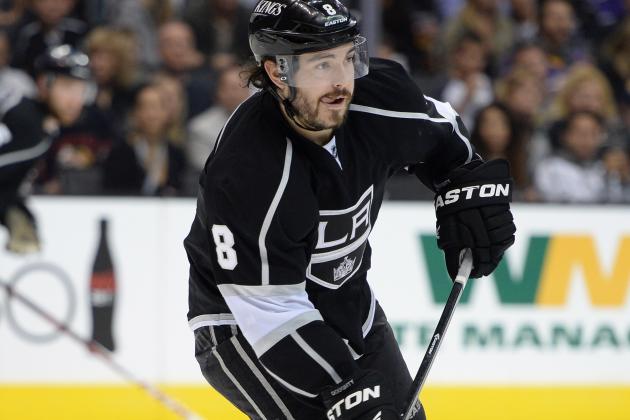 Harry How/Getty Images

Drew Doughty did not have his best season in 2013, but he is the defenseman that head coach Darryl Sutter depends on the most for the Los Angeles Kings.
Doughty is solidly responsible on the defensive end, he can carry the puck and pass it and he has a functional shot from the point. Doughty scored six goals and 16 assists in last year's partial season and finished plus-four on the season.
Doughty averaged 26:23 of ice time per game last season. That's the indicator that Sutter trusts him completely.
Doughty also had a CORSI rating of 14.84, the fifth highest in the league in that category. He should be primed for a terrific season in 2013-14.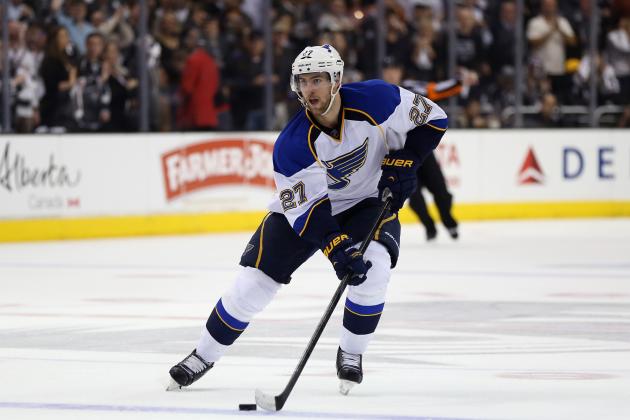 Jeff Gross/Getty Images

Alex Pietrangelo was not quite as effective in 2013 as he was in 2011-12, but he is one of the best skating defensemen in the league.
Pietrangelo carries the puck with ease and excels at shooting and setting up his teammates. He scored five goals and 19 assists and he averaged 25:07 on the ice.
Look for Pietrangelo to come closer to the 12 goals and 39 assists he put on the board in 2011-12. He had a plus-16 rating that season, while his plus-minus rating was zero last year.
Pietrangelo had a 4.78 CORSI rating in 2013.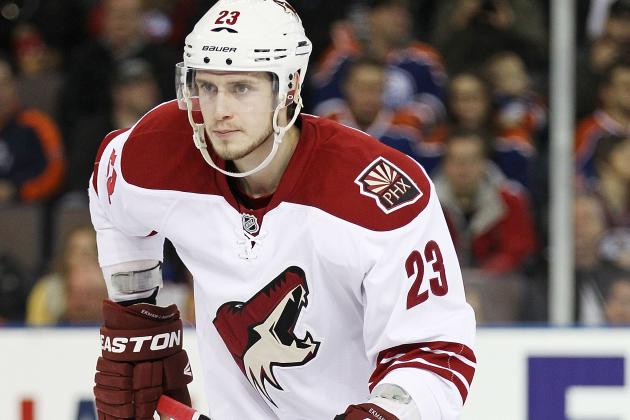 Perry Nelson/Getty Images

Oliver Ekman-Larsson may be young, but he is a responsible blue liner who has the overall talent to become one of the league's best defensemen.
Ekman-Larsson, 22, is a superb skater who is also a deft puck handler. He became the Coyotes' best defenseman last year as he scored three goals and 21 assists and he averaged 25:06 of ice time per game while finishing with a plus-five rating.
Ekman-Larsson matured on the defensive end in 2013 and he had a 1.22 CORSI rating.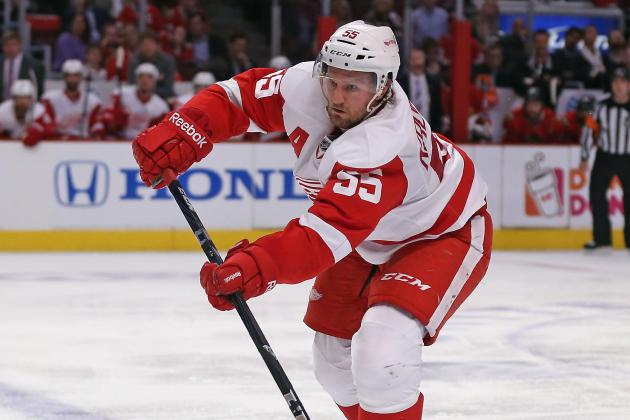 Jonathan Daniel/Getty Images

Niklas Kronwall knew he had huge shoes to fill when the 2013 season started because Nicklas Lidstrom was no longer in the Detroit locker room.
It was not Kronwall's job to fill in for Lidstrom, but it was his job to become the Red Wings' best defenseman. Kronwall is a physical defenseman who uses the hip check to dispose of opposing forwards the way a snow plow driver uses his front end to dispose of the heavy white stuff.
Kronwall had five goals and 24 assists last year and he averaged 24:21 of ice time last year. His CORSI rating was 7.85.
He should be even more effective as the defensive leader this year and his numbers could climb to much greater heights.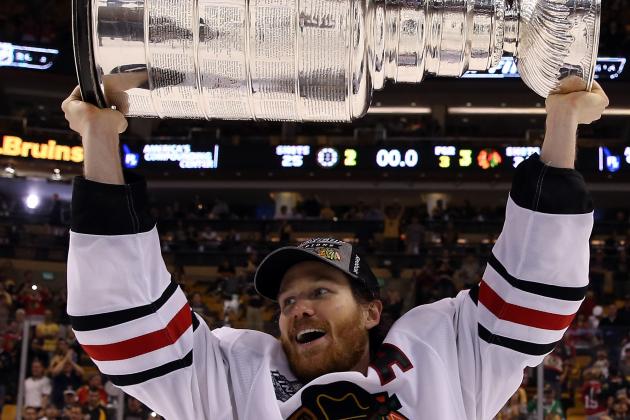 Bruce Bennett/Getty Images

Duncan Keith is the best defenseman on the defending Stanley Cup champions' roster.
He can take over a game with his speed, puck handling and his substantial offensive skills. He is not going to hesitate when it comes to physical play. Keith scored three goals and had 24 assists and was plus-16 during the Blackhawks' excellent regular season.
Once they got to the playoffs, Keith had two goals and 11 assists. Keith averaged 24:06 of ice time in the regular season and that number increased to 27:37 during the postseason.
Keith had a 4.75 CORSI rating last year.
Elsa/Getty Images

Simply the biggest and baddest defenseman in the league.
Chara has been bouncing bodies for years, and even though he is 36, he keeps himself in magnificent condition and should continue to be a dominant player for the Boston Bruins.
Chara's 108 mph shot puts fear into the hearts of opposing goaltenders, but that's just the tip of the iceberg. He is a responsible defender who will blast forwards who come into his zone. He uses his long stick to break up passes and he will always sacrifice his body to block shots.
Chara had seven goals and 12 assists last year and he had a plus-14 rating while averaging 24:56 of ice time per game.
He had a few issues in the Stanley Cup Final when the quickness of Jonathan Toews and Patrick Kane caused problems, but he remains formidable.
Chara had a 14.21 CORSI rating in 2013.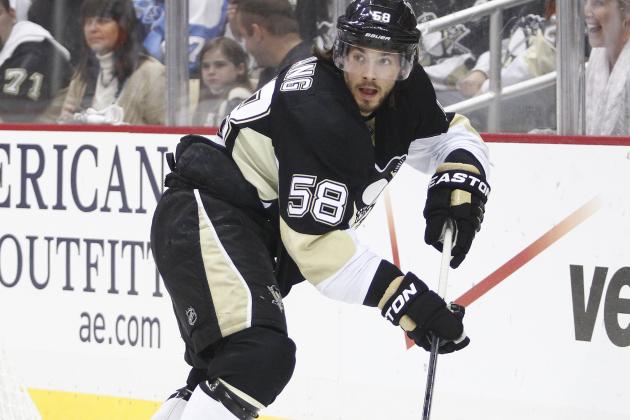 Justin K. Aller/Getty Images

Kris Letang is one of the best skaters among all defensemen in the league. That ability allows him to jump into the play and attack the net.
Letang has been criticized before for his lack of attention to detail on the defensive end and because it seems that offense is his priority. However, that assessment may not be fair because Letang has so much catch-up speed that he can get back into the play and defuse an opponent's rush, even if it is accomplished in an unconventional manner.
Letang had five goals and 33 assists last year was plus-16. He also averaged 25:38 of ice time last year, which was the most of any Pittsburgh defenseman.
Letang had a CORSI rating of 9.20, the best of all the Penguins defensemen.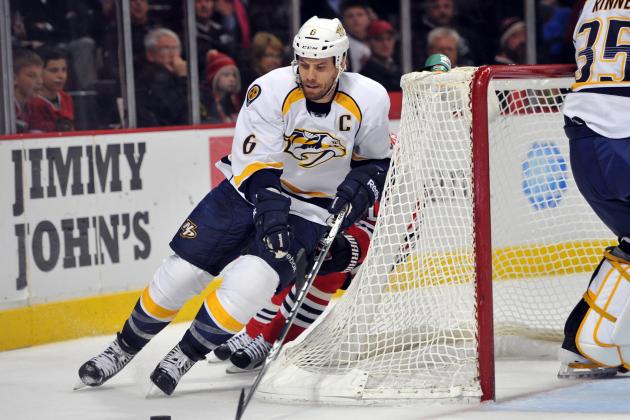 Rob Grabowski-USA TODAY Sports

Like Zdeno Chara, Shea Weber of the Nashville Predators is noted for his booming slap shot.
While he may finish second to Chara in the skills competitions that accompany the NHL's All-Star games, he may be a more dangerous shooter than his rival because he can get his shot away quicker.
He also is never hesitant to load the gun and fire, something that cannot always be said about Chara.
Weber had nine goals and 19 assists last year along with a minus-two rating for a Predators team that was not as strong as previous editions. Weber averaged 25:55 of ice time, but he had a negative CORSI number.
Look for a big bounce-back season in 2013-14.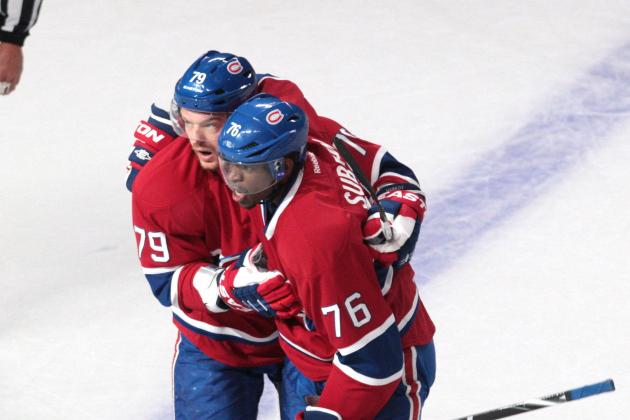 Jean-Yves Ahern-USA TODAY Sports

P.K. Subban started the 2013 season in street clothes, as he could not come to an agreement with the Canadiens on a new contract.
It seemed like Subban and his team were involved in an adversarial relationship, but Subban accepted the Canadiens' offer of a bridge contract and he quickly found his stride. He tied for the lead in scoring among all defensemen with 11 goals and 27 assists and he finished the regular season with a plus-12 rating.
Subban's CORSI rating of 15.16 stunned many observers who thought he was a bit too casual on the offensive end. However, Subban's speed and his ability to possess the puck gave him a huge advantage in that category.
He won the Norris Trophy last year and he will almost certainly be a prime contender this year.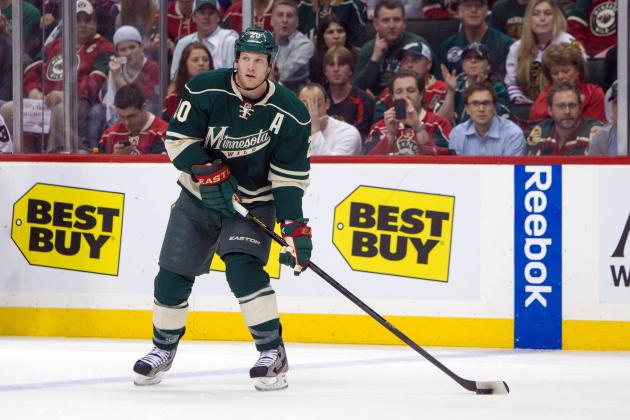 Brace Hemmelgarn-USA TODAY Sport

Ryan Suter was under the gun last season after signing a huge free-agent contract with the Minnesota Wild. He seemed to struggle under the burden of that 13-year, $98 million deal in the early going, but he found his stride and became a stud in Minnesota.
Suter scored four goals and 28 assists and finished the season with a plus-two rating. He averaged a league-high 27:16 of ice time and he had a minus-2.56 CORSI rating.
Minnesota head coach Mike Yeo leans on Suter to carry the puck out of trouble and to set a physical tone for the Wild. They became a playoff team last year and they could be an even better team this year as Suter gets more familiar in his role as the team's defensive leader.