Washington Redskins: 4 Burning Questions the Team Must Answer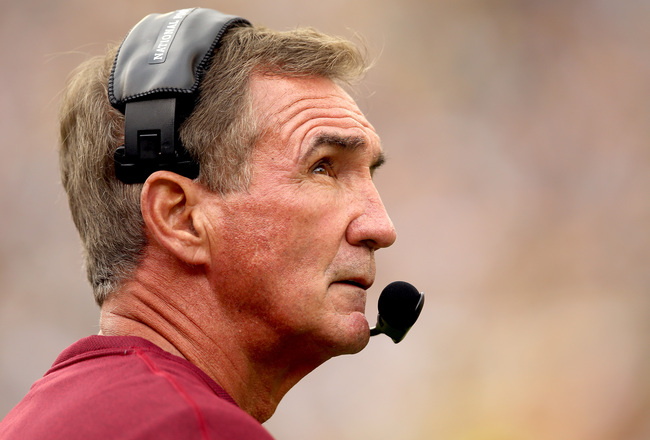 Mike Shanahan faces a lot of questions about his team's 0-2 start.
Matthew Stockman/Getty Images
The 2013 Washington Redskins were not supposed to start the season 0-2.
Robert Griffin III was supposed to light up the Philadelphia Eagles in Week 1 and expose the Green Bay Packers' inability to stop the read-option in Week 2.
Instead, every potential weakness highlighted by analysts in both the offseason and preseason has been targeted and used against the Redskins.
With just two weeks of the season in the books, there are already more questions than answers, so read on for the questions that must be addressed immediately.
Why Can't Anyone Tackle?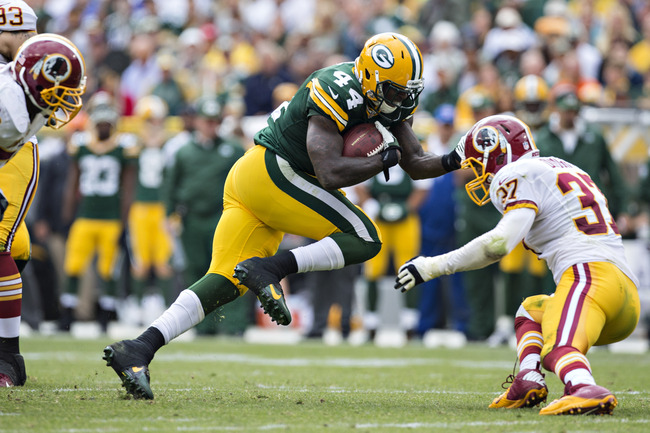 Washington has struggled to wrap up tackles in both games.
Wesley Hitt/Getty Images
It seems strange that an NFL team defending its division title should need such basic coaching. Yet here we are, with 120 minutes of evidence that suggests exactly that.
Jermichael Finley's 27-yard run for the Packers looked great on TV and the torrent of GIFs that followed were as predictable as they were flawed. "Finley Breaks Three Tackles" they sneered, yet all you actually see are three Washington defenders failing to wrap up Green Bay's tight end.
It's not even as if they took bad angles. All three Redksins took the inside line and forced Finley out to the sideline, reducing his running room and increasing their chances of pushing him out of bounds. Instead, they all went for his legs and were left with nothing but air and embarrassment.
According to John Keim at ESPN.com, Washington has allowed the most yards after contact—208—of any team in the NFL. Keim also noted that the Redskins ranked sixth in that department at the end of last season.
Yes, the Redskins have a secondary full of rookies and, in Brandon Meriweather, Mr. Glass from Unbreakable playing safety, but tackling is such a prerequisite of playing defense that it's genuinely shocking to see a team look this unprepared for a season.
The prospect of facing Calvin Johnson on Sunday doesn't look so good right now for Washington.
What's Wrong with Robert Griffin III?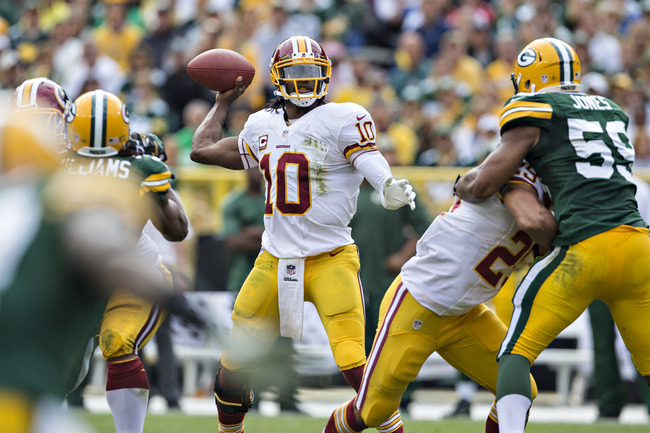 Griffin has looked out of sync with his offense, but it's not all his fault.
Wesley Hitt/Getty Images
A lot has been written about Robert Griffin III and his knee.
America is as well-versed in the recovery period following ACL surgery as it's ever been. Griffin has fanned the flames of expectation himself, but all that would have been forgotten with a strong performance in Week 1.
Hell, all that would have been forgotten with a poor performance in Week 1 and a strong one in Week 2. Instead, the only time that Griffin has looked comfortable is in garbage time, which seems to be the entire second half for this team.
Why isn't Griffin running on zone-read option plays? Are his rusty mechanics a result of pain in his knee? Is wearing the brace resulting in inaccurate throws? Are the coaches protecting him because of the outrage that followed the Seahawks game?
All of these things could easily fill slides of their own, yet the overall picture is concerning. Remaining unpredictable was such a huge part of the 2012 Redskins' success. Now that teams know Griffin isn't running, Washington's whole offense breaks down.
It's not all on Griffin, admittedly. His receivers have continued to drop passes on crucial downs that force the defense back on the field. Meanwhile, the running game has been stymied by a Washington defense allowing so many points that there's nothing to do but throw the ball to try to stay in the game.
However, Griffin missed a lot of reps in the offseason and it was insane to think he would come back and immediately be the same player we saw in Week 1 last season.
Those suggesting that Kirk Cousins should be put in as the starter at quarterback are missing the point, however.
Griffin needs the game time, which cannot be achieved by putting him on the bench. His awareness in the pocket will sharpen and he'll feel pressure better, resulting in fewer sacks.
He'll get out of the pocket and extend the play because, barring Trent Williams, this offensive line can't protect a pocket-passer. That is where his great natural ability will shine.
Tom Brady played poorly when he came back from ACL surgery in 2009, and he actually played in that preseason. Adrian Peterson—despite his huge year last season—wasn't the same player for the first few weeks. It takes time to get back up to speed.
In August, Jordan Raanan of NJ.com broke down the performances of all NFL quarterbacks in their first season back from ACL surgery. The results were mixed, to say the least.
Unfortunately, with an 0-2 start and the leakiest defense in the NFL, neither the Redskins nor Griffin have the luxury of time on their side. More than ever, the Redskins is relying on Griffin to drag them back to relevancy once more.
Is the Special Teams Unit Even on the Same Team?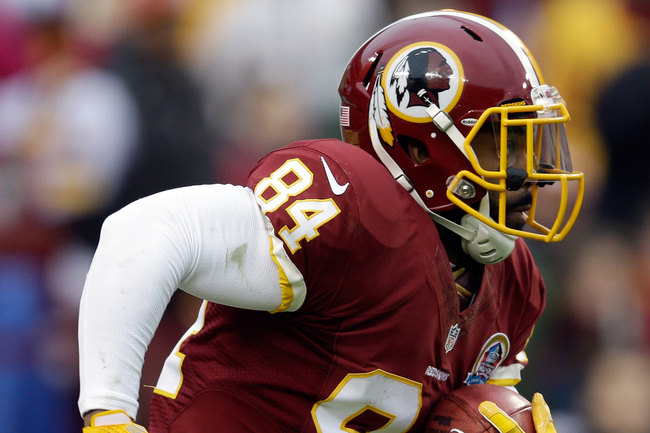 Niles Paul and the special teams unit have just added to the pressure on the defense.
Rob Carr/Getty Images
Niles Paul and Nick Sundberg both had 15-yard penalties against Green Bay. Meanwhile, Chris Thompson is struggling to return kicks and a punt by Sav Rocca went out of bounds after travelling only 25 yards.
Kai Forbath missed a 40-yard field goal attempt and then was injured for Week 2. His replacement, John Potter, had never kicked a field goal in the NFL, so he wasn't really trusted and then missed his only attempt of the game against the Packers.
All of these things trickle down on both the offense and defense. With good field position, the opposition immediately puts the defense under pressure, which means the offense has its back against the wall from the outset.
Last year, the Redskins held the opposition to 23.4 yards per kickoff return for the lowest return average in the league. Of course, they lost Lorenzo Alexander—their special teams captain and Pro-Bowl gunner with 19 tackles—in the offseason, as well as special teams coach Danny Smith.
Alexander was a huge loss and Paul has yet to adequately replace him.
Again, there will be growing pains with a new system and it's unreasonable to expect everything to click right away. However, with so many problems elsewhere, the Redskins' special teams unit has to be reliable and put the team in advantageous positions.
Why Are There so Many Penalties?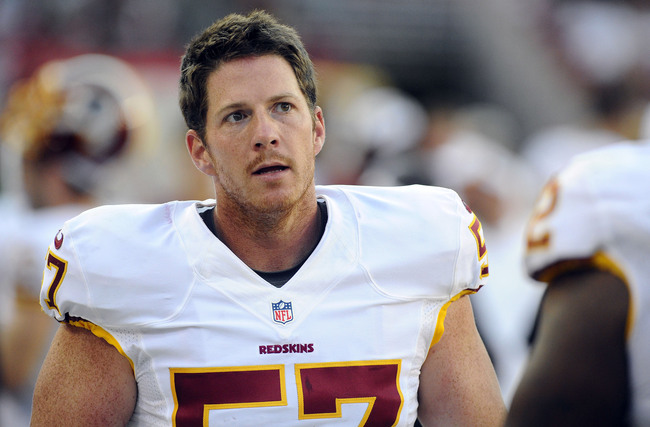 Nick Sundberg took a swing at an opposing player in Green Bay, drawing another penalty.
Brad Mills-USA TODAY Sports
According to Mike Jones of The Washington Post, the Redskins have committed 17 penalties for 153 yards so far. Jones noted that while eight teams in the league have committed more penalties in the first two games, four of the Redskins' infractions have come on special teams.
Jones quoted Mike Shanahan as seeming unconcerned:
You always want to be disciplined. A lot of times your team plays extremely hard and you have some unnecessary penalties, and it's more because of aggression, and you want to keep your poise.

I think Baltimore led the league last year in penalties, or they were close, and they won the Super Bowl. But, they're a very aggressive football team. But we're going to work on that, to try to eliminate those mistakes. We talked about it after the game.
Baltimore may have won last year's Super Bowl in spite of its penalties, but the Ravens' didn't have problems stretching across the entire roster. Washington has just that in 2013.
When offense, defense and special teams are misfiring, the only thing left is discipline. A team must put in a disciplined performance and hope the rest will follow. Frustrated horse-collar tackles, helmet-to-helmet hits and headbutts are unacceptable.
If Shanahan is unconcerned by this when talking to the media, his frustration on the sideline suggests otherwise.
All of the Redskins' problems are correctable—that's the silver lining. There are 14 weeks left to get this team playing like it did at the end of last year.
Washington was written off at 3-6 in 2012 and turned it around. It will perform better good here, too—through confidence, self-examination, film study and hard work.
The first "W" will make a huge difference as well.
Keep Reading

Washington Redskins: Like this team?