The 15 Tastiest Cupcake Games of College Football Week 4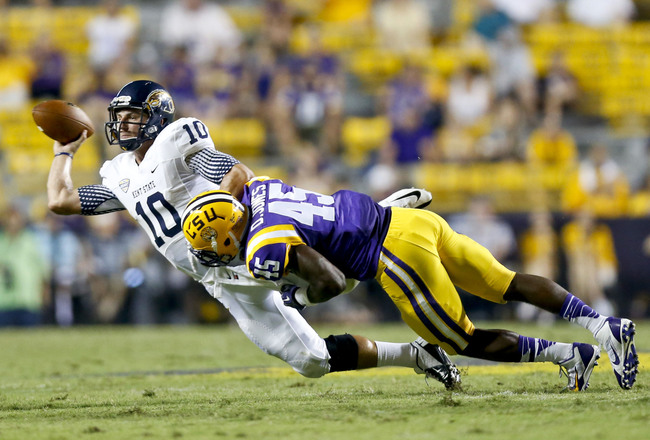 Kent State got thumped last week at LSU; now the Golden Flashes must visit Penn State
Derick E. Hingle-USA TODAY Sport
We all like sweets. Even though we know too much of them are not a good thing, from time to time, it's nice to treat yourself to an indulgence.
College football teams, especially those near the top of the pyramid, absolutely love to gorge on the yummy guilty pleasures that come in the form of lower-level non-conference opponents who are willing to take a beating for a sizable paycheck.
Plenty of such cupcake games have littered the college football schedule over the first three weeks—mostly with expected results, though Kansas State and Oregon State might say otherwise—but now that conference play is starting to get underway, the sugary choices are becoming fewer.
That being said, here's a look at the 15 tastiest cupcake games on the Week 4 college football schedule in no scientific order.
Colorado State at No. 1 Alabama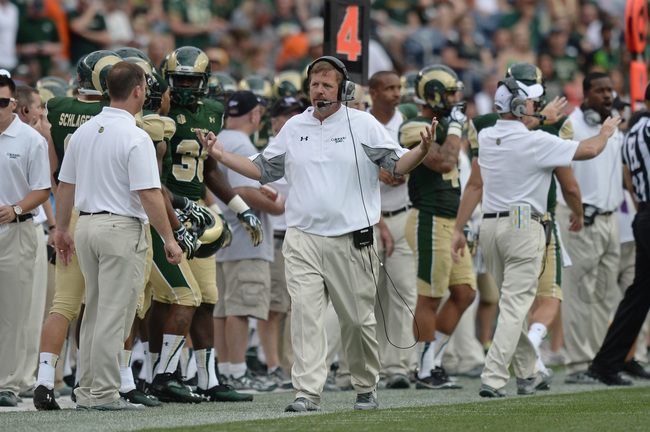 Former Alabama defensive coordinator Jim McElwain, now head coach at Colorado State, returns to Tuscaloosa to serve as sacrificial lamb.
Ron Chenoy-USA TODAY Sports
The Southeastern Conference is known for its dominance in BCS title games, having won what seems like the past 347 such championships.
The SEC is also famous for having its teams play some of the fluffiest non-conference opponents, especially once conference play has begun.
Colorado State might not seem like the biggest of cupcakes, but CSU is definitely cupcake material considering that the Rams (1-2) head to Tuscaloosa, Ala., a week after Alabama (2-0) won the "Game of the Year" at Texas A&M and a week before the Crimson Tide face up-and-coming Mississippi.
This cupcake game has the added flair of being the return of former 'Bama defensive coordinator Jim McElwain as CSU's head coach. Any chance Nick Saban will go easy on his former underling?
Not likely.
Florida A&M at No. 2 Ohio State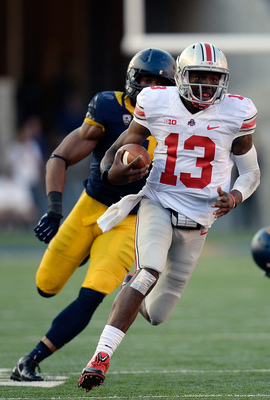 Ohio State's Kenny Guiton was stellar in his first career start last week at California.
Thearon W. Henderson/Getty Images
This was already an impossible situation for Florida A&M even before the Rattlers suffered a tragedy over the weekend when former player Jonathan Ferrell was shot to death by a police officer in North Carolina.
A school more famous for its ultra-talented marching band than its football team, FAMU (1-2) last beat an FBS team in 1979 and are 1-21 all-time against big-boy programs.
The Rattlers' only hope to beat Ohio State, coming off an impressive win at California, is that the Buckeyes give them the same Akron treatment that nearly saw Michigan lose at home last Saturday to the Zips after the Wolverines' big victory the week before over Notre Dame.
Eh, on second thought, there's no chance of that.
Florida International at No. 7 Louisville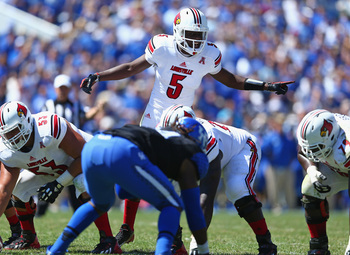 Louisville QB Teddy Bridgewater should have no trouble carving up Florida International.
Andy Lyons/Getty Images
Ranked 123rd out of 126 teams in Bleacher Report's latest power rankings, Florida International (0-3) is a dumpster fire of an FBS program that has averaged under 200 yards and eight points per game in blowout losses to Maryland, Central Florida and, inexplicably, FCS opponent Bethune-Cookman.
That kind of a resume, plus Louisville quarterback Teddy Bridgewater's need for Heisman Trophy campaign-padding stats, equals the host Cardinals (3-0) having their third-stringers in before the third quarter is over.
Bethune-Cookman at No. 8 Florida State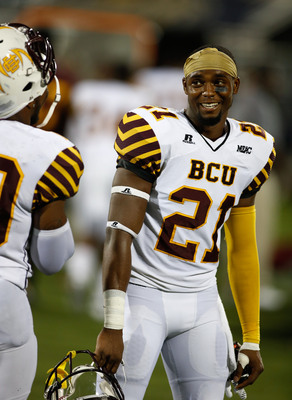 It was all smiles for Bethune-Cookman after last week's win at Florida International. Don't expect the same this week at Florida State.
Robert Mayer-USA TODAY Sports
Bethune-Cookman joined the way-bigger-than-you'd-expect-it-to-be list of FCS teams to have knocked off a big-brother FBS opponent last week when the Wildcats (3-0) crushed lowly Florida International. It was the school's first-ever such victory.
But let's not get ahead of ourselves. That was FIU, Bethune-Cookman must play at FSU this week, as in the high-flying Seminoles (2-0) who traditionally wipe the floor with inferior opponents who accept a nice paycheck to come into Doak Walker Stadium.
Last year, FSU rolled Savannah State, 55-0, a margin that would have been much larger had the game not been stopped with almost nine minutes left in the third quarter because of lightning.
North Texas at No. 9 Georgia
Mark Richt and Uga won't have much to worry about this weekend.
Scott Cunningham/Getty Images
Taking a page from most of its SEC brethren, Georgia (1-1) figured the best way to fill its schedule between September throwdowns with South Carolina and LSU—which it hosts next week—was with one of the FBS' traditionally worst programs in North Texas.
And after a bye week.
North Texas (2-1) moved up from the Sun Belt to Conference USA for this season, but the Mean Green still find themselves playing the role of sacrificial lamb at least once each year. This shall be that time.
New Mexico State at No. 13 UCLA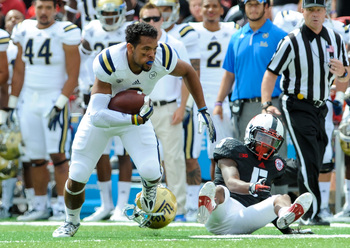 If allowed to, UCLA could probably play helmetless and still have little trouble with New Mexico State
Eric Francis/Getty Images
Oh, those poor nomadic Aggies.
Left without a conference following the mass realignment that sent the Western Athletic Conference into oblivion, New Mexico State (0-3) is an involuntary independent this season. And it's schedule shows that.
NMSU has already been whooped at Texas (maybe the Longhorns should set that up as an annual game for Mack Brown's sake) and lost badly at home to middling Minnesota and UTEP.
Meanwhile, UCLA (2-0) is looking as good as anyone right now and after last week's emotion-filled win at Nebraska, the Bruins wouldn't mind having a nice, simple walkover.
Savannah State at No. 16 Miami (Fla.)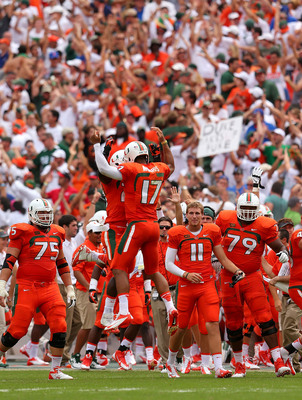 Such airborne chest bumps should be a frequent occurrence when Miami hosts listless Savannah State
Mike Ehrmann/Getty Images
With losses of 77-9 and 66-3 already this season, it's hard to imagine things could get any worse for FCS Savannah State (1-2).
Tell that to the oddsmakers in Vegas. They have the Tigers as a 60.5-point underdog in their in-it-for-the-money game at Miami (2-0).
Sadly, that line is still 10 points better than when Savannah State played at Florida State last season.
Miami usually doesn't disappoint when it hosts one of these walkover opponents, so taking a flier on the Hurricanes giving more than eight-and-a-half touchdowns might not be such a bad idea.
Idaho State at No. 17 Washington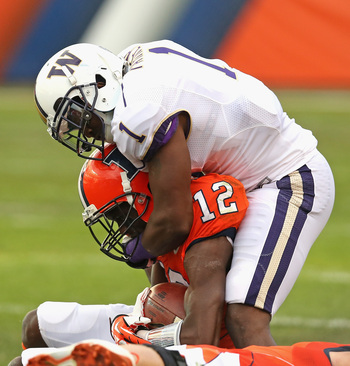 Expect Washington to throttle this week's opponent even more profoundly than it did Illinois last Saturday
Jonathan Daniel/Getty Images
So far, it's been nothing but statement wins for Washington (2-0).
The Huskies have blown out Boise State at home, then after a week off, they proved their road mettle with an impressive victory in Chicago over an improved Illinois squad.
On the docket for this week? Most likely another laugher.
Sure, Idaho State is 2-0, but those wins came against a pair of Division II schools, including a former junior college.
Washington has been a trendy choice the past few years to finally break through out west. So far this season, the Huskies are following through with those predictions. Pounding an inferior opponent is part of that process, as ISU is apt to find out.
Maine at No. 18 Northwestern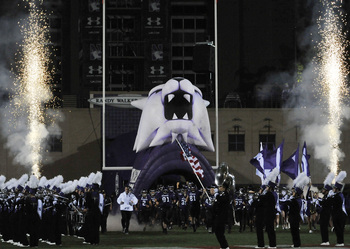 The Wildcats expect to prey on the Black Bears
David Banks/Getty Images
If this "tastiest cupcakes" collection were around in the 1980s or 1990s, Northwestern would be among the confections instead of the consumers. But nowadays, the Wildcats (3-0) are among the predators instead of the prey.
Maine (3-0) might not be the easiest lambs to slaughter, though. The Black Bears have beaten FBS teams a couple of times over the last few years, including two weeks ago when it beat transitional member Massachusetts. No stellar feat there, however, since the Minutemen are atrocious.
Louisiana-Monroe at No. 20 Baylor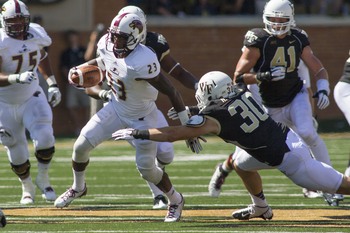 Louisiana-Monroe might provide Baylor with something unusual: a challenge
Jeremy Brevard-USA TODAY Sports
Baylor's pre-Big 12 schedule is straight out of the Bill Snyder/Kansas State School of No-Doubters. So far. the Bears (2-0) have been "challenged" by Wofford in a 69-3 squeaker and Buffalo in a 70-13 nail-biter.
But Louisiana-Monroe (2-1) is a horse—er, Warhawk—of a different color. The Sun Belt members have already faced Oklahoma (losing, 34-0) and Wake Forest (winning, 21-19) on the road, so they're battle-tested.
The 2013 version of Baylor football is considered among the best in school history, but until it gets tested, no one really knows for sure. That first challenge could happen on Saturday.
Texas State at No. 24 Texas Tech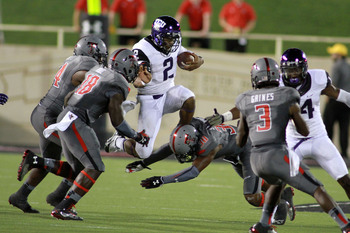 Texas Tech should swarm all over Texas State this weekend
Michael C. Johnson-USA TODAY Sports
Still in its transition period from FCS to FBS, Texas State (2-0) is caught between trying to establish itself in its new league, the Sun Belt, and paying the bills with guarantee games on the road.
The Bobcats, who pulled out a nice win at Southern Miss to open the season, are expected to contend in their league, but Saturday's game at Texas Tech is really all about one thing: a payday.
Though Texas Tech (3-0) has become a consistent national player over the past 10 years—and now three head coaches, the Red Raiders still love padding the home schedule with cream puffs.
VMI at Virginia Tech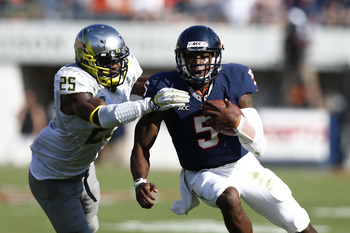 Two weeks ago Virginia was run over by visiting Oregon; it'll be the Cavaliers doing the running over on VMI this time around
Joe Robbins/Getty Images
After a nail-biter of a win over Brigham Young followed by a woodshed-like thumping from Oregon, Virginia (1-1) could use a Saturday without much stress.
That is, beyond last week's schedule bye.
As it turns out, the Cavaliers' schedule provides just such a respite in the form of VMI (1-2), an FCS also-ran that plays more non-league games than games that count toward the Big South Conference standings.
The Keydets have already been beaten by a Division II team, so getting thumped in Charlottesville, W. Va., is a safe bet as well.
South Dakota State at Nebraska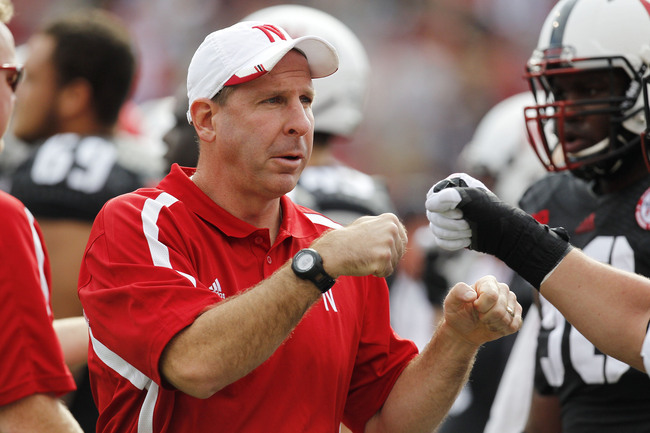 A 2-year-old recording of Bo Pelini ranting surfaced this week. Could the Nebraska coach go on another tirade after facing South Dakota State?
Bruce Thorson-USA TODAY Sports
All is not well in Husker Nation.
Not long after Nebraska (2-1) was run off its own field by UCLA last week, someone leaked a two-year-old recording of Cornhuskers coach Bo Pelini directing F-bombs toward his fan base. After a situation like that, the best medicine can often be a walkover opponent who comes to town with only its guaranteed payday to worry about.
South Dakota State doesn't exactly fit that description.
The Jackrabbits (3-0) are ranked sixth in the latest FCS poll, the kind of upper-level, lower-division program that often schedules its version of cupcakes for the home slate, and could be just the kind of foe to pull off an upset in Lincoln, Neb.
Kent State at Penn State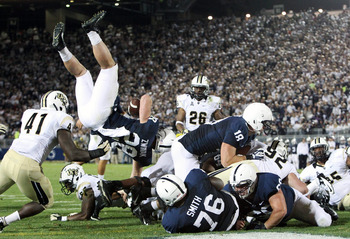 Penn State hopes not to get flipped by Kent State the way it flopped against Central Florida
Matthew O'Haren-USA TODAY Sports
Penn State's postseason ban—and, therefore, college football relevancy—is in effect for a few more years, so it takes a lot for the Nittany Lions (2-1) to get attention nowadays.
Losing at home to Central Florida last week, though, did the trick.
Fortunately for Penn State, it's next opponent, Kent State (1-2), is a shell of the 2012 team that lost an overtime thriller to Northern Illinois in the MAC title game. Therefore, the Happy Valley faithful probably don't have much to worry about.
Western Michigan at Iowa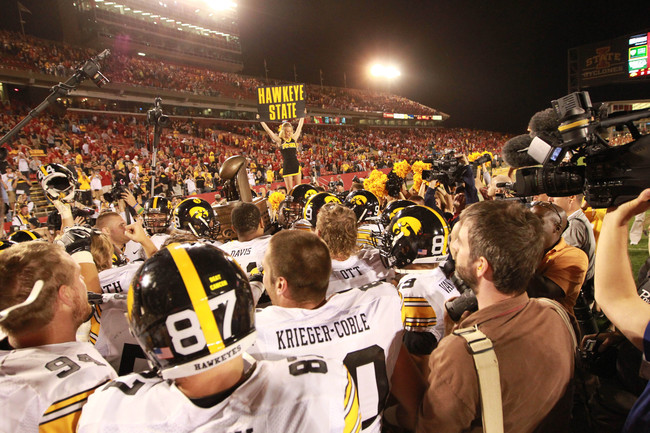 A relatively easy game is just what the Hawkeyes need heading into Big Ten play
Reese Strickland-USA TODAY Sport
Iowa needs a stress-free Saturday.
The Hawkeyes (2-1) have already dealt with defeat, losing at home to Northern Illinois in their opener. Then they struggled to beat FCS Missouri State the following week.
Although Iowa beat rival Iowa State in Ames, Iowa, last weekend, when the Hawkeyes returned to their locker room, they found that several players and coaches had been robbed.
So it goes without saying that Western Michigan (0-3) is expected to provide little resistance for the sake of all those associated with Iowa football.
It's a good thing for all interested parties that the Broncos are on a program downswing and have already lost at home to an FCS school.
Idaho at Washington State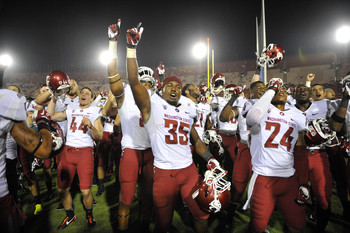 Washington State is so confident it game beat Idaho it made their September meeting the school's Homecoming game
Gary A. Vasquez-USA TODAY Sports
Idaho and Washington State's campuses are separated by less than 10 miles, as well as the Idaho-Washington border. But despite the proximity, the programs couldn't be farther apart.
Wazzu (2-1) is on the upswing in the second year of the Mike Leach era, having pulled off a major upset win at Southern Cal two weeks ago. Idaho (0-3), on the other hand, has been forced into an independent schedule after the WAC was disbanded.
How confident are the Cougars about beating the Vandals? How does, "Let's play our Homecoming game in September instead of later in the season, like normal" sound?
Keep Reading