College Football Week 4 Predictions: Picking All Top 25 Games Against the Spread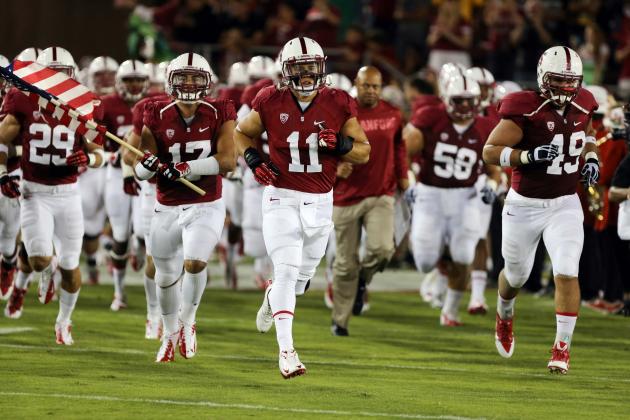 Kelley L Cox-USA TODAY Sports

Do you want the good news or the bad news regarding Week 4?
Let's start with the positives and get off on the right foot. The good news is that there will be college football played. This part is important, because it beats the terrifying alternative of having no football at all.
The bad news, however, is that the slate of games is, well, lacking intrigue. And that's putting it mildly.
Thirteen of the 19 point spreads featuring AP Top 25 teams have point spreads of 20 or more points. Taking it one step further, eight have point spreads of 30 or more points.
Have no fear, conference play is coming. Plus, at least there are ways to make these games "interesting."
Last week's picks against the spread were a step down from the first two weeks, although the record is still solid.
Time to get back on track.
Record Against the Spread Entering Week 4: 33-23
Begin Slideshow

»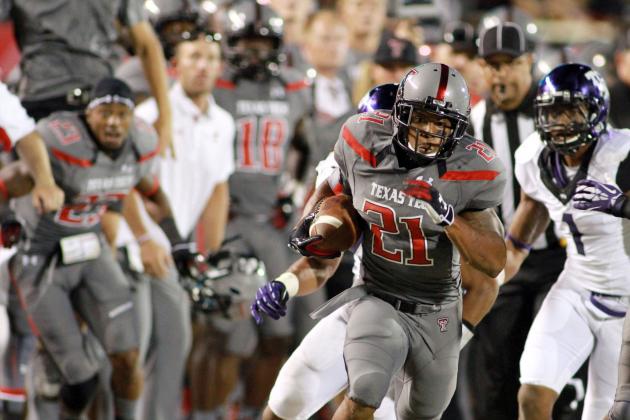 Michael C. Johnson-USA TODAY Sports

Texas Tech enters Week 4 at 3-0, and more importantly—well, not really—3-0 against the spread. The Red Raiders took out TCU as a slight underdog at home last Thursday in a game that we will never talk about again because it was weird and bad.
(Note: I picked Texas Tech so awful is relative).
Texas State logged an outright win against Southern Miss in the opening weekend as an eight-point underdog, and it just barely missed covering as a 31-point favorite against Prairie View A&M in Week 2. Texas State also had a bye in Week 3, which should help against this high-powered, quick-moving offense.
After a big win for Kliff Kingsbury and Co., the nearly four-touchdown handicap feels just a wee bit large.
The Pick: Texas State (+26.5)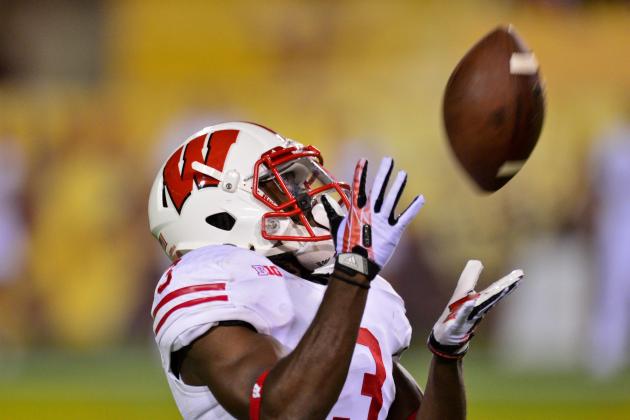 Matt Kartozian-USA TODAY Sports

This is a fascinating number, and both teams had rather curious Week 3s.
No team had a more fascinating Saturday—and Wisconsin fans likely have a more appropriate word for it—than the Badgers. Their controversial loss at Arizona State is one of the stranger endings you will ever see, but it was still a cover.
That probably won't make Gary Andersen feel any better.
Purdue hung tough against Notre Dame for a while, and it defended the run quite well. This is important, because Wisconsin running back Melvin Gordon is averaging 12.9 (!!!) yards per carry.
Yet, despite Purdue's gutsy home performance and the massive number of points ripe for taking, look for Wisconsin to come home angry, and look for Gordon to continue to be ridiculous.
The Pick: Wisconsin (-24)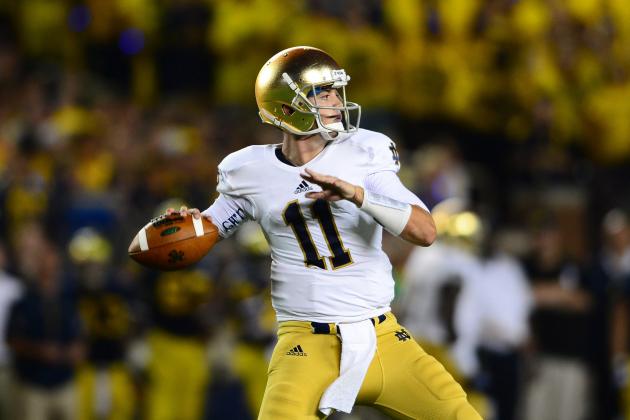 Andrew Weber-USA TODAY Sports

With an NFL-ish over/under of 42, the oddsmakers don't believe this one will feature many touchdowns. This just in: The oddsmakers apparently watch a fair amount of college football, and they have these two teams pegged.
Sparty had just two offensive touchdowns in the first two weeks of the season, and then exploded for seven in Week 3. So, is the offense fixed? Well, perhaps against Youngstown State, maybe.
The Notre Dame defense has not been nearly as good as advertised, giving up 65 points in the past two weeks. The Irish are also 0-3 against the spread thus far, although they were a strange interception away from the backdoor cover against Michigan.
That streak has to end at some point, correct? Yes? Maybe? No? Well, let's give this confident line from Vegas a try and assume Notre Dame pulls away late.
The Pick: Notre Dame (-7)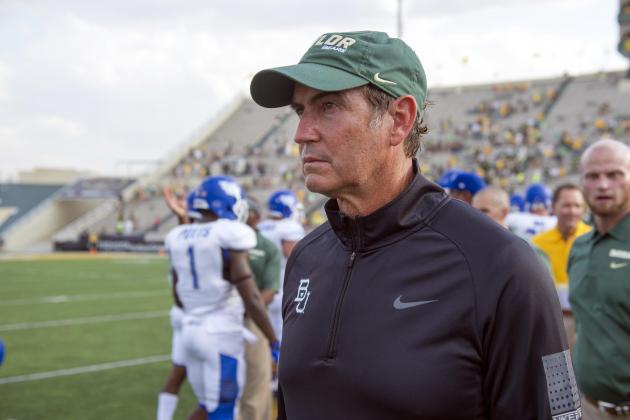 Jerome Miron-USA TODAY Sports

At this point, you should be read a disclaimer if you bet against Baylor. In fact, Art Briles should be tasked with reading it to you, because his soothing voice would be a friendly reminder that you're about to lose.
As 29- and 28.5-point favorites this season, the Bears have outscored opponents 139-13, easily covering both games (obviously). They will see a step up in class in this one, however, as Louisiana-Monroe has proved itself over the past calendar year.
The problem? Twenty-eight points still does not feel like nearly enough for a team that is scoring 69.5 points per game, and Monroe just barely edged Wake Forest.
No team—other than Oregon—can erase a four-touchdown spread in less time, and I do not feel like being read a disclaimer.
The Pick: Baylor (-28)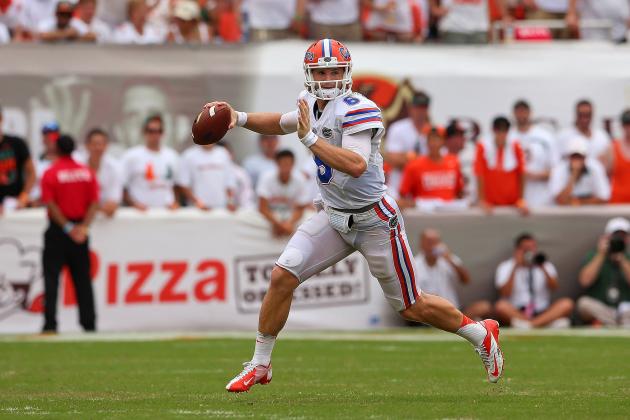 Mike Ehrmann/Getty Images

Take your ugly loss and pick a side.
Florida got a much-needed bye after a tough road defeat at Miami, a game in which the Gators had ample chances to emerge victorious. Turnovers, however, did them in, and searching "Jeff Driskel" on Twitter resulted in your computer instantly catching on fire. People are downright mean.
On the other hand, Tennessee traveled to Oregon and went up a quick 7-0 as a 28-point underdog. It then got outscored 59-7, and the Ducks could have made it so much worse.
The Vols will stay on the road in this one. And while 17.5 may seem like a lot of points to be getting against a sputtering offense, look for the Gators to get right here in a big way.
Will Muschamp's group may not get more than 25 points, and it may not have to in order to cover.
The Pick: Florida (-17.5)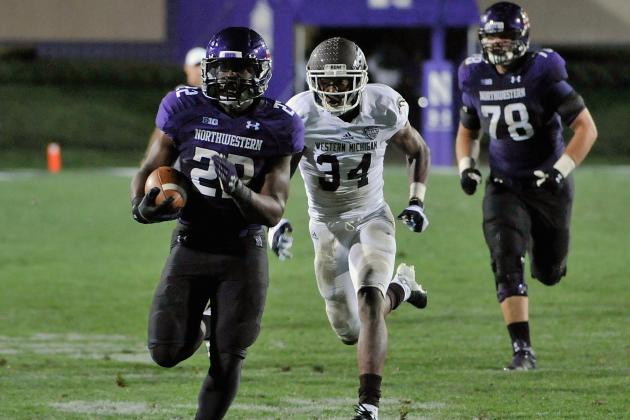 David Banks/Getty Images

Two undefeated teams square off in a battle of epic proportions… is what they would say if Maine's three victories didn't come against Norfolk State, Massachusetts and Bryant.
Also, if it wasn't Maine.
Northwestern also has three victories in three weeks. And while the competition isn't exactly stout, it's a dramatic leap up compared to the team it will take on as more than a four-touchdown favorite.
Through three weekends, the Northwestern offense is averaging nearly 44 points per game. Assuming that the Wildcats hit this number—and we're not exactly going out on a limb here—Maine would have to score two touchdowns to cover the spread.
It's never that easy, of course, but it'll be good enough here.
The Pick: Northwestern (-30)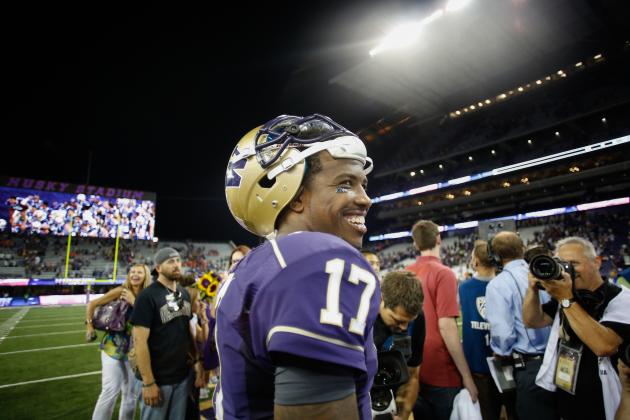 Otto Greule Jr/Getty Images

Saying that a team gutted out a double-digit win against Illinois used to be best used in joke form. But Illinois has been a much-improved team this season, and Washington came away from Solider Field with a win (and a potential cover, depending on what number you had).
Idaho State will head out to the recently renovated Husky Stadium, and it will do so with a seven-touchdown cushion. If you're wondering which teams Idaho State has beaten this season, the answers are the football powers Dixie State and Western State.
But after a lengthy trip, look for Washington to shut it down early. Pac-12 play will pick up next week, and a 47-3 win will be just fine.
The Pick: Idaho State (+49)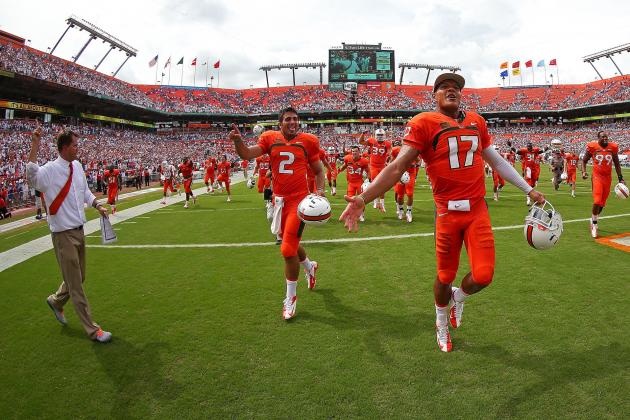 Mike Ehrmann/Getty Images

BREAKING: 55 is a lot of points.
For Savannah State, however, this is nothing. After all, in 2012 Savannah State was a 69.5-point underdog to Florida State in Week 2 after losing 84-0 to Oklahoma State in its opener.
For what it's worth, Florida State did not cover the number, winning the game 55-0.
As for the season, Savannah State started things off by losing 77-9… to Georgia Southern. It then lost 66-3… to Troy. Miami has had two weeks to prepare, and I can't even type that without hurting my abdomen from laughing so hard.
Sometimes 55 points just isn't enough.
The Pick: Miami (-55)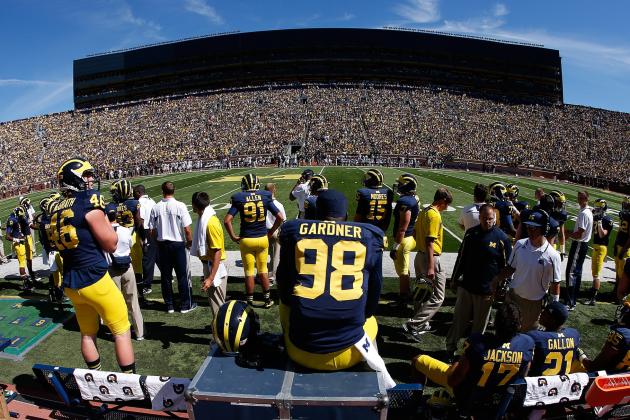 Gregory Shamus/Getty Images

If you played Michigan (-37) vs. Akron last week, why don't you go ahead and take a quick lap. No, go ahead. We can wait.
With that out of the way, Michigan is again getting love from the line generators while on the road. Those who crafted this spread are assuming Week 3 was just some strange, turnover-filled blip on the radar, and that Week 4 will be a much different story.
Also, Michigan is playing UConn. That factors in as well.
The Huskies battled Maryland as only a 5.5-point underdog, but the Terrapins came away with the win and the cover. Can you expect the same kind of effort from Connecticut against a team still trying to process what the heck happened a week ago?
Well, no. Devin Gardner will protect the ball and he will score. A lot.
The Pick: Michigan (-18)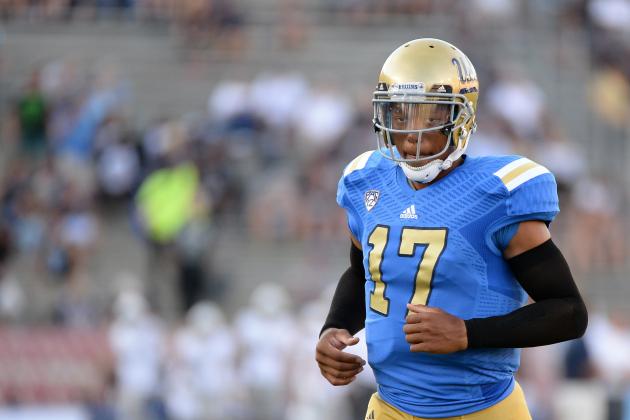 Harry How/Getty Images

Down 21-3 late in the second quarter, UCLA didn't just cover as a small underdog while playing at Nebraska. The Bruins exploded in the second half, shutting out the Cornhuskers en route to a 41-21 victory.
Quarterback Brett Hundley is quickly developing into one of the best players in the country, and New Mexico State does not have anyone to match this kind of talent. This is all shocking, I know.
But New Mexico State does have this working in its favor: UCLA will start Pac-12 play following a bye, and it likely will be content to cruise in this one following a big win. Look for Jim Mora to shut it down early, and for New Mexico State to barely hang on. Maybe.
The Pick: New Mexico State (+42)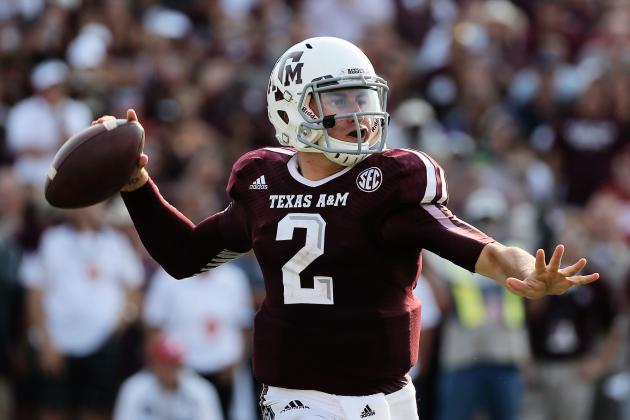 Scott Halleran/Getty Images

Before we dive into a fascinating bounce-back or letdown scenario for the Aggies, take note of the following: The over/under in this game opened at 82, perhaps the largest number we'll see all season.
If you like touchdowns, this is the one you have to watch.
Las Vegas feels there will be plenty of points scored, which is a fair and accurate assessment. Johnny Manziel could likely hit this by himself (no, really), while SMU should find success against an Aggies defense that clearly has issues.
But how motivated will A&M be? Do the Aggies respond with authority, or do they let down following the game they've been gearing up for all season?
In most cases, a letdown would seem logical. Johnny Manziel isn't most cases.
The Pick: Texas A&M (-28)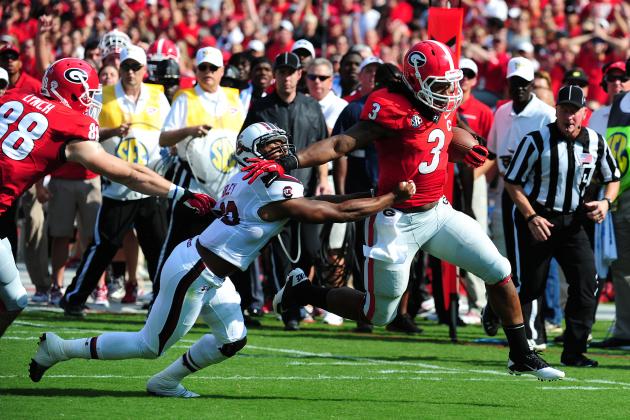 Scott Cunningham/Getty Images

After a well-earned bye week following two brutal opening games, Georgia gets North Texas at home before welcoming LSU. You'd be hard-pressed to find a more difficult stretch of games, and this bit of scheduling is also important when handicapping this particular matchup.
North Texas serves as a break in the schedule, but this team is much better than advertised. There is without question a significant gap in talent on both sides of the ball, but the Mean Green did win outright as a three-point underdog to Ball State last weekend.
Georgia…is a slight upgrade from Ball State. But with LSU on deck, look for the Dawgs to keep it simple.
The Pick: North Texas (+32.5)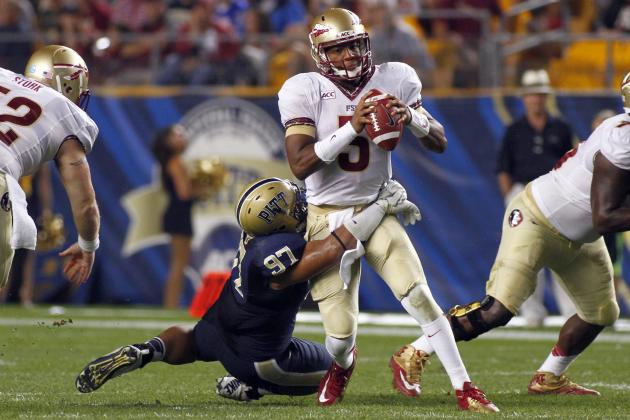 Justin K. Aller/Getty Images

It was ugly early for Florida State in Week 3, but it didn't stay ugly for long. The Seminoles exploded after a shaky start, easily covering the 36-point spread against Nevada.
FSU's opponent, Bethune Cookman, was somewhat hilariously listed as a three-point favorite against FIU—the same FIU that fired Mario Cristobal, which will never make any sense ever. Bethune Cookman then proceeded to cover and blow out FIU—the same FIU that fired Mario Cristobal.
This week, however, Jameis Winston will serve as a more challenging obstacle. And thus far, despite the sluggish Week 3 beginning, no one has been able to stop him.
I get the sense that the Wildcats—despite this significant cushion—won't be the first team to do so.
The Pick: Florida State (-39)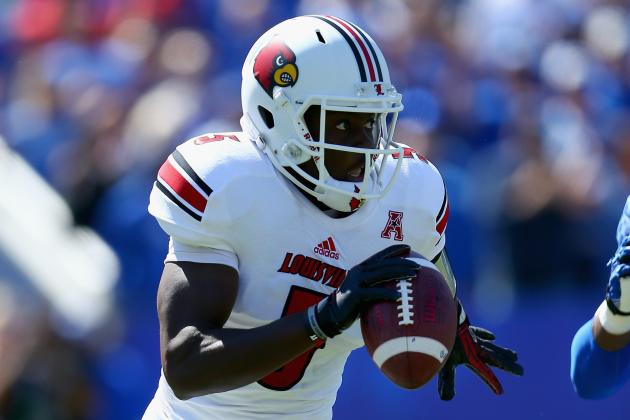 Andy Lyons/Getty Images

Last week's strange (and small-ish) point spread against Kentucky proved to be right on the number for the oddsmakers. The Cardinals struggled throughout much of the game while playing on the road, although they still came away victorious.
Vegas is pretty good at this stuff.
FIU comes to town, a team that has already been described at length. (See: Last Slide). Also, did you know they fired Mario Cristobal? On purpose.
Strangely enough, Louisville almost lost this game last season as the two duked it out in a downpour. This year, that won't be the case. Look for Teddy Bridgewater to rack up touchdowns, and look for Louisville to win big. Really big.
This slide could have been one sentence: FIU got blown out by Bethune Cookman last weekend.
The Pick: Louisville (-41)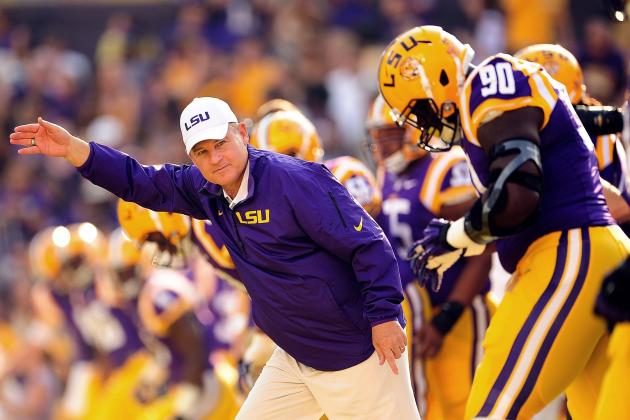 Stacy Revere/Getty Images

This feels like a really solid number, one that should generate ample betting on both sides. With that being said, LSU is starting to feel like much more than an SEC team "reloading."
Quarterback Zach Mettenberger is poised to reach his touchdown total from last season…in this game. He has nine already—with zero interceptions—and don't be surprised if he adds to that total sufficiently.
Auburn, meanwhile, is also flying high, coming off an impressive comeback win against Mississippi State. It did not cover the 6.5-point spread, but quarterback Nick Marshall is gaining confidence each week. Until this game.
One of these weeks, LSU and I will get on the same page. Maybe, just maybe, it's this one.
The Pick: LSU (-17.5)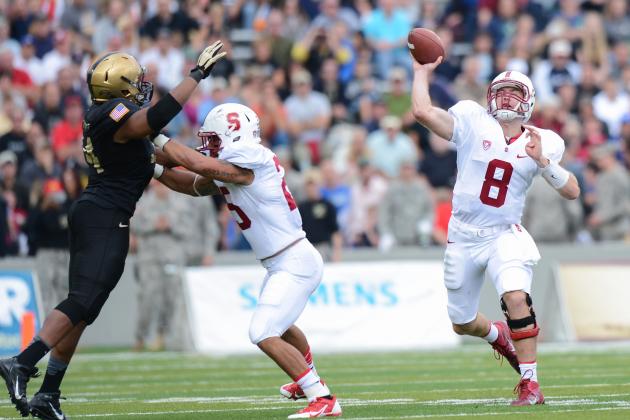 Ron Antonelli/Getty Images

This is the only matchup in Week 4 that pins ranked teams against one another, and it's also one of two games with single-digit point spreads. Yep, that's what we're up against.
Stanford struggled (especially early) against Army last weekend, giving up a handful of long drives in the first half. The Cardinal went on to recover in the second half, however, although it came well short of covering the massive 30-point spread.
Despite not covering in its game, Arizona State was lucky to earn the two-point win against Wisconsin. The Sun Devils will head on the road for the first time this season, and it will do so with more than a touchdown handicap.
As much as I love Arizona State running back Marion Grice, who will be featured prominently, this point spread speaks volumes. Even after two lackluster performances to start the season, Vegas likes Stanford.
And with that, so do I.
The Pick: Stanford (-8.5)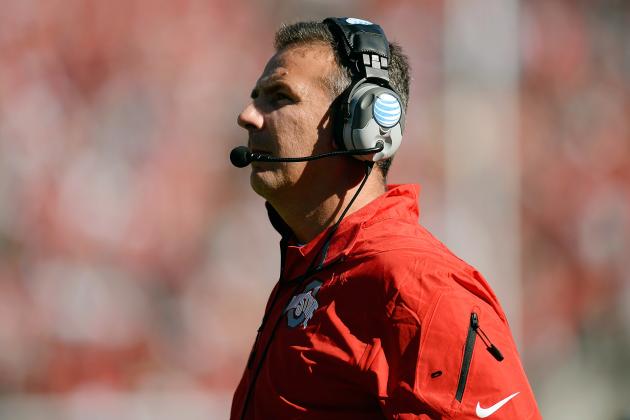 Thearon W. Henderson/Getty Images

With Braxton Miller out, Kenny Guiton has filled in at quarterback for the Buckeyes, and he has been superb. The senior absolutely torched Cal on the road last week, and the 12-point spread proved to be no match.
Florida A&M comes to Columbus following back-to-back losses against Tennessee State and Samford. How could this possibly serve as an endorsement to take the points with the Rattlers?
First, the Rattlers is a magnificent mascot name. Second, Ohio State will take on Wisconsin the following weekend, a key early conference matchup.
Look for the starters to be out of this game early for the Buckeyes and for A&M to sneak a score at some point. That's all it will need, and it may not even need one.
That is an awful lot of points.
The Pick: Florida A&M (+51)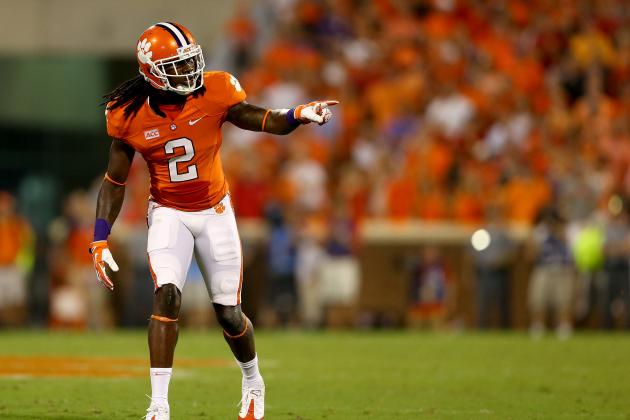 Streeter Lecka/Getty Images

ALERT. STRANGE POINT SPREAD ALERT. PROCEED WITH CAUTION.
OK, Vegas. What are you trying to tell us?
The Thursday night game this week looks to be a blowout on paper. Clemson is coming off a bye week—a few weeks removed from its opening win over Georgia—and offensively should be too much for the Wolfpack to handle.
N.C. State is also 2-0 and coming off a bye, although it nearly lost to Richmond—yes, Richmond—back in Week 2. So…shouldn't this number be more than two scores?
It certainly feels like it.
If you're trying to figure out which game Clemson is going to be Clemson (look it up, it's real), perhaps this is the one. The Tigers' offense should be entirely too much for N.C. State to handle, although laying the 13.5 is way too easy.
Clemson wins, but this game is much closer than it needs to be.
The Pick: N.C. State (+13.5)
Fresh off its basketball score victory against Texas A&M—and Johnny Manziel's sneaky backdoor cover—Alabama will finally play its first home game. And like so many other teams in this ugly slate of games, the scheduling sandwich for Nick Saban's team is fascinating.
Ole Miss will come to Tuscaloosa in Week 5, which means a handful of scenarios are in play. First, will Alabama let down following its huge win? Second, will it be looking ahead to Ole Miss?
Both are certainly possible, although it still may not matter. Colorado State gave up 41 points to Colorado in the opener, and the Alabama offense will prevent a slightly different challenge. If a sarcasm font existed, I would have used it there.
Still, 39.5 is a lot, and expect Alabama to go through the motions, I mean process.
The Pick: Colorado State (+39.5)