The Miami Dolphins are now an unlikely 3-0 to start their 2013 NFL season. Halfway through what is arguably the hardest stretch in their schedule (Colts, Falcons, Saints, Ravens), the unbeaten Dolphins have to feel confident.
The 3-0 start is the franchise's first since 2002, a season that ended 9-7 and without a playoff berth. Week 3 against the Falcons saw the Dolphins provide another inspired all-around performance, as they did just enough to squeak out the 27-23 victory.
Tannehill leads Dolphins past Falcons 27-23: http://t.co/E9XcOwow7d: MIAMI GARDENS, Fla. (AP) - The stadium sho... http://t.co/NhAXTsxQ4Y

— NFL Buzz (@NFL_Tomorrow) September 23, 2013
Sunday was the first home game for Miami, and the fans at Sun Life Stadium (where the team went 5-3 last year) braved the pregame rain to watch their team. They were rewarded with a W.
Rain is falling hard at #SunLifeStadium before kickoff of #MiamiDolphins vs. #Falcons http://t.co/LLLJOV8HlV

— Miami Herald (@MiamiHerald) September 22, 2013
Five important takeaways from Sunday's game are expanded upon below.
Miami is sluggish in first half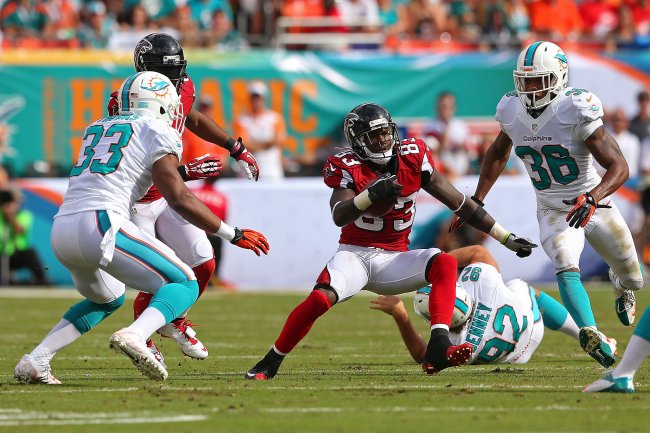 Mike Ehrmann/Getty Images
The Dolphins have not taken a lead into the half in any of their first three games. Either Coach Joe Philbin is a really great motivational coach or the Dolphins just play better after a couple quarters of getting their feet wet.
The answer is possibly both or possibly neither, but there's no escaping the fact that Miami has come back to win their games.
Still, these slow starts could hurt them in the long run.
Tannehill emerging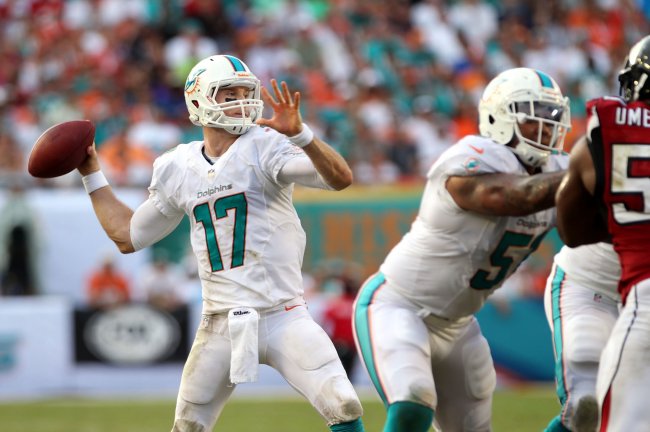 Marc Serota/Getty Images
Dolphins quarterback Ryan Tannehill looks to be coming into his own as the leader of the team. Frankly, he just looks more confident than ever in the huddle and under center. He looks comfortable and loose, and on Sunday, he maintained a calm pocket presence and hit his receivers in stride.
It is good to see that he resumed his connection with wide receiver Brian Hartline, as the two connected on the game-tying touchdown.
Tannehill completed 24 passes for 236 yards, throwing two touchdowns and one interception against Atlanta. On the season, he now has a quarterback rating of 94.3, currently ninth-best in the league.
Running game still suspect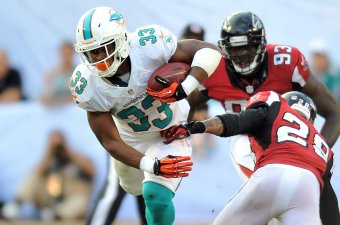 Steve Mitchell-USA TODAY Sports
The Dolphins had 90 total rushing yards against the Falcons defense—still not great, but a big improvement on their 20 yards in Week 1. The majority (62 yards) came from Lamar Miller, while 21 yards came from Daniel Thomas (No. 33 in photo) and Tannehill chipped in with seven. The running backs were efficient, though, averaging about 6.4 yards per carry.
Miller's 49-yarder in the second quarter was the longest run of the day.
Defense doing just enough
The Dolphins defense has not been porous, but it hasn't quite been dominating either. Against Atlanta, the Falcons were able to pick up 24 first downs and gain 377 yards on 68 plays.
The defense did manage an interception, and a special team's play caused a fumble.
What should be noted is that the Dolphins faced Pro Bowl quarterbacks in both Week 2 (Indianapolis' Andrew Luck) and Week 3 (Ryan) but came away with victories. Part of the credit goes to Tannehill, but some of it lies with the defense doing just enough to give the offense a chance.
The little things/role players
It looked like an all-around team win for Miami this Sunday. There was the big fumble on special teams and the go-ahead touchdown pass to backup tight end Dion Sims. The offensive line provided decent pass protection, and nine different receivers had a pass reception.
Miami Dolphins swing momentum on big hit - http://t.co/uuz0NaZKU0 http://t.co/3lbQ5q7Dce

— Miami Dolphins World (@Dolphins_world) September 23, 2013
I'm not ready to call the Dolphins Super Bowl-bound just yet, however (see tweet below). After all, either of their last two games could have easily gone the other way. One turnover not forced here or there and Miami is 1-2.
However, something can be said about a team that wins close games.
Miami Dolphins just need to keep in mind what happened to the Arizona Cardinals last year. It's a longgg season.

— Cameron_FYD24 (@CscFYD24) September 23, 2013
Going into Week 4 against Drew Brees and the New Orleans Saints, Miami will have an even tougher offense to keep in check. If Coach Philbin wants to remain unbeaten after four games, his team has to keep playing well and even get a break here and there.