Steelers vs. Bengals: Takeaways from Pittsburgh's 20-10 Loss to Cincinnati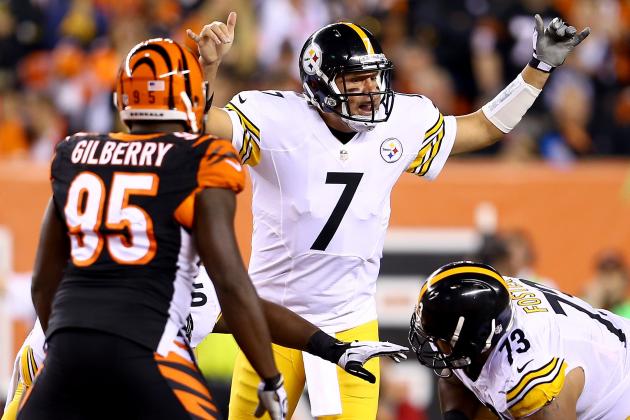 Andy Lyons/Getty Images

Even in a loss, there is typically something a team can take comfort in. But in Monday's loss, the Pittsburgh Steelers can take little solace in their performance against the Cincinnati Bengals. It was, by all accounts a team effort in nearly every sense of the word.
As complete as the 20-10 loss was, there were still things the Steelers coaches could learn from this game. If the Steelers want to salvage this season, it has to start now. There's very little margin for error going forward, and there could be wholesale changes in order.
So, what are some takeaways from Monday night's disappointing performance? Let's take a look.
*Unless noted otherwise, all statistics provided are courtesy of NFL.com.
Begin Slideshow

»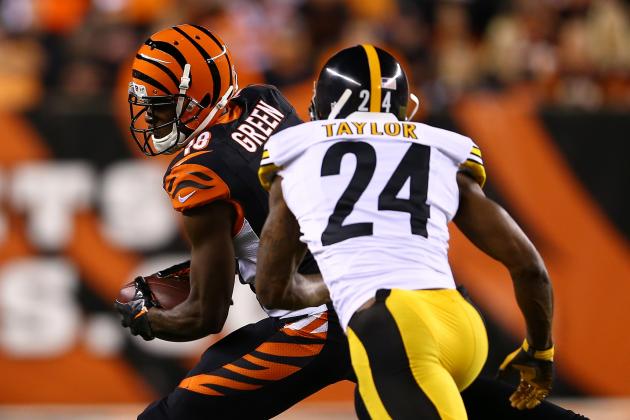 Andy Lyons/Getty Images

Veteran cornerback Ike Taylor might not be able to catch, but he can still cover. Taylor may be in his 11th season, but he proved on Monday night he can still lock up an elite wide receiver if need be.
On Monday, Taylor drew the unenviable task of man coverage on Bengals wide receiver A.J. Green the entire night. Didn't matter which side of the field Green went to, Taylor followed him.
By my count, Green was targeted 13 times and ended up with six catches for 41 yards and no touchdowns. Compared to the nine-catch, 162-yard and two-touchdown performance from the week before, Green was practically invisible. That's on Taylor and his ability to minimize the damage Green could do.
On the downside, Taylor did leave at least one, and more likely, two interceptions on the field from his poor hands. But all in all, this loss is not on him.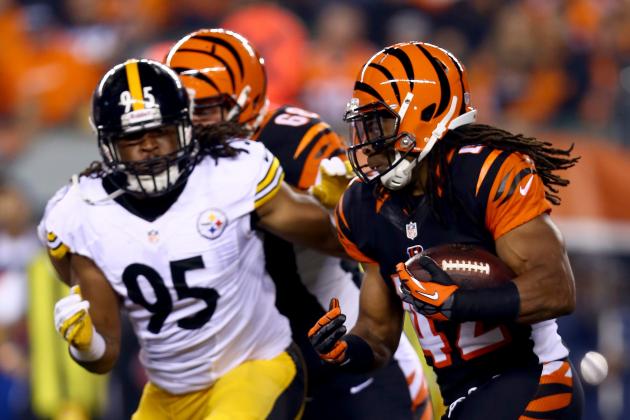 Andy Lyons/Getty Images

It won't show up in the box score, but the Steelers pass rush was much-improved this week. Against the Tennessee Titans in Week 1, the Steelers were unable to get much heat on Titans quarterback Jake Locker at all.
Against the Bengals, the Steelers were able to force quarterback Andy Dalton into poor throws and hit him multiple times. The outside linebacker combination of Jarvis Jones and LaMarr Woodley did a very good job working on the Bengals offensive tackles, and most importantly, never giving up on the play.
More than once, Jones and Woodley were pushed upfield, but kept working and fought their way back to the football. Both players kept Dalton off balance most of the night.
Along those same lines, another takeaway from the Steelers' pass rush is that Jason Worilds doesn't need to be a part of it. If anything, Worilds needs to replace Jones on coverage teams and allow Jones to stay on the field on defense more.
Andrew Weber-USA TODAY Sports

When Monday Night Football commentators, Jon Gruden and Mike Tirico, hinted that tight end Heath Miller could be ready to play next Sunday night, when the Steelers face off with the Chicago Bears, I cheered. No, literally I cheered.
It wasn't enough that reserve tight end David Paulson fumbled after a 34-yard reception or that Steelers tight ends were targeted only three times for the entire game. It has more to do with the philosophy of the Steelers and how they deviate from it without Miller on the field.
The middle of the field was open much of the night, but rarely did the Steelers attack it. If Miller is on the field, Roethlisberger is going to go after that part of the field early and often.
Thinking long-term, even once the Steelers get Miller back, players like Paulson and David Johnson must play better. Even if it means executing a proper blitz pickup or seal the edge on a run play, these young men must elevate their play if they don't want to be replaced next season.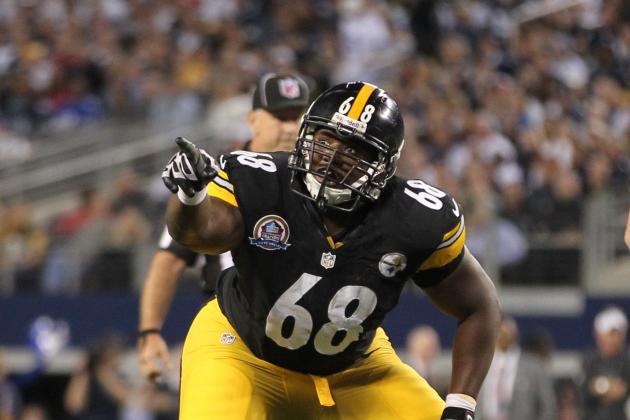 USA TODAY Sports

When the starting lineups were shown on Monday night, the starting center listed was Fernando Velasco. That was supposed to signal that offensive line swingman Kelvin Beachum was going to be used as an additional tight end—a way to bolster the run game with an extra blocker.
But that never happened on Monday night. Instead, on the occasions where the Steelers went with two tight ends, it was David Paulson and David Johnson on the field at that same time.
The results were less than stellar, and it begs the question "where was Beachum?" It is puzzling as to why a team that wants to run the football will leave a more than adequate run blocker on the sideline in favor of someone far less talented.
The most likely reason is concern over injuries. The Steelers coaches likely wanted Beachum on the field more but could not risk him getting hurt, as the offensive line was so thin already.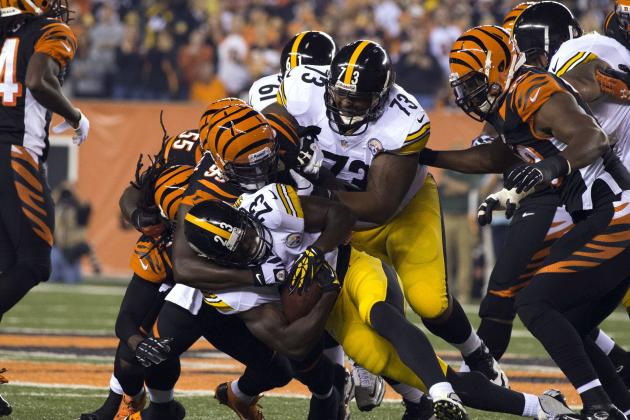 Greg Bartram-USA TODAY Sports

Another game, another terrible rushing performance. This time it was to the tune of 16 carries for 44 yards. An improvement over the 31-yard performance from the week before, but it was nothing to get excited about.
The pending return of running back Le'Veon Bell might be an improvement over the rest of the "talent" on the roster, but at this point, it is questionable just how much a single player can compensate for all the problems with the run game.
The Steelers coaching staff have their work cut out for them if they want to create even a serviceable run game at this point. It might be better to scheme to hide it, rather than fix it.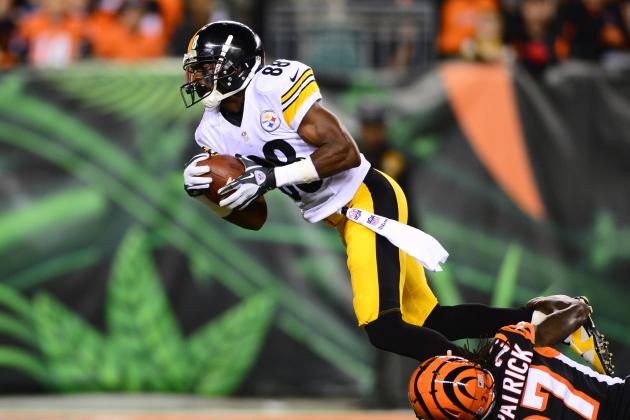 Andrew Weber-USA TODAY Sports

It's a new week, but it's an old story for the Steelers wide receiver corps. Once again, the opposing defense pushed around the Steelers wide receivers, and there was very little they could do about it. The trade-off for having all that speed is that the Steelers receivers are slight and not built to take punishment.
The problem this creates is with the routes they run. Instead of deep posts and crossing routes, the Steelers start running hitch and stop routes to account for the physical play. Now, the entire offense becomes congested within about eight yards of the line of scrimmage.
Other than a few flash plays when Steelers receivers were able to make some Bengals defenders miss, the passing offense became very limited when it needed to go wide-open.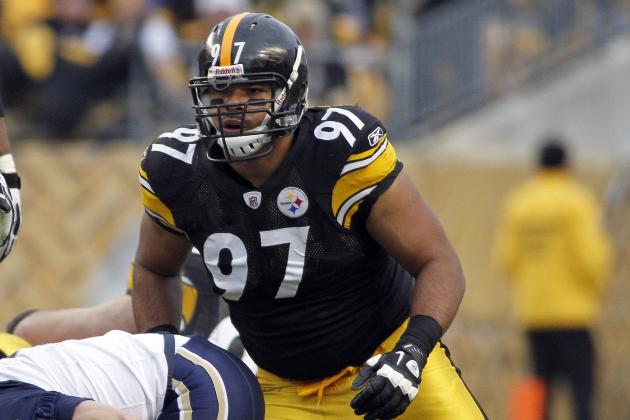 Justin K. Aller/Getty Images

This is something of a make-or-break season for Cameron Heywayrd. The former first-round pick has not lived up to his predraft hype. But on Monday night, Heyward came to play.
Heyward lined up as both a defensive end in base packages and as a defensive tackle in sub-packages. He even took a few snaps at nose tackle in the base 3-4.
While Heyward wasn't able to crack the box score in terms of tackles, he had a very timely batted pass in the second quarter that sparked the defense.
The Steelers got pushed around in the middle of their defense early in the game, but once Heyward was brought in to clog the middle, the Bengals quickly started working to the outside more and more to avoid No. 97.
Andrew Weber-USA TODAY Sports

There is nothing but doom and gloom in the Steel City on the heels of this 0-2 start. However, with only five AFC teams left undefeated, and eight more at 1-1, everything could change in a single game.
The Steelers play their next three games against non-division opponents, with a bye week sandwiched in the middle of them.
Even if the Steelers can only win two of three, they would get to the October 20 showdown against the Baltimore Ravens with a shot to get to .500. It isn't an enviable position for any NFL franchise to be in, but far from the end of the world.