Week 3 Pickups: Breaking Down Top Injury Replacements on Waiver Wire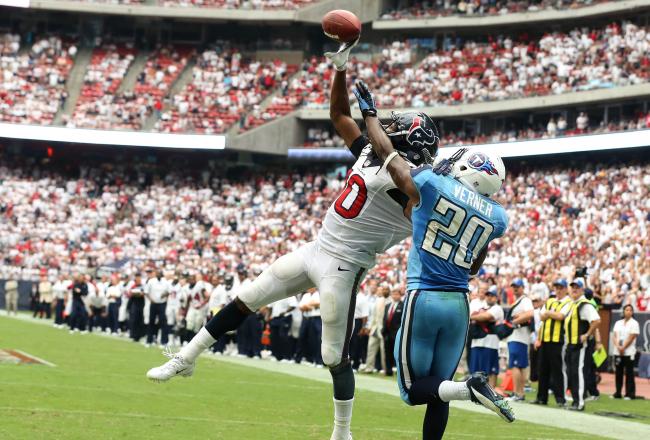 Matthew Emmons-USA TODAY Sports
Injuries are a way of life in the NFL. Players hurl themselves into something that resemble human car crashes on Sundays. A game that doesn't see a player or six limping off the field or being carried by trainers or carted off is the equivalent to a no-hitter in baseball.
As such, injuries and having contingency plans in place have become a way of life for NFL general managers—both in real life and virtual life. Fantasy owners act as their team's owner, coach and general manager. The possibility of some poor schlub getting a concussion is the reason some ingenious person once said, "let's have some bench spots" to his league-mates.
But even the best-laid plans can go quickly awry.
Just as NFL general managers often find they didn't do a good enough job hauling in backups for top stars, the same goes for fantasy owners. The rapid race to the waiver wire or to the FAAB buffet is proof positive of that. Fantasy sports is all about taking advantage of market inefficiencies; grabbing a player who can make your team a percentage point better can be the difference between a win and a loss in any given week.
That's especially the case after Week 2, where a rash of injuries to notable stars left many owners scrambling for suitable replacements.
With that in mind, let's check in with a few players who will be stepping in as top options due to circumstance. Remember, these aren't necessarily long-term pickups who will wind up winning you a league in a couple of months. These are replacements for Week 3; anything they give you beyond that is gravy.
Bernard Pierce (RB, Baltimore Ravens)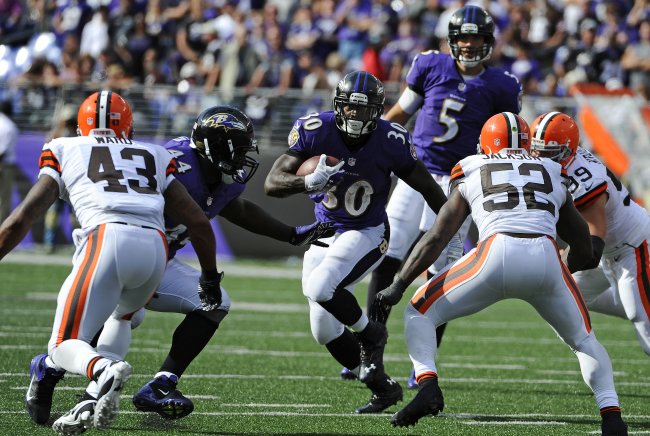 Brad Mills-USA TODAY Sports
Bernard Pierce is a name that should already be awfully familiar to fantasy owners—especially those who have a vested interest in Ray Rice. The second-year back had an excellent rookie campaign as the Baltimore Ravens' change-of-pace back, rushing for 532 yards and showing a bit of explosiveness as a possible home run threat.
Fantasy owners may get to see whether that productivity can hold up over a starter's workload in Week 3. Rice left Sunday's game against the Cleveland Browns in the fourth quarter with what's been described as a strained left hip flexor. Coach John Harbaugh told reporters that Rice may sit out the entire week of practice, though he did acknowledge the situation will likely be fluid until kickoff.
"Indication is it's not anything that is serious," Harbaugh said, via NFL.com's Dan Hanzus. "We'll just be day to day with him."
Obviously, if Rice plays, Pierce sits unless you're in a deeper league.
Pierce has actually been the more active of the two backs through two weeks, toting the rock 28 times to Rice's 25. But neither player has been all that effective—Baltimore ranks fifth worst in the NFL in yards per carry—so it's hard to feel comfortable starting either guy in a timeshare situation.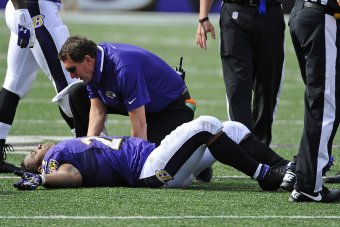 Brad Mills-USA TODAY Sports
If Pierce is the sole lead back, though, he should be an effective RB2 when the Ravens host the Houston Texans this week.
Houston has had some regression from last season's juggernaut thus far, ranking 18th in yards allowed. The holes in the Texans' front seven never stay open long, but they've been there enough to allow Chris Johnson and San Diego's running game a series of short chunks.
The problem will be finding leagues where Pierce is available. ESPN standard leagues have essentially scooped him up, with Pierce being owned at a nearly 90 percent rate. Yahoo! Sports, on the other hand, measures Pierce as being on a roster in only 46 percent of its leagues—a figure that will certainly rocket more toward ESPN's after waivers come through.
Odds are if you're in a competitive 12-team league, Pierce will probably be on someone's bench already. But for owners in 10-team leagues and those lucky souls who happened to be in Yahoo! leagues, it's hard to find a better pickup.
James Starks (RB, Green Bay Packers)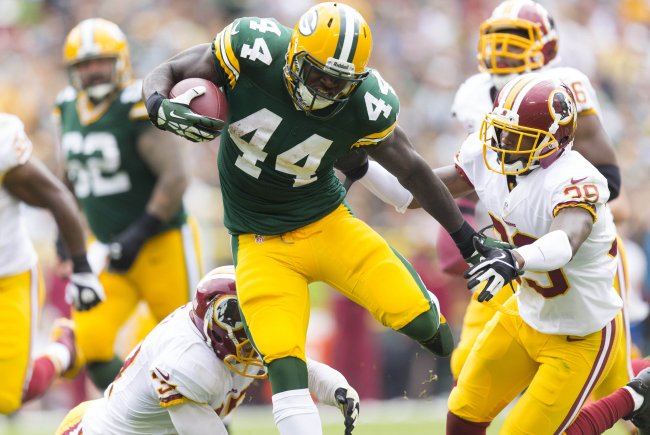 Jeff Hanisch-USA TODAY Sports
Well, I mean, I guess this is a sign that football season is finally upon us. For each of the past three seasons, James Starks has been captivating and invariably frustrating fantasy owners. A breakout stud during the Green Bay Packers 2010 Super Bowl run, the former sixth-round pick was supposed to bring stability to the team's running back situation for almost his entire career.
Of course, that hasn't happened.
Starks' career has been filled with disappointment from a fantasy perspective. He was bust in 2011 after being drafted high in some leagues, scoring only one touchdown while rushing for a nondescript 578 yards. He followed that by only six games last season. With the Packers drafting two running backs in the first four rounds in April, it looked like the Starks era of relevancy was flying out the window.
But just like fried butter at an Indiana state fair, fantasy owners just can't quit Starks.
Whether fat or skinny, Eddie Lacy still suffered a concussion, via ESPN, on an ugly hit from Washington safety Brandon Meriweather in Green Bay's 38-20 romp. It's not clear whether Lacy will suit up for next week's tilt at Cincinnati, but Starks' performance with the former Alabama back out might have created a Wally Pipp situation.
Gashing through an underperforming Washington defense, Starks finished with a career-high 132 yards and a touchdown on 20 carries. He looked self-assured and locked into at the very least top billing behind Lacy when he returns. Johnathan Franklin's preseason hype seems all for naught at this point.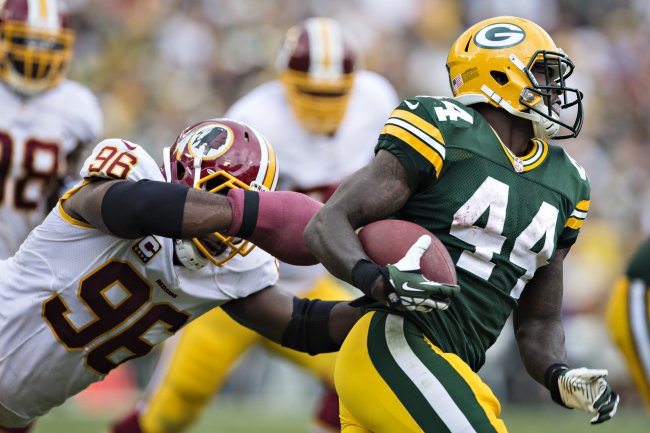 Wesley Hitt/Getty Images
There are, of course, some glaring problems with Starks' fantasy resume.
First, the Packers have shown no ability to consistently open holes for their running backs since the Ryan Grant era. When Brandon Jackson represents a high benchmark of performance at that spot, maybe there's something wrong with the talent and scheme up front. The offensive line looked as bad in Week 1 as it did good in Week 2; I have more trust issues than Drake with this unit.
And then there's Starks himself, a 27-year-old who just scored his third NFL touchdown last week. And then there's the fact that Green Bay travels to play Cincinnati's top-notch run defense next Sunday.
An NFL starting running back is an NFL starting running back—he's a must-own in fantasy. Just don't go expecting Starks to suddenly perform the way he did at Lambeau.
DeAndre Hopkins (WR, Houston Texans)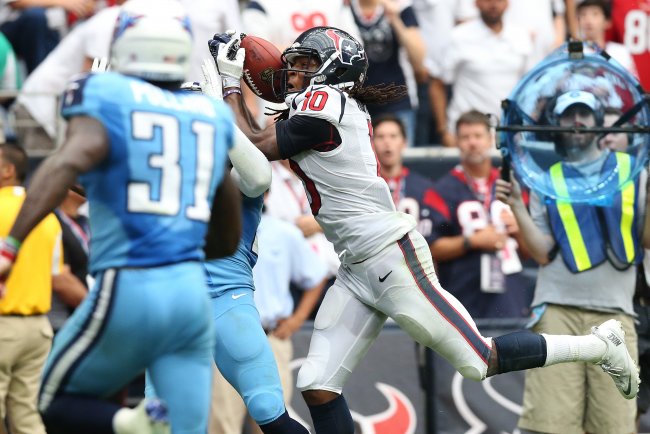 Matthew Emmons-USA TODAY Sports
Two-week sample size alert, but the Texans may have finally found the perfect complement next to Andre Johnson. DeAndre Hopkins, the team's first-round pick out of Clemson, was drafted mostly with the future in mind. Rookie wide receivers are typically among the slowest to develop, with the more complex route schemes and coverages vexing even some all-time greats.
Again, 120 minutes of football. But Hopkins has gone about shattering those expectations thus far. He's caught 12 of his 19 targets through two games, compiling 183 yards and a touchdown. Providing a spark in the middle for Matt Schaub, Hopkins had seven grabs for 117 yards on Sunday.
Most impressively, Hopkins showed his potential No. 1 receiver chops. When Johnson went down late in the fourth quarter with a concussion, Hopkins had to step in as Schaub's top target; Houston has no other options.
All Hopkins did was catch two passes on the Texans' opening overtime drive, a 25-yarder down to the Tennessee 1-yard line and another three-yard fade to close it out. The Titans secondary isn't a bastion of effectiveness, and most weeks I would expect Hopkins to fall closer to his Week 1 totals (five grabs, 66 yards).
Whether that's the case this weekend depends on how Johnson recovers this week. Head coach Gary Kubiak told John McClain of the Houston Chronicle that there wouldn't be a decision anytime soon because of concussion protocol, though he did say Johnson was doing "great."
Great enough to play against a struggling Ravens secondary? We'll see. Johnson doesn't have a huge documented history of concussions, but even our most infantile understanding of head injuries have taught us they're a fickle beast.
Either way, Hopkins is a must-own until proven otherwise. Arian Foster has struggled mightily to get going on the ground, and Schaub has attempted at least 45 passes in each of the first two weeks. Those trends are unlikely to continue for 16 games, but strike while the iron is hot.
Other Players It Probably Wouldn't Kill You to Have: Knowshon Moreno (RB, Denver Broncos); Jacquizz Rodgers (RB, Atlanta Falcons); Eddie Royal (WR, San Diego Chargers); Fred Jackson (RB, Buffalo Bills); Marlon Brown (WR, Baltimore Ravens); Charles Clay (TE, Miami Dolphins); Kendall Wright (WR, Tennessee Titans); Aaron Dobson (WR, New England Patriots)
Follow Tyler Conway on Twitter:
This article is
What is the duplicate article?
Why is this article offensive?
Where is this article plagiarized from?
Why is this article poorly edited?