Los Angeles Dodgers outfielder Matt Kemp has officially been activated off the disabled list, joining the team once again on Monday, according to the Dodgers' Twitter feed:
#Dodgers today reinstated @TheRealMattKemp from the disabled list.

— Los Angeles Dodgers (@Dodgers) September 17, 2013
Despite reports that he hadn't actually been activated, per Matt Snyder of CBS Sports, he has rejoined the team and will be playing during these final two weeks of the MLB regular season, per the Los Angeles Times' Dylan Hernandez:
Matt Kemp has been activated.

— Dylan Hernandez (@dylanohernandez) September 17, 2013
Kemp returns just in time to work his way back to full health as the Dodgers look to make a run to the World Series.
If @TheRealMattKemp is healthy, for god sakes let him play. @Dodgers need some energy and he needs some at bats.

— Nick McGee (@vegasrunnersec) September 17, 2013
When Kemp is 100 percent again, he'll take over the center field position from Andre Ethier.
Ethier looked like he was getting back on track in July and August, batting .312 and .318 in those months, respectively.
However, he has fallen back into a slump in September, batting a pitiful .216. He hasn't been a major contributor this month, and the team's offense has struggled because of it, scoring just 3.7 runs per game, compared to its 4.1 runs per game this season.
However, the team's offense will pick up once it gets Kemp back.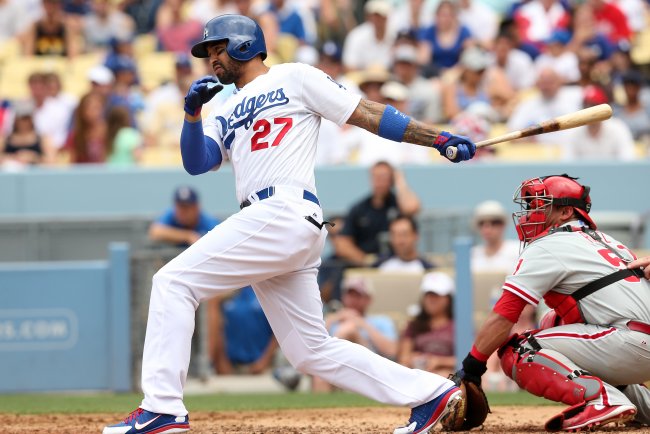 Stephen Dunn/Getty Images
The former MVP candidate hasn't played since July 21 and played in just one game since July 5. He has been riddled with injuries all year long, which is why his performance has dipped so dramatically.
The last time we saw Kemp healthy for a full season, he hit .324 with 39 home runs over 161 games in 2011. If he can return to that form, he would provide another bat with a lot of pop in the middle of the team's lineup.
Though that might be asking for too much, expecting him to perform the way he did during his 106 games in the 2012 season would be reasonable.
If Kemp can play as well as he did last season, he could easily bat .300 and hit a home run every five or six games.
The importance of Kemp's return cannot be overstated, as Ethier, Yasiel Puig and Carl Crawford all started Sunday's game on the bench. He provides another healthy body in the outfield and could potentially provide a spark in the lineup.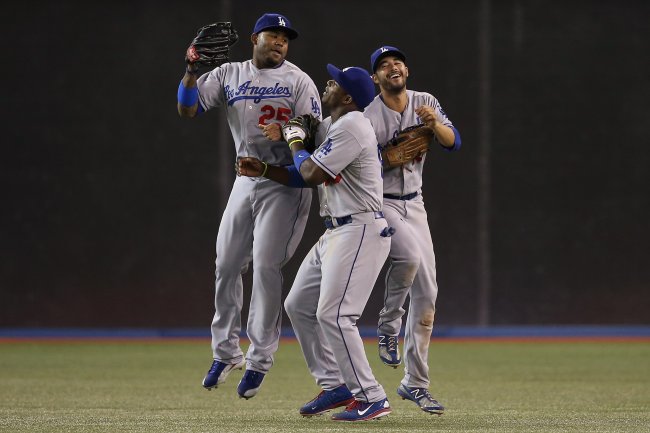 Tom Szczerbowski/Getty Images
The Dodgers have been struggling as of late, losing eight of their last 11 and slipping in playoff seeding. If the season ended today, the Dodgers would be the No. 3 seed in the NL, sitting one game behind the St. Louis Cardinals for No. 2.
However, Kemp's combination of power and speed could help him be the shot in the arm the offense needs to finish the year strong.
More importantly, Kemp could help the Dodgers as they attempt to win the World Series this year.
The Dodgers have the pitching staff to win it all, as Clayton Kershaw, Zack Greinke and Hyun-Jin Ryu make up one of the best three-man rotations in baseball, and Ricky Nolasco gives the team the option to use a four-man rotation.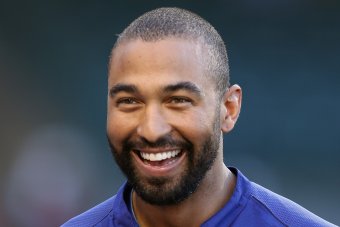 Jeff Gross/Getty Images
The biggest question concerning the Dodgers right now is their offense. The team ranks in the bottom half of MLB in runs scored, and if the offense goes quiet in October, the team will fail to put together a lengthy postseason run.
The Dodgers looked like favorites to come out of the NL just a few weeks ago, but now the team's offense appears to be too much of a handicap.
Kemp could potentially help the team rebound, however, as he has proven himself to be a valuable asset that can lead Los Angeles' offense.
While adding an injury-riddled Kemp doesn't make the Dodgers favorites to win the World Series, it does improve their chances. If he can return to his 2012 form, the team will have another offensive weapon and might have enough firepower to make it to the World Series.