Odds for Each Top 5 Contender in the Hotly Contested NL Batting Title Race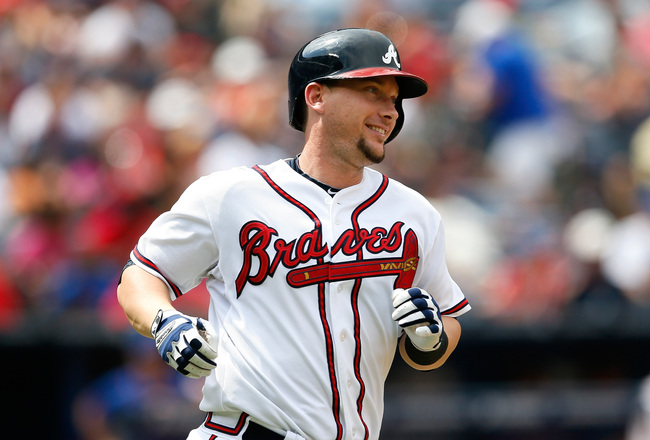 Chris Johnson is leading the National League in batting average. But will it last?
Kevin C. Cox/Getty Images
The batting title race in the National League is particularly close this season. Even though Chris Johnson currently leads the league with a .330 batting average, there are four other players within nine points of him. In fact, Michael Cuddyer is just one point behind the Atlanta Braves' third baseman.
Considering there is still a half of a month left in the regular season, any one of the top-five batting average leaders could land on top by month's end.
Read on to see the odds for each contender to win the National League batting title.
Odds are based upon a combination of yearly performance as well as September performance (specifically batting average and BABIP).
All statistics (including August 16 games) sourced from Baseball-Reference.com and FanGraphs.com.
Chris Johnson, Atlanta Braves: .330 BA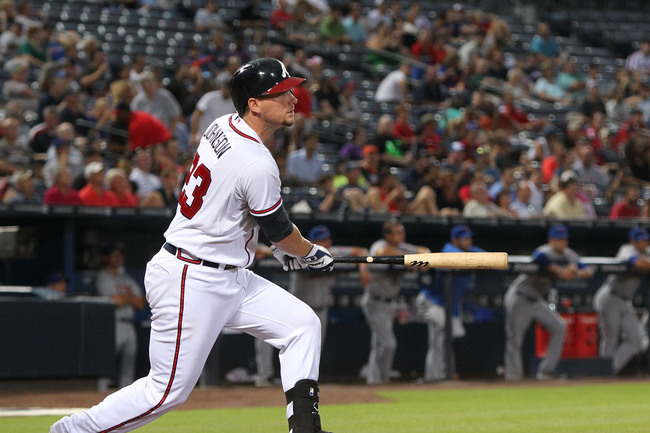 Chris Johnson has done well as the heir to Chipper Jones' throne at third base.
Mike Zarrilli/Getty Images
Chris Johnson was more or less a throw-in in the offseason trade that sent Justin Upton to the Atlanta Braves. In many ways, however, the third baseman has been more productive than Upton this season.
In addition to his park-adjusted 130 wRC+, Johnson is also leading the league with a .330 batting average.
But as well as Johnson has played in 2013, his .330 batting average is still fueled by a dominant April, where he hit .369. By comparison, the 28-year-old has "only" hit .321 since.
Odds of Winning Batting Title: 20%
Michael Cuddyer, Colorado Rockies: .329 BA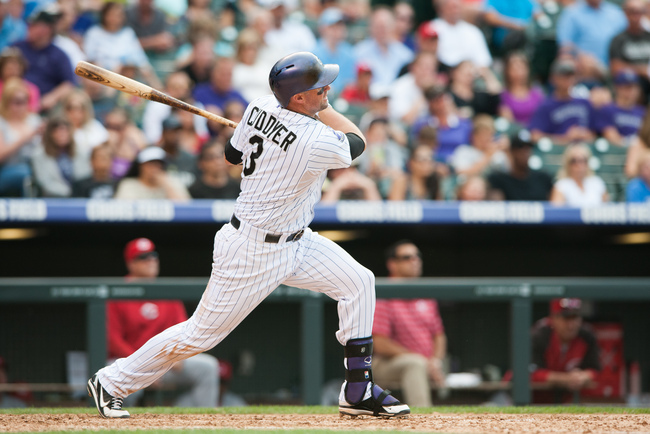 Despite never hitting for a great career average, Michael Cuddyer has topped the charts in 2013.
Dustin Bradford/Getty Images
Despite owning a career .276 batting average—and never hitting over .300 in a season, for that matter—Michael Cuddyer is currently second in the National League with a .329 rate.
While many critics might try to claim that Cuddyer is merely a product of Coors Field, the 34-year-old is still hitting .318 on the road (compared to .343 at home).
Cuddyer could certainly beat out Chris Johnson, as the Colorado Rockies' outfielder has posted a .392 batting average and .405 BABIP in September. But perhaps Johnson isn't the main threat for the batting title.
Odds of Winning Batting Title: 25%
Andrew McCutchen, Pittsburgh Pirates: .324 BA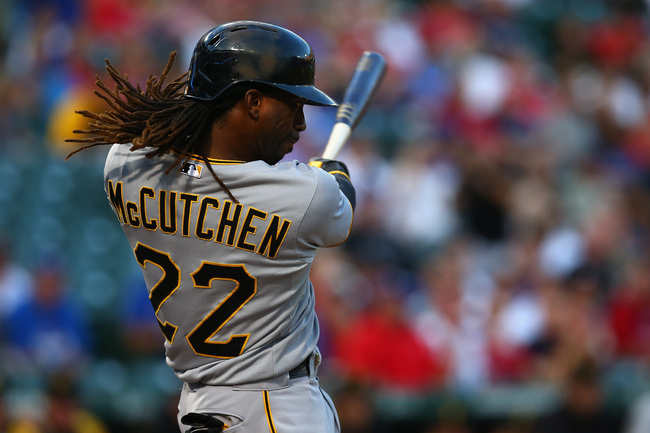 Andrew McCutchen might be the best candidate to unseat Chris Johnson for the batting title.
Tom Pennington/Getty Images
Andrew McCutchen has been the face of the Pittsburgh Pirates' dynamic offense in 2013. In addition to possessing a park-adjusted 156 wRC+, McCutchen also ranks third with a .324 batting average.
With the Pirates on the precipice of their first playoff berth since 1992, McCutchen's offense hasn't slowed down a bit. In fact, the 26-year-old has saved his best for last, posting a .396 batting average and .459 BABIP in September.
If there's one guy who could oust Chris Johnson for the batting title, it's Andrew McCutchen.
Odds of Winning Batting Title: 30%
Jayson Werth, Washington Nationals: .322 BA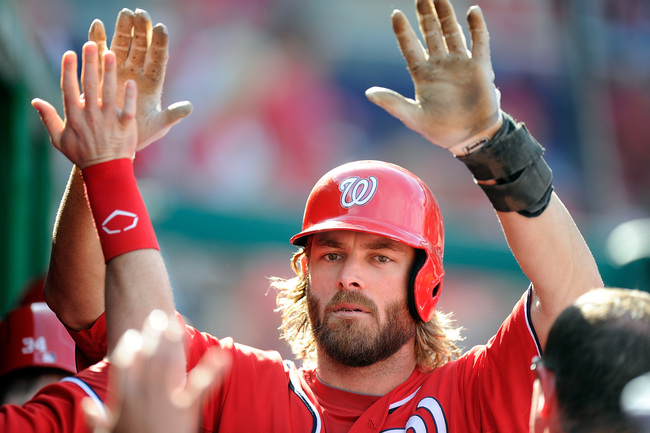 Jayson Werth has plenty to celebrate this season.
Greg Fiume/Getty Images
After Jayson Werth posted a combined .256 batting average and park-adjusted 107 OPS+ over his first two seasons with the Washington Nationals, critics rightfully denounced his monstrous seven-year, $126 million contract.
But in Year 3, it appears as though Werth is finally earning his big salary. The 34-year-old has posted career highs in park-adjusted wRC+ (160) and batting average (.322). While his good play might not help the Nationals advance to the playoffs, the outfielder has a chance of nabbing the National League batting title.
In the month of September, Werth has hit to the tune of a .321 batting average and .372 BABIP.
Odds of Winning Batting Title: 10%
Matt Carpenter, St. Louis Cardinals: .321 BA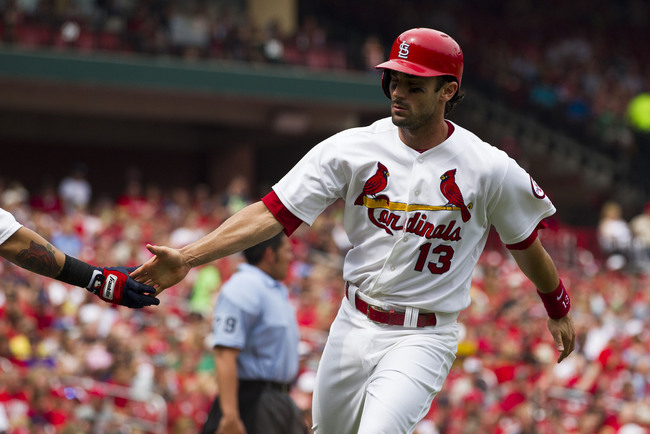 Matt Carpenter has been one of the most productive players in baseball, despite this being his first full-time gig.
David Welker/Getty Images
Matt Carpenter went from part-time player in 2012 to an All-Star in 2013. As the starting second baseman of the St. Louis Cardinals this season, Carpenter has posted an elite park-adjusted 147 wRC+ and .321 batting average. Needless to say, both are career bests.
The 27-year-old also leads the National League in runs (116), hits (185) and doubles (51), making him one of the most dynamic hitters in the major leagues.
Carpenter has done a good job at chipping away at the batting title in September, posting a .400 batting average and .500 BABIP. And with just nine points to make-up in the batting-title race, the second baseman is a dark horse candidate to take the title home.
Odds of Winning Batting Title: 15%
Keep Reading