Power Ranking the 10 Most Dominant LBs in College Football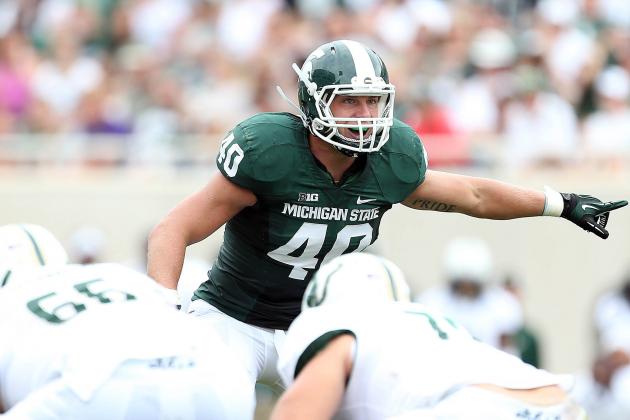 Mike Carter-USA TODAY Sports
Max Bullough
Merriam-Webster defines "dominant" as being "more important, powerful, or successful than most or all others."
In the world of college football, "dominant" often comes to mind when mentioning Nick Saban and Alabama. Three national championships in four years speaks for itself.
But who are the most dominant players in college football? Specifically, who are the most dominant linebackers?
When we think of dominant linebackers, players like Ray Lewis and Lawrence Taylor first come to mind. While we certainly aren't about to compare any of the players on this list to Lewis or Taylor, there are several outstanding college linebackers who will soon appear on an NFL field near you.
Here are the 10 most-dominant linebackers in college football. Keep in mind that this list isn't a ranking of the 10 best NFL prospects.
Begin Slideshow

»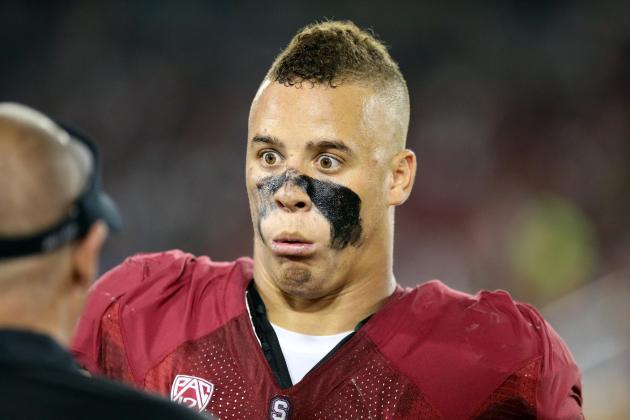 Kelley L Cox-USA TODAY Sports
Shayne Skov
Shayne Skov, a fifth-year senior, is the heart and soul of Stanford's defense and has been since he first stepped on campus in 2009.
After suffering a devastating knee injury early in 2011, Skov returned last year and picked up where he left off. Skov was less explosive in 2012 than he was before his injury, but that didn't hamper his results on the field. He was an honorable mention All-Pac-12 performer after leading the Cardinal in tackles.
He is solid in all aspects of the game and is a true leader. According to Dan Greenspan of NFL.com's NFL Draft 365, Skov says he is now 100 percent recovered from that torn ACL, which is great news for a Stanford defense that is already one of the best in the country.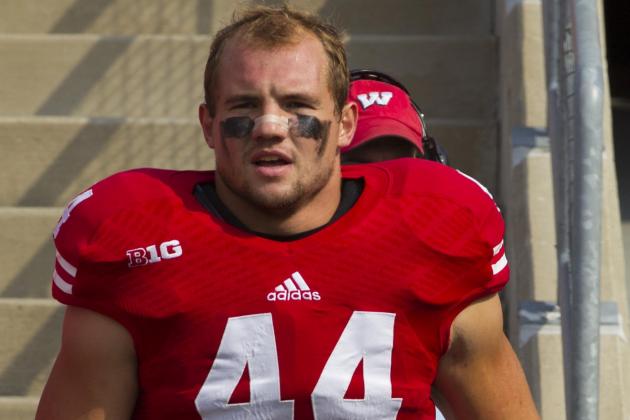 Jeff Hanisch-USA TODAY Sports
Chris Borland
Chris Borland, a four-year starter at middle linebacker for the Badgers, is one of the most underrated players in college football. At 5'11", 248 pounds, he doesn't possess the prototypical size that teams love and he is not the fastest player on the field.
However, what Borland lacks in size and speed, he makes up for with an outstanding football IQ, toughness and leadership.
He is a two-time first-team All-Big Ten performer and a former Big Ten Freshman of the Year. Borland has 13 career forced fumbles, one away from tying the NCAA record. The NCAA didn't begin acknowledging forced fumbles as an official stat until 2005, but it is impressive nonetheless since Borland isn't an edge-rusher.
Teams trying to run the ball against the Badgers are always aware of where Borland is on the field and game-plan accordingly.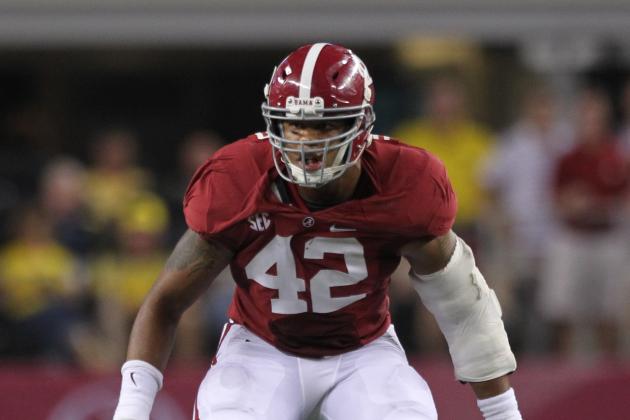 Matthew Emmons-USA TODAY Sports
Adrian Hubbard
There may not be a more imposing linebacker in all of football than Adrian Hubbard.
At 6'6", 252 pounds, Hubbard has the combination of size and athletic ability the NFL covets in edge-rushers. With his size, he has the versatility to line up at either outside linebacker or at defensive end. He plays strong-side linebacker for the Tide.
Last year, in his first season as a starter, Hubbard had seven sacks. Through two games in 2013, Hubbard has yet to record a sack, but expect that to change soon.
Playing in Nick Saban's 3-4 defense, Hubbard is learning coverage responsibilities in addition to playing the run. By the end of 2013, he could be the best on this list.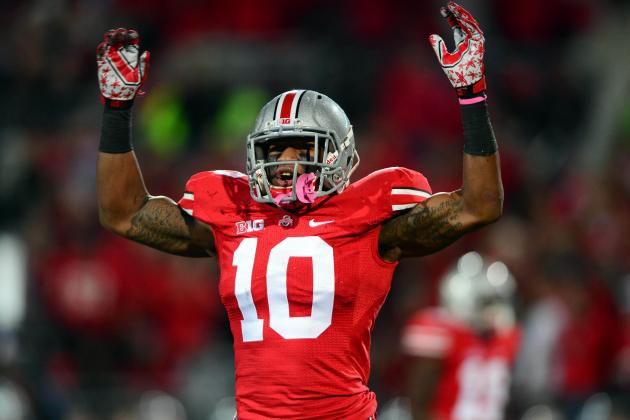 Andrew Weber-USA TODAY Sports
Ryan Shazier
Ryan Shazier is as complete of a player as anyone in college football.
As a weak-side linebacker, Shazier led the Buckeyes in tackles in 2012 with 115, tackles for loss with 12 and was second on the Buckeyes with five sacks.
At 6'2" and 228 pounds, Shazier has terrific size and runs like a defensive back. A first-team All-Big Ten selection, Shazier is poised to be a first-team All-American in 2013. He is the Buckeyes' top defensive player and arguably the best player on the team.
Shazier's game will translate well to the NFL. He is one of the best coverage linebackers in the country and that athleticism will land him in the first round of the NFL draft whenever he chooses to depart Columbus, Ohio.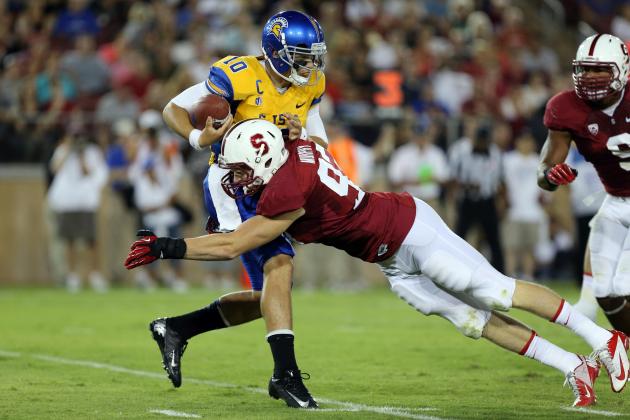 Kelley L Cox-USA TODAY Sports
Chase Murphy
For the past three years, no player was more overlooked on his college team than Trent Murphy. Chase Thomas and Skov got most of the attention, but Murphy was perhaps the best player of the three at Stanford.
At 6'6" and 261 pounds, Murphy is an imposing figure who dominates opposing offensive tackles. In 2012, he led Stanford with 10 sacks and 18 tackles for loss. In the 2013 season opener, Murphy sacked San Jose State's David Fales twice.
He is poised for an outstanding senior season and will be a finalist for all of the major college defensive player of the year awards.
Some may read this and ask, "Who is Khalil Mack?"
Ohio State quarterback Braxton Miller knows who Mack is, as do various NFL scouts around the country. In the season opener against the Buckeyes, Mack had 2.5 sacks and picked off Miller, running his interception back 45 yards for a touchdown.
Mack is a two-time, first-team All-MAC linebacker and a potential All-American in 2013. He was already Buffalo's all-time leader in tackles for loss and forced fumbles before the season began. He is currently the NCAA's leader among active players in tackles for loss.
Through the first three games this season, Mack has 23 tackles, four tackles for loss, 2.5 sacks and an interception. The 6'3", 248-pound Mack should be a first-round selection in next year's NFL draft.
If Kyle Van Noy played in the SEC, he'd probably be mentioned as one of the five best players in the country. He's that good. However, playing in Provo, Utah, Van Noy has flourished in relative anonymity.
In 2012, Van Noy had 22 tackles for loss, 13 sacks, eight quarterback hurries and six forced fumbles. Van Noy also returned a fumble for a touchdown and blocked a kick.
He was very good in 2012, too, with 15 tackles for loss, seven sacks, 10 quarterback hurries and was tied for the team lead with three interceptions.
Van Noy can truly do it all. What will he do for an encore in 2013? If he continues to improve, as he has in each of the last two seasons, he could be the best defensive player in college football and a top-10 NFL draft choice.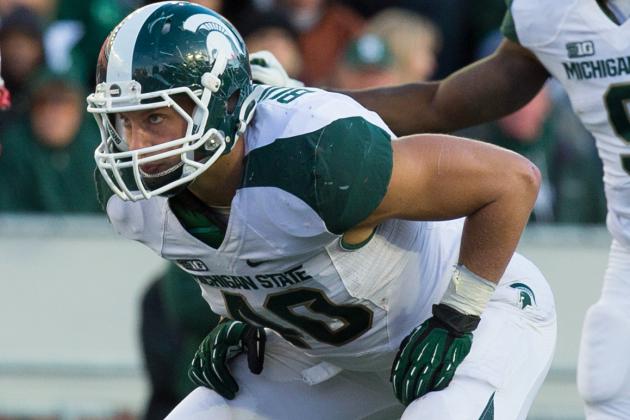 Jeff Hanisch-USA TODAY Sports
Max Bullough
Max Bullough was born to be a Spartan.
Both his father and grandfather played for Michigan State and Bullough has made them proud. In his third year as the Spartans' starting middle linebacker, Bullough is one of the more dominant players in the country.
Through three weeks, the Spartans are No. 1 in total defense, allowing only 177 yards per game and just 50 yards rushing each week. Bullough is a big reason for that.
A two-time All-Big Ten selection, Bullough is a leading contender for this season's Butkus Award, given annually to the nation's top linebacker. If the Spartans continue to be this dominant on defense, he stands a good chance of winning the award.
At 6'3" and 245 pounds, Bullough has the prototypical size and instincts to be an NFL starting inside linebacker for a decade.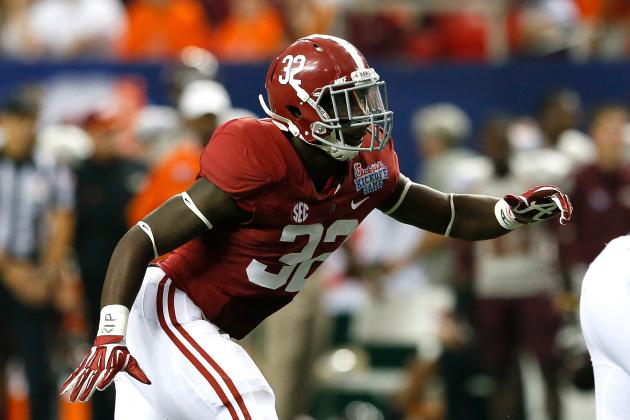 Kevin C. Cox/Getty Images
C.J. Mosley
C.J. Mosley is the latest in a long line of outstanding Alabama linebackers.
The second Tide linebacker on this list, Mosley could have been a first-round choice in this year's NFL draft. He is terrific in every phase of the game.
As soon as Mosley arrived on campus in 2010, he played significant minutes, as Nick Saban trusted Mosley that much. He finished third on the team in tackles as a true freshman.
Opposing offensive coordinators fear Mosley because he can rush the passer, drop into coverage or dominate a team's running game.
A consensus first-team All-American in 2012, Mosley is poised to repeat that feat in 2013. He has 19 tackles in the season's first two games.
Considering this is only his second season of playing linebacker at UCLA, it is incredible that Anthony Barr tops this list.
A former running back, Barr switched to defense in 2012 upon new coach Jim Mora's arrival. It may be the best decision Mora has ever made.
In his first season at linebacker, Barr had 13.5 sacks and 21.5 tackles for loss. He was the Pac-12 Defensive Player of the Year and a second-team All-American.
Draft analysts figured Barr would turn pro after his outstanding junior season, but he decided to return to Westwood. At 6'4" and 245 pounds, Barr has ideal size and speed to play 3-4 outside linebacker in the NFL.
Barr is off to a great start in 2013. He was just named the Pac-12's Defensive Player of the Week for his outstanding effort against Nebraska. Barr had 11 tackles and forced an unprecedented three fumbles last week.
The scary thing is that Barr will only keep getting better.