You can't expect to be spoiled every week, college football fans.
After having a few weeks filled with great matchups, this weekend is shaping up to be a rather lukewarm one in terms of great games and prospective upsets. There's only one game between top-25 teams, and the other games involving a ranked team lack much fanfare.
Still, it's college football, and you can count on at least one big upset or two to come. In a way, it's almost more fun looking and trying to figure out which games will be the most entertaining to watch.
Here's viewing information for every top-25 game, followed by the three best battles this weekend.
Top 25 Games—Sept. 21

| | | | |
| --- | --- | --- | --- |
| Time (ET) | Home Team | Away Team | Network |
| 12 p.m. | No. 4 Ohio State | Florida A&M | Big Ten Network |
| 12 p.m. | No. 7 Louisville | FIU | ESPN3 |
| 12:21 p.m | No. 9 Georgia | North Texas | ESPN3 |
| 3 p.m. | No. 17 Washington | Idaho State | Pac-12 Network |
| 3:30 p.m. | No. 18 Northwestern | Maine | Big Ten Network |
| 3:30 p.m. | No. 19 Florida | Tennessee | CBS |
| 3:30 p.m. | No. 22 Notre Dame | Michigan State | NBC |
| 3:30 p.m. | No. 24 Wisconsin | Purdue | ABC or ESPN2 |
| 4 p.m. | No. 20 Baylor | Louisiana-Monroe | FOX Sports 1 |
| 6 p.m. | No. 8 Florida State | Bethune-Cookman | ESPN3 |
| 7 p.m. | No. 1 Alabama | Colorado State | ESPN2 |
| 7 p.m. | No. 5 Stanford | No. 23 Arizona State | FOX |
| 7 p.m. | No. 10 Texas A&M | SMU | ESPNU |
| 7 p.m. | No. 16 Miami | Savannah State | ESPN3 |
| 7 p.m. | No. 25 Texas Tech | Texas State | |
| 7:45 p.m. | No. 6 LSU | Auburn | ESPN |
| 8 p.m. | Connecticut | No. 15 Michigan | ABC |
| 10:30 p.m. | No. 13 UCLA | New Mexico State | Pac-12 Network |
ESPN.com
No. 23 Arizona State at No. 5 Stanford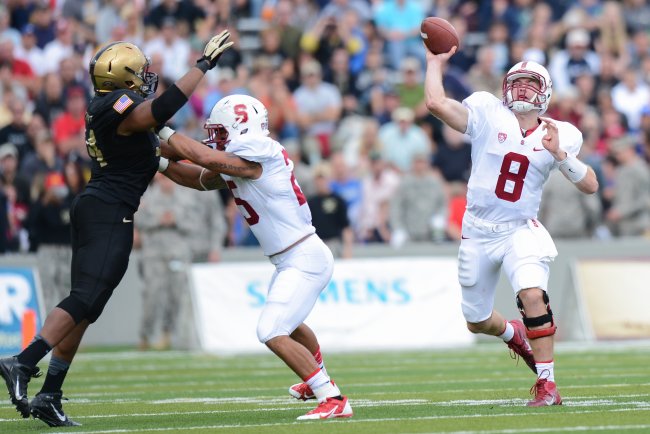 Ron Antonelli/Getty Images
This is far and away the best game of the weekend, and it's the only one to involve two top-25 teams.
It's so impressive the way Stanford has remained a top-10 team, despite losing Jim Harbaugh in 2010 and then Andrew Luck a year later. The Cardinal have a great head coach in David Shaw and a solid signal-caller in Kevin Hogan. The team is in good hands, and this is shaping up to be an even bigger year for the school, as its toughest conference games are all at home.
Arizona State's win over Wisconsin in Week 3 ended in a bit of controversy, but that didn't change the fact the Sun Devils were the better team on the day. This would be a big win for the school, as it has been seemingly stuck in a rut over the last few years. Beating Stanford could put ASU on a path to success in 2013.
Arizona State has lost five road openers in a row and its last two games against Stanford. That doesn't spell good things on Saturday.
Tennessee at No. 19 Florida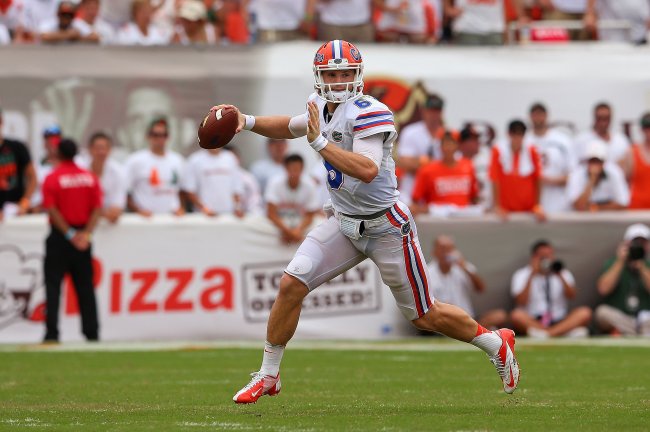 Mike Ehrmann/Getty Images
This is a matchup between two underwhelming SEC sides.
Florida has the top-25 ranking, but the Gators are far from secure in their position. They've had an extra week to stew on that loss to the Miami Hurricanes. Jeff Driskel was really bad in that game, and his two interceptions helped Miami pick up the big upset. He's a feast-or-famine QB, and if he has another poor game, it could be two losses in a row for Florida.
The Volunteers are probably just now recovering from the shellacking they were forced to endure against the Oregon Ducks. Tennessee was out-gained 687-316 and surrendered 59 unanswered points. That was a week after an unconvincing win against Western Kentucky. Butch Jones has a lot of work to do with this team.
Florida has dominated this series, winning the last eight games between the two teams. Playing in The Swamp should also push the Gators over the edge.
Michigan State at No. 22 Notre Dame
Michael Hickey/Getty Images
Michigan State is just one win away from getting into the top 25. The Spartans are a point behind No. 25 Texas Tech.
It hasn't been pretty, but Mark Dantonio's team has been able to get the job done so far. The Spartans are 3-0 but have yet to get a signature win. Beating the Fighting Irish would be that win Michigan State needs and the perfect way to go into conference play in Week 6.
Notre Dame is in the same boat. The Fighting Irish are still looking for that one big win early in the season. Beating Temple and Purdue aren't anything to write home about, especially when the combined margin of victory is only 29 points.
The last time Notre Dame won three straight against Michigan State was 1992-94.