After a trip back down to Earth following a miraculous Week 1 victory, the New York Jets are set to play a very even opponent, the Buffalo Bills, in Week 3.
Not much was expected from either team headed into this season, but both teams have managed a 1-1 record. And after both lost to the New England Patriots by a field goal or less, this is set to be a much more interesting and meaningful matchup than anyone could have predicted.
In fact, if both rookie quarterbacks continue to develop into sound starters, this game could have playoff implications down the road.
For the Bills, EJ Manuel is playing with the poise of a quarterback well beyond his years. A much more dangerous runner than Geno Smith, stopping this dual-threat quarterback will be a different challenge for the Jets compared to what they have faced this season.
A win against a division rival would put the Jets right back into the fight for division supremacy.
However, a loss that would bring them to 0-2 in the division would bury them in the basement before the first month of the season is over.
Division Standings
AFC East Standings

| | | | | |
| --- | --- | --- | --- | --- |
| Team | Wins | Losses | Points For | Points Against |
| New England Patriots | 2 | 0 | 36 | 31 |
| Miami Dolphins | 2 | 0 | 47 | 30 |
| Buffalo Bills | 1 | 1 | 45 | 46 |
| New York Jets | 1 | 1 | 28 | 30 |
http://www.nfl.com/standings
Unfortunately for both teams, the other two AFC East teams remain undefeated after two games. The fact that the Bills and Jets have a common loss recorded against the Patriots already makes this upcoming game even more important.
The Patriots may be in the middle of a transition year, but that does not mean the division is any easier to win than in years past. After their convincing win over the Colts, the Dolphins may be the new favorite to win their first AFC East title since 2008.
Injury Report
Jets Monday Practice Report

| | |
| --- | --- |
| LImited | Full |
| Jeremy Kerley (concussion) | Muhammad Wilkerson (ankle) |
| Quinton Coples (ankle) | |
http://profootballtalk.nbcsports.com/2013/09/16/wilkerson-kerley-take-part-in-practice-for-jets/
A full practice report will be available on Wednesday, but there were some encouraging developments for the Jets for several key players, in part thanks to the extended break after the Thursday night game.
Muhammad Wilkerson appears to be good to go for next week, as he was able to do "everything" in practice:
Muhammad Wilkerson said he just has a sprained ankle. He expects to play against the Bills. Said he did "everything" at practice today.

— Darryl Slater (@DarrylSlater) September 16, 2013
Meanwhile, Jeremy Kerley played with a red non-contact jersey as he recovers from a concussion. Quinton Coples was able to see the practice field for the first time since fracturing his ankle in the preseason. Both are encouraging signs, but neither has been officially cleared to play in Sunday's game.
What Must Improve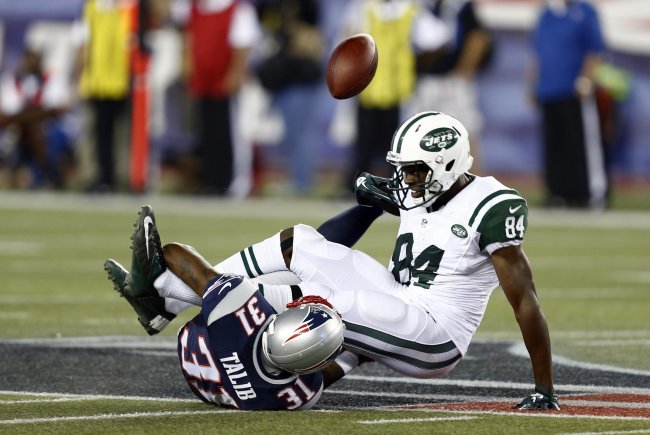 Mark L. Baer-USA TODAY Sports
Geno Smith was far from stellar in last week's three-interception performance, but the primary culprit was the inability of the Jets' wide receivers to make relatively simple catches on a regular basis. Simple and crucial passes (including a drop in the end zone by Clyde Gates) were not completed because of a lack of concentration by the wide receivers, which ultimately cost the Jets a chance to win.
By my unofficial count, I remember at least 6 catchable passes dropped by Jets: 3 from Gates (including TD), Hill, Spadola, Powell #nyj

— Manish Mehta (@MMehtaNYDN) September 13, 2013
There is no magical scheme that a team can use to prevent drops from occurring. Much like turnovers, drops are unpredictable and usually happen in bunches. Also like turnovers, a bad drop can stall a drive, take points off the board and swing momentum in the blink of an eye—all of which happened last Thursday night.
Sometimes, a team can become so conscious about drops or turnovers that the players wind up making even more of them. Somehow, the Jets must find a balance of increasing concentration without over-thinking the process of catching a football.
Still, even if the Jets are able to solve their issue with drops, they need a bounce-back game from Geno Smith.
His three interceptions highlight his shortcomings last Thursday night, but they were only a result of what his root problems as a quarterback are right now. Geno Smith's erratic performance is derived from the fact that he is taking far too long to get rid of the ball in the pocket.
At a glance, it would be easy to blame the offensive line for Smith's inability to get comfortable in the pocket:
Quarterback Hits, Sacks and Hurries vs. Patriots

| | | | |
| --- | --- | --- | --- |
| Player | Hurries | Hits | Sacks |
| D'Brickashaw Ferguson | 2 | 0 | 1 |
| Vladimir Ducasse | 1 | 0 | 1 |
| Nick Mangold | 1 | 0 | 0 |
| Willie Colon | 2 | 1 | 0 |
| Austin Howard | 2 | 2 | 1 |
https://www.profootballfocus.com/data/gstats.php?tab=by_team&season=2013&teamid=22&stats=o&gameid=2758&pre=REG
While the stat sheet may say that Geno spent most of his time running for his life, the truth is that Smith is the one who put his linemen in a bad situation—not the other way around:
The Jets' offensive line protected for 5.5 seconds before that third-down sack of Geno Smith.

— Mike Sando, ESPN.com (@SandoESPN) September 13, 2013
According to Pro Football Focus, quarterbacks spend about two to three seconds in the pocket before they got rid of the throw in 2012, with Russell Wilson taking the longest at 3.14 seconds.
Therefore, when a quarterback is taking almost twice that much time to get rid of the ball, it is actually a testament to the Jets' offensive line that they only allowed four sacks all night.
The fact that Geno Smith holds onto the ball for too long is not a new phenomenon. Here, he pulls the ball down with two wide open receivers down the field after already extending the play by running out of the pocket: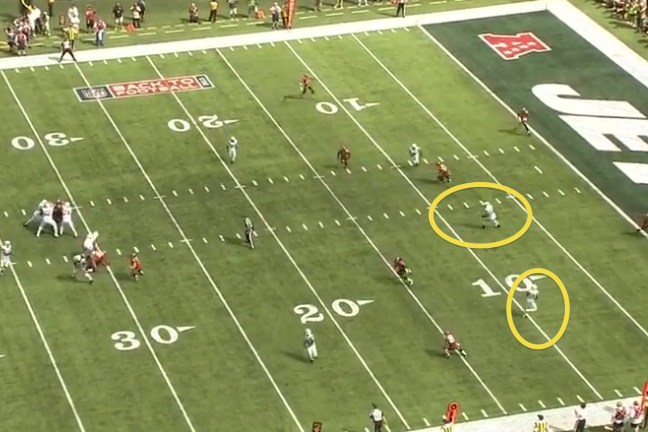 The good news is, this is a teachable issue that many rookies struggle with, especially those coming out of college offenses that utilize a lot of simple reads like West Virginia's. Not only is the NFL game faster—the definition of an "open" receiver is much more liberal. A receiver who looks covered may be the best option.
Fixing this issue will take some time and experience, but the Jets will not be able to sustain offense for very long relying on improvisational plays from outside the pocket. When Smith begins to make more plays within a reasonable amount of time from the pocket, the sack and interception numbers will go down and the completion percentage will go up—and the wins will follow suit.
Advanced statistics provided by ProFootballFocus.com (subscription required).