Texans vs. Titans: Takeaways from Houston's 30-24 Win over Tennessee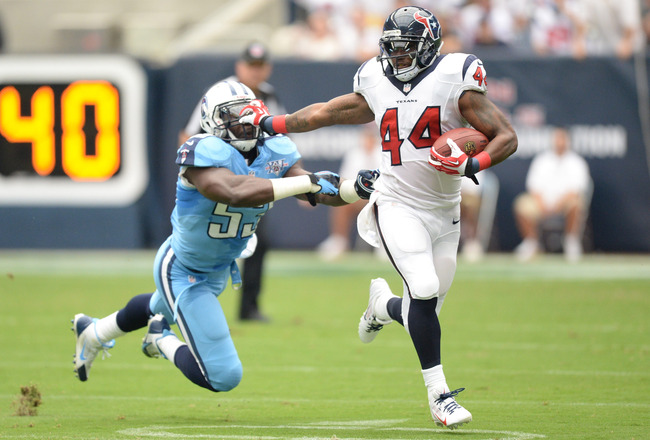 Thomas Campbell-USA TODAY Sports
The Houston Texans have sure shown that their offense can be clutch.
With a last-minute field goal against the Chargers and a game-winning touchdown now in the books against the Titans in overtime, the Texans are looking pretty good—even if there are still a few problems Gary Kubiak needs to be concerned about heading into Week 3.
Really, it could just be a matter of the Titans being better than we think they are. It's always been a tough divisional game, but with Ed Reed still missing and kicker Randy Bullock way off range, the Texans have somehow survived two weeks of football by fighting back in the final stages when it counts.
Week 3 features the Baltimore Ravens, a game which has several storylines itself. So as we prepare for that one, here are eight takeaways from the Texans' Week 2 overtime win against Tennessee.
Ben Tate Is Just as Good as Arian Foster Right Now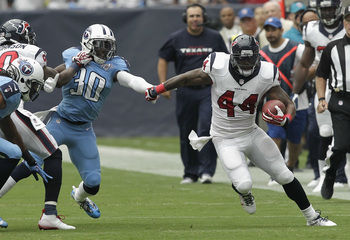 Bob Levey/Getty Images
The Texans went 80 yards on their first drive of the game to take a 7-0 lead.
Normally you'll see Kubiak call a good mix of run and pass on offense for all of the game. But to open this one up, it was on the running game to get the ball into the red zone, where Graham Garrett took a one-yard pass from Schaub over the plain.
For the first time in forever though, it wasn't Arian Foster standing out as the most impressive running back on the team.
Just like last week, Ben Tate put some impressive numbers up, and managed more yards than Foster on 10 fewer carries.
Of course, Foster was far from terrible. He played the main role in getting the Texans into scoring range early on in overtime and still made some big runs through the middle after showing patience to wait for a hole.
But currently, it almost seems like Tate is Kubiak's preferred starter while Foster finds his rhythm again after suffering some injury setbacks. Fortunately this is a good problem for the Texans to have. Tate showed poise to pick up blockers on Sunday and was even targeted by Schaub a few times on short screen passes.
J.J. Watt Showed Up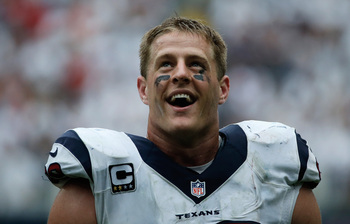 Scott Halleran/Getty Images
It was a pretty quiet Week 1 for J.J. Watt, who went sackless.
But he made up for it against the Titans with two sacks, a couple of pass blocks and a whole lot of pressure in Jake Locker's face.
For most of the game, Watt and Brian Cushing had no difficulties collapsing the Titans pocket. Just as Wade Phillips had dialed it up, forcing Locker to make some throws on the run really threw the balance of Tennessee's offense out of whack.
It was surprising to see Tennessee not put an extra body on either Watt or Cushing before half time, especially since both players had accounted for big plays. The Texans definitely weren't complaining though. All of the pressure rushing forward allowed the young secondary to take some extra time and cover downfield.
Perhaps Week 1 was just a quiet one for Watt, but we all knew he'd show the force that he's become known for very, very quickly. Towards the end of the third quarter, the Texans went five straight drives without allowing a first down.
The Texans also held Chris Johnson to 96 yards and no touchdowns.
It was a big day for Watt, and an even bigger one for Houston's run defense.
The Texans Stayed Away from the High-Tempo Offense
Scott Halleran/Getty Images
Last week in San Diego, the Texans tested the Chargers' stamina by basically playing no-huddle and calling the plays on the fly.
In the second half, it worked great. Guys like Andre Johnson and DeAndre Hopkins got involved in the game, and the offense had no trouble stomping its way downfield.
On Sunday against Tennessee, the Texans stuck to a more traditional approach and took their time calling plays. It's not that the offense didn't find rhythm, but Matt Schaub threw two interceptions on the day, one of which was a pick-six that looked like it could seal the deal.
It's a mystery as to what Kubiak will call each week, but the high-tempo offense seems to be the way of the future. Against teams like Tennessee that rank 11th in pass defense, tiring out the secondary with fast play-calling could be a smart idea.
Andre Johnson Passes Muhsin Muhammad on All-Time Receiving List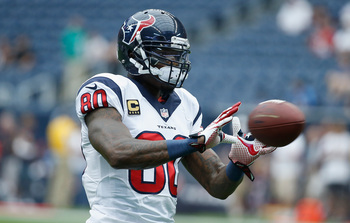 Scott Halleran/Getty Images
It hasn't been spoken about much, but the Texans found themselves a little higher in the history books early in the third quarter.
After catching a 10-yard bootleg pass from Matt Schaub, Andre Johnson surpassed Muhsin Muhammad for the 24th spot on the NFL's all-time career receiving list with 11,476 yards.
Above Johnson are some pretty impressive names, and it's unlikely that he ever cracks the top 10 with guys like Randy Moss and Tony Gonzalez occupying the ranks. Still, Johnson is in some pretty good company. He stands only 80 or so yards behind Carolina's Steve Smith for the No. 23 spot.
Johnathan Joseph Showing He's a Leader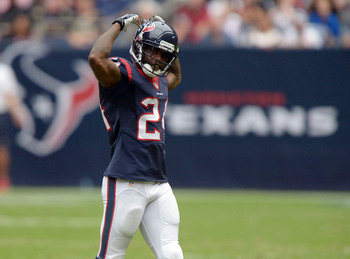 Kirby Lee-USA TODAY Sports
The Texans secondary struggled last week against guys like Antonio Gates. When younger players such as D.J. Swearinger got burned on a couple of different routes, the leadership that Ed Reed would normally bring to the field was sorely needed.
Fortunately on Sunday, Johnathan Joseph showed some leadership qualities. As an eighth-year corner, Joseph had five big tackles, some of which came on big third-down plays.
Joseph also seemed to step up his physicality a little, knifing in for tough tackles and showing why he is still one of the class members of the Texans secondary.
It probably couldn't have come at a better time for Wade Phillips, since Reed's long-overdue debut is still a mystery. In the meantime, having Joseph there to coax guys like Brice McCain through their rough patch is a huge plus.
Trusting Randy Bullock to Win Games Probably Isn't Wise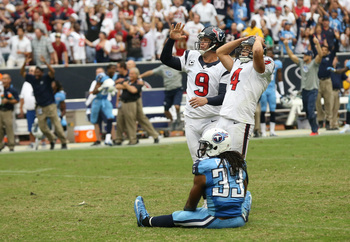 Matthew Emmons-USA TODAY Sports
The rest of the Texans' special teams units had a pretty solid day, except for kicker Randy Bullock who missed three crucial field goals, two of which probably could have helped Houston avoid overtime altogether.
It was a pretty nice day in Houston, so it's hard to blame the weather for his troubles. Titans kicker Rob Bironas managed okay, but for some reason, Bullock missed two shots from outside 50 in the first half.
He then missed the potential game-winner with seconds to go in the fourth quarter after the Titans did an awesome job of icing him with timeouts.
The Texans don't have any other kickers signed to the roster, unless they plan to bring in "kickalicious" or Dan Carpenter for a workout after Sunday's display. That would probably be a wise move, since Bullock is converting at only 20 percent and has just one field goal to his name out of an attempted five.
Brice McCain and Kareem Jackson's Struggles
Kirby Lee-USA TODAY Sports
After two weeks, the Texans rank fourth in pass defense but 10th in points allowed so far this season, a statistic that reflects on Wade Phillips' secondary against top receivers.
Brice McCain struggled last week against San Diego and had a tough time covering Robert Griffin III's former teammate at Baylor, Kendall Wright, on Sunday.
McCain was beaten on a simple fade route in the end zone where Jake Locker zipped a perfect pass into his hands. Normally you'd expect to see better from McCain in such tight coverage, but unfortunately he was a step too late.
Right next to McCain's struggles was another experienced cornerback, this time Kareem Jackson. Early in the fourth quarter, Jackson gave up three pass plays on a long Titans drive and eventually allowed Delanie Walker to score a 10-yard touchdown.
These kinds of mistakes are always going to happen for corners, especially for McCain, who saw limited starting action last year.
For two guys that are in their fourth and fifth years, they are making the Texans secondary even more vulnerable with guys like Anquan Boldin and Russell Wilson coming up in the next few weeks.
DeAndre Hopkins Could Be Just as Reliable as Andre Johnson When It Counts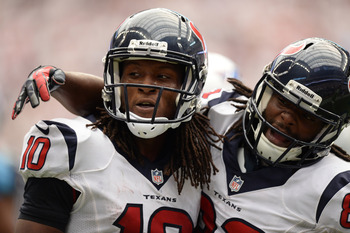 Thomas Campbell-USA TODAY Sports
DeAndre Hopkins didn't have to much to show in the first half, but once the second rolled around, he was probably the most important player on the field.
A week ago in San Diego, Hopkins got the offense out of a jam by converting an important 3rd-and-19 play that set up a scoring drive. On Sunday, he once again came up big on third down during overtime, reeling in a huge overhead pass from Matt Schaub that placed the Texans in a serious game-winning position.
A few plays later, Hopkins was in for a score, and the game was over.
Two weeks in a row now, Hopkins has proven general manager Rick Smith to be a draft genius. Not only has he taken the pressure off of Andre Johnson, who had some mild injury concerns against Tennessee, but he's also showing zero rookie jitters—something you could maybe expect from such a young player in such a big offense.
Keep Reading

Houston Texans: Like this team?