Full Week 3 Stat Projections for 5 Minnesota Vikings Offensive Players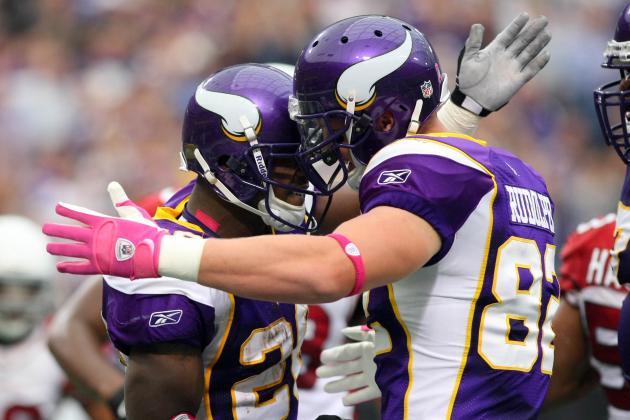 Brace Hemmelgarn-USA TODAY Sports
Adrian Peterson (left) and Kyle Rudolph (right) are in for big games in Minnesota's home opener.
If you're in this slideshow, it's for one of two reasons.
One, you're a Minnesota Vikings fan (duh) looking to see what people (like me) have to say about what the standout offensive players are going to do in their home debut.
Two, you're a fantasy football junkie looking for his or her fill.
If you're really special, then you're a combination of the two.
The Vikings (0-2) have a date with the Cleveland Browns (0-2) at Mall of America Field on Sunday as both seek to obtain their first victory.
Minnesota was a phenomenal home team last season, knocking off the likes of the Green Bay Packers, San Francisco 49ers and Chicago Bears on the way to posting a 7-1 record on its own turf.
A repeat performance is impossible, given the Vikings lose a home game in Week 4 when they travel to London to "host" the Pittsburgh Steelers.
But look for Minnesota to step up its game at home, which includes its standout offensive performers.
Inside I'll break down the expectations for quarterback Christian Ponder, running back Adrian Peterson, tight end Kyle Rudolph and wide receivers Greg Jennings and Cordarrelle Patterson. You'll get my analysis on their status entering Week 3 and their projected stat line for game's end.
Step inside, won't you?
Begin Slideshow

»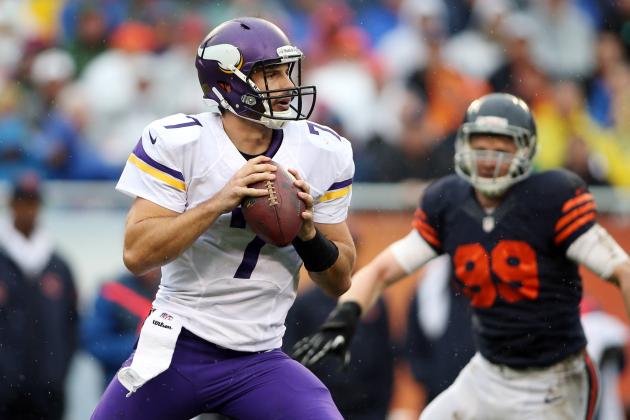 Jerry Lai-USA TODAY Sports
Expect a better performance from Christian Ponder in his 2013 Mall of America Field debut.
The negative Nancy's are dominating the discussion when it comes to Christian Ponder and his future with the Minnesota Vikings and as an NFL quarterback.
And rightfully so.
The third-year pro has done little to silence his critics through two 2013 starts (34 of 58 for 463 yards, two touchdowns and four interceptions).
As a whole, he hasn't looked comfortable operating in the pocket, his accuracy has taken a hit and the turnover bug just won't let go of his arm.
On Sunday he confronts a pass defense rated 25th best last season (245.2 yards per game) but does feature Joe Haden, one of the game's premier cornerbacks.
Sunday will be Ponder's first regular-season game at Mall of America Field since his splendid performance against Green Bay to wrap up the 2012 regular season (16 of 28 for 234 yards and three touchdowns).
His struggles will continue this week, enough to continue to frustrate Viking fans, but it will be his best performance of the 2013 campaign.
He's had two games to get "comfortable" with the "new" offense, Cordarrelle Patterson is expected to play a bigger role this week and it's his home opener.
If this isn't his best performance to date, then it could be his last start of 2013 (especially if Minnesota loses).
Projection: 20 of 30 for 240 yards, two touchdowns and one interception; four rushes for 20 yards.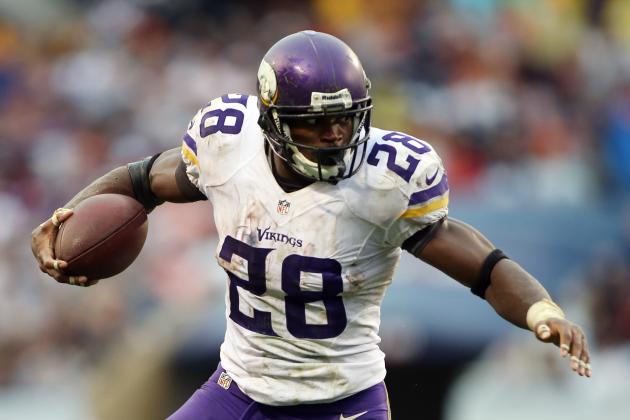 Jerry Lai-USA TODAY Sports
Adrian Peterson will be who he's expected to be on Sunday.
Adrian Peterson is Adrian Peterson.
What does that mean?
Expect fine performances on a weekly basis.
Peterson is head over heels better than any running back. No, it's not open for debate.
He had a stellar opening game (18 rushes for 93 yards and two touchdowns while catching four passes for 18 yards and a touchdown) with a bit of a letdown vs. the Bears (26 rushes for 100 yards and one catch for seven yards).
You know you're a damn good player when 100 yards isn't considered all that impressive.
Peterson will be much more Lion than Bear on Sunday. The Browns present a middle-of-the-road run defense.
Given what's at stake for Minnesota and that it is the Vikings' home opener, Peterson will be the hammer in Week 3.
Projection: 150 yards rushing on 25 carries and a touchdown; four receptions for 25 yards.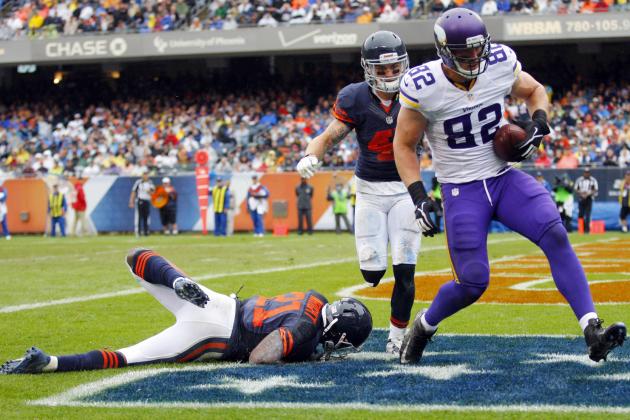 Dennis Wierzbicki-USA TODAY Sports
Kyle Rudolph made a triumphant return to the end zone in Week 2. Expect another visit in Week 3.
If Christian Ponder is ever to become a top-notch quarterback, it will be because Kyle Rudolph and he finally find a way to connect on a consistent basis.
Rudolph should be Ponder's best friend, and when one has a good day that means the other typically does, too.
The former Notre Dame tight end disappears far too often to be considered a truly elite tight end. Then again, that could be because he lacks consistent quarterback play.
You already read what I project for Ponder, which means Rudolph should have a successful home debut.
With a heavy dose of Adrian Peterson gaining big chunks of yardage on the ground, Rudolph should have opportunities to be Ponder's red-zone buddy.
Rudolph will return to the end zone this week, which will result in a nice stat line for the third-year pro.
Projection: five receptions for 70 yards and a touchdown.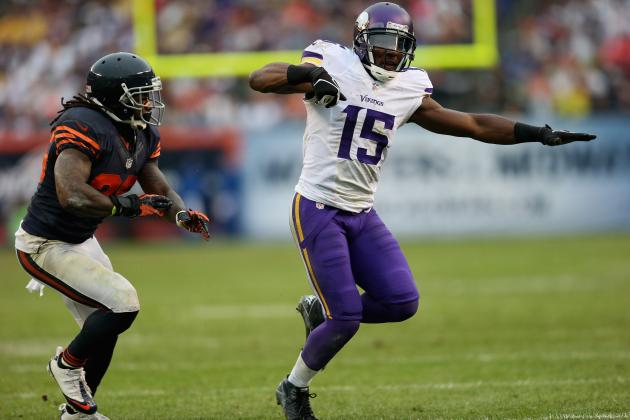 Jonathan Daniel/Getty Images
Greg Jennings has a date with another lackluster stat sheet in Week 3.
The beginning of Greg Jennings' tenure as a Viking hasn't gone as he had expected, although it has gone as many expected it would.
The former Green Bay Packer boasts eight receptions for 117 yards and zero touchdowns.
Jennings said his presence would help improve the play of Christian Ponder. That hasn't happened yet.
As I'm projecting a sense of optimism for the Vikings as a whole entering this week, I will continue that trend with Jennings.
Since I expect a better Ponder, I expect a better Jennings. It still won't be the Jennings that the man himself expected in Minnesota. And it won't tear up any fantasy matchups, but his presence will be felt.
It could be the beginning of the duo finding a connection. Or it could be an anomaly. Only time will tell.
But Week 3 will be kinder to Jennings.
Projection: six receptions for 90 yards and zero touchdowns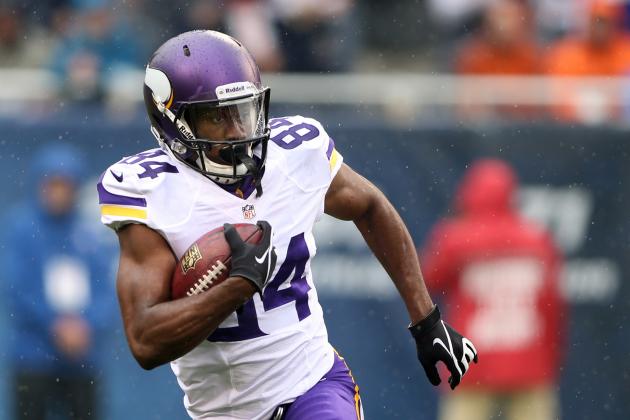 Jerry Lai-USA TODAY Sports
Leslie Frazier has said Cordarrelle Patterson will get more playing time in Week 3.
In his first two games Cordarrelle Patterson has played five and six plays, respectively.
Not quite the beginning many expected as they loosely threw around comparisons to Randy Moss as a rookie.
I was in the minority on trying to reel in the expectations for Patterson's rookie season but admit even I expected him to see more than a combined 11 plays through his first two NFL games.
Breathe easy, Minnesota fans. Leslie Frazier has said the rookie will see more time in Week 3, and rightfully so.
There hasn't been a declaration about how much more time the Tennessee product will get on the field, but I'm expecting double-digit snaps.
Through two games Patterson has caught three passes for 24 yards and a 105-yard kickoff return for a touchdown.
Expect him to match his reception total for the season in Week 3. His productivity still won't be anything flashy, but it will be a step in the right direction.
Projection: three receptions for 33 yards.