5-Star QB Kyle Allen and Top Recruits to Watch on ESPN Friday Night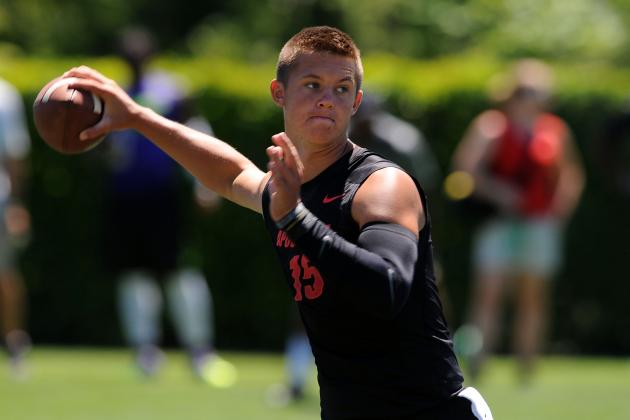 Steve Dykes-USA TODAY Sports

Kyle Allen is a 5-star quarterback from Arizona who is committed to Texas A&M. With quarterback Johnny Manziel likely heading to the NFL next season, Aggie fans could see Allen behind center next season.
A preview of what's to come in College Station from Allen can be seen this Friday night, as his Desert Mountain (Arizona) High School team takes on Chaparral (Arizona) on ESPNU at 10:00 ET.
Allen leads a talented Wolves team, but the Firebirds also have several recruits playing for them. The amount of 2014 and 2015 prospects that will be on the field for this game warrants a closer look.
Player evaluations are based on review of tape at Scout.com, Rivals, 247Sports and ESPNU.
Begin Slideshow

»
Chaparral will look to slow down the effective Desert Mountain offense, and one of the players charged with this task will be outside linebacker/safety Robbie Kleifield, a non-rated junior.
Kleifield, who is 6'2" and 193 pounds, is the surest tackler on the Firebirds' defense. He led the team in tackles as a sophomore with 78, has solid athleticism and explodes in short areas to make stops on the ball.
If Chaparral is going to win Friday night, Kleifield will have to have a big game. Both Arizona schools have shown interest, per 247Sports.
A do-it-all player for the Firebirds, Gary McKay is a non-rated 5'10", 150-pound athlete who can play safety, cornerback, receiver and running back.
His presence will be felt the most on defense this Friday night, as Chaparral will need him to stop Desert Mountain's passing attack. McKay has great ball skills, solid build-up speed and flashes the range to patrol a good chunk of real estate on the field.
He has interest in UCLA, says 247Sports.
Elijah Castro transferred to Chaparral in the offseason from Peoria Sunrise Mountain. He ran for 1,082 yards and 13 TDs last season, while also chipping in 42 receptions for 639 yards and nine touchdowns.
Castro, who is a non-rated recruit, is 5'7" and 175 pounds, and has outstanding quickness and speed. He is shifty with the ball in his hands and will be a focal point of the Firebirds' offense on Friday night.
Marshall Forest is a 2-star offensive lineman for the Firebirds who stands 6'4" and 275 pounds. He plays with a wide base, works well on combo-blocks and plays to the echo of the whistle.
Forest also has the tenacity and strength to play defense, which is also where he will be a factor at on Friday night. He has an offer from Cornell, and both in-state Arizona schools are also listed at 247Sports.
Joe Nauert transferred to Chaparral from Brophy Prep, and is the middle anchor of the Firebirds' defense.
The non-rated 'backer is 6'2", 220 pounds and is a tackling machine.
Nauert, who has an offer from New Mexico State according to Rivals.com, plays stout at the point of attack, has good toughness and can scrape laterally to fill alleys. He will be responsible for checking Chaparral into the right alignments and coverages versus Desert Mountain.
Izzy Simpson is part of a talented pass-catching trio at Chaparral. He transferred to the school from Chandler Hamilton, and will be a great weapon for the Firebirds' offense all season long.
Simpson, a 2-star receiver, is 6'1" and 185 pounds. He has deceptive speed, but it's his ability to concentrate and track the football in the air that separates him from other receivers. The Firebirds will need plenty of big plays on Friday night, and Simpson will have to provide many of them.
Only the Arizona schools have been mentioned by 247Sports.
A 3-star quarterback in the 2015 class, Sean Brophy will try to out-duel Allen during the game. He has a good set of weapons, is getting more comfortable each week and efficiently pilots a good offense for Chaparral.
Brophy, who is 6'3" and 190 pounds, makes good decisions with the ball and can really fire strikes to intermediate targets. He has interest in North Carolina State, according to 247Sports.
Trevor Wood will be heavily counted on by Chaparral all game long. He starts at tight end for the Firebirds, plus he also plays defensive end and on special teams.
Wood, a 3-star prospect, is committed to Arizona. He is 6'6", 238 pounds and can be flexed to the slot and perimeter on offense to work on linebackers in the passing game. Wood displays good hands, has adequate speed and can be a bully with the ball after the catch.
Wood also can set the edge as an in-line blocker, plays tough and has good strength. He could develop into a star for the Wildcats.
At 6'1" and 190 pounds, Tyler Whiley is the best player for Chaparral. He is committed to Arizona State, plays with confidence and has good instincts.
Whiley, a 4-star prospect, doesn't panic in press-coverage and has a great feel for anticipating routes. He also shows above-average quickness when releasing off the line as a receiver, excellent vision to find voids in coverages and solid run-after-catch skills.
Although he is not well-known in recruiting circles, Desert Mountain running back Daniel Fedorka deserves to be mentioned.
The 5'8", 165-pounder doesn't intimidate many people on the field, but he's an efficient player with deceptive quickness. Fedorka runs hard, has a knack for slicing through creases and be a good check-down option for Allen.
Look for the Wolves to have some tricks up their sleeves with the non-rated Fedorka on Friday night.
Keenan Walker is a 4-star offensive tackle in the 2015 class who the Firebirds count on to protect quarterback Sean Brophy.
Walker, who is 6'6" and 250 pounds, displays quick feet, agility and solid balance. He can deep-set to protect the quarterback, mirror and slide in space, plus has good strength to play big as a blocker in the running game.
Walker already has offers from Nebraska, Arizona and Arizona State, says 247Sports, and has interest in Florida State and Ohio State.
A 4-star recruit, Mark Andrews is one of the top stars in the state of Arizona. He is a 6'6", 230-pound receiver who may not be the fastest player you'll see, but has outstanding hands, ball skills and intelligence.
Andrews towers over defenders, works his way off the line and is always open due to his size, length and ability to attack the ball with his hands. He should command double-coverage on passing downs during the game.
Andrews is committed to Oklahoma.
All eyes will be on Kyle Allen on Friday night, as he will be the best player on the field. Allen stands almost 6'3" and 190 pounds, and pilots a great Desert Mountain offense.
The 5-star quarterback has outstanding vision and anticipation. He can throw to spots on the field, will start his delivery before a window opens up and can change ball speeds and alter the trajectory of his passes accordingly.
Allen has just enough arm strength to attack the third level of the defense, but his accuracy is his main weapon. He has a great command of his offense, makes good pre-and-post-snap reads and also is deceptively mobile.
He is committed to Texas A&M.
While watching Allen and the many other recruits during the game on Friday night, also keep your computer on to locate him, Andrews and other top prospects on the 2014 Bleacher Report College Football Recruiting Heat Map!
Edwin Weathersby is the College Football Recruiting Analyst for Bleacher Report. He has worked in scouting/player personnel departments for three professional football teams, including the New York Giants and Cleveland Browns.