South Carolina: 10 Weaknesses Spurrier Must Address in Bye Week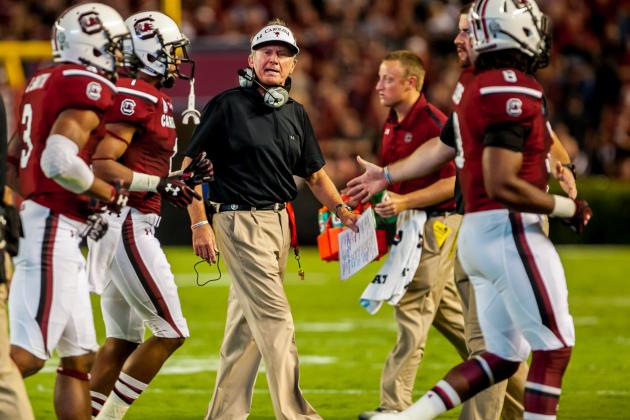 Jeff Blake-USA TODAY Sports
South Carolina coach Steve Spurrier gets an off week to correct the Gamecocks' problems.
Through three games, South Carolina is 2-1 and has given its fans plenty of reasons to smile.
The Gamcocks' offense has played well enough to win in every game and has shown balance between the run and the pass.
Tailback Mike Davis has led a solid Gamecocks ground game, and South Carolina has depth there with Brandon Wilds and Shon Carson.
Quarterback Connor Shaw has performed flawlessly and has yet to throw an interception, and the offensive line has been solid.
But that doesn't mean there's not plenty of room for improvement, as the Gamecocks face an off week before playing Central Florida on Sept. 28.
Here are 10 areas that need to be addressed.
Begin Slideshow

»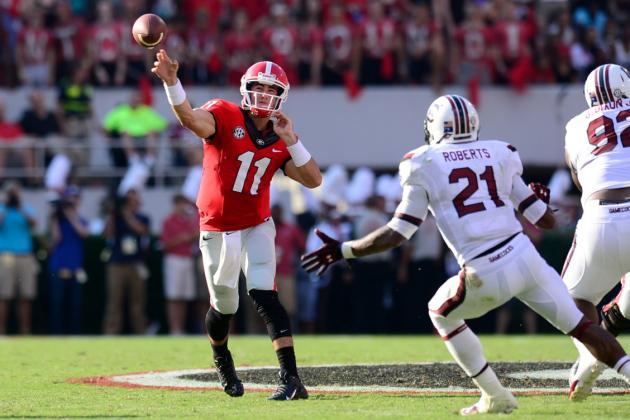 Dale Zanine-USA TODAY Sports
South Carolina linebacker Marcquis Roberts is too late to make a play on Georgia quarterback Aaron Murray.
Most of South Carolina's concerns are on defense, and the No. 1 concern has to be the play of the Gamecocks' linebackers.
South Carolina's top eight players at the three linebacker positions did not have a start between them when the season began, and the inexperience has been glaring.
Starting middle linebacker Kaiwan Lewis, weak-side linebacker Marcquis Roberts and Spur (hybrid between linebacker and safety) Sharrod Golightly need to improve in all phases, reading, reacting and being more physical against the run.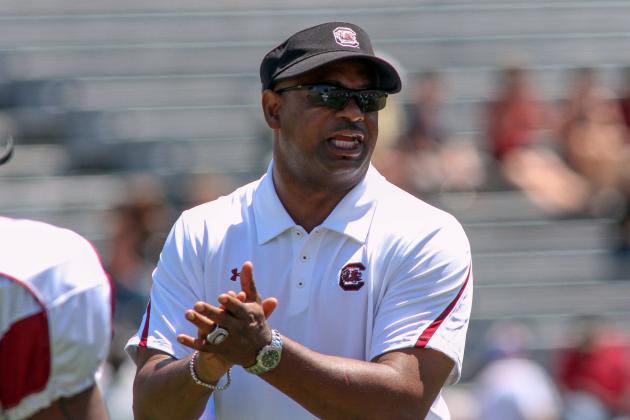 Jeremy Brevard-USA TODAY Sports
South Carolina defensive coordinator Lorenzo Ward says recent squabbles between coaches have been resolved.
One of Led Zepplin's classic hits is a song called "Communication Breakdown," and if things don't improve for South Carolina, that could well serve as the theme song for the South Carolina defense.
Once again, it starts at linebacker. Veteran Shaq Wilson, now a grad assistant, called the defense last season from his linebacker spot without a hitch. This year, sophomore linebacker Kaiwan Lewis and junior cornerback Vic Hampton, among others, have called the defensive signals with mixed results.
The communication breakdown continues on the sideline with the coaching staff, who have been caught on camera arguing among themselves—most notably during the Georgia game.
Players on the line, at linebacker and in the secondary often seem confused or out of position, resulting in some disastrous play busts.
Glaring example: South Carolina's secondary leaving Georgia's J. Scott Wesley completely unguarded on his 85-yard touchdown reception on a third-and-13 play in the fourth quarter of Georgia's 41-30 victory.
From the booth to the sideline to the field, the communication on defense needs to improve.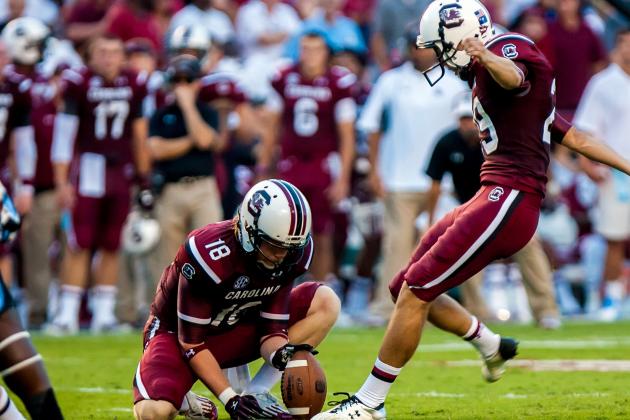 Jeff Blake-USA TODAY Sports

South Carolina has been fine on field goals and OK on extra points, but everything else has been a train wreck.
The Gamecocks have two turnovers on special teams and their returns on punts and kickoffs as well as their coverage on punts and kickoff has been less than stellar.
South Carolina coach Steve Spurrier has said he plans to take a look at personnel on special teams.
He'll likely replace some of the inexperienced players currently manning some of those positions with veterans.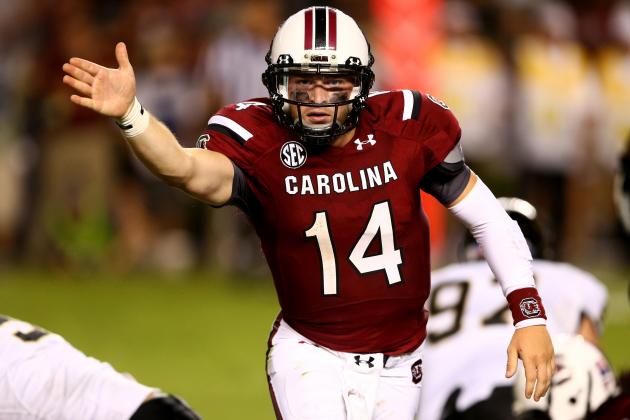 Streeter Lecka/Getty Images
South Carolina quarterback Connor Shaw has done a good job of keeping the chains moving for the Gamecocks.
South Carolina's offense has been performing at a high level through three games, but the Gamecocks have fallen victim to a "second-half swoon" in all three as well.
The Gamecocks have scored 82 points in the first half and only 20 in the second half.
Whether it's a matter of opponents making better halftime adjustments than Steve Spurrier is hard to tell.
Granted, a three-game sample doesn't necessarily constitute a trend, but a more sustained effort on offense in the second half should certainly be a goal.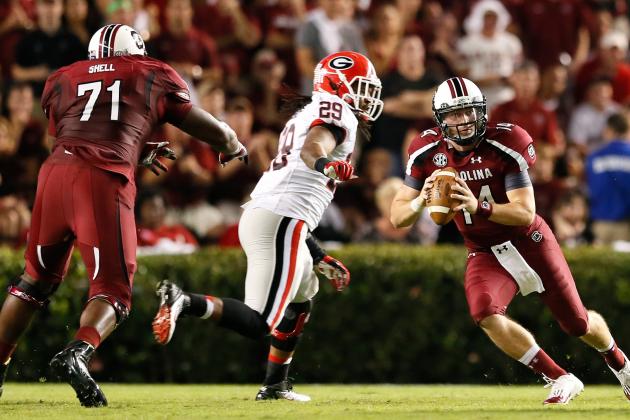 Kevin C. Cox/Getty Images
South Carolina tackle Brandon Shell (71) has the potential to be an All-American lineman for the Gamecocks.
South Carolina's offensive line was expected to be a strength of this year's team, even though it is a relatively young group.
Thus far, the line has been solid but unspectacular. More consistency is needed.
Guard Ronald Patrick is the only senior on the line, so this group should only get better with experience.
Things seemed precarious when first-team center Cody Waldrop (a redshirt freshman) was sidelined after the first game with an ankle sprain, but Clayton Stadnick (another redshirt freshman) has stepped in with no significant drop-off.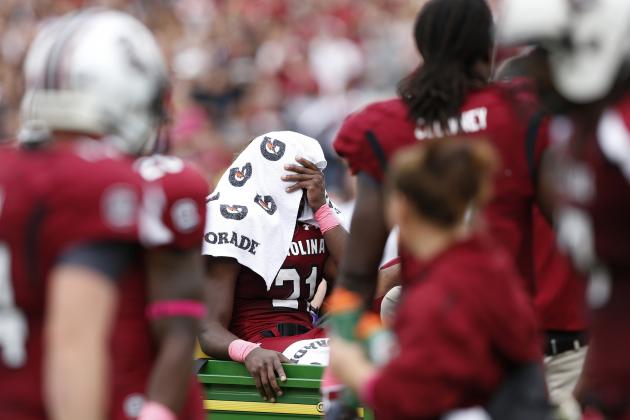 Joe Robbins/Getty Images
Losing tailback Marcus Lattimore was a blow last season. The Gamecocks are hoping the injury bug doesn't bite this year.
Thus far, South Carolina has avoided major injuries, but that remains a concern, especially at key positions.
As previously mentioned, South Carolina is thin at linebacker, and the Gamecocks can also ill afford injuries on the offensive line and in the secondary.
It's Spurrier's philosophy to avoid heavy contact in practice, so that should help in keeping the Gamecocks healthy.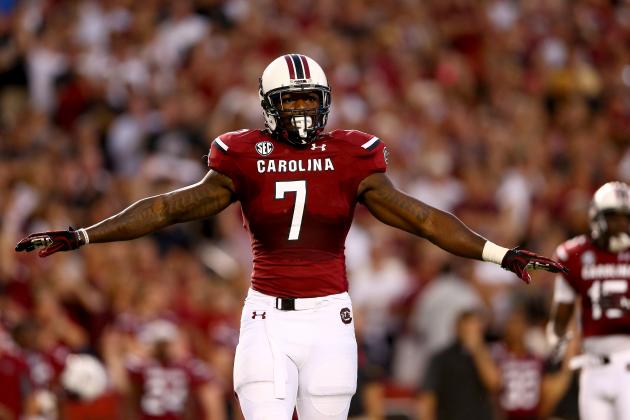 Streeter Lecka/Getty Images
Jadeveon Clowney needs help up front for the Gamecocks to be successful.
Everyone is quick to label Jadeveon Clowney as a bust this season, but in truth, it's the players around him, especially on the front four, who need to step up.
Clowney's stats through three games—10 tackles, three sacks—are exactly the same as through three games last season.
And while improvement would be expected from such a high-caliber player, he's also drawing an absurd amount of attention that he didn't draw last year.
The finger-pointing should start with Chaz Sutton, a senior at the other defensive end spot, but it extends to the entire defense.
There's no reason for the Gamecocks' defense to not to be able to exploit opponents' strategy of running away from Clowney.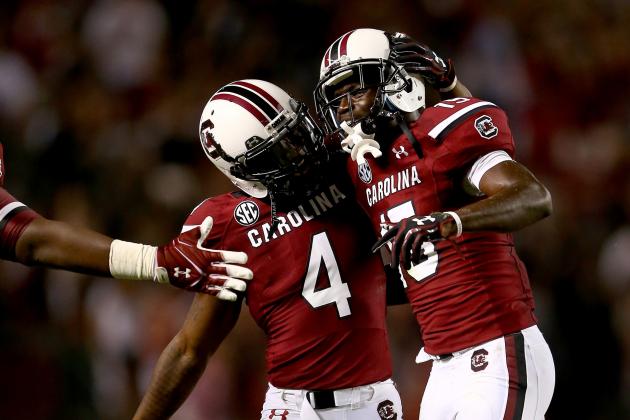 Streeter Lecka/Getty Images
South Carolina cornerback Jimmy Legree (right) gets congratulations from teammate Ahmad Christian after Legree's interception at the goal line against Vanderbilt.
Turnovers, turnovers, turnovers.
Avoiding them on offense is big. Creating them on defense is just as big, and that was a major emphasis for South Carolina defensive coordinator Lorenzo Ward during the offseason.
All through spring and fall practice, the Gamecocks worked hard on stripping the football and being heads-up on tip drills.
Through three games, the Gamecocks have recovered two fumbles and intercepted one pass.
That's not exactly terrible, but the Gamecocks will need more if they're going to have a special season.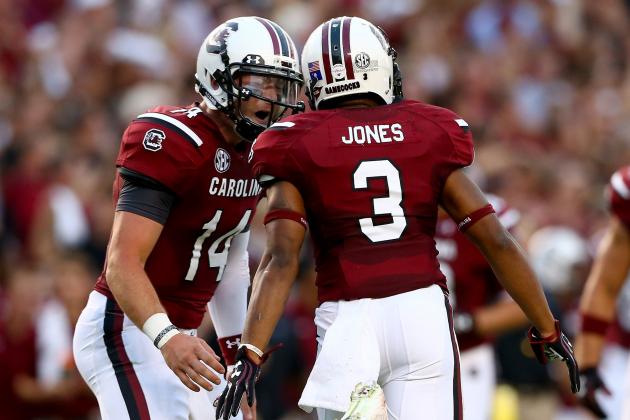 Streeter Lecka/Getty Images
Nick Jones has emerged as a go-to receiver for the Gamecocks.
South Carolina's receivers have definitely been a bright spot through the first three games.
Bruce Ellington was a proven commodity from the get-go, and Nick Jones and Shaq Roland are showing signs of being dependable receivers.
However, for the Gamecocks to truly move forward in the passing game, they need to start holding onto the ball better.
Dropped passes—particularly in the loss to Georgia—have been costly.
Get open and catch it when it's thrown your way—that should be the mantra of the Gamecocks' receivers.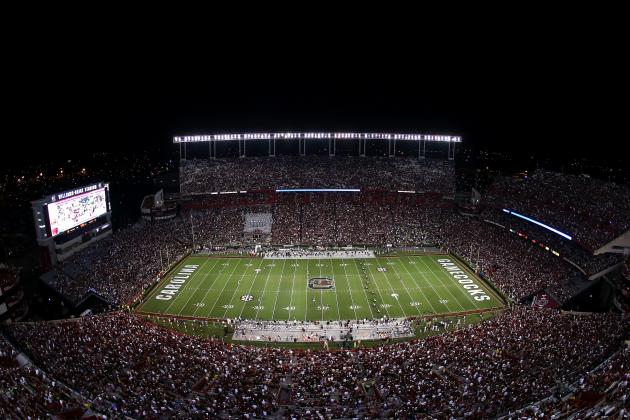 Streeter Lecka/Getty Images
Williams-Brice Stadium, when full, can be one of the most intimidating venues in college football.
South Carolina has a well-deserved reputation for supporting the Gamecocks, as witnessed by sellout and near-sellout crowds during the 1998 and 1999 seasons when they were 1-21 and in possession of the nation's longest losing streak at 21 games.
Perhaps recent success has made the fans fickle. The crowd bailed out early during the Gamecocks' recent 35-25 victory over Vanderbilt.
You can argue all day about the right of the paying fan to stipulate when he stays or when he goes, but somewhere down the line—in the fourth quarter when things get tough—the Gamecocks are going to need a vocal full house.