AC Milan vs. Celtic: 6 Things We Learned
Marco Luzzani/Getty Images
AC Milan and Celtic played their first Champions League game of the 2013/14 season and provided plenty of talking points in the process.
The game ended in a 2-0 win for Milan, and with Barcelona beating Ajax 4-0 at home, the two sides favoured to go through are in pole position.
Milan have had an indifferent start to the Serie A campaign, picking up a draw, a loss and a win in three games. Celtic are in much better shape, having played in three qualifying rounds, losing only once, to make it to the group stage, and picking up four wins and one draw in five league games.
How both teams react to missing players through injuries and transfers, as well as the overall team performance, are things to examine.
Here are six things we learned from AC Milan versus Celtic.
Milan Will Need Kaka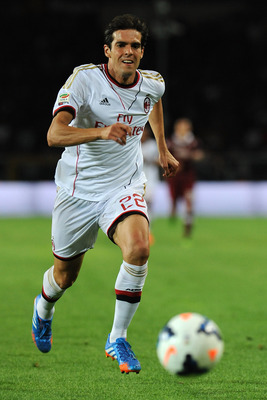 Valerio Pennicino/Getty Images
The Kaka who returned to Milan during the summer transfer window pales in comparison to the one who left back in 2009. That doesn't need Milan won't rely on him any less.
Minus Riccardo Montolivo, there is a distinct lack of creativity in this Milan midfield, and that was on show against Celtic. Valter Birsa played behind Mario Balotelli and Alessandro Matri but wasn't effective against the likes of Celtic.
Kaka's experience and talent will certainly improve the side's attacking abilities, and that will be sorely needed against the big Serie A clubs and in the Champions League.
Kaka can surely round into form given the playing time he is expected to receive at Milan, and his old club will need him at his best.
Milan Show Depth and Resilience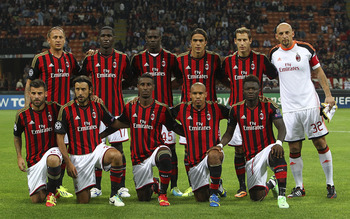 Marco Luzzani/Getty Images
With a number of injuries to key players and young talents, Milan showed some surprising depth in the squad. Central defense is a bit of an issue, but the Italian side were still capable of putting out a lot of good talent.
Andrea Poli, Robinho and Urby Emanuelson came off the bench while experienced internationals such as Sulley Muntari got the nod to start.
When Giampaolo Pazzini, Stephan El Shaarawy, Riccardo Montolivo, Daniele Bonera and Mattia De Sciglio return, Massimiliano Allegri will have plenty of solid options to choose from.
They may not all be top quality, but Milan do have a very good side in terms of depth.
The players in question also showed resilience to overcome Celtic's domination and pull out a win. They will need that moving forward, especially with some tough competition in the Serie A.
Mario Balotelli Almost Always Has an Impact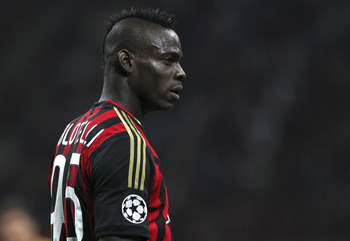 Marco Luzzani/Getty Images
Mario Balotelli has been, for the most part, impressive since returning to Italy with AC Milan.
The enigmatic young striker has been in good form early this season, providing two goals and an assist in three Serie A games. He also scored in the final round of qualification when Milan beat PSV Eindhoven.
A goal may not have come today, but unlike his partner, Alessandro Matri, Balotelli was a threat throughout.
It was his well-struck free-kick that led to Sulley Muntari sealing the deal for Milan, and he may have gotten on the score-sheet himself were it not for Fraser Forster.
Balotelli will always provide a talking point in each match, and in a Milan jersey it's been mainly positive talk.
Celtic Continues to Represent the Best of the Scottish League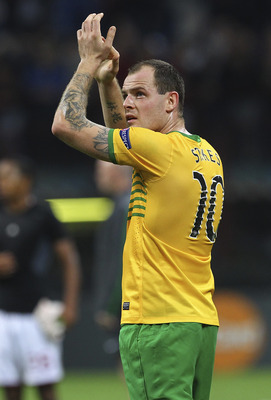 Marco Luzzani/Getty Images
Unlike their major rivals, Rangers, Celtic have been a constant presence in the Champions League in recent years.
That is partly down to the lack of competition in Scotland, but also the solid teams that have been built at Celtic Park. The Scottish side were on top for most of the game against Milan and were unlucky not to come away with something.
Even with some big players gone on to greener pastures, Celtic managed to outshine the home side. Just as they did with a run to the knockout rounds last year, Celtic have the ability to make it out of this group despite the early setback.
Celtic Missing and Not Missing Big-Name Departures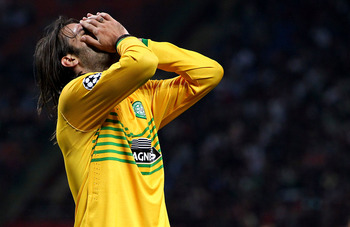 Marco Luzzani/Getty Images
Both Gary Hooper and Victor Wanyama have gone to Britain's must illustrious league, and Celtic's performance showed that the Scottish side may have missed them, but they weren't necessarily needed either.
While Celtic's dominance was the positive in terms of the club's ability to cope with those departures, the end result was the negative.
It's more than likely that Hooper would have finished the chance one of his teammates missed or Wanyama provided more thrust and steel in midfield to ensure at least a point was preserved.
It doesn't matter in the end, as the game was lost and those two players are unlikely to play for Celtic again. Still, it was interesting to think how the game could have been different for Celtic with that duo in the mix.
Second Place Still Up for Grabs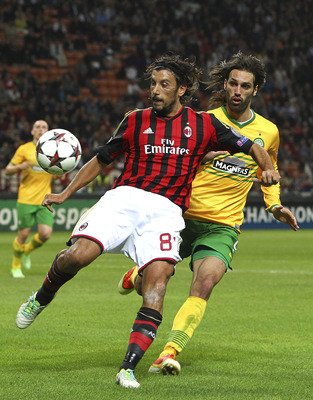 Marco Luzzani/Getty Images
AC Milan may still look and feel like the favourites to come second in the group, but anything is possible.
Celtic's performance shows the Italian side can be beaten, and they will not fear their remaining opponents in Barcelona or Ajax.
Milan will be expected to give Barcelona their toughest fight, but the likelihood is that two losses, or at best a loss and a draw, is on the cards.
Ajax lost handily to Barcelona away from home, but last season's performances against Manchester City, Real Madrid and Borussia Dortmund mean the Dutch side can never be taken lightly.
They lost Christian Eriksen and Toby Alderweireld but are used to that kind of personnel change, and there is still a good amount of quality in the side.
The battle for second place in this group has only just begun, and Milan have the lead, for now.
Keep Reading