Alabama's Nick Saban Calls for Changes to New Targeting Rule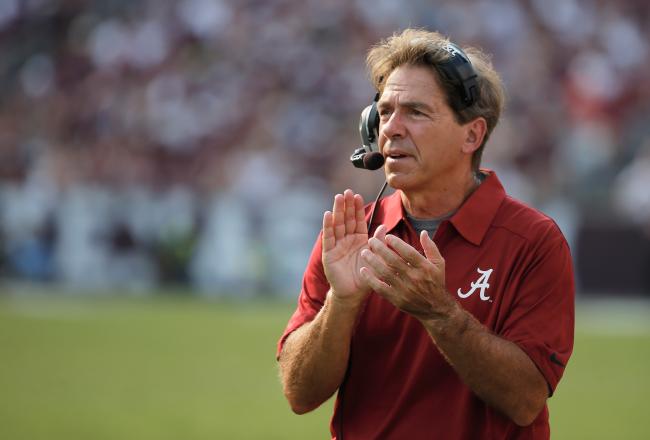 Scott Halleran/Getty Images
The new targeting rule that was implemented during the offseason has been a hot topic with everybody who enjoys college football. Now, Alabama's Nick Saban has addressed the topic and believes that the controversial rule should be tweaked.
It happened in the game against Texas A&M when safety Ha Ha Clinton-Dix went to make a play on the ball but was flagged for targeting after hitting the receiver high. The Crimson Tide were assessed a 15-yard penalty and the junior was ejected from the game. After replay, Clinton-Dix was reinstated but the penalty yardage stood.
You can check out the play below:
The bizarre choice to not lift the penalty altogether after further review rubs Saban the wrong way, according to Alex Scarborough of ESPN.
Personally, on the rule itself, if you can review a play to say a guy should be ejected or not be ejected, to me, you should be able to review if it was a penalty or not a penalty, he said. That's not what the rule is. You asked me my opinion. I'm giving you my opinion.
Do you agree with the targeting rule?
It's nice to know that everybody in the world isn't crazy. If a player who was ejected a few minutes ago is allowed back in the game because the penalty wasn't as severe as once thought, why should the team still be penalized with 15 yards? It's almost as if the referees are admitting they messed up on the call but aren't willing to undo the entire mistake.
Huh?
The targeting rule reads as follows:
Rule 9-1, Article 3 (targeting with the crown of the helmet): No player shall target and initiate contact against an opponent with the crown (top) of his helmet. When in question, it is a foul.

Rule 9-1-4 (targeting to head/neck area of a defenseless player): No player shall target and initiate contact to the head or neck area of a defenseless opponent with the helmet, forearm, elbow or shoulder. When in question, it is a foul.

On overturning ejections: The replay official must have conclusive evidence that a player should not be ejected to overturn the call on the field.
Although Saban doesn't necessarily agree with the rule, he does understand that referees do have a tough job and have to make bang-bang calls in real time, per the ESPN report.
Now, we can go question somebody's judgement. I'm not willing to do that because the guy had to make the call like that, he said, snapping his fingers, like a lot of calls get made in the game. I thought the crew tried to do the best job they could.

There was a lot of stuff that happened in our game, a lot of stuff. A lot of plays, a lot things that you could evaluate from the officiating standpoint, Saban said. But I think everyone has to understand in a game like that when the other team is going fast, it's a lot harder for them too. It's a lot harder for them to get in position, it's a lot harder for them to make some of these calls.
It's great that the NCAA is implementing rules for player safety and is doing what it can to make the game less dangerous. But ejecting a player off of a reaction is highly questionable. Removing the ejection and keeping the 15-yard penalty simply doesn't make sense, not to majority of college football fans and certainly not to coach Saban.
This article is
What is the duplicate article?
Why is this article offensive?
Where is this article plagiarized from?
Why is this article poorly edited?

Alabama Crimson Tide Football: Like this team?