UFC 165: 5 Fighters Worth Watching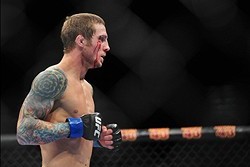 Gary A. Vasquez-USA TODAY Sports

UFC 165 marks the return to pay-per-view for the company, as light heavyweight king Jon Jones defends his championship against top contender Alexander Gustafsson. It marks the first time a Swedish fighter gets a title shot in UFC history.
That will not be the only title fight on the card, as bantamweight title holder Renan Barao defends his belt again against Eddie Wineland. It is an interesting matchup, as Wineland is a former WEC champion himself.
The top of the card to the bottom is stacked. Here are five guys you should keep your eye on for this card.
Begin Slideshow

»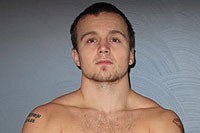 sherdog.com
Jesse Ronson is a guy I have been calling for the UFC to sign for a while. They have finally obliged, albeit on short notice for Mark Bocek against Michel Prazeres.
Not only does he have a sick nickname in "The Body Snatcher," but the dude is a finisher. Of his 13 wins, 10 are by finish including six via knockout.
His last three wins have been his most impressive, as he has defeated Alex Ricci, Ryan Healy and Shane Campbell. His well-balanced attack will be most imperative when he takes on Prazeres, who is a submission ace and jiu-jitsu specialist.
Ronson will need to use his counterwrestling and superior striking to attain victory here.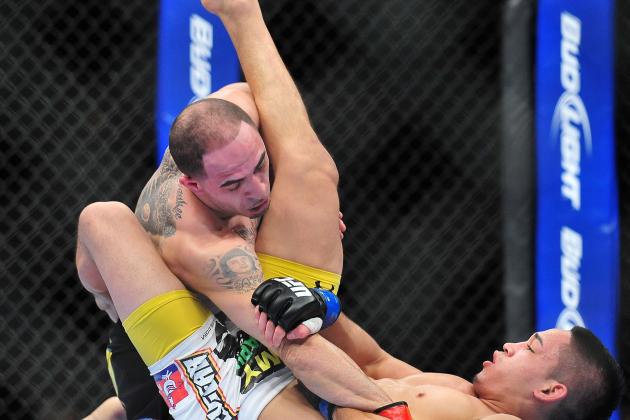 Gary A. Vasquez-USA TODAY Sports

How impressive was Dustin Kimura's UFC debut? The guy won a fight against Chico Camus while spending a good deal of the fight off his back and eventually won via rear-naked choke.
If Kimura can make weight this time, he has a very bright future at bantamweight. In his debut, he missed pretty significantly, showing up at 139.5 pounds (136 is the alotted weight).
His striking has improved, but it's his submission grappling that is the crowning piece of his game. In taking on Mitch Gagnon, he takes on well-rounded fighter that he will need to follow the blueprint that Bryan Caraway laid out previously.
Kimura needs to get Gagnon to the ground, as the Canadian is just a blue belt in Brazilian jiu-jitsu. If he does, there is a high possibility he can tap him out.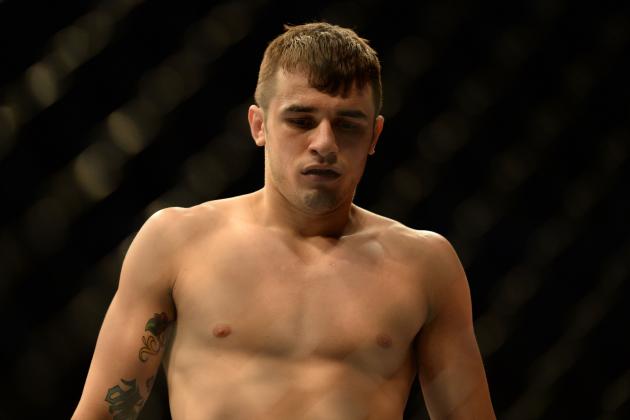 Kyle Terada-USA TODAY Sports

If there is a dark horse in the lightweight division, it has to be Myles Jury. He has quietly moved up the lightweight rankings with three dominant UFC performances.
He opened his tenure with a first-round choke out of Chris Saunders. He then went on to dismantle Michael Johnson, which showcased his wrestling and top game. Last outing, he destroyed Ramsey Nijem with a one-punch knockout that could have easily got him a Knockout of the Night bonus.
Jury gets another tough opponent when he takes on Georges St. Pierre teammate Mike Ricci. It will be a good test to see whether Jury is ready for a top opponent or if he needs some more time to develop.
Remember, he is just 24 years old at this point.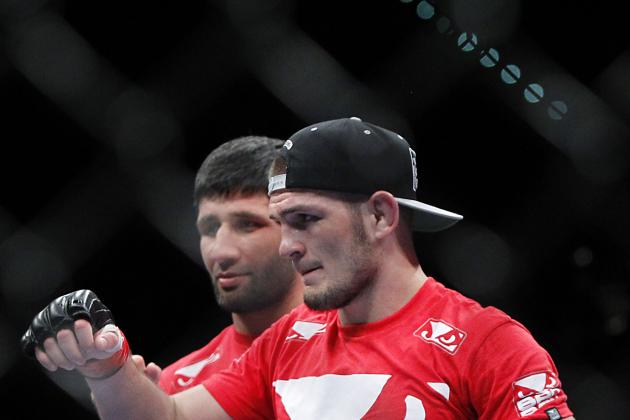 Gary A. Vasquez-USA TODAY Sports

Russian uber-prospect Khabib Nurmagomedov has been ready for a top-10 opponent for a while now. He finally gets one in Pat Healy, who opened up his UFC career with a mixed result. He defeated Jim Miller via rear-naked choke, but had the result overturned for a positive marijuana test.
Nurmagomedov uses his sambo background to ransack the opposition. His wrestling ability is great, as is his ground-and-pound.
He is 4-0 in the UFC right now and has not really looked to vulnerable in any of his fights. A win over Healy could arguably put him in title contention.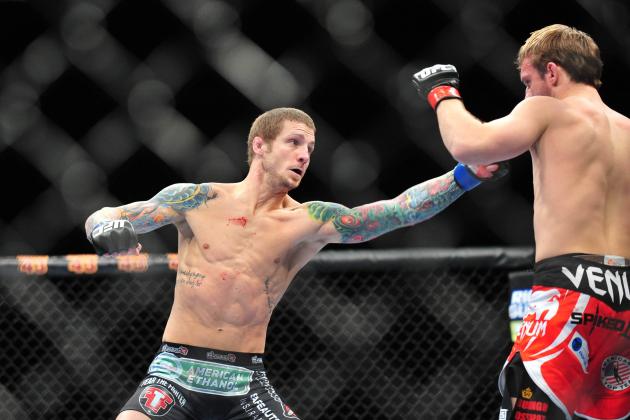 Gary A. Vasquez-USA TODAY Sports

The bantamweight title challenger is definitely a guy worth watching. He is underrated, even for a guy that has earned a title shot.
Since 2010, he has lost just twice to title challengers Joseph Benavidez and Urijah Faber. Other than that, the power-striker has taken out Brad Pickett, Scott Jorgensen, George Roop and Will Campuzano.
Seeing what he did to Pickett on the feet was impressive. He continually slammed him with nasty punches, unable to put the granite-chinned Brit to sleep.
His biggest weakness is the ground, but he has shown good takedown defense. If he can keep this fight standing, there is a great chance that he can hurt Renan Barao. If the champ takes him down, it could be a long (or short) night.