NFL Week 2 Scores: Teams That Survived Biggest Scares
Jim Rogash/Getty Images
Week 2 of the 2013 NFL season featured many close games, and the New England Patriots were one of the teams that survived upset bids.
Out of the 15 games already played, only four of them were decided by more than one possession. A couple of teams pulled off shocking victories, and other teams are starting to panic by starting out the season 0-2.
The top of the league is starting to separate from the pack. Teams like the Denver Broncos and the Seattle Seahawks made statements with big wins over the weekend.
Below are the scores from Week 2, along with teams that survived the biggest scares.
NFL Scores-Week 2

| | | |
| --- | --- | --- |
| Away | Score | Home |
| New York Jets (1-1) | 10-13 | New England Patriots (2-0) |
| St. Louis Rams (1-1) | 24-31 | Atlanta Falcons (1-1) |
| Cleveland Browns (0-2) | 6-14 | Baltimore Ravens (1-1) |
| Carolina Panthers (0-2) | 23-24 | Buffalo Bills (1-1) |
| Minnesota Vikings (0-2) | 30-31 | Chicago Bears (2-0) |
| Washington Redskins (0-2) | 20-38 | Green Bay Packers (1-1) |
| Tennessee Titans (1-1) | 24-30 (OT) | Houston Texans (2-0) |
| Miami Dolphins (1-1) | 24-20 | Indianapolis Colts (1-1) |
| Dallas Cowboys (1-1) | 16-17 | Kansas City Chiefs (2-0) |
| San Diego Chargers (1-1) | 33-30 | Philadelphia Eagles (1-1) |
| Detroit Lions (1-1) | 21-25 | Arizona Cardinals (1-1) |
| New Orleans Saints (2-0) | 16-14 | Tampa Bay Buccaneers (0-2) |
| Denver Broncos (2-0) | 41-23 | New York Giants (0-2) |
| Jacksonville Jaguars (0-2) | 9-19 | Oakland Raiders (1-1) |
| San Francisco 49ers (1-1) | 3-29 | Seattle Seahawks (2-0) |
| Pittsburgh Steelers (0-1) | 9/16 8:40 p.m. ET | Cincinnati Bengals (0-1) |
NFL.com
New England Patriots 13, New York Jets 10 (recap courtesy of NFL.com)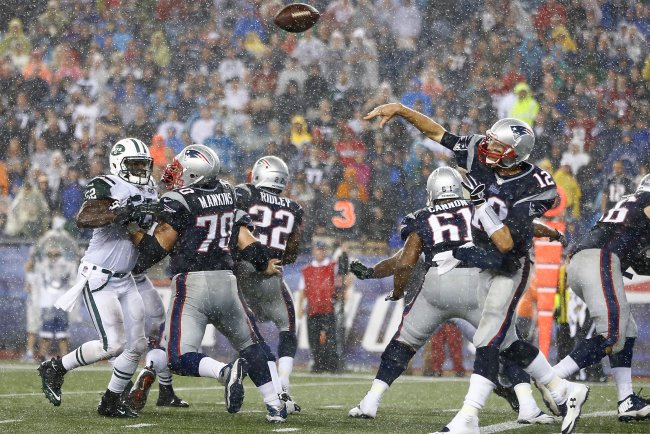 Jared Wickerham/Getty Images
The Patriots set the tone for the week. Their close call against the New York Jets was much closer than expected. They entered the game as 13-point favorites, but they weren't able to do much on offense.
Quarterback Tom Brady grew frustrated with dropped passes by his rookie receivers, and he finished with his lowest completion since 2009, as noted by ESPN:
Tom Brady completed 48.7 percent of his passes last night, his first game below 50 percent since Week 15 in 2009 http://t.co/EVymDqcgGd

— ESPNBoston (@ESPNBoston) September 13, 2013
New England got out to a 10-0 lead in the first quarter, but it wasn't able to do much else the rest of the game. The offense was able to add to a 13-3 lead in the second half, although the rain may have had something to do with the offensive struggles.
Will Tom Brady be able to win the AFC East with the receivers on the team?
Julian Edelman caught 13 of Brady's 19 completions, but nobody else stepped up. Three rookie receivers combined for the other six receptions.
Brady missed Danny Amendola and Rob Gronkowski in the passing game. While both playmakers recover from injury, Edelman was the main target. However, he's going to get the defense's attention until other players step up.
It was the second straight week the Patriots survived a scare from a division rival. It took a last-second field goal for them to beat the Buffalo Bills in Week 1, so they are lucky to be 2-0. The close calls have many wondering if Brady will be able to carry this group of receivers to the playoffs.
Baltimore Ravens 14, Cleveland Browns 6 (recap courtesy of NFL.com)
Patrick McDermott/Getty Images
Celebrating their Super Bowl victory was supposed to be relaxing for the Baltimore Ravens. Two missed field goals in the first half nearly cost the team in this game.
The Cleveland Browns took a 6-0 lead into the break, but Baltimore came out with an 80-yard drive to take a 7-6 lead. Luckily, the Ravens were playing the Browns and didn't have to be at their best.
Will the Baltimore Ravens miss the postseason for the first time since Joe Flacco/John Harbaugh joined the team?
Joe Flacco, who entered the game 10-0 against Cleveland, couldn't get into a rhythm. He completed 22 of 33 passes, but he threw for only 211 yards and a touchdown. His touchdown pass in the fourth quarter gave the Ravens breathing room, and the defense shut down the Browns.
The Ravens survived despite Ray Rice being limited by a hip strain flexor, according to Jamison Hensley of ESPN.com.
Baltimore's defense limited Trent Richardson to only 58 rushing yards on 18 attempts and five receptions for 21 receiving yards. Had he had a bigger impact, Cleveland may have stunned its rival.
Flacco came through with a couple of clutch drives in the second half, and the defense did the rest against a team that struggles to score.
Houston Texans 30, Tennessee Titans 24 (OT) (recap courtesy of NFL.com)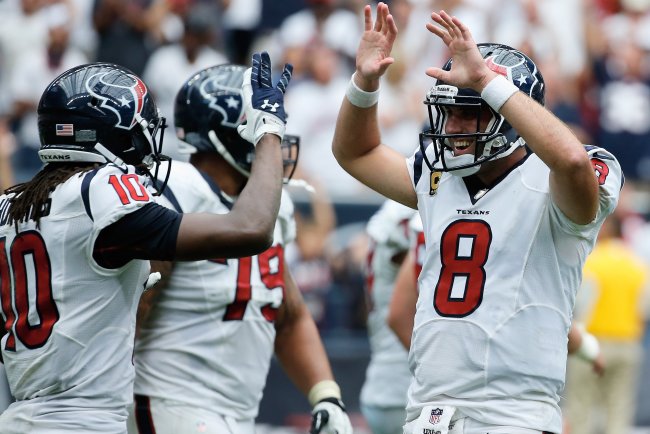 Scott Halleran/Getty Images
Tennessee was coming off a big road victory in Pittsburgh, and it nearly pulled off an even bigger upset. Alterraun Verner returned an interception for a touchdown in the fourth quarter that gave the Titans an eight-point lead, but they were unable to hang on.
Are the Houston Texans legitimate contenders?
Matt Schaub led the Texans on an 87-yard drive in just over a minute to tie the game at 24 late in the fourth quarter. The defense made a quick stand, and Houston had a chance to win it in regulation. However, Randy Bullock, who missed three field goals on the day, was unable to split the posts as time expired.
In overtime, the Texans opened the extra period with a 78-yard drive that resulted in the game-winning touchdown to cap a nice comeback. Rookie DeAndre Hopkins made a nice catch in the end zone to win the game.
It was a back-and-forth game, and it looked like the Titans were going to be able to pull off the upset. They couldn't run out the clock, and Schaub was able to lead a clutch drive.
Houston needed a late comeback for the second straight week, so Schaub is showing that he can come through when his team needs a big drive.
*All stats are courtesy of NFL.com
This article is
What is the duplicate article?
Why is this article offensive?
Where is this article plagiarized from?
Why is this article poorly edited?