With two weeks left in the 2013 Major League Baseball regular season, the stakes are as high as ever around the sport.

Due to the addition of a second wild-card team in each league, 15 of MLB's 30 teams, or, in other words, half of the sport, is still playing for something as we approach the stretch run.

For teams like the Red Sox, Tigers, Braves, Dodgers and Athletics, seeding and home field advantage is on the line.

For everyone else, the fight to either avoid the sudden death wild card game (St. Louis and Pittsburgh) or simply do enough to qualify for the one-game crap shoot (Texas, Tampa Bay, Baltimore, New York, Cleveland, Kansas City, Cincinnati and Washington) is what will make the end of the regular season special.
Starting Monday evening and lasting through this upcoming weekend, four series standout as crucial battles that will ultimately determine the 2013 MLB playoff field.

Without further ado, here is a guide to your postseason race.


1. Texas Rangers vs. Tampa Bay Rays, Monday-Thursday

Pitching forum
Monday: Matt Garza vs. Alex Cobb
Tuesday: Nick Tepesch vs. Jeremy Hellickson
Wednesday: Derek Holland vs. Chris Archer
Thursday: Yu Darvish vs. Matt Moore
Magic Numbers for AL Wild Card: Texas Rangers – 14 Tampa Bay Rays – 14

— Alanna Rizzo (@alannarizzo) September 16, 2013
Earlier this month, this series looked big, but due to the September swoon in Texas (1-9 in last 10 games), it's taken on major implications for both American League wild-card spots.

Heading into play on Monday night, Texas and Tampa sit tied atop the standings at 81-67.
If Tampa can take advantage of home field and a reeling Rangers team, they can set themselves up to lead the race down the stretch and potentially garner the top wild-card spot and a home postseason game.

On the other hand, Texas, now six games behind Oakland in the AL West loss column after a weekend sweep at the hands of the Athletics, is in danger of ending the week out of the postseason picture all together.


2. Cleveland Indians vs. Kansas City Royals, Monday-Wednesday

Pitching forum
Monday: Scott Kazmir vs. James Shields
Tuesday: Corey Kluber vs. Danny Duffy
Wednesday: Danny Salzar vs. Bruce Chen
The Indians and Royals start a 3-game series tonight in KC w/ CLE just a half game back of both wild-card spots and KC 3.5 games back.

— FOX Sports: MLB (@MLBONFOX) September 16, 2013
Here's a fun exercise: Go back and dig up every single 2013 Major League Baseball preview from spring training and try to find one that would have featured the names Kazmir, Kluber, Salzar, Duffy or Chen in prominent roles down the stretch of the race for October.

If you find just one, please alert me in the comments.

James Shields, Kansas City's ace and major offseason acquisition is the only brand name of the group that has enjoyed major success recently, but much like these two teams, the whole is greater than the sum of the parts.

For Cleveland, their schedule down the stretch (Kansas City, Houston, Chicago White Sox, Minnesota) provides them a great avenue into the postseason. Of course, that stretch starts with another contender: the streaky Royals.

With a winning streak of nine and a losing streak of eight, the Royals have the largest variance in performance of any team left. Four games out in the loss column, behind four teams, is a difficult spot to be in with two weeks to go.

Kansas City could reel off seven or eight in a row or get swept by Cleveland.


3. New York Yankees at Toronto Blue Jays, Tuesday-Thursday

Pitching forum
Tuesday: Andy Pettitte vs. R.A. Dickey
Wednesday: Phil Hughes vs. J.A. Happ
Thursday: Hiroki Kuroda vs. Todd Redmond

Toronto, one of baseball's most disappointing team, is the first team from outside the race to appear on this list.

The reason? New York, despite a weekend sweep at the hands of the soon-to-be AL East champion Boston Red Sox, are still alive in the wild-card race.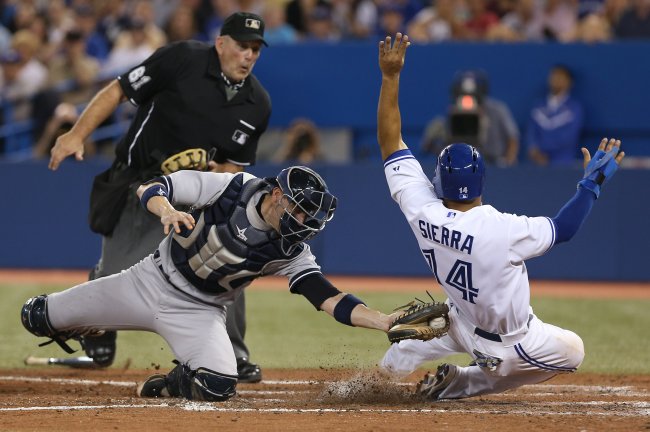 Tom Szczerbowski/Getty Images
If New York can continue their season mastery over Toronto (13-3 during first 16 games of season series), Yankees fans will have a race to watch over the final nine games of the season.

Of course, New York was 12-1 against Toronto before dropping two of three in Canada last month.

Heading into play on Monday, the Yankees were four games back in the loss column to both Texas and Tampa. If they are going to give themselves a shot during next week's series against the Rays, losses can't be afforded to teams like Toronto.
4. Cincinnati Reds at Pittsburgh Pirates, Friday-Sunday

Pitching forum
Friday: Mat Latos vs. Francisco Liriano
Saturday: Homer Bailey vs. A.J. Burnett
Sunday: Bronson Arroyo vs. Jeff Locke

Depending on the outcomes of several series early in the week (Washington vs. Atlanta, Cincinnati vs. Houston, St. Louis vs. Colorado, Miami vs. Pittsburgh), the stakes for the highlighted NL Central battle could have varying implications.
If St. Louis, Pittsburgh and Cincinnati all play well throughout the week, the Reds' chances at claiming the division title would be quite slim barring a sweep over the Pirates. However, if St. Louis struggled and Pittsburgh slipped up against Miami, the Reds could arrive in the Steel City with one last chance to launch toward the top of the division standings.

On the other hand, Cincy's stake to the second wild card berth is a four-game lead over the Washington Nationals. If the Nats surge (19-6 last 25 games) continues, the pressure will be on the Reds to wrap up the wild card before the final week of the season becomes dicey.

In other words, Pittsburgh could be fending off a Cincinnati push to the top of the NL Central or trying to knock the Reds out of the postseason picture all together.

Buckle up, baseball fans. We're in for a wild week.

Comment below, follow me on Twitter or "like" my Facebook page to talk all things baseball.