Ben Roethlisberger will be cast in an unfamiliar role tonight when he and the Pittsburgh Steelers go on the road to square off against their division rival Cincinnati Bengals on Monday Night Football.
Big Ben's new role? The underdog.
For the better part of a decade, the Bengals have been unable to claw their way into the permanent upper echelon of the AFC North. Stuck in the shadow of the Steelers, Cincinnati has floundered in the middle of a competitive division desperately waiting for the tables to turn.
Now, after a strong finish last season, punctuated by wins over Pittsburgh and Baltimore, as well as a resourceful offseason, the Bengals are poised to make a surge in the division.
However, they will still need to get past Roethlisberger.
The Pittsburgh offense looked generally futile in its Week 1 debut at home against the Tennessee Titans. The Steelers managed just nine points, two of which came courtesy of a Tennessee safety on the game's opening kickoff.
However, that was last week. It would be naive to assume Roethlisberger will flop twice in a row.
Though Roethlisberger no longer has the support of Rashard Mendenhall on the ground or Mike Wallace through the air, the Steeler offense is not totally devoid of offensive threats.
Receivers Jerricho Cotchery, Antonio Brown and Emmanuel Sanders are all viable targets for Roethlisberger. In his past two games against the Bengals, Brown had a combined 12 catches for 193 yards and a touchdown.
Roethlisberger was sacked five times against the Titans, so not only will he need better protection, but he'll also have to go back to doing what he does best—playing schoolyard football and avoiding the sack.
That means he'll have to extend plays, get out of the pocket and be patient with his receivers. Roethlisberger is most effective when he waits for receivers to come back to the ball.
According to Coley Harvey of ESPN.com, when Roethlisberger had between four and six seconds to attempt a pass, he led all NFL quarterbacks in touchdowns and passer rating last season.
So, if Roethlisberger gets pressure like he did last week, it will be up to him to keep his feet moving and buy himself some more time.
However, the new-look Cincinnati pass-rush will be a greater challenge for Pittsburgh, as it now features former Steeler James Harrison. Per Joe Reedy of USA Today Sports, the only time Roethlisberger and Harrison have faced each other was in college when Harrison sacked Roethlisberger five times.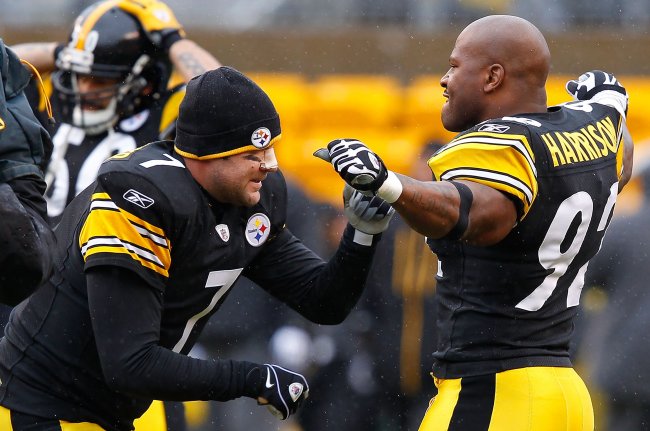 Jared Wickerham/Getty Images
Harrison hasn't had the kindest things to say about Roethlisberger and the Steelers since leaving the team, including a snide comment after the Steelers loss to the Titans.
Harrison on Steelers opener: "They had a rough one . . . They lost their best offensive player they had in Pouncey."

— Ed Bouchette (@EdBouchette) September 12, 2013
On another note, Pittsburgh's defense looked tough against the Titans. The Steelers held the Titans to just 3.6 yards per play and allowed just one play over 15 yards.
Thus, it will be up to Roethlisberger and the offense to step up. Roethlisberger has been the primary signal-caller for Pittsburgh for nearly nine seasons, and he's proved on multiple occasions that he can carry the team.
A win for Pittsburgh would temporarily halt the conversation that the Bengals may be the team to beat in the AFC North, and it would improve Roethlisberger's career record against the Bengals to 14-5.