To put it simply, the 2013 NFL regular season hasn't gone according to plan. Five teams that reached the playoffs in 2012 are 1-2 or worse, with two of those squads and two of the past five Super Bowl champions falling to 0-3.
The question is, which teams will step up in must-win games during Week 4?
This early in the season, it's easy to question the validity of the "must-win" label that a game could receive. With that being established, the NFL has a 16-game season, and during Week 4 the evidence will be displayed that every win counts.
Here are the teams that will secure those victories.
Week 4 NFL Predictions

| | | | |
| --- | --- | --- | --- |
| Date | Road Team | Prediction | Home Team |
| Thursday, Sept. 26 | San Francisco 49ers | 17-13 | St. Louis Rams |
| Sunday, Sept. 29 | Cincinnati Bengals | 27-17 | Cleveland Browns |
| Sunday, Sept. 29 | Baltimore Ravens | 20-12 | Buffalo Bills |
| Sunday, Sept. 29 | Arizona Cardinals | 20-14 | Tampa Bay Buccaneers |
| Sunday, Sept. 29 | Indianapolis Colts | 27-9 | Jacksonville Jaguars |
| Sunday, Sept. 29 | Seattle Seahawks | 21-13 | Houston Texans |
| Sunday, Sept. 29 | Chicago Bears | 30-21 | Detroit Lions |
| Sunday, Sept. 29 | New York Giants | 13-17 | Kansas City Chiefs |
| Sunday, Sept. 29 | Pittsburgh Steelers | 23-14 | Minnesota Vikings |
| Sunday, Sept. 29 | New York Jets | 7-16 | Tennessee Titans |
| Sunday, Sept. 29 | Washington Redskins | 35-24 | Oakland Raiders |
| Sunday, Sept. 29 | Dallas Cowboys | 34-21 | San Diego Chargers |
| Sunday, Sept. 29 | Philadelphia Eagles | 24-31 | Denver Broncos |
| Sunday, Sept. 29 | New England Patriots | 27-28 | Atlanta Falcons |
| Monday, Sept. 30 | Miami Dolphins | 28-34 | New Orleans Saints |
Week 3: 8-8, Season: 29-19
San Francisco 49ers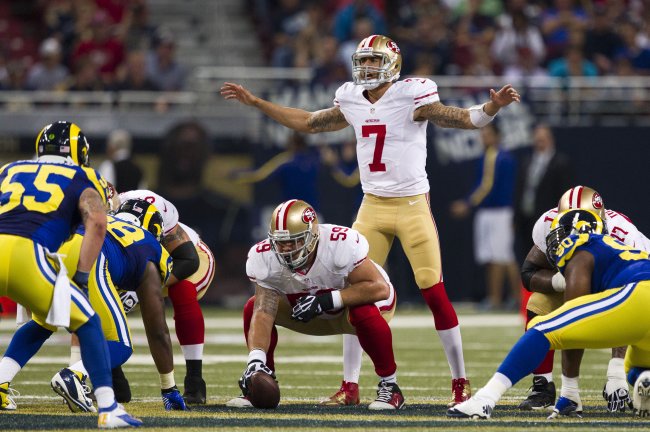 David Welker/Getty Images
Opponent: St. Louis Rams
Record: 1-2
Prediction: 17-13, 49ers
The San Francisco 49ers entered the 2013 NFL regular season as a close-to-unanimous selection to repeat as NFC champions. Fresh off a season in which the Niners' young players came into their own and led the team to Super Bowl XLVII, expectations are high.
After three weeks, the 49ers are 1-2 and have been blown out in consecutive games.
San Francisco traveled to play the Seattle Seahawks and left with a 29-3 loss. One week later, the 49ers lost 27-7 to the Indianapolis Colts at home.
The common theme has been the dramatic decline of Colin Kaepernick.
Colin Kaepernick and Josh Freeman are the only quarterbacks to complete fewer than 50 percent of their passes in multiple games this season.

— ESPN Stats & Info (@ESPNStatsInfo) September 24, 2013
Kaepernick opened the season with a 412-yard performance, but that memory is quite distant.
The Niners will play the St. Louis Rams on the road in Week 4, which is a very dangerous game for San Francisco. In 2012, the 49ers and Rams went to overtime twice, with San Fran winning one and the other ending in a tie.
The Rams are dramatically improved, thus creating the potential for an unpredictable 1-3 start for the 49ers.
To make matters worse, Michael Crabtree and Mario Manningham are still injured, and Aldon Smith will miss roughly a month, per Ian Rapoport of NFL.com. Even still, the Niners are an elite team with everything to lose.
It won't be easy, but when a great team has its back against the wall, that squad will come out swinging. Expect the Niners to be that team against a hungry Rams squad.
It won't be pretty, but Kaepernick will step up in the face of adversity, and the Niners' defense will force turnovers en route to a much-needed win.
Washington Redskins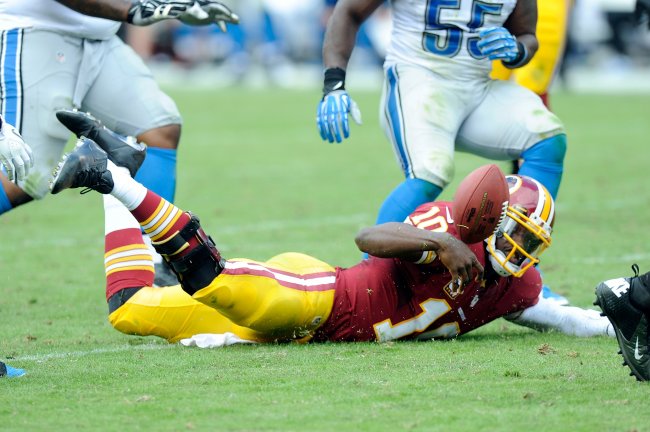 Greg Fiume/Getty Images
Opponent: Oakland Raiders
Record: 0-3
Prediction: 35-24, Redskins
The Washington Redskins were the Cinderella story of the 2012 NFL regular season, riding a seven-game winning streak to a 10-6 mark after a 3-6 start. One year later, it's looking more and more like the 'Skins are going to need another extraordinary run.
Not only is Washington 0-3, but the first two games were blowouts, and the third saw Washington fall apart during the fourth quarter.
The biggest issue for Washington has been on defense, ranking 31st in scoring defense, pass defense and run defense. In other words, the Redskins have been downright terrible defensively in every phase of the game.
It's gotten to the point that the Redskins are entering the record books.
.@Redskins have allowed 1,464 yds in their 1st 3 games 2nd most since 1950-(1951 Yanks 1,494)

— NFLN_Playbook (@NFLN_Playbook) September 24, 2013
That's not the record teams would like to set.
During Week 4, the Redskins will hit the road to take on the 1-2 Oakland Raiders. Fortunately for Washington, Oakland is 28th in passing yards and is averaging 17.0 points per contest, providing the Redskins with the perfect opportunity to pile on the offense and avoid an 0-4 start.
Expect Robert Griffin III and company to do so with Darren McFadden providing the supporting fire.
Atlanta Falcons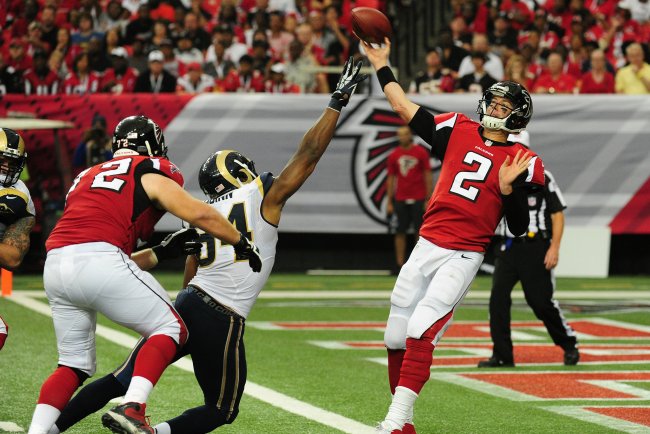 Scott Cunningham/Getty Images
Opponent: New England Patriots
Record: 1-2
Prediction: 28-27, Falcons
The Atlanta Falcons have a difficult task ahead, as they prepare for a home game against the New England Patriots. Should the Falcons lose, they'll fall to 1-3 on the season and could potentially face a three-game deficit in the hunt for the NFC South if the New Orleans Saints win in Week 4.
A win, however, could change Atlanta's season.
Matt Ryan has led a ferocious offensive attack, throwing for 909 yards, six touchdowns and two interceptions. Julio Jones has 27 receptions for 373 yards and two touchdowns, helping to make up for Tony Gonzalez and Roddy White's lack of production.
Unfortunately, the Falcons will be forced to play without Steven Jackson.
Steven Jackson is dealing with a hamstring injury that is expected to sideline him until Week 7. (via @vxmcclure23)

— SportsCenter (@SportsCenter) September 24, 2013
Fortunately, the Patriots' running game hasn't been good enough to concern the Falcons.
The Patriots would likely be the favored team on a neutral site, but Ryan and the Falcons are a dominant force at home. With its division title contention potentially on the line, that means Atlanta is entering must-win territory.
Tom Brady may be the legend in this game, but Ryan doesn't lose at home, and that trend will continue in Week 4.