Best Potential Free Agent Landing Spots for Sasha Vujacic to Revive NBA Career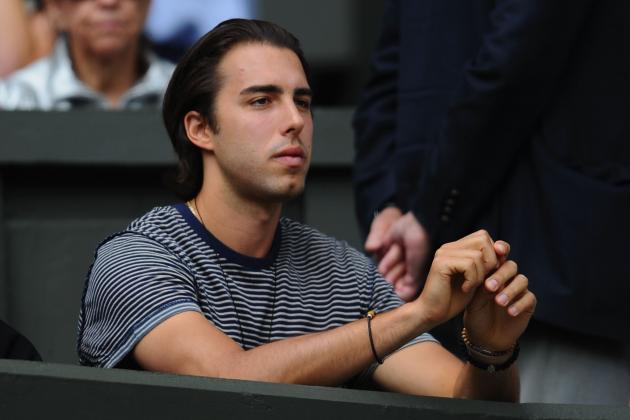 Clive Mason/Getty Images

Sasha Vujacic isn't ready to give up on his NBA career, even if it's been two seasons since he last played a game in the Association.
According to ESPN's Marc Stein, the Slovenian shooting guard is "working out hard in LA in hopes of relaunching NBA career. Determined to hold out for NBA instead of European return." Stein continued by tweeting, "According to one witness, Vujacic was a hit in Lakers' gym last week and has been looking sharp in LA pickup games after his time in Turkey."
The 29-year-old last played during the 2010-11 season, which he began with the Los Angeles Lakers before an early-season trade sent him to the New Jersey Nets. He finished the year averaging 9.8 points, 2.8 rebounds, 2.0 assists, 0.8 steals and 0.1 blocks per game with a PER of 12.3.
Since then, Vujacic has played for Anadolu Efes, a team based out of Istanbul that competes in the Turkish Basketball League.
But now it's time for that NBA return.

If Vujacic is going to revive his NBA career by landing on a training camp roster and hoping to make the eventual cut for the regular season rotation, there are five options that stand out above the rest.
Begin Slideshow

»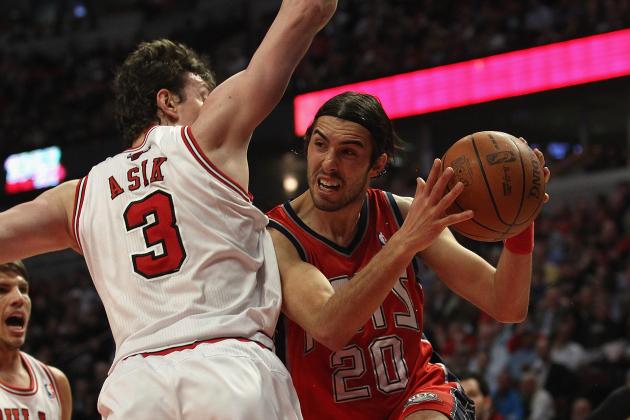 Jonathan Daniel/Getty Images

The Chicago Bulls need depth on the wings in the worst way, and ideally that comes in the form of a player who can competently shoot the ball from the outside.
Going into training camp, Chicago doesn't have a single true shooting guard on its roster.
Jimmy Butler is expected to be the starter out of necessity, although he's a natural small forward who will be playing slightly out of position. And the Marquette product will be backed up by either Kirk Hinrich (shifting over from point guard) or one of the two second-tier small forwards in the lineup: Mike Dunleavy and Tony Snell.
Those aren't appealing options, and Vujacic could at least provide a little bit of stability at shooting guard. While he's not going to push any team over the top at this stage of his career, he can ensure that there's not too much of a drop-off at shooting guard for brief spells.
Additionally, the Slovenian 2-guard is a solid shooter from behind the arc.
During his final season—split between the Los Angeles Lakers and New Jersey Nets—he averaged 2.1 triples per 36 minutes and did so on 37 percent shooting. While he'll never get enough run to make those into per-game numbers, especially in a Tom Thibodeau rotation that asks for hefty minutes from the starters, Vujacic can at least provide some quality contributions off the pine.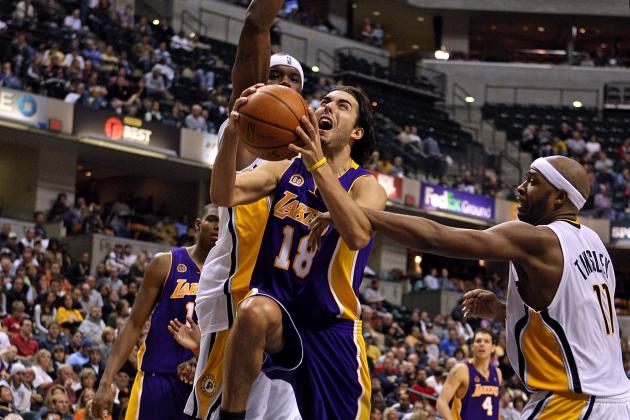 Andy Lyons/Getty Images

The Indiana Pacers currently have 13 players on the roster, which—last time I checked—is two shy of the allowed 15.
Adding a veteran is a good idea for this squad, one that's expected to compete for the best seed in the Eastern Conference before attempting to dethrone the Miami Heat in the postseason. Inexperience isn't needed, but consistency off the bench and instant chemistry is.
That three-point shooting from Vujacic would help as well.
The Pacers were a middle-of-the-road shooting team throughout the 2012-13 campaign, finishing 16th in three-pointers made and 22nd in three-point percentage, according to Basketball-Reference. While Danny Granger's return to full form will most assuredly help, so too would adding one more player capable of drilling shots from the outside.
While someone like Orlando Johnson has a ton of potential, now isn't the time to let him develop on the court. The UC Santa Barbara product can definitely shoot the ball, but he's not an established player, and Indiana isn't in a position to let him change that during live action.
A safer backup wing player would be a nice luxury for this contender, and there's enough roster space that the move could come without pushing someone else out of the lineup.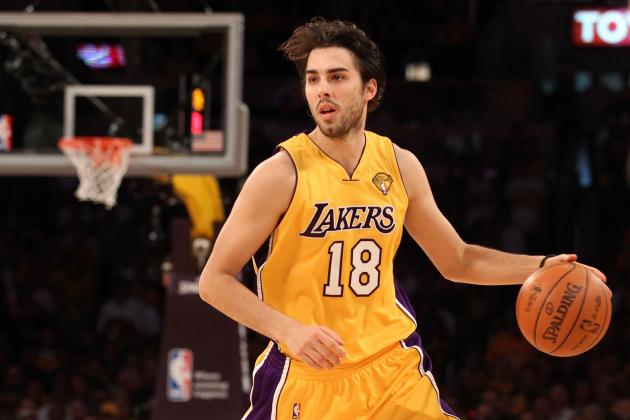 Ronald Martinez/Getty Images

The Los Angeles Lakers are one of the two teams featured here that violates the "contenders only" rule. But given the personal ties and history, they have to appear.
According to NBC Sports' Kurt Helin, the Lakers and Vujacic have already flirted with one another during the summer. Right after the Purple and Gold signed Jordan Farmar, there was brief interest in completing the reunion tour by signing the Slovenian shooting guard as well, but the move never came to fruition.
Well, it's not too late.
The Lakers still need useful bodies, and they may as well appease fans by letting "The Machine" return to the bench so that he can play sparing minutes throughout the ill-fated playoff push.
At the moment, L.A. boasts an injured Kobe Bryant and Jodie Meeks (who is also recovering from an injury of his own) at shooting guard, while Nick Young, Wes Johnson and Shawne Williams make up the small forward rotation.
Hardly a promising bunch, and there's room for one more in the lineup given the lack of appealing options. At least Vujacic would provide a nice contrast for Johnson and Williams, neither of whom are particularly good shooters.
Additionally, Vujacic always enjoyed playing for the Lake Show. Just read how he felt about the organization in 2011, taken from an interview with HoopsHype's Jorge Sierra:
Yes. When I was younger, when I decided to go to the NBA, I always wished to play with the Lakers. That was the team that I was aiming, the team that was the best fit for me. I was fortunate that I had the best players and the best coaches, learning from them. They taught me a lot. Also winning a couple of championships... As fortunate as I was, it didn't come for free—it took a lot of hard work. I love the organization, they're my family and they treated like family when I went to New Jersey, so L.A. is home for me.
Who would say no to a family reunion in Los Angeles?
Christian Petersen/Getty Images

Vujacic doesn't know it yet, but his offensive game fits in perfectly with the mentality of the New York Knicks.
The team was able to achieve the most success when it fully adopted Mike Woodson's philosophy: shoot lots of three-pointers and never turn the ball over.
Well, that goes hand-in-hand with the former Laker's game.
We've already established that Vujacic is a solid three-point shooter, but his lack of turnovers don't get much credit since he was never much of a primary ball-handler. That's why turnover percentage is important, as it estimates the number of cough-ups per 100 plays.
During his final season in the NBA, Vujacic recorded a 9.4 turnover percentage, and that was his worst mark since the 2006-07 campaign.
To put that in perspective, only seven members of the 2012-13 Knicks beat 9.4: Steve Novak, Rasheed Wallace, Earl Barron, Ronnie Brewer, Kurt Thomas, J.R. Smith and Carmelo Anthony.
Since just the last two are still with the franchise, replacing the turnover-averse backups with a similarly ball-conscious player is a good idea.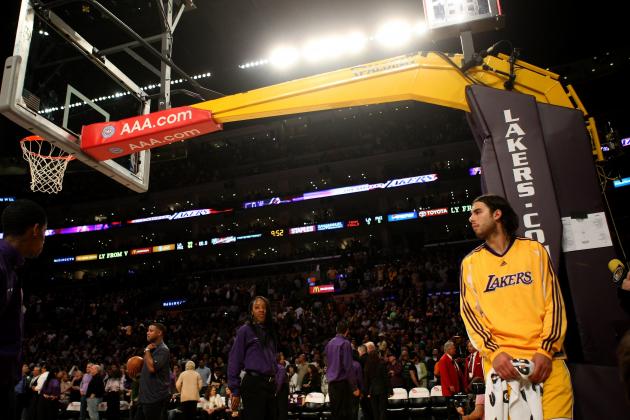 Stephen Dunn/Getty Images

The Philadelphia 76ers most assuredly aren't contenders (unless we're talking about the Andrew Wiggins sweepstakes), but they need warm bodies.
Just take a gander at their current depth chart, according to Rotoworld:
Point Guard: Michael Carter-Williams, Tony Wroten
Shooting Guard: Evan Turner, James Anderson, Darius Morris (actually a point guard), Khalif Wyatt, Jason Richardson (might be out for the season)
Small Forward: Thaddeus Young
Power Forward: Arnett Moultrie, Lavoy Allen, Royce White, Tim Ohlbrecht, Arsalan Kazemi
Center: Spencer Hawes, Nerlens Noel, Kwame Brown
Yikes.
It's not a very promising group, and that obviously wouldn't change following an unexpected Vujacic signing. But at least adding the 2-guard would give the squad a fairly established wing player. Right now that collection of "talent" is absolutely putrid.
There isn't a single true small forward on the roster, and the shooting guards just aren't very good.
Unless J-Rich makes a surprisingly quick recovery, the Sixers will be relying on players who are lining up out of position or hoping to live up to their not-so-gaudy potential while being thrown into the fire. Vujacic would at least be a stabilizing presence, and he certainly wouldn't eliminate them from their pursuit of the best lottery odds.
Plus, he'd be able to play more in Philly than anywhere else, so he could think of the 2013-14 season as a de facto audition for a better squad.