Biggest World Football Blunders of the Weekend with Seedorf and Bad Goalkeepers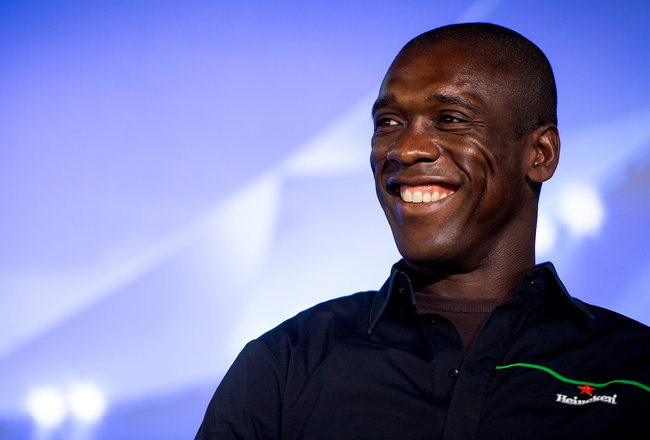 Buda Mendes/Getty Images
Welcome to this week's instalment of world football's biggest mistakes of the past few days.
This time around we've got a miss from Clarence Seedorf in a big match in Brazil, a goalkeeper who forgot to use his hands and a whole bunch of other howlers.
In case you missed last week's edition, check it here.
Other than that, click those arrows and enjoy the latest blunders.
Seedorf Rounds Keeper, but Fails to Score
This missed opportunity comes from football legend Clarence Seedorf, proving that even the very best can make odd decisions in the split-second heat of the moment.
The midfielder seemed to have done the hard work when he rounded the goalkeeper, but with practically the whole goal to aim at, Seedorf put his shot straight at the defender.
Thankfully for him, Botafogo still won the match 1-0.
Nobody Loves a Team That Much, Do They?
This game shows a minor Estonian cup final, with Tallina Ulikool triumphing over Paide Linnameeskond by a 4-0 scoreline.
All pretty routine and straightforward...until the final goal.
Fast forward to 3:08 and check out why, despite ending on the winning team, Rasmus Munskind might not quite have been the happiest Tallina player on the pitch after scoring his second goal of the game.
Oof.
It's Union Comercio Again!
Over to Peru now and one of our teams of the moment, Union Comercio, who are kindly providing us with weekly bloopers to show.
Having dropped their goalkeeper from the howlers from a week or two back, Angel Azurin was placed in goal for their recent game...only for him completely to forget, apparently, that he was allowed to use his hands.
Maybe they have a better third-choice keeper.
Goalkeeper: FAIL. Striker: BIGGER FAIL.
Sometimes, a sequence of events in a game are so bad that you have to wonder how some people ever became professionals.
Feel free to judge yourselves who was worse here: goalkeeper or striker?
Inch-Perfect Passing
Down into the depths of Serbian third division football we go, for a game between Zeleznik and Srem Jakovo.
Tamara Pavlovic is the goalkeeper, we're reliably informed, with the dead-eye aim who managed to smack the ball out of his hands into his own defender's backside. If he meant it, it was a cracking effort.
More likely, though, this was meant to be a standard upfield kick...which is probably why he's playing in the third tier of his country's game.
Bonus Video: Another Goalkeeper Howler
We finish up this week with another terrible moment of goalkeeping distribution—and not even in a full-size, 11-a-side match.
There probably wasn't a huge trophy riding on the outcome of the game, we have no idea who it was and it's not likely to make the news...but none of that makes this blunder any less epic to watch.
Especially if you played for the other team!
Keep Reading