Power Ranking the 10 Most Dominant WRs in College Football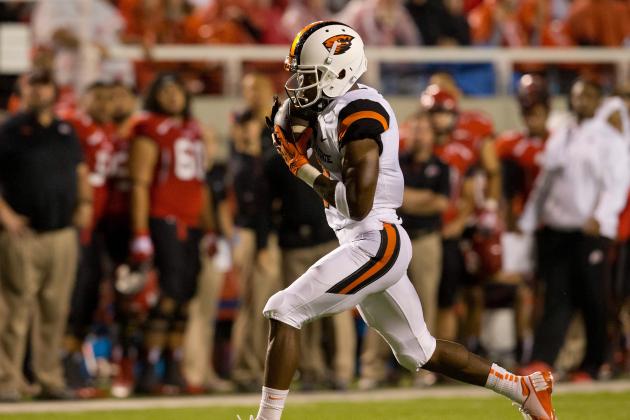 Russ Isabella-USA TODAY Sports
Oregon State's Brandin Cooks is currently on pace for 30 touchdown receptions this season.
College football seems to be in its receiving golden age, as spread offenses and weekly shootouts are resulting in some unbelievable numbers.
Receivers everywhere, both big and small, are embarrassing opposing defenses on their way to gaudy statistics.
This year's class has been led by Colorado's Paul Richardson, Oregon State's Brandin Cooks and Texas A&M's Mike Evans—among many others.
But which has been most dominant in 2013, and which of 2012's biggest stars have been surpassed so far this season?
Begin Slideshow

»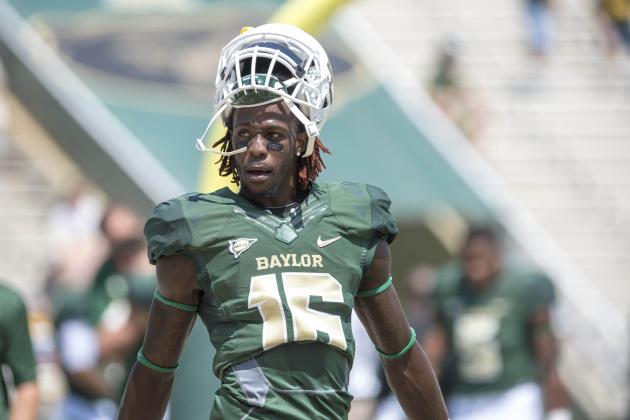 Jerome Miron-USA TODAY Sports

Sammy Watkins, Clemson
Sammy Watkins was one of the nation's best players as a freshman but regressed in as a sophomore. He was great in Week 1 against Georgia but played a minimal role in Week 2.
With some more consistency, Watkins will shoot up this list.
Marqise Lee, USC
The reigning Biletnikoff Award winner Marqise Lee was uncoverable in 2012 but has struggled early in 2013, as USC has gone through quarterback issues.
Lee is still one of the most skilled receivers in the country and will also shoot up this list as USC's offense picks up.
Amari Cooper, Alabama
After an outstanding freshman year, Alabama sophomore Amari Cooper has been almost a non-factor so far in 2013.
With just six catches for 72 yards, Cooper will need to set up before he enters a full sophomore slump.
Tevin Reese, Baylor
Tevin Reese may end up as one of the most productive receivers in college football this year. However, he hasn't even truly played a full game yet this season, as BU has destroyed both of its opponents.
As the competition stiffens for Baylor, Reese should be able to play more than just one half of football per game.
Jared Abbrederis, Wisconsin
Off to a solid start, Jared Abbrederis is poised to finally break the 1,000-yard mark as a senior after coming close in his last two seasons.
Like Reese, he'll need to show continued strong play against conference competition in the coming weeks.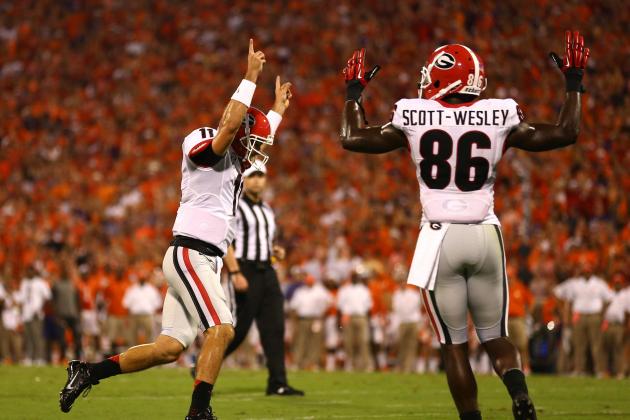 Streeter Lecka/Getty Images

Georgia receiver Justin Scott-Wesley has just one career start under his belt but already has the makings of a star.
His first start for the Bulldogs came against South Carolina and he showed off his elite speed on an 85-yard touchdown reception.
After hauling in a long pass from quarterback Aaron Murray, it looked like a Gamecock defender had an angle on the redshirt sophomore near the sideline. However, the USC defender was left with just a cloud of dust to tackle as Scott-Wesley darted to the end zone.
That fourth-quarter touchdown helped to seal Georgia's 41-30 victory in Athens. Much thanks to that 85-yard scoring reception, Scott-Wesley is No. 7 in the nation and No. 2 in the SEC, averaging just shy of 25 yards per reception.
Also a sprinter on the UGA track team, Scott-Wesley is still early in his career. But he might already be the fastest receiver in the nation.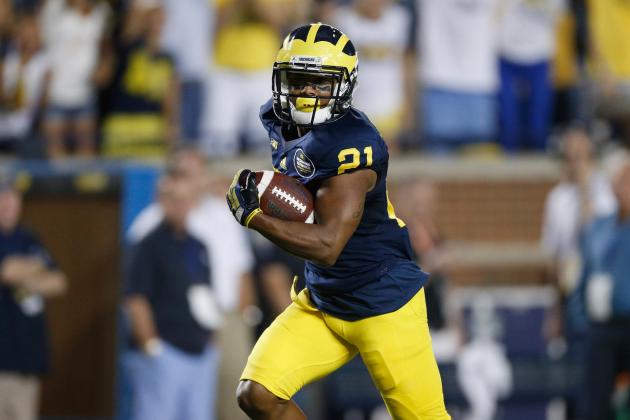 Gregory Shamus/Getty Images

In truth, wearing Desmond Howard's No. 21 jersey is no small honor, and Michigan wide receiver Jeremy Gallon has worn the former Heisman Trophy winner's number well.
Gallon made his name known in Michigan's thrilling primetime win over Notre Dame, hauling in three touchdowns in the 41-30 victory.
One reception in particular from Gallon showed off his skills. After bringing in a long pass near midfield, the senior looked to be bottled up, but spun through a group of Irish defenders and waltzed into the end zone, leaving the ND secondary in a heap behind him.
Clearly, the Apopka, Fla. native is well on his way to a 1,000-yard receiving season after his hot start.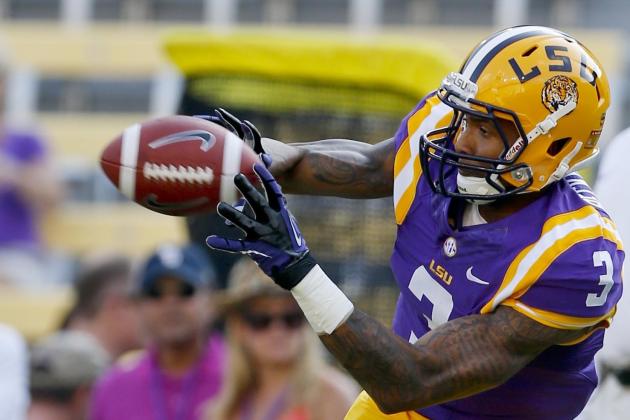 Derick E. Hingle-USA TODAY Sport

Odell Beckham Jr. does a little bit of everything for LSU.
The junior wasn't outstanding in his first two seasons in Baton Rouge, but is poised for a breakout year receiving, rushing and returning.
Beckham torched a talented TCU secondary in Week 1 for 118 yards, then turned around and ripped UAB apart for 136 yards and three touchdowns.
The 6'0", 187-pound New Orleans native is also one of the best punt returners in the nation.
Undoubtedly, if quarterback Zach Mettenberger keeps up his strong play, Beckham and teammate Jarvis Landry will continue to put up huge numbers.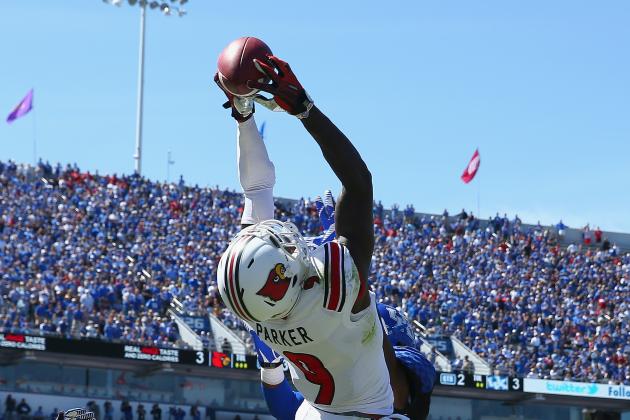 Andy Lyons/Getty Images

Louisville's DeVante Parker can make plays anywhere on the field.
He showed off his jump-ball skills in UL's win over rival Kentucky in Week 3 when he rose up and pulled down a touchdown between two UK defensive backs.
Make no mistake, that touchdown reception was key in a game where the Cardinals' offense struggled.
The junior has four touchdowns through the first three games and he has 20 for his career.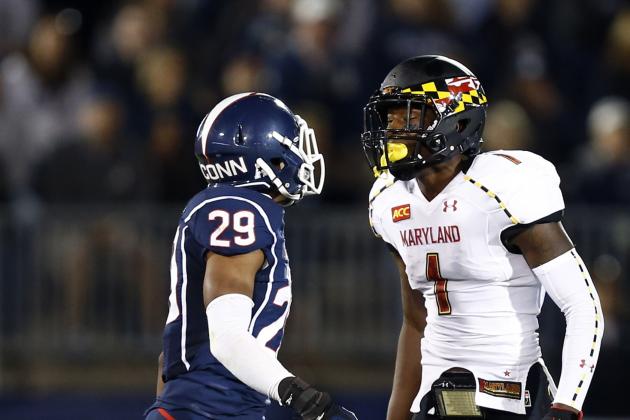 Mark L. Baer-USA TODAY Sports

Just a true sophomore, Stefon Diggs is a budding superstar.
A product of Maryland high school football powerhouse Good Counsel, Diggs' versatility and speed has earned him comparisons to fellow Maryland native and former West Virginia star Tavon Austin.
Diggs is bigger than Austin at 6'0", 195 pounds and will have NFL scouts drooling next year.
The Gaithersburg, Md. native is already halfway to his production from 2012, as he has recorded 98, 179 and 110 yards and one touchdown in each of his first three contests.
As incredible as his freshman highlight tape is, his sophomore tape will be even more spectacular.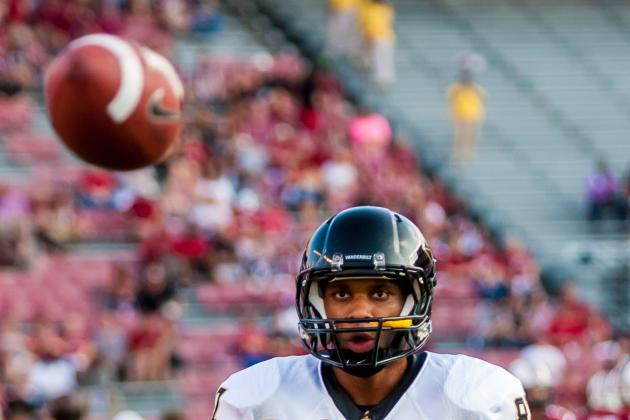 Jeff Blake-USA TODAY Sports

Jordan Matthews wasn't highly recruited out of Madison Academy in Alabama, but now he gives blue chip recruits in the SEC fits on a weekly basis.
At 6'3", 206 pounds, Matthews has a prototypical receiver body, with a long reach and even longer strides.
He showed off his top-end speed and soft hands a in Week 1 thriller against Ole Miss, when he amassed 178 receiving yards and a touchdown, all through puking on the field.
The senior tallied more than 100 yards in all three games to start the season.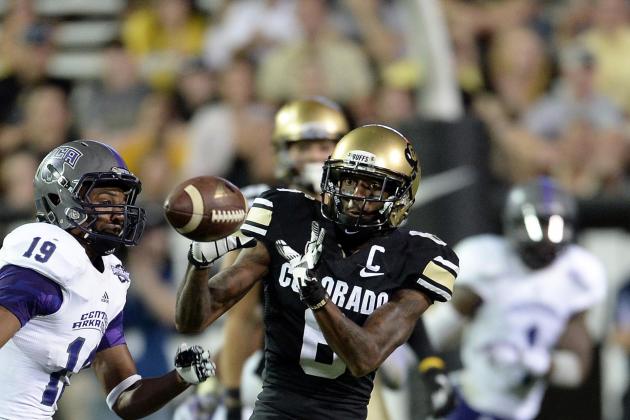 Ron Chenoy-USA TODAY Sports

Colorado's Paul Richardson is the only receiver in the nation currently averaging more than 200 yards per game.
The Buffaloes have played just twice this season after their Week 3 contest with Fresno State was postponed due to flooding in Boulder. But in those two games, their star junior logged 208 and 209 yards and a pair of touchdowns in each contest.
Right now, few receivers have looked better than the 6'1", 170-pound Los Angeles native.
Needless to say, as CU's season carries on, it will be interesting to see how he keeps that up against stronger competition.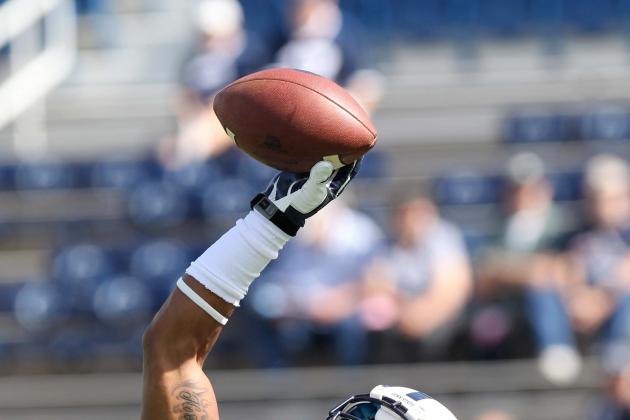 Matthew O'Haren-USA TODAY Sports

Allen Robinson is the ultimate security blanket for Penn State's freshman quarterback Christian Hackenberg.
The junior has logged more than 125 yards and a touchdown in all three of PSU's games this season, putting him at No. 4 in the nation in receiving yards per game.
At 6'3", 210 pounds, Robinson is an absolute beast, as he showed in Week 1 against Syracuse when he annihilated his own lineman after a catch.
Hackenberg has to be hoping that Robinson will return for his senior season, but at this rate, his NFL draft stock will be through the roof by season's end.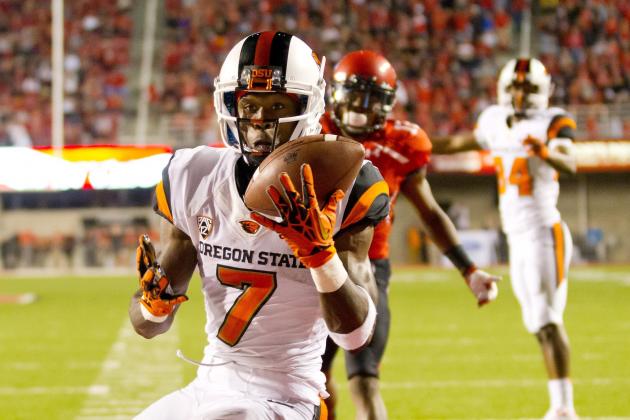 Russ Isabella-USA TODAY Sports

Oregon State's Brandin Cooks is the definition of a playmaker at the receiver position.
Through three games in 2013, he has 498 receiving yards and seven touchdowns, putting him on pace for Stedman Bailey status, who brought in a ridiculous 25 touchdown receptions last year.
In fact, Cooks is on track to be in a league of his own, as he'll total 30 touchdowns at the current pace.
His most recent touchdown grab was his biggest: a 6-yard scoring reception that gave OSU an overtime victory over Utah.
Those seven scores put him at No. 1 in the nation, and he has an FBS-leading 29 receptions and is No. 2 in receiving yardage.
It looks like the Beavers will be locked in plenty of shootouts as the year rolls along—and if that's the case, expect Cooks to post some insane numbers.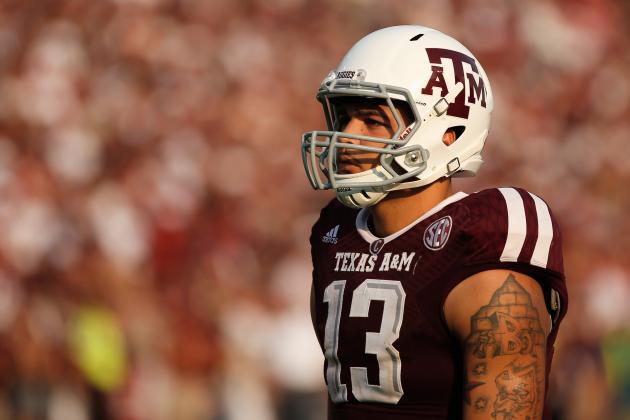 Scott Halleran/Getty Images

Anyone who watched what Mike Evans did to Alabama knows why he's No. 1 on this list.
The Crimson Tide tried just about every defensive back on their roster, but none of them could effectively cover Texas A&M's redshirt sophomore.
After racking up 279 yards and a touchdown against the Tide, Evans stands at No. 1 in the nation with 518 receiving yards on the year.
The Galveston, Texas native is No. 3 in the country and No. 1 in the SEC, and he's just shy of 26 yards per reception.
At 6'5", 225 pounds, Evans looks like an NFL starter just warming up on Saturdays.