ATP Tour Open De Moselle 2013: Daily Scores, Results and Schedule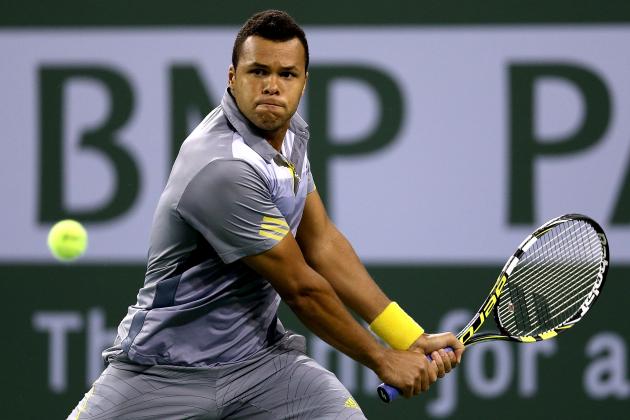 Matthew Stockman/Getty Images

A pair of top-ranked Frenchmen will lead an impressive draw at the 2013 ATP Open de Moselle, one of 40 ATP 250 series tournaments that will take place on the indoor hard courts in Metz, France, this September.
Jo-Wilfried Tsonga, who withdrew from Wimbledon and missed the U.S. Open because of a knee injury, and Gilles Simon, who has returned from a two-month bout with whooping cough, are the top two seeds at this week's tournament—and for obvious reason.
Tsonga is the two-time defending champion at this event, while Simon won it as recently as 2010.
2012 runner-up Andreas Seppi of Italy is another top contender in Metz. He'll be seeded third, which means he could potentially match up with Simon in the semifinals this weekend. At the top of the draw, fourth-seeded German Philipp Kohlschreiber, who was a finalist at this event back in 2009, could potentially meet up with Tsonga in the semifinals in what would be another intriguing weekend showdown.
With the action already underway, we'll get you caught up on the latest scores and results from France.
Begin Slideshow

»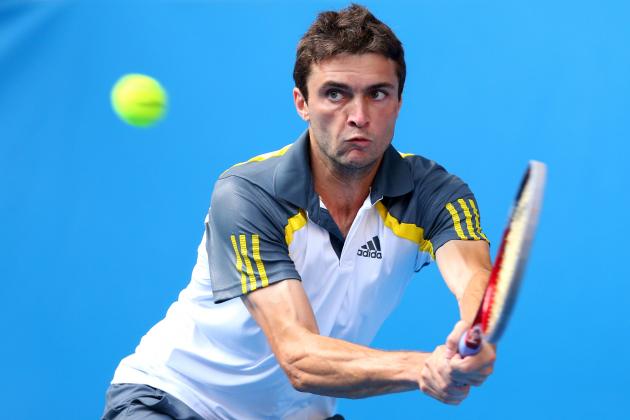 Cameron Spencer/Getty Images

Seeded Players
No. 1. Jo Wilfried Tsonga, France
No. 2. Gilles Simon, France
No. 3. Andreas Seppi, Italy
No. 4. Philipp Kohlschreiber, Germany
No. 5. Benoit Paire, France
No. 6. Sam Querrey, United States
No. 7. Jeremy Chardy, France
No. 8. Florian Mayer, Germany
Click here to view the singles draw, courtesy of ATPWorldTour.com.
Click here to view the daily schedule, courtesy of ATPWorldTour.com.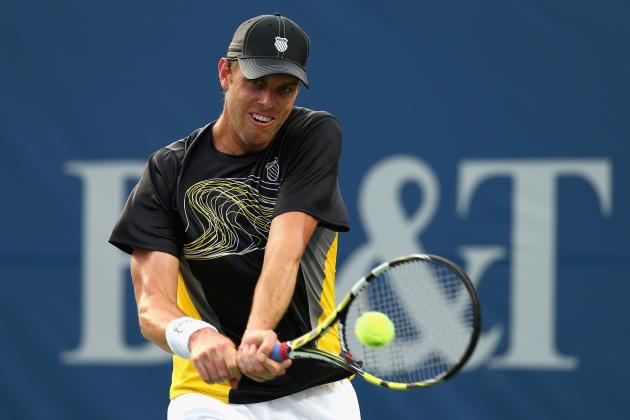 Streeter Lecka/Getty Images

Day 1 Scores
Main Draw
Sam Querrey (6) def. Ivo Karlovic; 4-6, 7-6 (7-4), 6-4
Main Draw Qualifying
Marc Gicquel def. Simon Stadler; 6-3, 6-4
Mischa Zverev def. Vincent Millot; 6-3, 6-7 (1-7), 6-4
Marton Fucsovics def. Michael Berrer; 6-1, 7-6 (7-1)
Pierre-Hugues Herbert def. Alexander Zverev; 2-6, 6-4, 6-3
Recap
Sixth-seeded American Sam Querrey won the only main-draw singles match scheduled for Monday, battling back to defeat Croatia's Ivo Karlovic in three sets.
Karlovic came out fast in the opening set, recording six aces and winning 20 of 25 total service points on his way to breaking Querrey for a one-set-to-love lead. Karlovic's serve was even better in the second set, but so was Querrey's.
The American picked up six aces in the second set and won 28 of 34 total services points (83 percent). However, thanks to nine more aces from Karlovic, neither player would see a break-point chance in the second set.
But in a second-set tiebreaker he absolutely had to have, Querrey delivered, outlasting his unseeded foe 7-4 in the extra session to force a third and final set.
The third set saw Karlovic record 10 more aces, but it was Querrey who proved unbeatable on serve. He would win 20 out of 25 total service points for the set and earn a key break to take the final frame 6-4 and advance to the second round.
Statistically, both players were dead even in the end. Therefore, you have to credit Querrey's stellar play in the second-set tiebreaker as the turning point in the match.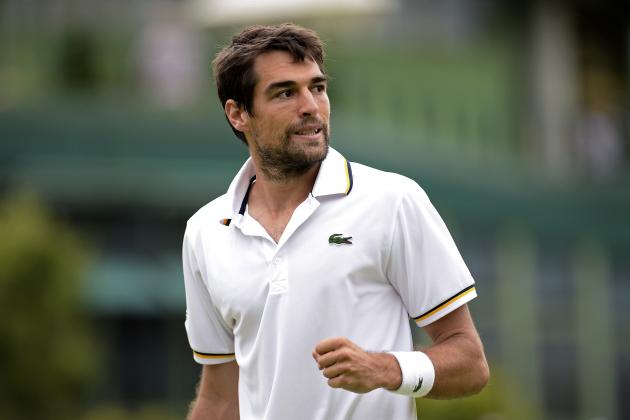 Dennis Grombkowski/Getty Images

Day 2 Scores
Edouard Roger-Vasselin def. Federico Delbonis; 6-0, 6-2
Marton Fucsovics def. Jeremy Chardy (7); 6-3, 7-6(5)
Florian Mayer (8) def. Pierre-Hughes Herbert; 6-2, 7-5
Tobias Kamke def. Marc Gicquel; 6-2, 6-3
Paul-Henri Mathieu def. Igor Sijsling; 6-7(4), 7-5, 7-6(6)
Kenny De Schepper def. Jesse Huta Galung; 6-3, 6-2
Lukas Lacko def. Michael Berrer; 6-3, 1-6, 6-2
Recap
One of two ranked players to take part in Tuesday's action, No. 7 Jeremy Chardy was upset by Marton Fucsovics in straight sets.
Both guys were extremely strong on serve. It was just a matter of whether or not somebody was going to get that critical break and avoid going to a tiebreak. That's exactly what Fucsovics was able to do in the first set. He broke Chardy and saved the Frenchman's only break point attempt.
The match eventually went to a tiebreak in the second, with Fucsovics just getting the edge.
For Chardy, it has to be a frustrating loss. He didn't play all that badly and still didn't come out victorious. That one service break ending up costing him in a big way.
The other seeded player, No. 8 Florian Mayer, was able to win in straight sets. He cruised through the first set, breaking Pierre-Hughes Herbert twice. The second set was a bit more difficult, but Mayer was able to prevail in the end and avoid the tiebreak.
The player to watch from Tuesday will be Edouard Roger-Vasselin. He's got the top-seeded Jo-Wilfried Tsonga in the next round. Tsonga has won all three of their meetings, but Roger-Vasselin has played him tough over the last couple of years.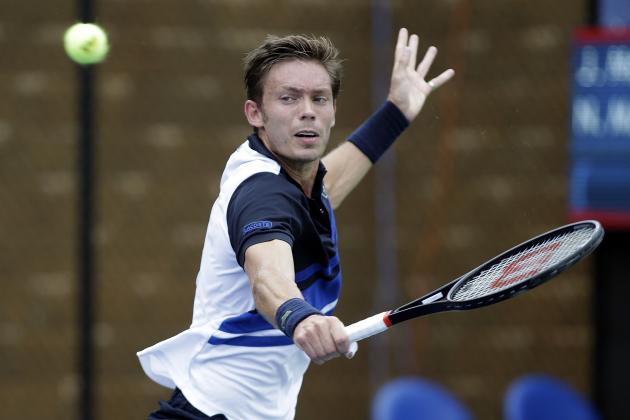 Bob Leverone/Getty Images

Day 3 Scores
First Round
Albano Olivetti def. Mischa Zverev; 7-5, 7-6(3)
Nicolas Mahut def. Leonardo Mayer; 7-6(2), 6-4
Benjamin Becker def. No. 5 Benoit Paire; 6-3, 7-5
Carlos Berlocq def. Jiri Vesely; 6-3, 6-4
Second Round
No. 1 Jo-Wilfried Tsonga def. Edouard Roger-Vasselin; 6-3, 6-4
Tobias Kamke def. Marton Fucsovics; 1-6, 6-3, 6-2
No. 6 Sam Querrey def. Paul-Henri Mathieu; 6-2, 0-0(ret.)
Recap
There were some questions about how Jo-Wilfried Tsonga would fare in this tournament after not competing since Wimbledon. However, the French player was impressive in his first performance after a bye in Round 1.
Tsonga dominated with his first serve, winning 32 of his 37 points when he got it in play. He also was solid defensively, showing that he is still a top contender to win this event.
Sam Querrey also looked good in his first set against Paul-Henri Mathieu before the wild card withdrew with a thigh injury, according to ESPN.
Each of these seeded players already find themselves in the quarterfinals.
However, Benoit Paire was not as fortunate in his first-round match. Benjamin Becker pulled off the biggest upset of the day, defeating the No. 5 seed in straight sets thanks to seven aces and a win in his only break point he faced all match.
One unseeded player to watch out for is Nicolas Mahut, who already had two tournament titles this season. He earned a straight-set victory Leonardo Mayer in the first round and will face No. 3 seed Andreas Seppi in Round 2.
If the veteran player can get past Seppi next round, he should have an easy path to the semifinals.
The tournament continues Thursday with a number of top seeds in action for the first time, including Seppi, Gilles Simon and Philipp Kohlschreiber. These players will hope to perform more like Tsonga and less like Paire in their opening matches.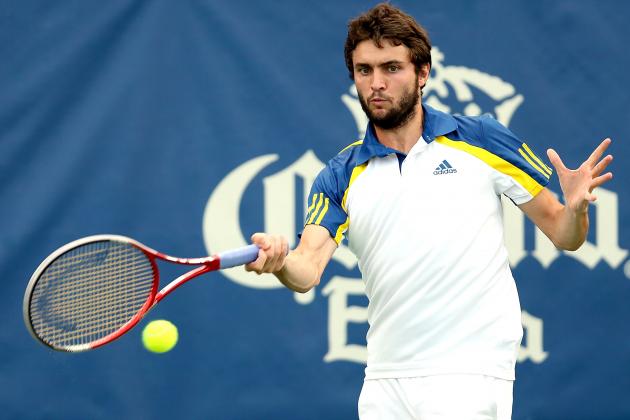 Matthew Stockman/Getty Images

Day 4 Scores
Second Round
No. 2 Gilles Simon def. Kenny De Schepper; 6-2, 6-3
Benjamin Becker def. Albano Olivetti; 6-7(8), 6-3, 6-1
Nicolas Mahut def. No. 3 Andreas Seppi; 6-4, 6-4
No. 8 Florian Mayer def. Lukas Lacko; 6-3, 6-2
Recap
The home crowd had a pretty good day, all told. No. 2 Gilles Simon advanced in straight sets after dispatching Kenny De Schepper. While both players are French, it's better to see the higher-seeded player advance, as he has a much better chance of winning the tournament.
De Schepper was a mess on serve. He was broken five times and won only 29 percent of his points on second serve. In all, De Schepper won just a paltry 49 percent of his service points. When playing somebody the quality of Simon, you can't possibly win losing more than half of your points on serve.
As if having Simon advance wasn't enough, then came the even more impressive win, as Nicolas Mahut upset No. 3 Andreas Seppi in straight sets. While Mahut wasn't dominating, he did just enough to win, holding serve when he needed to and picking up service breaks at the right moments.
The only downer for the French fans was wild card Albano Olivetti's defeat to Benjamin Becker. When Olivetti was able to come back from 6-2 down in the first-set tiebreak and win, you thought that maybe his improbably run would continue.
However, the Frenchman looked to have expended all of his energy to take that first set, with Becker overpowering him as the match went on.
Play continues on Friday, with top seed Jo-Wilfried Tsonga back in action. He'll take on Tobias Kamke in the quarterfinals. American Sam Querrey is also in action, taking on Simon in what should be the best match of the day.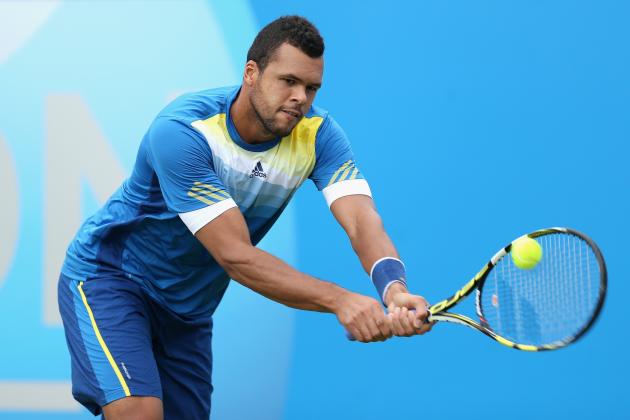 Clive Brunskill/Getty Images

Day 5 Scores
Quarterfinals
Jo-Wilfried Tsonga (1) def. Tobias Kamke; 4-6, 6-3, 6-4
Gilles Simon (2) def. Sam Querrey (6); 6-4, 7-6 (7-1)
Florian Mayer (8) def. Carlos Berlocq; 5-7, 6-4, 7-5
Nicolas Mahut def. Benjamin Becker; 6-2, 6-4
Recap
Top seed Jo-Wilfried Tsonga came from behind to defeat Tobias Kamke on Friday, advancing to the semifinals of the ATP Open de Moselle for the third consecutive year.
The world No. 8 squandered plenty of break-point chances in the two-hour match, but was able to break Kamke when he needed to in the second and third sets to pull out the victory. Tsonga won 71 percent of his total service points, somehow winning an impressive 67 percent of his second-serve points for the match.
Tsonga will take on eighth-seeded Florian Mayer in the semifinals. Mayer fought back to defeat Carlos Berlocq in three sets in Friday's final quarterfinal.
Meanwhile, two other Frenchmen, Nicolas Mahut and Gilles Simon each booked a trip to Saturday's semifinals with straight-sets wins in Friday's early action.
Mahut won 78 percent of his service points against Benjamin Becker and broke the German three times to win Day 5's first quarterfinal matchup in just over an hour. Meanwhile, second-seeded Frenchman Gilles Simon took advantage of his first-set break of sixth-seeded Sam Querrey to advance nearly as quickly.
Both Simon and Querrey held serve through the first 12 games of the tightly-contested second set before the 2010 Open de Moselle champion eventually took over in the tiebreaker, winning comfortably to close out the set and the match.
Simon will take on compatriot Mahut on Day 6 for a spot in Sunday's tournament final.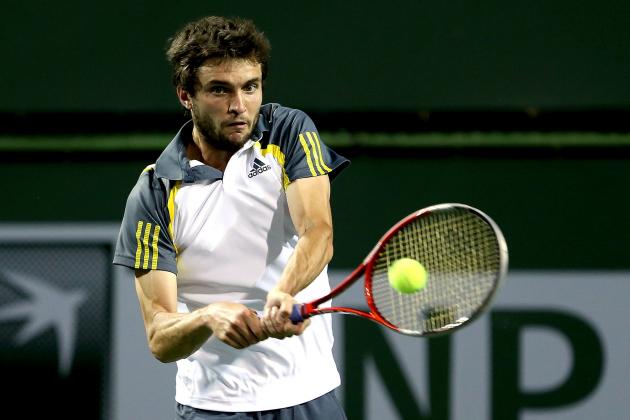 Matthew Stockman/Getty Images

Day 6 Scores
Semifinals
Jo-Wilfried Tsonga (1) def. Florian Mayer (8); 4-6, 6-2, 6-3
Gilles Simon (2) def. Nicolas Mahut; 6-3, 7-6 (7-2)
Recap
The top two seeds in men's singles draw at the ATP Open de Moselle are through to the final after winning their respective semifinal matches on Day 6.
Top overall seed Jo-Wilfried Tsonga needed three sets to get past eighth-seeded Florian Mayer, but is through to the final in Metz for the third straight year after recording nine aces and winning 79 percent of his first-serve points.
Meanwhile, No. 2 seed Gilles Simon survived Saturday's all-French semifinal showdown with Nicolas Mahut in Metz to earn a berth in Sunday's tournament final. The 2010 Open de Moselle champion took advantage of some poor service play from Mahut in the opening set, breaking his compatriot twice to take a one set to love lead.
Mahut would fight back in the second set, though, serving up six aces and saving two big break points. Unfortunately, Simon out-classed him the second-set tiebreaker to take the match in just over an hour and a half.
Tsonga and Simon will meet in Sunday's final, their first matchup since meeting in the semifinals of the ATP Tour Open 13 in Marseille last February. Tsonga won that match (also on the indoor hard courts) in straight sets.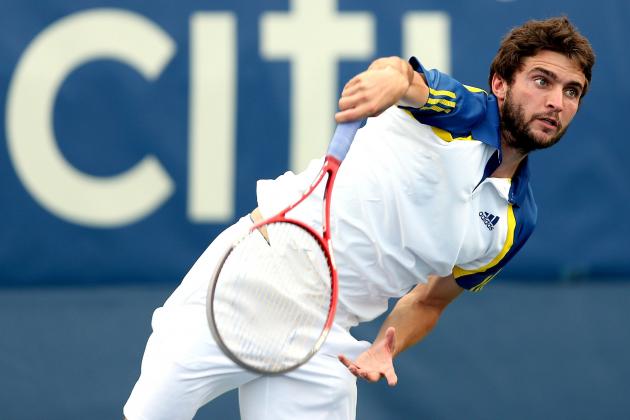 Matthew Stockman/Getty Images

Day 7 Scores
Final
(2) Gilles Simon def. (1) Jo-Wilfried Tsonga, 6-4, 6-3
Recap
It took Simon just one hour and 11 minutes to take the Open De Moselle title over Tsonga, cruising in straight sets. It's his first title this season in his second final, in what has been an otherwise disappointing season.
It was also just Simon's second victory in seven tries against his countryman. He last beat Tsonga in 2012 at the Monte-Carlo Masters.
Simon won by dominating his first-serve points (he won 21 of 27) and remaining consistent in his return game (23 of 53 return points won).
Tsonga managed to break Simon once in the first set, though Gilles wasn't fazed, returning the favor twice, as he did in the second set. In all, it was a clinical performance from the player, especially considering a difficult year that saw him fail to advance to a quarterfinal in the three Grand Slams he played this season.