NFL Week 3 Predictions: Pick, Line and Spread Analysis for Each Game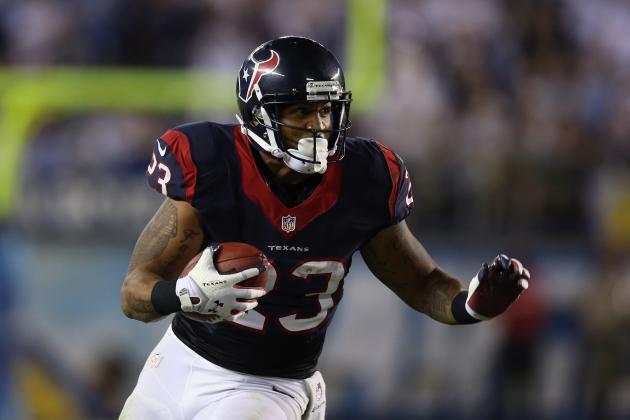 Jeff Gross/Getty Images

"Gambling is a game of points."
"I mean, one half-point too few or too many, you don't quite lay it. One full point for the home team or for the away team, and you don't quite cover. The points we need, are everywhere, around us."
And then a bunch of stuff about how we fight for that point in this article. We claw with our talons or something like that.
It's been a rough two weeks. Missing three games by 3.5 points left me looking like Tom Hanks when he lost his volleyball. I was unshaven, unwashed and feeling hopeless.
But then I realized that there are still 15 weeks left of the NFL regular season. So I threw on Al Pacino's famous inches speech and mustered my courage, because it's just too damn early in the season to quit.
People need me (to mock). People are counting on me (to laugh at).
So let's turn the page on a agonizing weekend, put the women and children to bed, and go looking for points!
Yes, that was two movie quotes from the '90s before the first slide. Enjoy the Week 2 picks against the spread.
Last Week: 7-9
Season: 13-18-1
All lines are provided by footballlocks.com. All stats and rankings are courtesy of ProFootballFocus.com and require a subscription.
Begin Slideshow

»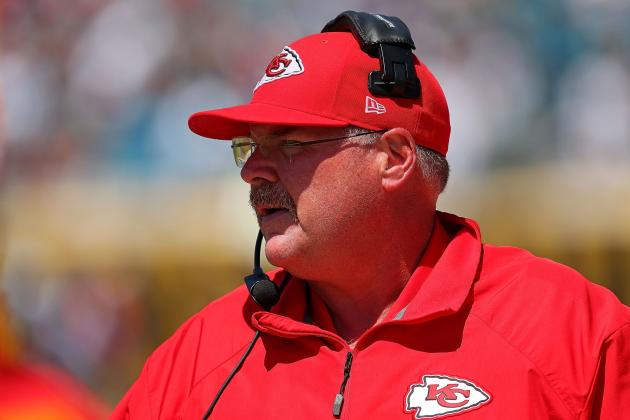 Mike Ehrmann/Getty Images

Thursday night games are always a sloppy affair. Frankly, the players just don't have enough time to recover physically and adequately prepare for the next opponent.
And as much as that seems to be an advantage for the Chip Kelly-led Philadelphia Eagles, it isn't.
Yes, the Kansas City Chiefs won't have an extra three days to get ready for that new-fangled offense. But the critical consequence of the short week will be the limited rest the aging (and aching) Michael Vick will enjoy.
NFL leading rusher LeSean McCoy will try to pick up the slack. However, he'll be forced to navigate one of the better rushing defenses in the NFL. Again, advantage Chiefs.
Lastly, there will be plenty of emotion surrounding head coach Andy Reid's return to his old haunt. But that emotion will have surprising effects.
The Eagles will have that weird I'm-at-the-same-bar-as-my-ex-girlfriend thing going on. It might not be a devastating, but everything will feel just a bit off.
The Chiefs, on the other hand, will have "new boyfriend syndrome." They'll spend the time leading up to the game daydreaming of taking the Eagles behind the proverbial woodshed.
All in the name of love, of course.
To recap, the Chiefs get the points in a sloppy game where they have the physical and emotional advantages. Sign me up.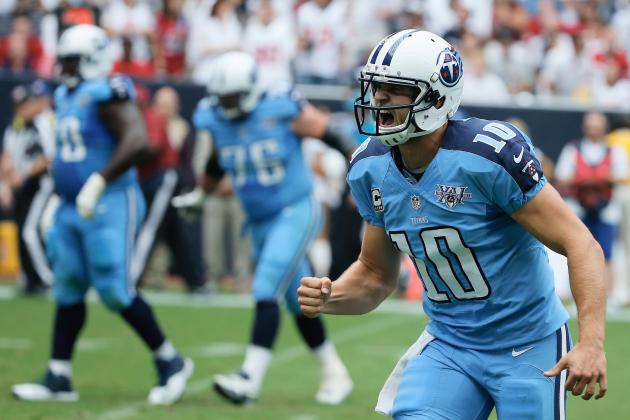 Scott Halleran/Getty Images

A half-point almost killed my Tennessee Titans man-crush. Or is it men-crush?
Regardless, the line shrunk back to three, and there's no way I'm jumping ship yet. I've been riding the Titans train since I picked them as a team on the rise before the season.
As any NBA Jam aficionado will tell you, two in a row is heating up, three is on fire. That same aficionado will explain that you force the ball to that player with two buckets in a row.
Well, the Titans are 2-0 against the spread, so I'm pushing the envelope.
It doesn't hurt that the Titans will be the best defense, especially in terms of pass coverage, that the Chargers have faced this season. When combined with the unfortunate injury to Malcolm Floyd, the Chargers will have plenty of trouble moving the ball.
That half-point probably would have made this a stay-away game, but I can't stay away from these Titans. For bettor or worse.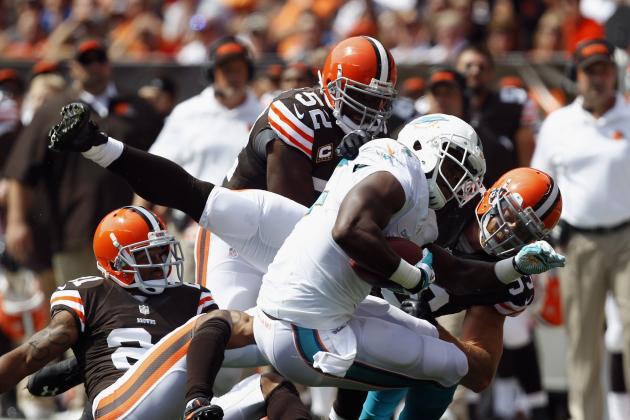 Matt Sullivan/Getty Images

I called the Minnesota Vikings one of the worst teams in the league last week. Guess what?
I'm not backing down.
They might be 1-1 against the spread, but they're 0-2 for a reason. When the Chicago Bears finally decided it was time to win that game, the Vikings did their best to oblige them.
Don't snicker Browns fans. You know how bad your offense is. Cleveland is averaging eight points a game.
Eight!
Luckily, that defense is your saving grace, and linebacker D'Qwell Jackson was right: nobody can run on them.
Don't trust me, eh? Need proof? Fine.
The Browns are giving up just two yards a carry.
Two!
Basically, Cleveland doesn't let anyone run the ball, reigning MVP or not.
This game has a 6-3 final written all over it. Or this season's first tie at 3. Regardless, five points is a gift.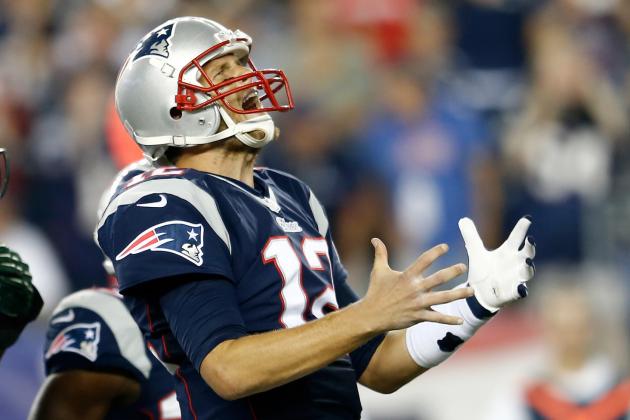 Jim Rogash/Getty Images

I just can't do it. I refuse to pay the Tom Brady tax.
The New England Patriots have all sorts of problems, including finding people who catch the ball. With Danny Amendola considering surgery, there's no reason to assume it will get any better.
What about Rob Gronkowski? Well, Ian Rapoport reported that he could play Week 3 and will play Week 4. However, why would a 2-0 Patriots team risk bringing back their all-world tight end a week prematurely? The payoff isn't worth the risk.
And now you want me to lay seven points? For what?
Oh, because the Tampa Bay Buccaneers might be on the edge of implosion? Head coach Greg Schiano has never been a players' coach, but when your best player is making statements, there's cause for concern.
Plus, we're talking about quarterback Josh Freeman on the road.
I still can't do it. I'm the Al Capone of gambling.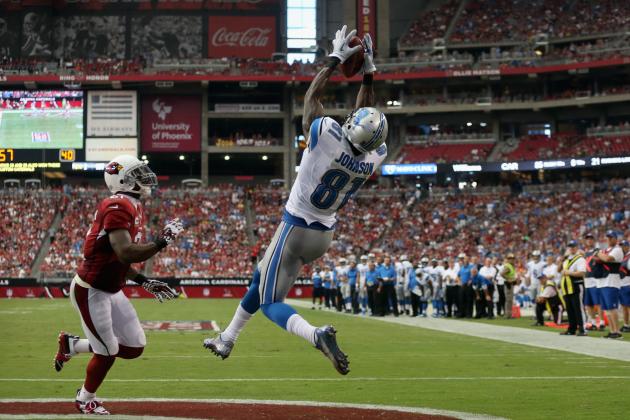 Jeff Gross/Getty Images

There is hope that running back Reggie Bush could be ready to go against the Washington Redskins. That's great for the Detroit Lions' odds of winning this game.
But it might not matter.
The Redskins defense is the worst in the league by a ridiculous margin. The unit can't stop the run, and it can't stop the pass.
I'm almost positive there's nothing else left.
And if you don't believe me, PFF has given them a -48.9 grade overall. Next closest? The Buffalo Bills at -22.9.
So to finish this part of the analysis, remember that Calvin Johnson plays for the Detroit Lions and let's move on.
Quarterback Robert Griffin III still isn't back to being RG3. He doesn't trust his plant leg and is throwing too many ducks.
Now, he'll be hunted by a Lions front that welcomes back quarterback menace Nick Fairley. There's nothing about that sentence that should encourage Redskins fans.
Actually, there is a ray of sunshine. I did use the word "could" since it's early in the week!
I tried, Skins fans. But unless Griffin gets his groove back quickly, this season might be over by Week 8.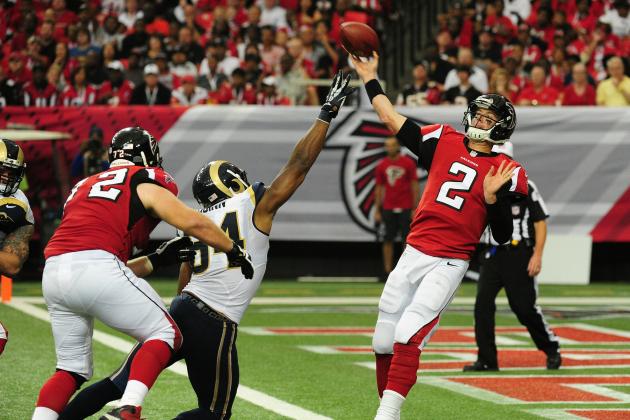 Scott Cunningham/Getty Images

We have a team that is 0-2 against the spread and one that is undefeated. But are they really that different?
Both front-sevens have some serious talent, and each secondary has an overrated player (cornerbacks Cortland Finnegan and Morris Claiborne).
The Dallas Cowboys have the better playmakers on offense, but the St. Louis Rams have the better offensive line.
You know where this is going.
Take the four points.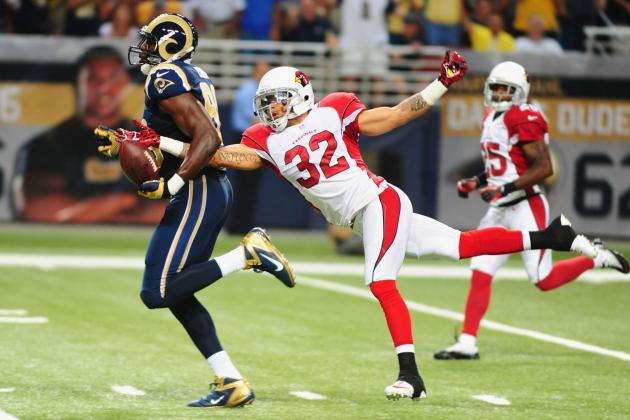 Michael Thomas/Getty Images

Another week and no offensive explosion from the New Orleans Saints. That could very well change this week when they host the Arizona Cardinals.
The Cardinals were fortunate that the Detroit Lions dropped so many passes and lost running back Reggie Bush early in the second half. Otherwise, there's a good chance the Lions hang 40 points on them.
But Detroit didn't. And the Saints certainly aren't a lock to do so either.
Rookie cornerback Tyrann Mathieu has proven to be a steal and running mate Patrick Peterson is a top-five talent. They could certainly pluck one or two of those patented chuck-it-off-my-back-foot throws that Drew Brees is so fond of.
At least, I'm betting so, because they won't be able to hold back the Saints for long. A few turnovers and some Larry Fitzgerald magic on the other side will keep this game within striking distance.
There's a lot of ways this game could go. Thus, it's points-taking time.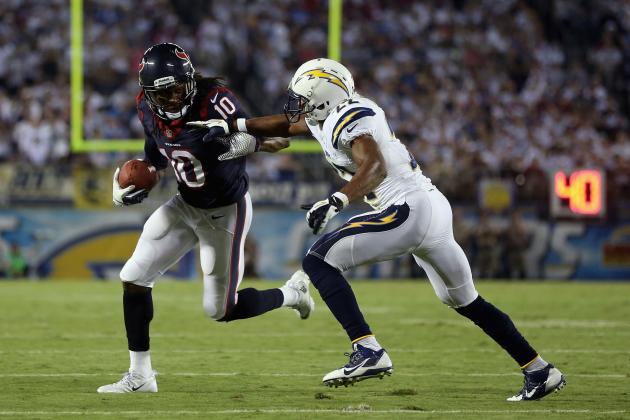 Jeff Gross/Getty Images

Just like the Houston Texans, I believe that wide receiver DeAndre Hopkins is heating up (we're up to four '90s references).
The rookie broke out with 117 yards and the game-winning touchdown against the Tennessee Titans. With Hopkins stretching the field, that will provide more room for running backs Arian Foster and Ben Tate to operate.
Additionally, the Baltimore Ravens might not have stalwart running back Ray Rice in the lineup. Good thing top wideout Anquan Boldin can provide quarterback Joe Flacco with the support he so badly needs.
What? They traded him? For a sixth-round pick?
Well then, you can have your two points. I'll take the team with healthy playmakers.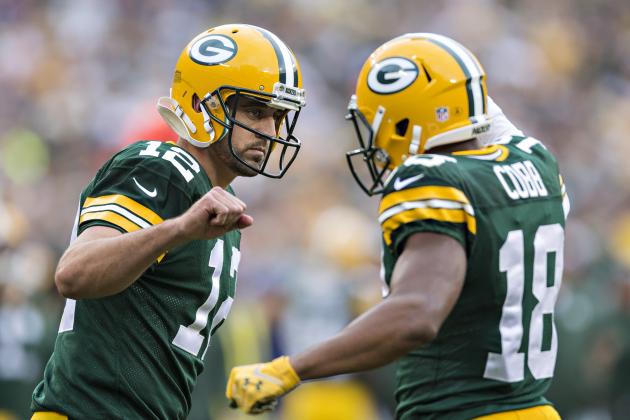 Wesley Hitt/Getty Images

We've seen quarterback Aaron Rodgers enter this zone before. It's a level of performance that few can match, and Andy Dalton is not among those few.
Rodgers is averaging over 400 yards a game to go with a ridiculous 3.5-touchdown average. That borders on the edge of insanity. Or Manning-ity.
You're right, I'm forcing it.
Anyways, as mentioned above, the Cincinnati Bengals cannot match the Green Bay Packers score for score. They make too many mental mistakes to operate that efficiently.
It's always scary going against a home dog. But with Rodgers holding my hand, I will stand defiant.
Elsa/Getty Images

The Carolina Panthers have the talented Star Lotulelei and Luke Kuechly in the middle of the defense. These two will keep running backs Brandon Jacobs and David Wilson from running wild.
Sometimes, the jokes write themselves.
In all seriousness, the New York Giants are going to be airing it out with wide receivers Hakeem Nicks, Victor Cruz and Rueben Randle. Sure, they'll toss a couple runs in there to keep the Panthers somewhat honest, but this is all about the passing game.
Would you want to rely on Cam Newton, the guy averaging around 175 passing yards a game, to keep up with Eli Manning? Because I won't.
I can't afford to.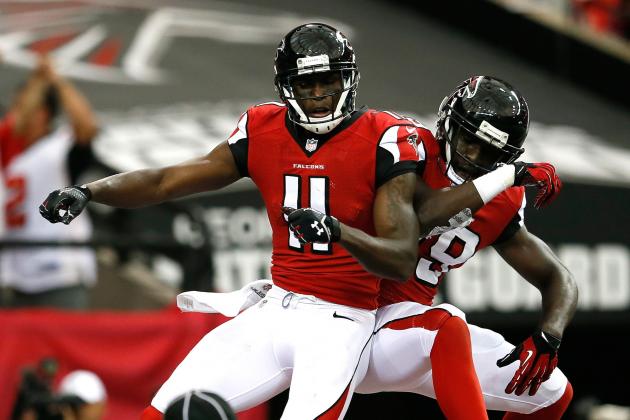 Kevin C. Cox/Getty Images

The Atlanta Falcons lost versatile defender Kroy Biermann for the season to an Achilles injury. That's the bad news.
The good news is that another week means a healthier Roddy White. A healthier White means an even more dynamic offense compared to the one that put up 31 points on the Rams last week.
And that means the Miami Dolphins need to put up more than the 23.5 points they're currently averaging.
That will be tough. The Dolphins have amassed just 121 yards rushing in two games.
Granted, one of those was against the Cleveland Browns, but that means the responsibility of keeping pace with the Falcons falls on quarterback Ryan Tannehill.
In a battle between Matt Ryan and Tannehill, I'll take my chances on the guy throwing to Julio Jones and White.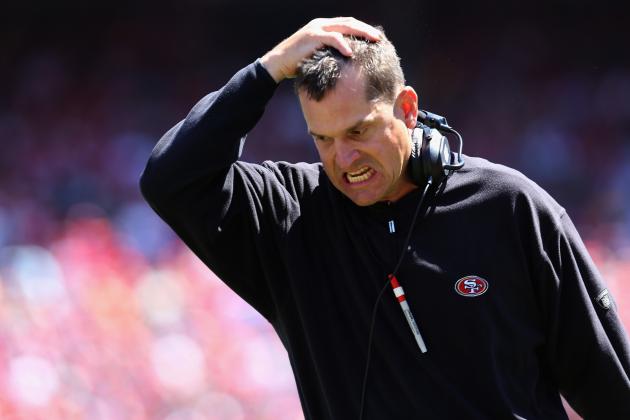 Jeff Gross/Getty Images

Based on talent alone, the San Francisco 49ers are close to a touchdown better than the Indianapolis Colts.
Now, add the best motivator in football and a proud team that just got embarrassed on national television by its rival.
Do you think that is worth four more points?
I do.
Head coach Jim Harbaugh will build quarterback Colin Kaepernick back up, and wide receiver Anquan Boldin will abuse Indy's cornerbacks. On defense, just try and keep them from taking last week's frustration out on Andrew Luck.
This line will rise by the weekend. Buy early.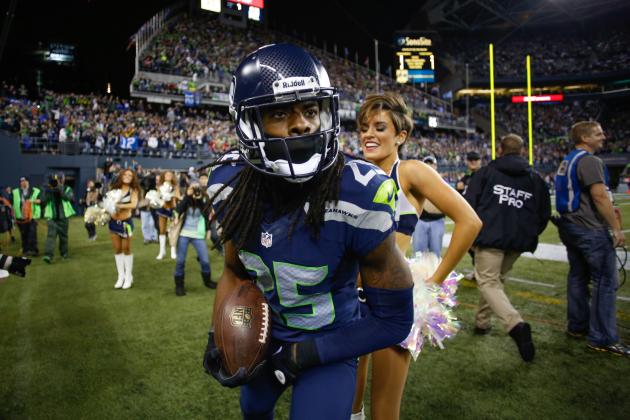 Otto Greule Jr/Getty Images

I know. That's a ton of points.
But have you seen the Jacksonville Jaguars play football? They lost by 10 points to the Oakland Raiders.
The Raiders!
There is the possibility that this is a trap game for the Seattle Seahawks. They just got done whipping a rival and will receive a cupcake as their reward.
That being said, it would take a brave man to pick the Jaguars.
I am not that man.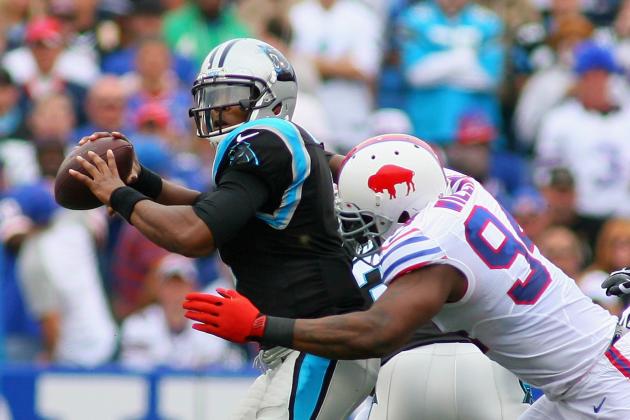 Rick Stewart/Getty Images

This game will feature two rookie quarterbacks, which means that absolutely anything can happen.
If you feel the need to bet on this game, I'd suggest just picking a number on a roulette wheel. The odds of being correct will be similar, and the payoff will be much better.
But just in case you're so inclined, grab the points and the more impressive quarterback.
EJ Manuel has a much better completion percentage, more yards per attempt and a positive touchdown-to-interception ratio. Oh, and he has offensive weapons in wide receiver Stevie Johnson and running back C.J. Spiller.
Geno Smith's best receiver is a cornerback, and his running back is Bilal Powell.
That's good enough for me.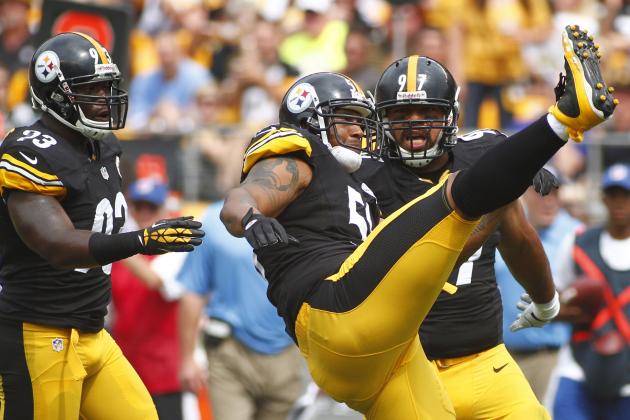 Justin K. Aller/Getty Images

Because you can't bet against every home dog.
Because I'm not convinced the Chicago Bears are an elite team. The win over the Bengals came with plenty of help, and the Vikings, as explained, are somewhere near the bottom of the league.
Because the Pittsburgh Steelers still have Ben Roethlisberger and some talented pass-catchers.
Because the Steelers defense is another proud unit that isn't going to let somebody walk into their house and hand them an 0-3 start.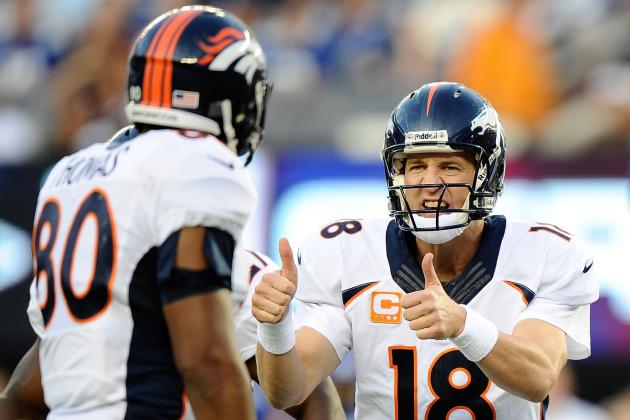 Maddie Meyer/Getty Images

I know. It's a ton of points.
But let's review.
The Denver Broncos whipped the defending champs by 22. They then gave Peyton's little brother a wedgie to the tune of 18 points.
Now they are facing the Oakland Raiders, a team that isn't renown for its defensive prowess.
Nobody likes to lay this many points. But nobody else has the weapons that the Broncos have.
And the other option is taking the Raiders. I'll pass.