10 Biggest Storylines Heading into Training Camp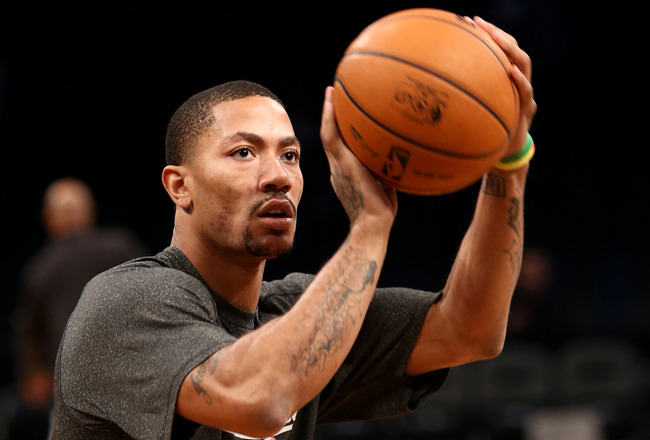 Derrick Rose's return highlights a compelling list of preseason storylines.
USA TODAY Sports
NBA training camps are around the corner, and there's no shortage of intriguing storylines as teams gear up for the thrilling season ahead.
With superstar returns, quests for three-peats and the emergence of up-and-coming squads, the Association has plenty to offer this season in terms of compelling narratives.
The recoveries of Derrick Rose and Kobe Bryant will take center stage during training camp, up to opening day and throughout the 2013-14 season, but don't ignore the formation of new powers in both the Eastern and Western Conferences.
Kobe Bryant's Recovery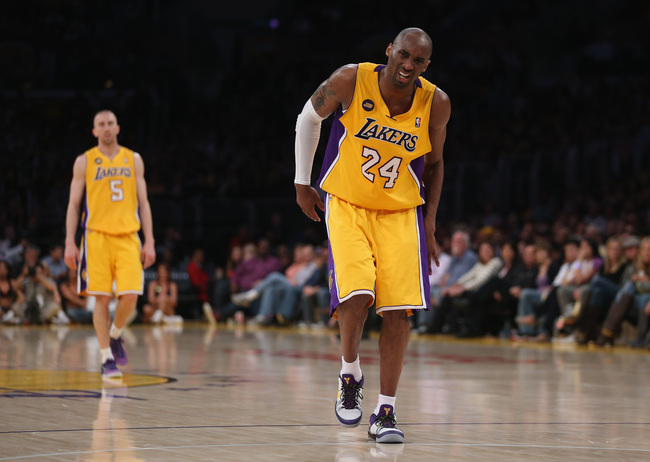 Jeff Gross/Getty Images
Exactly when Kobe Bryant will return remains unclear, but we can assume it's going to be sooner rather than later based on the positive reports coming out of his camp.
Bryant is facing a steep uphill battle this season, not just from an individual perspective, but from a team one as well.
The Los Angeles Lakers are coming off a tumultuous year that saw their hyped super-squad bounced from the playoffs in four games by the San Antonio Spurs after sputtering through the regular season.
Kobe's return will be a major lift to a Lakers team that is largely dependent upon his offensive production, but it should be noted that the health of Steve Nash and Pau Gasol will be key to any playoff aspirations L.A. may have.
While he's shown incredible determination, strength and courage in returns from injury in the past, this Achilles ailment may be the toughest physical test Bryant has faced.
Western Conference Sleepers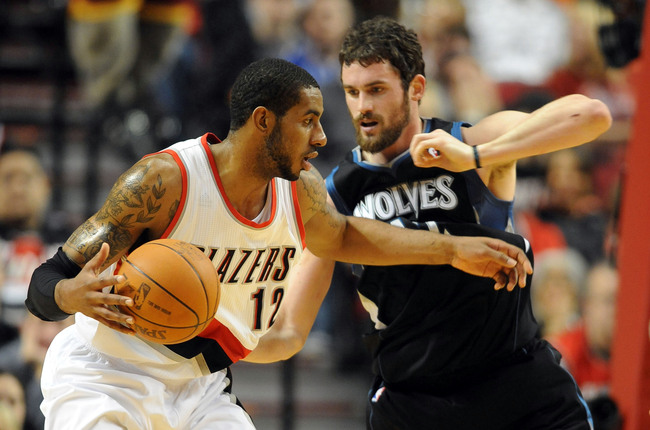 Steve Dykes-USA TODAY Sports
There's considerable buzz surrounding the Houston Rockets, Los Angeles Clippers, San Antonio Spurs, Oklahoma City Thunder and the rest of the teams atop the Western Conference pyramid, and rightfully so.
But just because the West boasts five or six legitimate title contenders doesn't mean the spotlight shouldn't shine on the likes of the Minnesota Timberwolves, Portland Trail Blazers, Dallas Mavericks and New Orleans Pelicans.
Minnesota, Portland and Dallas boast revamped attacks entering 2013-14, and all three figure to be in contention for the Western Conference's final two playoff spots come March and April.
For the Timberwolves, it's time to see what kind of magic Kevin Love and Ricky Rubio can create with the addition of perimeter talent. Flip Saunders made it a point of his offseason plan to acquire floor-stretchers, and he did so with Kevin Martin and Corey Brewer, while re-signing Chase Budinger.
If all of their key parts can stay healthy (a huge "if" after last season), the Timberwolves should be one of the favorites to capture the No. 7 or No. 8 seed.
In Portland, a strengthened bench will be key to playoff hopes. LaMarcus Aldridge, Damian Lillard and Nicolas Batum will receive the lion's share of the attention, but new faces like Dorell Wright, C.J. McCollum, Mo Williams and Thomas Robinson will be significant factors as they aim to spell a starting unit that was simply gassed by the end of last season.
And then there's Dallas, arguably the biggest unknown in the Western Conference entering this season.
Gone are Darren Collison and O.J. Mayo, and in are Jose Calderon and Monta Ellis. The Mavs have the pieces to be one of the most compelling offenses in the league, but it remains to be seen how those two will jell with Dirk Nowitzki. Elsewhere, Samuel Dalembert was added to provide a sturdier shot-blocking presence at center, while DeJuan Blair now backs up Nowitzki at the 4.
New-Look New Orleans Pelicans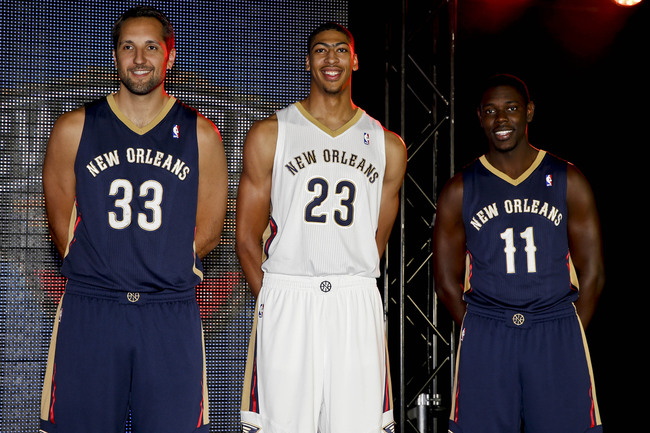 Derick E. Hingle-USA TODAY Sport
After adding Jrue Holday and Tyreke Evans to an offense that already possessed Anthony Davis, Ryan Anderson and Eric Gordon, the New Orleans Pelicans are in line to be the NBA's most improved team in 2013-14.
After going 27-55 last season, Monty Williams' crew is in prime position to shoot up the Western Conference ranks and compete for a playoff spot alongside the aforementioned Minnesota Timberwolves, Portland Trail Blazers and Dallas Mavericks.
Like any new cast, it will undoubtedly take the Pelicans' young core time to mesh. But all of the pieces are in place to make the Pelicans and their fresh new duds the talk of the NBA.
If Gordon can stay healthy and Evans can get comfortable with a new position, the Pelicans will be the league's most promising up-and-coming team in no time.
Houston's Big Three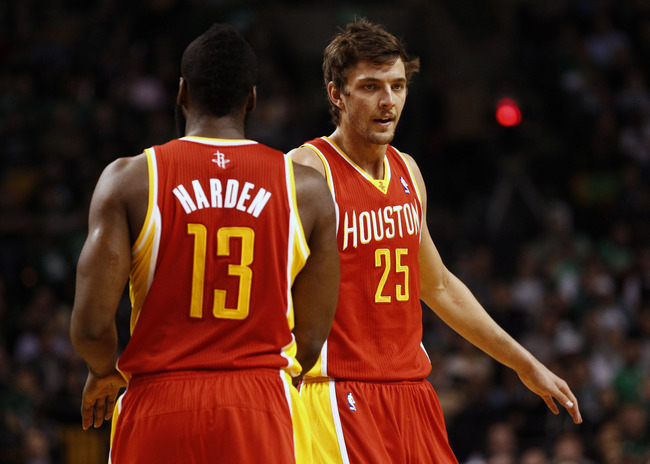 USA TODAY Sports
The lofty expectations Dwight Howard has brought to Houston will be both a blessing and a curse.
From the jump, the Houston Rockets will be expected to perform like the league's most prolific offense, especially after finishing second in the NBA in scoring last season (106 points per game).
Not only that, but the Rockets are already being included in the Western Conference title conversation with the San Antonio Spurs, Oklahoma City Thunder and Los Angeles Clippers, which means any struggles the team has will be analyzed intensely.
Just ask the 2012-13 Los Angeles Lakers and 2010-11 Miami Heat.
It remains to be seen how Howard will adapt to playing at a breakneck pace. It will be up to head coach Kevin McHale to determine how his offense, which led the NBA in pace last season (per Basketball-Reference), will cater to Howard's half-court needs.
James Harden and Chandler Parsons are set to prosper further under McHale, and the addition of Howard will only help. With the big man figuring to draw his fair share of double-teams, it will be a pick-your-poison proposition for opposing defenses every time they face the Rockets.
Cleveland Cavaliers Set Their Sights on the Playoffs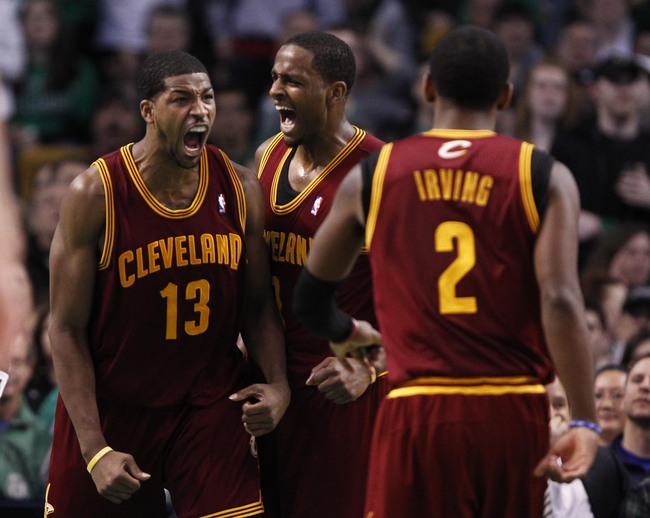 USA TODAY Sports
The Cleveland Cavaliers have quickly assembled a quality team, one that has a shot at qualifying for the playoffs for the first time since 2009-10.
Led by Kyrie Irving and supported by up-and-comers Tristan Thompson and Dion Waiters, the Cavs should threaten to make the postseason in an extremely top-heavy Eastern Conference. In addition, the Cavs acted swiftly this summer to improve their roster at multiple positions, acquiring center Andrew Bynum, forward Earl Clark, guard Jarrett Jack and drafting UNLV's Anthony Bennett at No. 1 overall.
Bynum's health will be the biggest story for Cleveland as the season gets underway, but with Thompson and Anderson Varejao fully capable of holding down the frontcourt, the inevitable scrutiny that will be thrust upon Bynum won't be as intense as it was last season in Philadelphia.
The Cavs significantly improved their depth with a flurry of moves this summer. They have assembled the talent necessary to be considered playoff contenders.
Can Brooklyn Gain Big Apple Supremacy?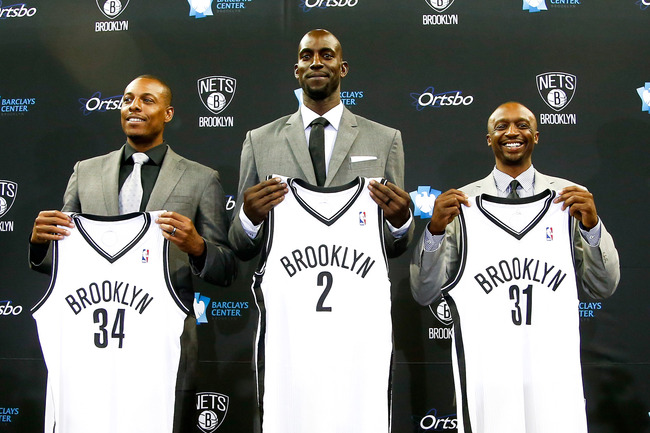 USA TODAY Sports
The Brooklyn Nets assembled their superteam with more than dominance over the New York Knicks in mind, but shooting to the top of the basketball throne in the Big Apple isn't a bad place to start.
All eyes will be on the league's most intriguing starting five—Deron Williams, Paul Pierce, Joe Johnson, Kevin Garnett and Brook Lopez. That star-studded lineup automatically vaults the Nets into the Eastern Conference title conversation.
But don't ignore their bench, which improved dramatically as well.
Andrei Kirilenko, Jason Terry, Shaun Livingston, Reggie Evans and Andray Blatche comprise a second unit that possesses several starting-caliber players. That group will be tasked with contributing plenty as Jason Kidd searches for ways to keep his guys fresh.
The Atlantic Division title will continue to reside in New York at the conclusion of the 2013-14 season, but it just might be in a different borough.
Revamped Golden State Warriors Eye Pacific Crown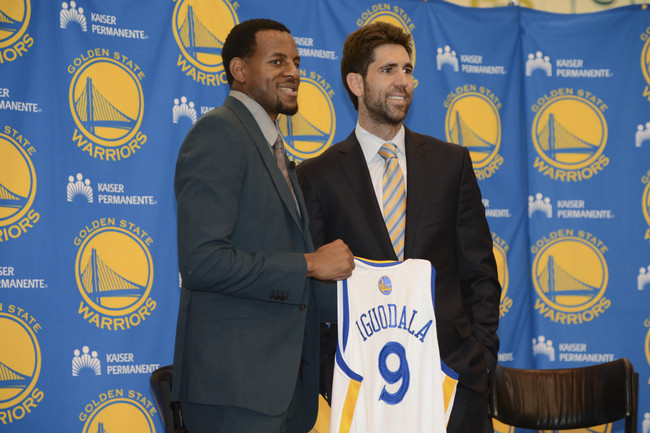 Kyle Terada-USA TODAY Sports
Although eyes are on the changes made to the Houston Rockets and Los Angeles Clippers, the Golden State Warriors should garner their fair share of attention as the 2013-14 season approaches.
One season removed from a surprise run to the Western Conference Semifinals, the Warriors won't be catching any contenders off-guard this year after reloading in the offseason.
The most notable move the Dubs made was inking Andre Iguodala in a sign-and-trade with the Denver Nuggets, one that shores up one of the Warriors' weaknesses.
Though they were an offensive force last season, the Warriors were a middle-of-the-road team defensively, allowing 100.3 points per game (19th overall). Iguodala won't solve all of the team's defensive woes, but he represents an immediate upgrade over Harrison Barnes at small forward.
Barnes, then, will move into a role as the Warriors' sixth man, a position that was occupied successfully by Jarrett Jack last season.
A few other under-the-radar additions to Mark Jackson's squad are Toney Douglas, Marreese Speights and Jermaine O'Neal, but watch out for young gun Kent Bazemore, who took the Las Vegas Summer League by storm with an average of 18.4 points over seven games.
Doc Rivers, the Los Angeles Clippers and Great Expectations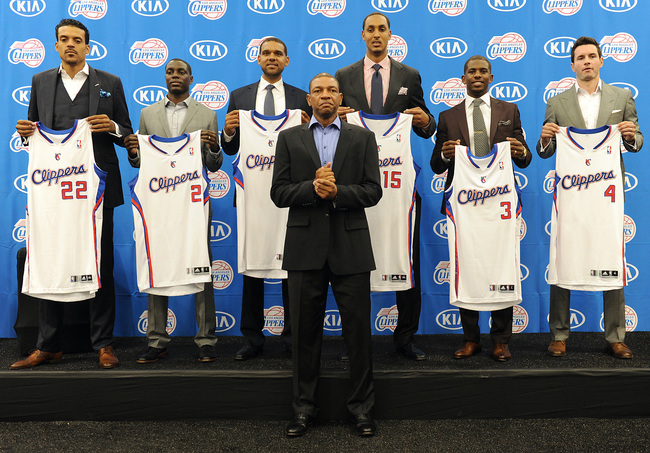 Jayne Kamin-Oncea-USA TODAY Spor
Say what you will about the Houston Rockets and Dwight Howard, but no Western Conference team made a more important move than the Los Angeles Clippers did this offseason when they went out and hired Doc Rivers as head coach.
And it's not just because of his stature as one of the game's great minds. It's because the Clippers finally have the personnel necessary to make a run to the NBA Finals.
Chris Paul and Blake Griffin return to lead L.A.'s attack, but the Clippers also added depth galore at key positions. Darren Collison was brought in to back up Paul. J.J. Redick and Jared Dudley are the new starters on the wings, with incumbent bench mob contributors Jamal Crawford and Matt Barnes backing up the newcomers at the 2 and 3, respectively.
Emerging from a pack of elite contenders won't be an easy task, but the Clippers are now fortunate enough to have competent coaching and a diverse offensive attack on their side in pursuit of the franchise's first conference title.
Derrick Rose's Return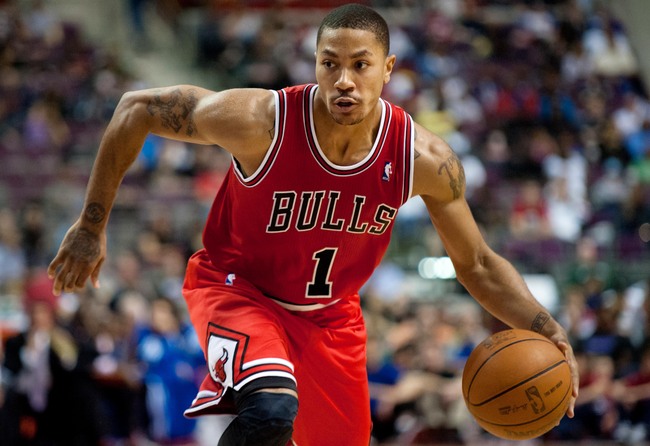 Tim Fuller-USA TODAY Sports
In a return more than a year in the making, Derrick Rose will finally step back on the NBA hardwood when the Chicago Bulls and Miami Heat square off on Tuesday, Oct. 29.
And while fans will be thrilled to see one of the game's most exciting players suit up again, no one will be happier than Tom Thibodeau and his Bulls.
Chicago had to scrap and claw its way to 93.2 points per game last season (29th in the NBA). Despite that total, the Bulls still finished with a record of 45-37.
With Rose at 100 percent, the Bulls can threaten to win 60 games.
The Bulls already have a top-five defense (allowed 92.9 points per game last season), and Rose's presence will ease the burden on Luol Deng, Carlos Boozer, Jimmy Butler and Joakim Noah on offense. With one of the most well-rounded squads in the Association, Rose's return will propel the Bulls back to the top of the Central Division, and perhaps the Eastern Conference.
Miami's Quest for a Three-Peat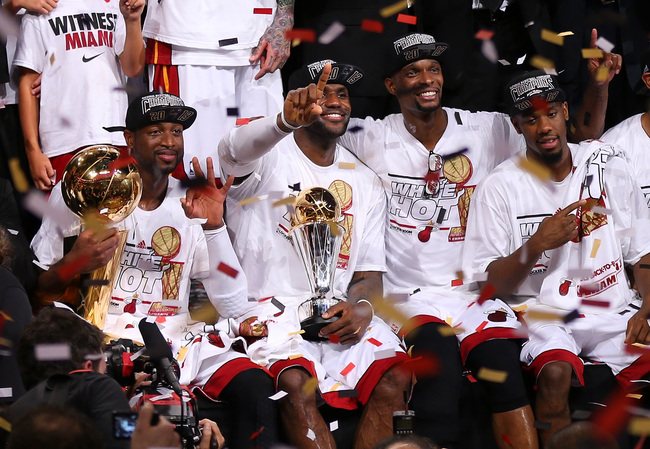 Mike Ehrmann/Getty Images
The Miami Heat's quest for the NBA's first three-peat since 2000-02 will soon be underway. Coming off of a grueling postseason that saw Miami pushed to seven games twice, the Heat's Big Three will face their stoutest competition since joining forces in the summer of 2010.
And if you're skeptical about the Heat's chances, you're not alone.
In an article by Ben Bolch of the Los Angeles Times, TNT analyst Steve Kerr predicted that Miami would not get out of the Eastern Conference, much less three-peat:
There's a reason these teams don't do it. Emotionally, it's just exhausting to keep doing it year after year, particularly when you have to deal with everything Miami has to deal with on a daily basis, just the constant critiquing and scrutiny on the team, and then you factor in the injuries with Wade and Bosh and their health. I don't think Miami will get out of the East this year.
Instead, Kerr sees Derrick Rose and the Chicago Bulls representing the Eastern Conference in the NBA Finals.
Even if the Heat do make it back, they'll face incredibly stiff competition from one of the elite contenders out West. Whether it's San Antonio, Oklahoma City, the Los Angeles Clippers or Houston Rockets remains to be seen, but one thing is for sure—nothing will come easily for the Heat this postseason.
Keep Reading