Who doesn't like a good circus every now and then?
Well, quite a few people actually: coulrophobics, PETA and Golden State Warriors center Andrew Bogut.
Bogut should have had an enjoyable offseason.
His 12 playoff appearances in 2013 were seven more than he'd made in his first seven seasons in the NBA. If the bar for his 2013-14 season—a contract year for the former No. 1 overall selection—wasn't already set high enough, the Warriors went out and added former All-Star Andre Iguodala to their starting five and bolstered their second team with veterans Marreese Speights, Jermaine O'Neal and Toney Douglas.
So what could have possibly went wrong?
Well Dwightmare chapter two happened, and Bogut found himself right in the middle of the drama.
Golden State was said to be one of the five finalists competing for Dwight Howard's services. A Howard addition would have only come at Bogut's expense, since his expiring $14 million deal would have been needed to facilitate a sign-and-trade deal with Howard's former employer, the Los Angeles Lakers.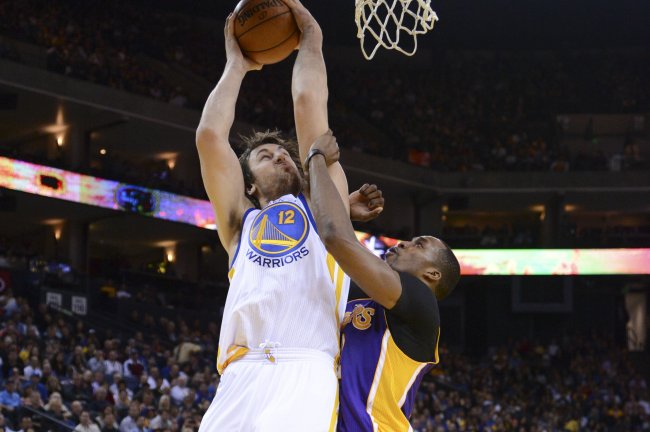 Kyle Terada-USA TODAY Sports
Despite splitting his summer between his native Australia and Croatia, Bogut couldn't help but hear the Howard talks. And it sounds like he blames the three-time Defensive Player of the Year for that more than he does the Warriors.
"I think Dwight created a bit of a circus with it all," he said, via the Associated Press. "(Howard) wanted to get his five minutes."
If Howard hits the ground running with the Houston Rockets, he'll get a lot more than just five minutes. Truth be told, the spotlight follows Howard in both good years and bad.
The only way for Bogut to avoid this round of Howard talks is for him to reclaim his spot among the game's elite big men, something injuries have prevented him from doing recently.
It's been five full seasons since Bogut has played at least 70 games, but it sounds like he's ready to have a well-timed return to greatness:
The most important thing is not having a trainer or coach tell you that there are restrictions on what you're doing. I can come in here and do what I want...I'm just happy that that light is getting brighter and brighter for me in the tunnel, and it's at the stage now where I feel like I'm driving out of that tunnel.
The Warriors are hoping that tunnel will take them all the way through the postseason.
As long as it leads away from the circus, though, Bogut will be happy.