Week 3 Fantasy Football Rankings: Highlighting Riskiest Flex Options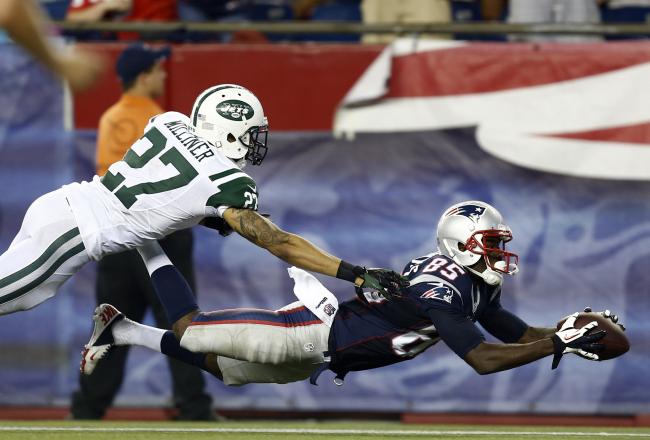 Mark L. Baer-USA TODAY Sports
Depending on its mood, the flex position can carry your fantasy football team to victory or leave you starving for points in defeat.
For all its possibilities, the flex spot creates the most confusion for managers. Picking between running backs and receivers is like comparing apples to oranges or chicken to pizza.
Just like how you can choose between cheese pizza, pepperoni, pineapple or whatever else the human brain can think of placing on crust, your team probably has quite a few backs and wideouts clamoring for playing time. Sorting through them all can become a thankless chore.
These guys aren't making your life any easier. While they're good enough to engineer a considerable point tally, they're also making an early habit of giving you nothing. Is patience the proper virtue, or is it time to pull the plug?
Here is a look at how to approach some dangerous options this week. But first, let's look at the top skill plays throughout the league.
Week 3 Fantasy Football Flex Rankings

| | | | |
| --- | --- | --- | --- |
| Rank | Player | Opponent | |
| 1 | LeSean McCoy | Kansas City Chiefs | |
| 2 | Adrian Peterson | Cleveland Browns | |
| 3 | Calvin Johnson | at Washington Redskins | |
| 4 | Marshawn Lynch | Jacksonville Jaguars | |
| 5 | Doug Martin | at New England Patriots | |
| 6 | Jamaal Charles | at Philadelphia Eagles | |
| 7 | C.J. Spiller | at New York Jets | |
| 8 | A.J. Green | Green Bay Packers | |
| 9 | Julio Jones | at Miami Dolphins | |
| 10 | Dez Bryant | St. Louis Rams | |
| 11 | Arian Foster | at Baltimore Ravens | |
| 12 | Demaryius Thomas | Oakland Raiders | |
| 13 | Reggie Bush (if healthy) | at Washington Redkins | |
| 14 | Jimmy Graham | Arizona Cardinals | |
| 15 | Ray Rice | Houston Texans | |
| 16 | Trent Richardson | at Minnesota Vikings | |
| 17 | DeMarco Murray | St. Louis Rams | |
| 18 | Alfred Morris | Detroit Lions | |
| 19 | Larry Fitzgerald | at New Orleans Saints | |
| 20 | Randall Cobb | at Cincinnati Bengals | |
| 21 | Matt Forte | at Pittsburgh Steelers | |
| 22 | Brandon Marshall | at Pittsburgh Steelers | |
| 23 | Victor Cruz | at Carolina Panthers | |
| 24 | Knowshon Moreno | Oakland Raiders | |
| 25 | Chris Johnson | San Diego Chargers | |
Andrew Gould's rankings
Frank Gore (vs. Indianapolis Colts)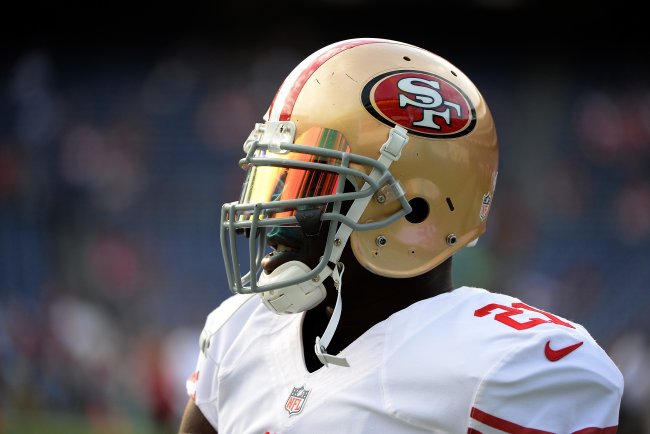 Harry How/Getty Images
Is it time to hit the panic button on Frank Gore's season?
There were warning signs cautioning drafters against selecting him. He turned 30 in May and averaged 4.0 yards per carry during the latter half of 2012, which coincides with Colin Kapernick's emergence as the San Francisco 49ers' starting quarterback.
But what were you supposed to do when a guy with 1,448 total yards and nine touchdowns was just sitting there in the third or fourth round?
As of now, it looks like you should have passed. He has turned 30 carries into 60 yards, managing just 16 against the Seattle Seahawks on Sunday night. Gore looks like he is aging before our eyes, but we shouldn't drastically overreact to the poor start.
He at least figured into San Francisco's red-zone plans with a short touchdown run during Week 1, and Sunday night was probably the last time all year that the 49ers are forced to abandon the run in a blowout.
The Colts have allowed the fifth-most rushing yards through the opening weeks, so managers with a short trigger could miss a nice week from Gore if they pull the rug out from underneath him.
Kenbrell Thompkins (vs. Tampa Bay Buccaneers)
Why hasn't Tom Brady used his magic potion to transform Kenbrell Thompkins from a flawed, inexperienced wideout to the prettiest girl at the ball?
Everyone gunning for whoever captured starting duties in New England was essentially banking on the theory that Brady can make anyone look good. The plan wasn't far-fetched, but the execution was off; Julian Edelman has become Brady's new go-to guy.
Unfortunately for Thompkins, there's nothing any quarterback can do if the receiver doesn't catch the ball.
Saddled with massive sleeper appeal, Thompkins has reeled in just six catches for 89 yards through the first two contests. He is part of an untested Patriots receiving corps whose mistakes are driving Brady off the deep end.
The rookie can still figure it out, but we were wrong to assume the elite quarterback could catapult him to Randy Moss' stature with a wave of his wand. Give Thompkins some time on the bench before he proves worthy of belonging in your starting lineup.
David Wilson (at Carolina Panthers)
So much potential, such underwhelming results.
Few running backs can touch Wilson's quickness, and the New York Giants let Ahmad Bradshaw walk in the offseason to pave the road for the blazing sophomore.
After fumbling twice against the Dallas Cowboys in Week 1, he mustered a mere 17 yards on seven carries versus the Denver Broncos.
There's a top-10 fantasy back bristling underneath the surface, but Wilson's blocking ineptitude and New York being constantly forced to throw the ball from behind are not accelerating his growth.
The Giants are fooling themselves if they think Brandon Jacobs is going to turn the clock back four years and save their rushing game. He found the end zone during his return, but that scoring run made for one of his four rushing yards on the afternoon.
Carolina has held first-rounders Marshawn Lynch and C.J. Spiller to a combined 146 yards and zero touchdowns to start the season, so Wilson isn't the strongest bet for Week 3.
This article is
What is the duplicate article?
Why is this article offensive?
Where is this article plagiarized from?
Why is this article poorly edited?