There was a point, not so very long ago, when Mamadou Sakho was being hailed as the prototype of everything Paris Saint-Germain were aspiring to be. He was thought of as the man who would captain his boyhood club, one newly endowed with both huge ambitions and the resources to pursue them, to a decade of success.
The powerful, uncompromising defender was going to be to the rejuvenated French side what Paolo Maldini was to AC Milan, or what Steven Gerrard has been to Liverpool. In the team at 17 years of age and handed the armband not long after, it seemed certain he was going to be PSG's bedrock for a generation.
Hailed as "the new Lilian Thuram" by ex-players and pundits alike, there seemed to be no limit to what the youngster of Senegalese descent could achieve. Speaking on the comparisons with Thuram back in 2010, the defender said:
"I am honoured [by such comparisons]. But this kind of praise does not mean that I cannot improve. I am young. Even if everything is going pretty well since I started, I'm not yet Thuram."
Football has a way of tearing up the best-intentioned of plans, however, and Sakho would prove to be just the latest example.
Mamadou Sakho together with his new teammates in training today afternoon at Melwood. #LFC pic.twitter.com/ujyVEepJNz

— Indonesian Reds (@LFC_Squad) September 13, 2013
Having failed to earn new manager Carlo Ancelotti's trust in the early part of 2012—the concession of a penalty in his first game for the Italian did little to help. Subsequent disagreements with Ancelotti then sprinkled salt on that festering wound—Sakho eventually found himself outside the team, watching from the sidelines in the biggest games as Thiago Silva and Alex marshalled central defence while the Paris side won the French title for the first time in 19 years and pushed Barcelona all the way in the Champions League.
With Alex, 31, both a bit injury-prone and getting on a bit, PSG may have looked to bolster Sakho's role over the coming season if they were not a financially strong club. But PSG are not a club of economic concerns, and so they instead bought the highly touted Marquinhos from AS Roma for €32 million—the Brazilian is four years younger than Sakho and talked of in the same way the Frenchman was not so long ago.
Sakho had the chance to stay and fight for his place but, with a World Cup a summer away and Alex and Marquinhos seemingly preferred by new coach Laurent Blanc, decided the time had come to look elsewhere—somewhat against the wishes of PSG's owners. According to French daily 20 minutes, club president Nasser Ghanim Al-Khelaifi said: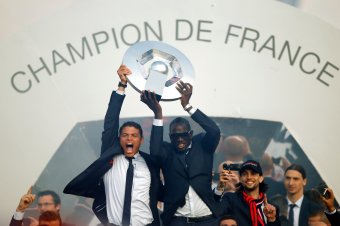 Dean Mouhtaropoulos/Getty Images
This is a child of the club, like Steven Gerrard at Liverpool, one of the players it is hard to imagine wearing another jersey. I'm a little surprised that he wants to leave.

I had a discussion with him. My position is very clear and he knows it: we want to keep and will do anything to it.
When you have been touted as the face of an organisation, however, it can be hard to adjust to simply being another one of the foot soldiers.
Despite his lessened role, Sakho's departure was nevertheless viewed in some quarters of France as PSG losing a little piece of their identity. Moving to Liverpool, who were willing to pay £16 million for a player out of contract in 12 months, he now arrives at a club looking to build a new identity.
On Merseyside, Sakho's potential is again being talked about in similar breathless tones to the descriptions that were trotted out when he first emerged in the French capital.
"I want to protect the present and the future of the club," manager Brendan Rodgers said on the club website on Friday.
"Sakho is 23; he's an experienced player with full international caps; looks an absolute monster in training. He's one who's ready for now.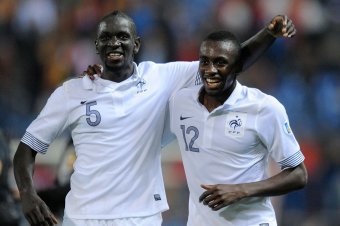 Denis Doyle/Getty Images
"We had the chance to [sign him] and protect the club for maybe the next 10 years."
Rodgers—who has shown a tendency to err toward the hyperbolic, which the press has not been shy about poking fun at—may be getting ahead of himself in his hopes for a player who only signed a four-year deal, but it seems unlikely he will get ahead of himself in inserting Sakho into his first-team.
With Daniel Agger, Martin Skrtel and (summer free transfer) Kolo Toure all established at Anfield, and Sakho's fellow deadline-day addition Tiago Illori also contending for a centre-back spot, Sakho may initially have to remain accustomed to being in and out of the side.
The next 18 months may see the departures of Agger (who has been linked with some top sides for a number of windows) and Skrtel (who, despite his best efforts, has never quite seemed to convince Rodgers of his worth). For now, though, Sakho might have to get used to an element of rotation.
"It's a nice problem to have," Rodgers added, referring to his five centre-backs. "I'd rather this than have a lack of talent to choose from. It just keeps everyone on their toes.
"It's not so much a problem [trying to get him in the team]. If you're winning games, it's very simple."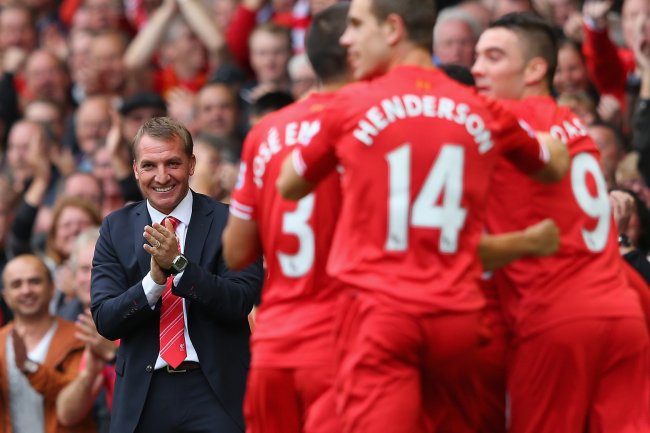 Alex Livesey/Getty Images

Sakho is also adept at left-back, offering him another potential route onto the Liverpool teamsheet. But the near-impeccable form of Jose Enrique (another player who initially struggled to gain Rodgers' confidence, before seemingly winning the Northern Irishman round) makes that an uphill battle too.
"At a large club, having competition is something you expect," Sakho noted in his first official club interview. "To get the best out of any player, you need to have competition.
"Competition doesn't give me any worries. Competition makes the team grow and makes the club grow because that's the objective and the goal of everyone."
At PSG, Sakho's early rise seems to have played a key part in his eventual decline. Built up as the face of the club's "project," it is easy to understand how his confidence and form—and, if reports from various quarters can be trusted, his conduct—may have declined once he started being pushed to the margins.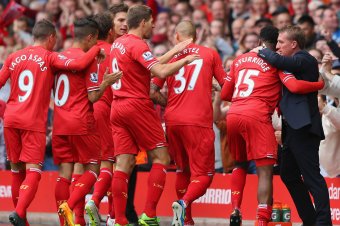 Alex Livesey/Getty Images
Given a fresh start in a new country, he now has the chance to prove his talent in the Premier League. But his success may hinge as much on his ability to subsume his attributes for the benefit of the team as the exhibition of his obvious individual talents.
As Rodgers was quick to warn: "What we are doing here means we will never be reliant on one player.
"The whole make-up is about the team so that we can take one out and put one in and still be strong."
The former poster boy will have to get used to being part of the commune, then. But if he is aware of those demands from the outset, he may find the lessened pressure, attention and expectation enables him to play with the freedom and expression he emerged onto the scene with.
Sakho may well be named on the bench against Swansea on Monday evening. but it will be the start of his learning experience at the club, every bit as much as if he were in the starting lineup.
"It's a league that I don't know very well, so obviously it's going to take a little while to adapt," Sakho said. "I'll be getting down to work and listening to the advice of the coaches.
"[But] I hope to be thrown in at the deep end as soon as possible because the objective is to take this club upwards and that's the common objective of everybody."