Week 2 of the NFL season will conclude on Monday night in Cincinnati and give way to a tremendous slate of Week 3 matchups beginning just three days later.
The third week of action will kick off in Philadelphia on Thursday night when the new-look Eagles welcome Andy Reid and his Kansas City Chiefs back to town in one of the more intriguing Thursday night showdowns in 2013.
Philly will be looking to avoid a 1-2 start to the year and, more importantly, an 0-2 start at home.
But the Eagles aren't the only contenders in need of a win this weekend. Here's a look at every Week 3 matchup ahead and an early prediction for each.
*Week 3 schedule courtesy of NFL.com.
Week 3 Predictions

| | |
| --- | --- |
| Matchup/Prediction | Comments |
| Philadelphia Eagles 24, Kansas City Chiefs 20 | Chiefs' one-dimensional offense succumbs to Chip Kelly's explosive attack. |
| Green Bay Packers 21, Cincinnati Bengals 17 | Aaron Rodgers tops Andy Dalton in a battle of two evenly-matched playoff contenders. |
| Dallas Cowboys 27, St. Louis Rams 20 | Cowboys bounce back at home against Rams' porous secondary. |
| Tennessee Titans 23, San Diego Chargers 20 | The Chargers can't really start 2-0 on the road, can they? San Diego falls in Nashville to move to 11-15 on the road since start of 2010. |
| Minnesota Vikings 17, Cleveland Browns 10 | Adrian Peterson and the Vikings prove too much for the offense-less Browns. |
| New England Patriots 24, Tampa Bay Buccaneers 16 | Pats keep up winning ways against winless Bucs. |
| New Orleans Saints 34, Arizona Cardinals 24 | Undefeated Saints light up Cardinals inside a rocking Superdome. |
| Washington Redskins 27, Detroit Lions 24 | RG3 and company sneak by the Lions in a must-win game at home. |
| New York Giants 27, Carolina Panthers 23 | See below |
| Houston Texans 20, Baltimore Ravens 17 | See below |
| Atlanta Falcons 28, Miami Dolphins 24 | Matt Ryan exposes Dolphins defense in South Florida. |
| New York Jets 17, Buffalo Bills 13 | New York defense powers Jets past Bills at Metlife Stadium. |
| San Francisco 49ers 31, Indianapolis Colts 17 | See below |
| Seattle Seahawks 35, Jacksonville Jaguars 6 | Jags narrowly avoid shutout on the road against a legitimate Super Bowl contender. |
| Chicago Bears 23, Pittsburgh Steelers 16 | Bears too much on both sides of the ball for fading Steelers. |
| Denver Broncos 38, Oakland Raiders 14 | Peyton Manning delivers more Monday night magic. |
NFL.com
New York Giants 27, Carolina Panthers 23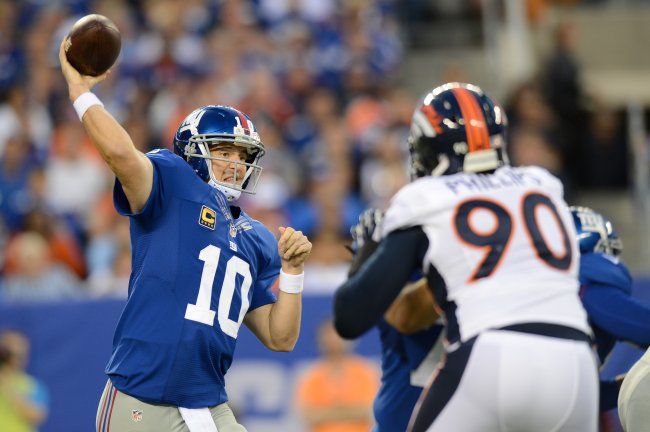 Ron Antonelli/Getty Images
In a matchup of two desperate 0-2 teams in the NFC, the New York Giants will take on the Carolina Panthers, who have lost two straight heartbreakers to begin the year, none more gut-wrenching than Week 2's last-minute defeat at Buffalo.
On the other side, mistakes have done in the Giants, who have now turned the ball over 10 times through two games.
But expect the Giants to take much better care of the football against a Panthers team that has just three takeaways through the first two weeks of the season. Boasting the league's top-ranked passing attack, led by Eli Manning, look for New York to finally get in the win column in Week 3.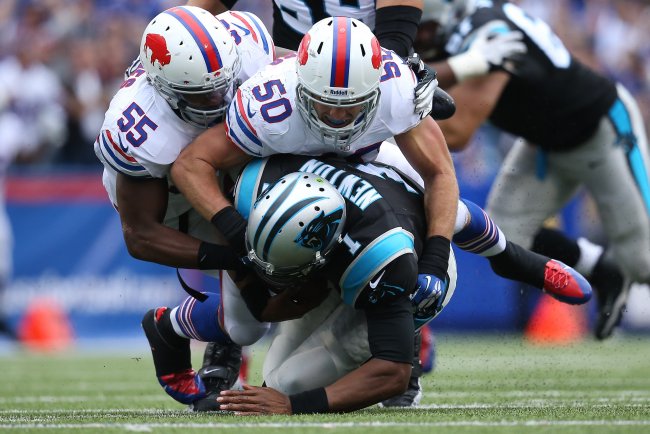 Tom Szczerbowski/Getty Images
While Carolina has been explosive on the ground with DeAngelo Williams and Cam Newton, its passing attack is nowhere to be found, ranking 30th in the league heading into Week 3.
This will be a close game throughout that goes right down to the wire. But given the Panthers' inability to finish and win tight games, I'll take the G-Men this weekend.
Houston Texans 20, Baltimore Ravens 17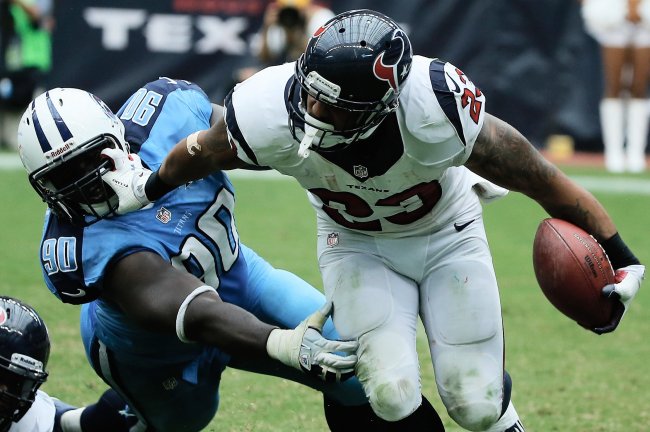 Scott Halleran/Getty Images
The Baltimore Ravens' defense rebounded nicely in Week 2's win over the Cleveland Browns. Unfortunately, the offense was lacking from the defending Super Bowl champions.
Baltimore averaged just 4.2 yards per play against Cleveland, which doesn't bode well for Week 3's showdown with the undefeated Houston Texans, who boast a top-10 offense and one of the best defensive units in all of football.
Who wins this colossal AFC showdown in Week 3?
Although Houston can't afford to get into a big hole for the third straight week, it's unlikely that the Texans will find themselves trailing in this game considering the Ravens are averaging just four points per quarter over their past six quarters.
With Ray Rice banged up and two reliable targets from a season ago, Anquan Boldin and Dennis Pitta, missing from Baltimore's aerial assault, expect Joe Flacco and the Ravens offense to struggle again on Sunday.
In the end, look for Houston's third-ranked rushing attack, led by Arian Foster, to steal the show, eating up clock and wearing down the Baltimore defense.
San Francisco 49ers 31, Indianapolis Colts 17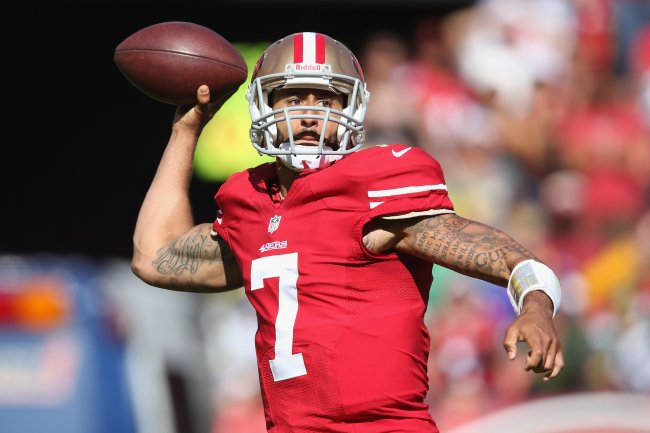 Jeff Gross/Getty Images
After being embarrassed on prime time by division rival Seattle on Sunday night, San Francisco will return home in Week 3 to host the Indianapolis Colts.
Which team will be 2-1 after Week 3?
Both the Niners and Colts are coming off losses in Week 2, but Jim Harbaugh's squad is without question the better team from top to bottom. Plus, Indy will be playing its first road game of the year in one of the toughest stadiums to win in.
Look for a balanced offensive approach and a dominant defensive performance to power San Francisco to a comfortable win at home in this late-afternoon matchup.
The Niners' secondary kept Russell Wilson in check in Week 2, and it's not quite time to overreact to Marshawn Lynch's big game on the ground. After all, Lynch always seems to run hard and fare well against San Francisco, especially at home. Note: The Niners lost by 29 points at Seattle in Week 16 last year before reaching the Super Bowl.
Meanwhile, Colin Kaepernick and the offense should find their rhythm much earlier in this matchup against a suspect Colts defense that ranks 16th against the pass and 29th against the run.
Follow Bleacher Report Featured Columnist Patrick Clarke on Twitter.